1st Gear
Join Date: Aug 2010
Posts: 23
Cross-Country trip
---
I'm the new owner of a 2009 KLR, and am planning a trip from Michigan to California next summer. Any advice? What mods would make this trip easier or more endurable? I'm thinking a larger countershaft sprocket, and changing the stock tires to something more road oriented. I'm going to stay off the e-ways as much as possible, to avoid doing 80+mph for miles on end, and also so I can enjoy the countryside more.
Thanks for any help you can give me.
Counter shaft sprocket and road orientated tires are right on the money. That covers most of what you can do for the bike. Now for you. Seat. The mind will enjoy only what the butt can stand. There is nothing more miserable than a case of monkey butt and you're only six hours from home. I have found an inexpensive alternative to a custom seat.
http://www.cycle-analyst.com/sizes.htm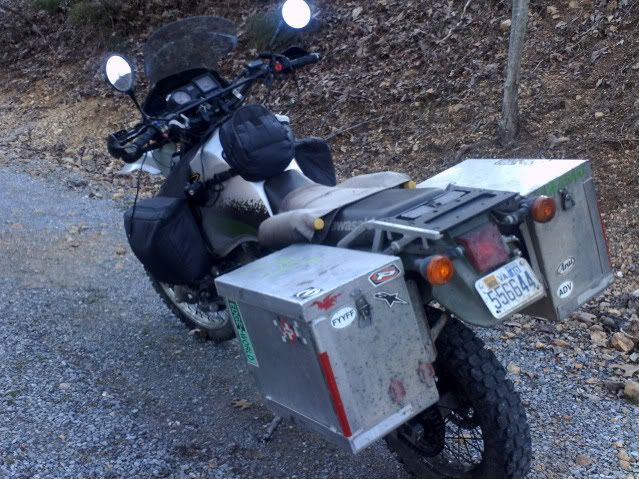 I have a piece of extremely dense foam that I insert in the center pocket over the actual seat. It does everything my Russell Day Long custom-built-to-my-heinie does. For about a tenth of the price. I can adjust firmness by the amount of air or water in the bottles. And if you camp, you also have about a gallon of water with you at all times.
I do a lot of long distance, short on time trips. One thing I buy every year and have not used is AMA roadside assistance. Progressive Insurance and a few others offer a similar coverage. When you are 73 miles east of BFE and your chain betrays you, that 40 bucks will look cheap. I think its kind of like having rain gear. An assurance that you will never have to wear it.
Those are the biggy's for me. Tires that don't make me deaf, RPM's that won't pulverize my kidneys, and a happy butt. Some chance of help from the Cavalry if things for bad. Oh. I'm not good for more than 30 miles without an MP3.
---
******
"many a trip continues long after movement in time and space have ceased"- Steinbeck, [I]"Travels with Charlie"
[/I]
[IMG]http://i718.photobucket.com/albums/ww187/vatrader01/KLR%20mechanical/04e28c5e.jpg[/IMG]

[FONT="Century Gothic"][I]Sometimes your only available transportation is a leap of faith[/I] [/FONT]
If you intend to do a lot of highway miles a throttle lock is a must. +1 on the atv cushion or seat mod. I'd see who has what near you and ask to try their cushions so you can see what will work for you.
---
*** KLR650, Tweeting long before your kids thought it was cool.
ADVFilmer videos of trails, reviews and other dual sport related stuff.
http://www.youtube.com/user/advfilmer
Since you have an 09, check ALL the wiring to make sure none of it is worn through. I have been stranded a couple times due to this. AMA MoTow helped me get home. Hopefully yours will not have all of the gremlins mine has had.


I did about 700 miles this past weekend on my new Shinko 705s. They did quite well. Much better than the Kendas I had been using. I am all road. The only time I go off road is pulling onto the shoulder to snap a pic.
---
Erik
2003 Bandit 1200S
2009 KLR 650

74 Honda CB360