What is this bike worth? 1986 KLR 650
---
What is this bike worth? 1986 KLR 650 with 9905 miles. In really good condition…. I can't seem to find the bike in Kelly blue book.
Its worth a fortune. The rest of the world didn't see KLR 650's until 19 and 87.

This in all likelihood a KLR 600.
---
******
"many a trip continues long after movement in time and space have ceased"- Steinbeck, [I]"Travels with Charlie"
[/I]
[IMG]http://i718.photobucket.com/albums/ww187/vatrader01/KLR%20mechanical/04e28c5e.jpg[/IMG]

[FONT="Century Gothic"][I]Sometimes your only available transportation is a leap of faith[/I] [/FONT]
More info needed. Pics perhaps? It's real tough to say without seeing the bike. Or to simplify, it is worth what someone will pay for it.




---
"In a car you're always in a compartment, and because you're used to it you don't realize that through that car window everything you see is just more TV." R. Pirsig
PPMC #1.
Soon, we ride.
AKA JD Mader or you can call me "Dan" just not early for dinner.
Click my handle for a link to my homepage/blog...which has nothing to do with MCs. Free literature and music! Viva La Revolucion!
-------------------
2008 KLR 650
RIP DM - Soon, we ride.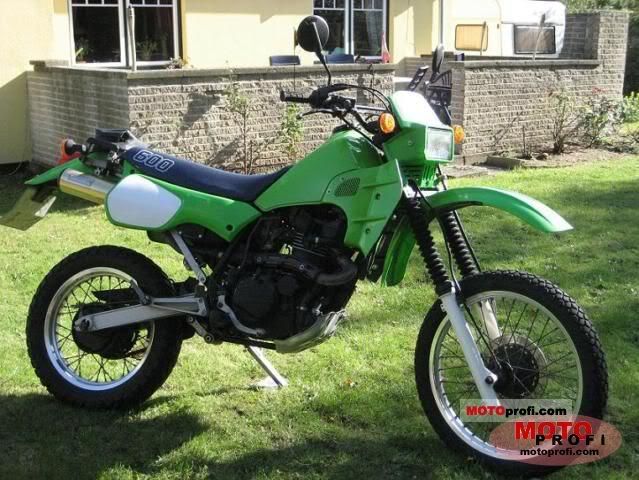 1984 KLR 600.
It shows a closer relationship with the KLR 250 in appearance.
---
******
"many a trip continues long after movement in time and space have ceased"- Steinbeck, [I]"Travels with Charlie"
[/I]
[IMG]http://i718.photobucket.com/albums/ww187/vatrader01/KLR%20mechanical/04e28c5e.jpg[/IMG]

[FONT="Century Gothic"][I]Sometimes your only available transportation is a leap of faith[/I] [/FONT]
1996..... Again sorry. The bike is mint.(after my 15 post I will send picks)
The sticker on the tank that tells about the break-in time is still perfict