any one have these bags?
---
Anyone have these bags.....? Do you like them
---
Last edited by Crazy Jake; 12-30-2010 at

11:50 AM

.
2nd Gear
Join Date: Dec 2010
Location: Rancho Cordova, CA.
Posts: 219
I have the top case and I love it. It's big and also expandable, it will hold a lot of stuff. I want to get the side bags as well.
---
Bill
W6BJD

2009 KLR650, black (the fastest color), Moose luggage racks - Happy Trail skid plate, crash bars, engine guard, highway pegs, and fork brace - IMS Pro footpegs - Dynojet stage 2 jet kit - Airbox mod - WOW led tail light - Top Gun 7.4Kg rear spring - Top Gun Progressive front springs - ThermoBob - Temp overlay
I love the look of these side bags…. The thing is this, I hate the idea of a strap over the back of the seat. I would like to take these bags and add a plate on the inside cut the seat strap and hard bolt the bag to the bike…. Anyone ever done this?
5th Gear
Join Date: Sep 2006
Posts: 4,700
Jake,
What are you planning on doing with the bags? Just remember that whatever you put on the bike, it's never big enough.

For several years, when camping on the KLR I used a Woflman Alpha Bag. You can put everything short of the kitchen sink in it. I finally found a used set of aluminum panniers last spring and I don't know how I lived without them..

All I'm saying is if you plan on hauling anything that you're going to need the space, save your pennys and just "DO IT" and buy hard luggage. You'll be really glad you did that first trip you take and all your stuff is out of sight in the bags.

Over 4th of July I took a nice long 5 day trip on my KLR. Nothing was "strapped" to the bike. Everything was in either my top box, panniers, or tankbag.. Nobody had a clue if I was riding from around the corner, or from 500 miles away. I had all my camping stuff, and also cooking stuff. Campers around me were shocked that I'd ridden 350 miles with all my camping gear and was completely self sufficient. I don't know if they were more shocked as I set up, or when it all fit back in the bike. Either way, there's something to be said about not strapping stuff down.. Even better when you can lock it!!
I know that's what I need to do….. not to offend any one … I hate the look of the square boxes
5th Gear
Join Date: Sep 2006
Posts: 4,700
Quote:
I know that's what I need to do….. not to offend any one … I hate the look of the square boxes
No offense taken. The first time I saw them I thought they looked awful, too.. They kinda grew on me.
And don't forget that there's other hard luggage out there than just the alumunum panniers. Just saying..
2nd Gear
Join Date: Jan 2009
Location: RIVERSIDE, CA.
Posts: 182
Sounds like you need to check out the Trax Boxes from SW Motech. I saw them on Wymans KLR and they look BADASS! They mount higher than regular panniers, outta the way from yur feet, and did i mention they look BADASS!

I consider the look of the Farkle much like you. Chekem out.... Expensive but KOOL!
---
2nd Gear
Join Date: Sep 2010
Location: Phoenix/Mesa, AZ
Posts: 412
I have them.
I've never actually used them. Because of where they sit, they make getting on and off the bike really difficult. At least it does for me. I think I may put them back on and try to get used to them being there as I'd like to do some camping come spring. But, I'm thinking some panniers are in the future for me as they hold more and sit further back.
I LOVE the top bag though. I use it almost daily. I love going shopping and people asking me where I'm going to put it all. It expands up about 3" which really adds a lot.
Oh, also. The way the KLR side bags attach by strapping through the plastics on the side is hokey.
They do look nice though and they seem like they'd carry a descent amount of stuff. My other concern however is that they open up like a book and are zippered near the middle, so packing and unpacking them while seems like it would be an interesting event, though I've never done it.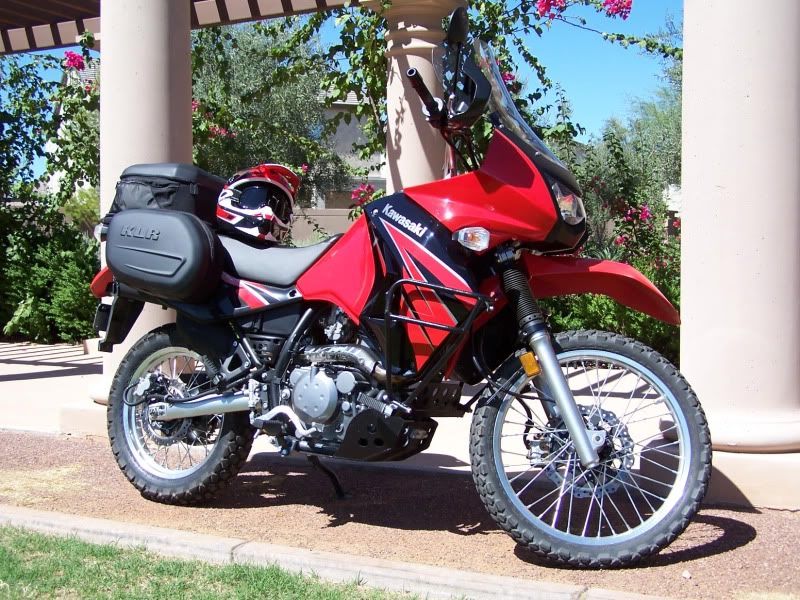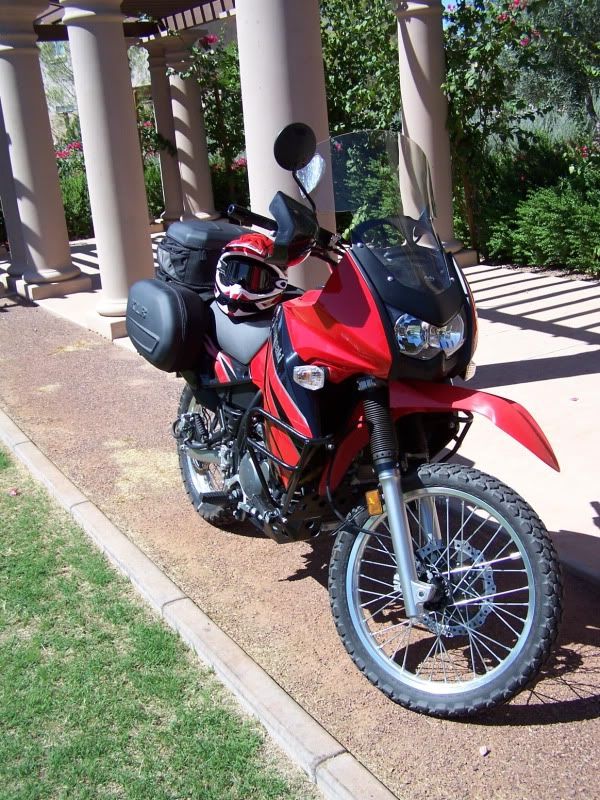 :edit: Actually, now that I've had the bike for quite a while, I'll put them back on and see if I can get used to them and do some "test runs" with them. Maybe they're not so bad. That would be nice since I already have them.
---
Red '09
Mesa, AZ
http://www.youtube.com/trabftw
PHBiker: " I learned two important things today. First, no one really cares if I wash my bike. Second, it's red."
---
Last edited by TrabFTW; 12-20-2010 at

09:23 AM

.
5th Gear
Join Date: Sep 2006
Posts: 4,700
Jake,
If you're set on getting soft bags, take a look on
www.newenough.com
at the Nelson Rigg luggage. Don't forget to check out the closeout stuff, too..
If you find some bags there, or anything else, let me know. I've got a 10% off certificate that I can email you to help cut the cost.
Nelson Rigg stuff is well built in the US, and guaranteed for life. I used it for my tankbag, saddlebags, and tailbag on my old VFR.
I have another Nelson Rigg tankbag on my BMW.. Good stuff!!
1st Gear
Join Date: Aug 2010
Location: Alpharetta, GA
Posts: 27
Yup I have them. Look here for a pic
http://www.klrforum.com/attachment.p...2&d=1291733329
It is a little tricky but you can actually run that strap under the seat or I think in this pic I have them attached to the cheap ebay side racks. Here is my honest opinion. I love the way they look but I don't think they are very functional. Mainly because they are molded to fit the shape of the bike so the top is wide but the bottom is narrow. I wish I had a back shot for you to see what I mean but in the end it means they don't really hold squat. If they were not molded to the shape of the bike then I think they would be the perfect size. If you are only looking to carry a few things then they sure do look great. as far as size for reference I can fit my top and bottom frogg toggs in one but barely. Now the top bag I have as well and think just the opposite. I don't like the looks of it but man that bag is versatile and can hold a ton when expanded.