Guest
Join Date: Oct 2006
Posts: 308
Kim's off to MSF
---
I'm so proud.....and bummed. Kim just left for her motorcycle safety course in town. It starts at 0730 this morning. I'm just bummed because I am stuck here and not with her. She's nervous, but I think she'll do fine.
They have classroom this morning then riding this afternoon. Same tommorrow. I may try to make it out to the riding course and get some photos today. I will really try to get her to write out her observations and maybe do a report.
Anyway, I feel weird. My little riding buddy is headed out with a bunch of strangers. She has been absolutely chomping at the bit to do some road riding lately though, so this class will be awesome.
Sorry I'm rambling, but ya'll are the only ones who will understand!! Thanks for indulging me.


Jamie
Guest
Join Date: Nov 2006
Posts: 50
Guest
Join Date: Oct 2006
Posts: 308
Well, the classroom portion just started an hour ago, so nothing much worth seeing yet. But I am planning to get some of her riding this afternoon. Stay tuned!



Jamie
Guest
Join Date: Oct 2006
Posts: 331
A-N-T-I-C-I-P-A-T-I-O-N----------------- :mrgreen: :mrgreen:
Guest
Join Date: Oct 2006
Posts: 308
I just walked in the door and I got the goods. They had just started the riding portion when I arrived, so it's pretty basic stuff. Kimmy getting ready to crab walk the bike across the course: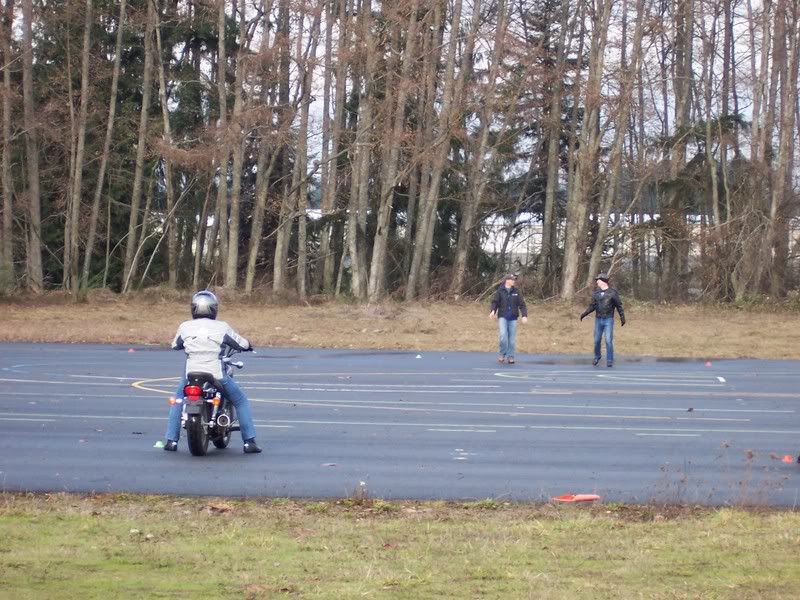 They would ride for about 10 minutes, get together and talk about the drills, then take a 5 minute break. Rinse, repeat. It looked like there were about a dozen students and 2 instructors:
Here is the bike line up. They had some brand new bikes, some dual-sport, some street. Kim ended up with a 250 street bike:
Good thing it wasn't a night class!
I got to talk to her for just a minute and she seemed like she was doing fine and having fun.
I also shot a little video with my camera. I've never done this before, so lets give it a try.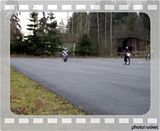 I'm going back tommorrow to watch some more, so I'll shoot a few more pics in then.
Jamie
Guest
Join Date: Nov 2006
Posts: 50
Great pictures! We loves the pictures here.
Seems quite overcast there and cold. So how did she finish up for the day? Still enthusiastic I hope.
Guest
Join Date: Oct 2006
Posts: 308
Yeah, she's still into it. By the end of the day she was really cold. Nothing a hot bath couldn't cure. She is pretty sore so she is kicking back right now studying for the test tommorrow. I think she's going to make it through just fine.......I can't wait!


Jamie