Guest
Join Date: Oct 2006
Posts: 27
Getting it all together..
---
Ok so I will get my bike on Wed. and then I have to figure out what type of gear I want. So here is a picture of the jacket I want. What does everyone think?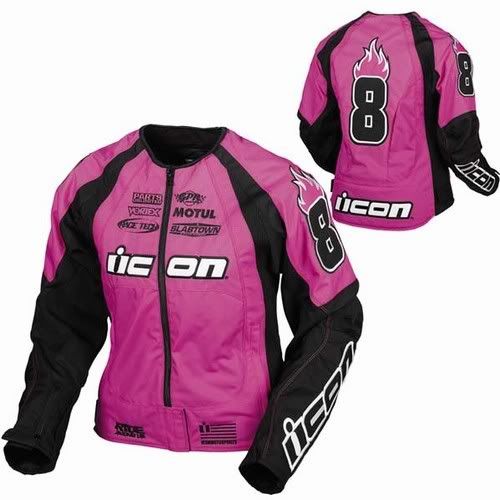 Is this a good one?
Guest
Join Date: Oct 2006
Posts: 27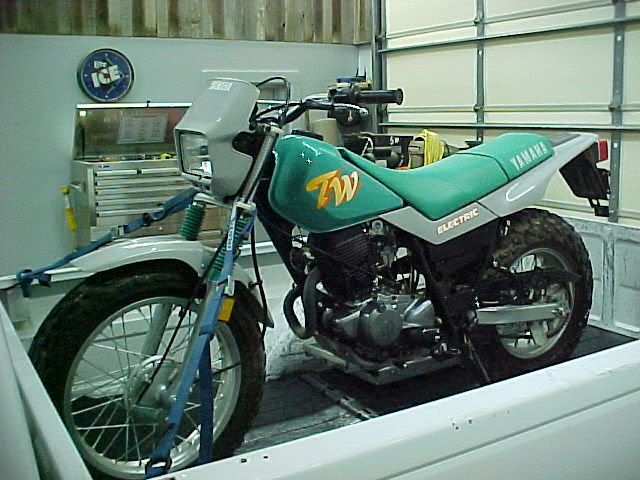 The bike will eventually have to be painted of course. Maybe all black with a pink tank or something like that
Guest
Join Date: Oct 2006
Posts: 27
Ok I like these gloves but are they good gloves?
Anyone have any idea's on the Icon brand? Likes, dislikes?
2nd Gear
Join Date: Oct 2006
Location: NW Florida
Posts: 132
---
Kewl bike & gear
You might like the jacket and gloves, but I wouldn't be caught dead in them.
Might be a guy thing.
As long as it is good quality, and it FITS right, and has the padding in it.
---
Today is the first day of the rest of your life.
I'm likin' that bike and gear! Gotta love black and pink!!!
Way to go, Angel! Congrats!!!
---
Hugs,

~Swish~


[COLOR=#a33224]It's not whether you get knocked down, it's whether you get back up. [/COLOR]


[COLOR=#a33224][FONT=VERDANA, ARIAL, SANS-SERIF][SIZE=1][I]-Vince Lombardi[/I][/SIZE][/FONT][/COLOR]

[COLOR=#a33224][IMG]http://<!-- Facebook Badge START --><a href=[/IMG][/COLOR]
Guest
Join Date: Oct 2006
Posts: 331
Ah angel--I'm here---had a little detour picking up my new bike today ---and yes it's great!!! Well, why am I not surprised you picked PINK--did I say PINK--yes PINK!!!! Hey, you PINK out girl!!! I love the jacket and the gloves--I have never tried any of the ICON items so I cannot be a very good judge-but hey-they look cool! I did want my jacket to come up around my neck more though-for cold weather and I made sure mine had a zip out quilted liner. If you have warm weather most of the time this won't be a worry -but-if it's warm all the time, definitely check out the mesh jackets.I have a summer weight glove from Olympia that I like alot--gel pad in the palm and pads on top of the fingers between knuckles--they are like not having anything on-I detest bulky gloves for riding. I got them the beginning of the season last year and have already worn a hole in them--I am so used to wearing them I can't ride without them. I can't wait to see what you do with the paint job on the bike-boy -if I lived close we could definitely custom out you a girl bike!!! Keep us posted with pics of you riding it!!!
Kay
---
Last edited by KayLR; 03-13-2007 at

10:33 PM

.
Guest
Join Date: Oct 2006
Posts: 27
---
Hey everyone,
we went to Colorado yesterday and picked up my bike
It is a 1990 but it looks like it has been garage kept and
almost looks brand new
I don't really like the colors so we are going
to change that as soon as we can. We are thinking that painting it all black and then adding some kind of pink girly skull graphic to the tank might be cool
Bullfrog is going over it right now and checking to make sure everything on it is in working order
I am way excited
I can't wait to start riding it
KayLR,
I really wish we lived closer to you so we could really girly out my bike!
So how is your new bike? Have you been riding it? Where did you go to pick it up?
Guest
Join Date: Oct 2006
Posts: 331
Hey Angel, yea, we could really do it up----I picked my bike up in Marietta ,OH--the shop is about an hour from our house--I just couldn't seem to make it right back so several hours later I showed up home with 123 miles on it-it had 1 mile on it when I got it-the bike is wee-underful!!!
Hey, Mike said as he left me with it-I don't expect you till dark--so I fulfilled my duty
being the good little dutiful wife I am
-well,make sure you get before and after pics and I'll see maybe what I can dig up for you some design ideas! kay
Guest
Join Date: Oct 2006
Posts: 27
Sound like you had a blast
I got to ride mine in the back yard today
maybe next week Bullfrog and I will get to take it some where and really test it out
I am so happy to finally have my own
He if you come up with any design ideas let me know.