5th Gear
Join Date: Sep 2006
Posts: 4,700
Wisconsin Guzzi Rally__ KLR's are Welcome!!
---
http://www.wmgr.org/
Always an excellent time!! And you DON'T have to be a Guzzi Rider to have a great time!! Usually around 300 people, and there's usually around 20+ ADV rider that show up for BSing and drinking the Beer that's INCLUDED in the rally fee..
And the fee.. $30 if you pre-register before July 1rst.. You get fed, beer, camping for the weekend, and it's only $30.. I can't stay home for that!! The roads are fantastic, too!!
One of the ADV guys by the handle of BENRON made a map of Wisconsin.. The rally puts you smack dab in the good stuff!!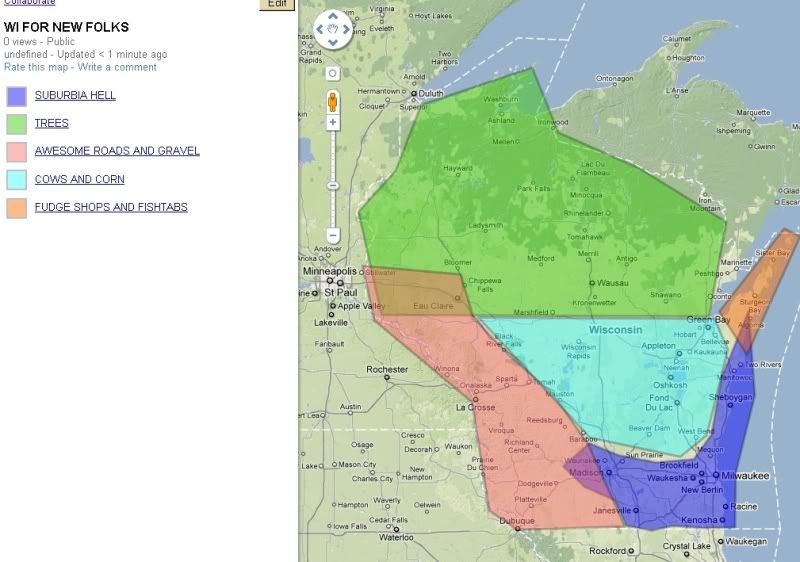 So, if you're able, consider it!! I know of 3-4 guys on this forum that will be there (sorry, but yes, I'm one of them) and you'll have a blast!!!
And to quote the gentleman who puts the rally on, we don't care what you ride, but we don't want any beer left over..
2nd Gear
Join Date: Mar 2010
Location: Peoria Illinois
Posts: 165
Ordinarily, I'd like you there to meet you and see what all this Guzzi
business is about but I'm getting married that weekend. Too late to reschedule.
Mac
5th Gear
Join Date: Sep 2006
Posts: 4,700
5th Gear
Join Date: Sep 2006
Posts: 4,700
Quote:
Gat naried at thr rally!
That was supposed to say
Get married at the rally, but my fingers are big, and the screen and buttons on my BlackBerry are small..
Anyway, Congrats, and always remember, the Wedding Day is HER day..
Maybe you need a voice to text app.
Ha! Love the map that Benron made up. Pretty accurate!
---
09 KLR650
01 Jeep XJ w/ 200,000 miles as of 3-26-11
5th Gear
Join Date: Sep 2006
Posts: 4,700
Just throwing a reminder out there...
As long as the weather co-operates, it should be a blast!!

It's the one rally I really look forward to every year.. I've driven by the campgrounds about 10 times in the last few weeks..
When we were at Money Creek (Affair Tag) We heard about the Guzzi rally held there a few years ago, 2008 I believe. Hopefully you won't have rain like that this year.

Have Fun,

Sleddog

PS....We're starting the CDT this Friday. Maybe we should take Snowmobiles instead of the KLR's!
5th Gear
Join Date: Sep 2006
Posts: 4,700
Well, the WI Guzzi Rally is on top of a hill, so flooding isn't an issue, but lightning always is..
The Corporate Guzzi semi trailer is still being used as storage at a farm just south of Money Creek.. Saw it last fall when I was leaving the MN Guzzi Rally..

Be careful on your trip!! Looking forward to following your progress and hearing about the adventure!!
5th Gear
Join Date: Sep 2006
Posts: 4,700
The Guzzi Rally is next weekend.. Just a heads up for those interested.