1st Gear
Join Date: Jul 2008
Posts: 21
So what intails a weekend riding trip. Besides the obvious riding, is anyone into camping overnight somewhere are you talking about hitting up some hotel? I think I'll also being gearing up for some colder riding.
Most of mine so far has been around lake roads want to plan a trip down to devals den state park camp over night or all weekend but next two week ends are full for me.
1st Gear
Join Date: Jul 2008
Posts: 21
That's not too far, would be nice. I went for a small ride tonight after my workout and ended up near stockton lake. What a nice ride and I got used to the bike pretty quick. I rode though a group of baby rabbits and didn't hit any. I'm not good at hitting animals, so that was good. My ass is sore, so I either need to get used to the saddle or change out my seat to something else. I just took the handguards off. Because they block the wind, my hands were almost sweating. I'll put them back on when it gets cooler.
Guest
Join Date: Jul 2007
Posts: 55
I'm up for a weekend trip, though devil's den isn't too far from me I never get tired of it. Plenty of mixed riding in the area.
Has anyone tried Chadwick Trails in the Mark Twain National Forest?
I have some extra camping gear if anybody needs any.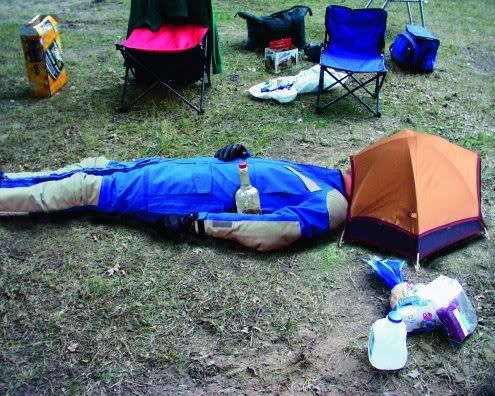 1st Gear
Join Date: Jul 2008
Posts: 21
I usually load up pretty good on camping gear. Being married has slowed down my camping, but the times I've gone now I've minimized my load. Now of course I'll be learning how to pack a bike. I have a full frame backpack, but don't know how save I'd be wearing that, strapping it to the bike.
1st Gear
Join Date: Jul 2008
Posts: 21
I havent been on any trails yet and won't be for a few weeks until I'm super comfortable on the bike. I wanted to try chadwick when I had my 660 Raptor, but ended up selling the thing after only one weekend of owning it. Someone offered me 1200 more than I paid for it, so I jumped on it. Monetarily, it was a good idea. The man part of me regretted getting rid of it. That thing was fun as Hell!
Sound fun i have started my colection of camping gear need to plan a weekend some time backroads trails im game.
1st Gear
Join Date: Oct 2006
Location: northern Arkansas
Posts: 81
"Has anyone tried Chadwick Trails in the Mark Twain National Forest?"
I've been past it, have been led it believe it's more of an ATV place than KLR friendly. If not correct would give it a go.
Jim
---
KlR650 x 2 F650gs XL185
where exactly is chadwik I will be looking to go for a trip the next two to three weeks i am pritty bussy after that i would like to get some of us togrter for a ride Mo or arkansas dose not mater to me
Guest
Join Date: Jul 2007
Posts: 55
Similar Threads
Thread
Thread Starter
Forum
Replies
Last Post
Southern Indiana?

johnnail

Mid-West Riders

4

05-31-2009

04:22 PM

South west Missouri

maprimm

Mid-West Riders

24

04-30-2009

02:13 PM

Southern Missouri Ride

Aaron Codling

Upcoming Tech Days & Group Rides

30

08-10-2007

06:32 PM

Southern

Mangyrat

Jokers Lounge

2

06-04-2007

10:58 PM

Southern Missouri

Aaron Codling

Upcoming Tech Days & Group Rides

4

05-10-2007

07:22 AM