OverDrive
Join Date: Jan 2011
Location: NW MO
Posts: 5,386
Gotta Admire This Guy
---
Wonder if this would be allowed in the US?
[IMG]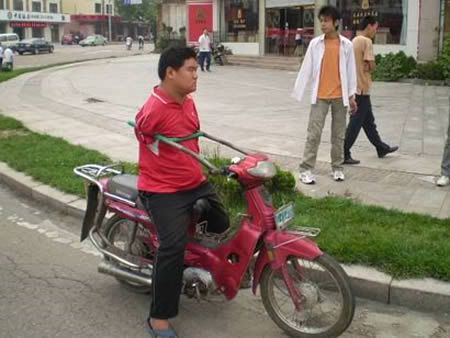 [/IMG]
If he isn't a danger to anyone, let him ride.
---
94 KLR,tank guards,sw motech centerstand,Doo done, african switch,mirror dampners, powerpegz, twisted throttle fuses, aluminum skidplate, Bigcee shark disc and jug holder and subframe upgrade, progrip grips,maier handguards/brushguards, avon distanzias,fmf q4 exhaust, headlight guard, handlebar risers, billet rear brake reservoir bracket and guard, dual star shifter,garmin 2820 gps, tmod,disc cover, pcv mod,corbin flat
Quote:
If he isn't a danger to anyone, let him ride.
I 2nd. Let him ride!!!!
A buddy of mine lost his arms in a round baler when he was 18, just above the elbows. When he finally got out of the hospital and rehab the first thing he wanted to do was drive his car. Mobility is important for the mind and the body. Props to this guy for figuring out a way to ride with no arms at all.
---
Pretty impressive.
---
"In a car you're always in a compartment, and because you're used to it you don't realize that through that car window everything you see is just more TV." R. Pirsig
PPMC #1.
Soon, we ride.
AKA JD Mader or you can call me "Dan" just not early for dinner.
Click my handle for a link to my homepage/blog...which has nothing to do with MCs. Free literature and music! Viva La Revolucion!
-------------------
2008 KLR 650
RIP DM - Soon, we ride.
1st Gear
Join Date: Aug 2011
Location: San Diego, CA
Posts: 18
WOW
1st Gear
Join Date: Aug 2011
Location: San Diego, CA
Posts: 18