OverDrive
Join Date: Jan 2011
Location: NW MO
Posts: 5,365
You Have Won The Powerball
---
And you have one of these at your disposal ready at your local airfield, waiting to roll your KLR into the back and take you anywhere on Earth you choose to do some riding. What would be your destination?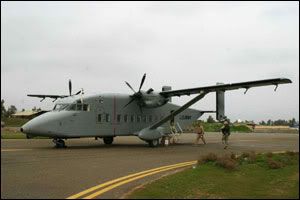 Pretty much anywhere in South America would suit me fine as long as there was no snow
. Though if I won the lottery, I might be inclined to take my brand new GS
---
5th Gear
Join Date: Sep 2006
Posts: 4,700
New Zealand.. And then a few runs up and down the Rockies..
2nd Gear
Join Date: Jul 2011
Location: Dead Center
Posts: 256
If I won the powerball I'd hope to find faster transport than a Shorts Sherpa. I too would think about Bmers, but also about the Hayes Diesel KLR (only $18K) because as rich as I may get, I'll always be the guy who ate one bean burrito and a small coke for lunch in college because it was less than a buck and I was cash strapped. Sure I could buy other bikes cheaper, but which one would use less fuel per mile or give me a longer riding range?

As far as the destination goes? The northern most point of Alaska reachable by plane/motorcycle. I'd start when the snow fall quits (or is at least very intermittent) and ride south until I couldn't get further (like to get picked up there and flown to antartica for a brief ride). Then I'd like to ride one of the trails through the rockies and the appalachas on a Super Sherpa or TW 200 (sorry, I love trials bikes but their lack of range and seating is a deal killer).
Regards
Mark
---
Mark
"My KLR belongs to God, when he wants it clean he washes it."
swiss alps.
---
Never ride faster than your angels can fly
I will let you know Thursday morning
---
Erik
2003 Bandit 1200S
2009 KLR 650

74 Honda CB360
5th Gear
Join Date: Sep 2006
Posts: 4,700
Same here on Wednesday Morning, except it's MegaMillions
Lottery.. Retirement for people who are bad with math..
On the other hand, I have $5 to piss away at a chance at $241,000,000
1st Gear
Join Date: Sep 2006
Location: Tallahassee, Florida
Posts: 96
---
Australia. The KLR was made for the Outback! A long trip around the rim of the island, and a side trip to Ayres Rock. Need a mini-trailer though - it's a LONG way between petrol stations, I'll bet!
First stop is the shop to get my suspension done along with all the other stuff on my wish list. Next stop would be New Zealand followed by Australia.
New Zealand and points beyond!!
---
byker
2008 KLR 650 (108,000 kilometers and rising)
1987 K100RS