2nd Gear
Join Date: Nov 2011
Location: western north carolina
Posts: 184
klx or klr?
---
ok hey,

keep seeing folks talk about ,,ah wife just got klx 250..

has any one over 6' say 200lbs ever ride one of these??? how is it, able to pull grown adult around..would be good off-road bike??

yes maybe not the best for longer trips, highway speeds,,and etc..

BUT as for a fun little bike to ride, in the woods or off-road where ever..places you would not ,willing take your klr rideing, on normal basic ....say solo too,, where no one around to help , move the monsterist beast (klr on a hill ,with the tank down hill,tires up hill... trying to stand her back up) as have had ,to rotate bike ,while on its side,,,just to be able to stand it back up==sure needed a buddy that day....

so question is: do these klx250 have enough power to pull adult around,off-road and least be able to do 60 on road???
or do we (guys) just like to saying "i ride a 650" in stead if "oh its ,just a 250"???

i like my klr's(yes two of them 98touring&99moto-ed)...but used to ride honda cr/xrs..point being i want some thing that can ,,go deep off-road,mud rocks, jumps, and all those rabbits trails...the klr is NOT an enduro!!!

so does any one , have any info, on are little brother(the klx),,

why don't they make 400/450etc klx,,ya ,,ya ,i know the deal kaw had with susuki and the dr's..not far !!!
Have some friends with KLX250's they ride on enduros. They love them but I thought they were underpowered at 6'4 280. Despite loving them they have all bored them on installed 300-350 kits. Two of them are 6 ft tall and 200+. I think they like them because they are so light and nimble off road.
---
*** KLR650, Tweeting long before your kids thought it was cool.
ADVFilmer videos of trails, reviews and other dual sport related stuff.
http://www.youtube.com/user/advfilmer
---
I'm 6-2 about 200 and I ride my wife's fairly frequently. I actually like it off road compared to my Klr. I like to ride technical single track and while the Klr is fun the klx is more so. It's so light and nimble that you can ride it a little faster and with more ease. Also like you were saying I do not ride my Klr off road solo. It's just too heavy if anything were to happen. Mud hole or the like. But the klx I take by myself anywhere with no problems. When the back end is bogged down in mud the back is so light I just had to lift it up and move it over. Plus I feel it can do something's that a Klr just can't. Or maybe I should say shouldn't with out a very experienced rider. As an everyday ride however I'd stick to the Klr.
---
"If you don't ride in the rain, you don't ride."
"Work to ride and ride to work."
"Accidents hurt - safety doesn't."
2nd Gear
Join Date: Nov 2011
Location: western north carolina
Posts: 184
ok cool,
hey didn't know they had kits and or could be bored that high..

yes ,klx is for those days closer to home, an or days , where buddys can't go...

where as i can still go an play...besides there is 30 mile public national forset park for atv,,, is very rocky, its just bets the crap out me an klr...every one talk to think am crazy for rideing that(klr) = that most all have ,trailered in dirt bike/atv ...as is where i grew up rideing!!!

ok really think want a klx ,,i have a military 94 250klr , is great off-road,,,but no title..
4th Gear
Join Date: Apr 2011
Location: Kansas
Posts: 1,205
I've got a 300 with a plate. Racetech springs, jetted, seatconcepts custom seat for me. I'm 6'3" Lighter and more power than a 250. But a 250 has an e-start and you can put in a 351cc and pumper carb. Great bikes!



---
Kawasaki KLR650 - Adventure Lite
Tagged KTM250XCF-W - Rocket
Tagged KLX300 - Trail Tractor
'84 XR250R - Retro Ride
RMZ250 - Dirty
CRF80 - Kids
CRF70 - Kids
1st Gear
Join Date: Jun 2012
Location: KY
Posts: 16
I originally was going to get a KLX but for a little bit more money you get a whole lot more bike.
2nd Gear
Join Date: Nov 2011
Location: western north carolina
Posts: 184
but have two klr's
---
Quote:
I originally was going to get a KLX but for a little bit more money you get a whole lot more bike.
ya understand idea !!
but that is the problem tho....
i have two, klrs 650 and a military klr 250 w/no title(want to get rid of it),, figure klx would be same as klr250,,but upgrade with TITLE and electric start an hopeing, bit more power or different power range at least..??..??
but looking for a enduro..!!!!!.. deep woods= ruff off-road,, jumps ,,etc ..
where the klr is to fat and heavy to make it,, on a normal basic!!!
as had klr,,laid down ,,,couple times alone,,and almost had to walk out cause bike was stuck in hole, and like to think ,i'm fit and strong .... BUT if you not the hulk or popeye ,,,you will need two able persons too pick up klr (or more) if off bank , in hole, or muddy where is slip-n-slid (as we say= slicker then owl shit) lucky just to stand on a hill an not slide down on ya ass!!!!!
so klx would be next best option = or go back to honda xr's (that i grew up riding dirt on) ,,or try out suzki dr (but that is th same as klx=for some years!!),,, and yes,, yamaha wr would be the great , but if going to that price range,,i may look at ktm's (that i don't like = because of how hard ,expenise is too fix,,if you can even find the part)..!!!..!!
want smaller bike for more heavy ,ruff ,big jumps, and all round off-road beast, street legal bike,,enduro style!!!
sorry,,like my klr's,, but it is not a enduro ...
1st Gear
Join Date: Jul 2011
Location: NH
Posts: 85
I owned a 2009 klx250s for 2200 miles, it is like a drz400. Best used to get from house to trails, but that being said it handles great on road, has enough power for up to 60 mph. The biggest issues for me was range (1.9 gallons), seat comfort, and stability over 65 mph. I hit 95 indicated on that thing. I am also well practiced with under-powered bikes and find it exciting and fun to attempt to stay with traffic at highway speeds.

6'4" 240 lbs

PS - rumor on the street is for cheap money a KLX250s can put out 30 hp top end, but not nearly as torquey as a klr650.
Banned
Join Date: Jan 2010
Location: Mid-Atlantic
Posts: 763
With 6 speeds, I'd expect the KLX250 to scoot down the Interstate well enough, if you're willing to flog it sufficiently.

My KLR250 will, and I imagine the KLX has some edge from more contemporary design. Leastwise, your wife will have the benefit of an ELECTRIC STARTER!
We have a KLR and a KLX as well. I am VERY impressed by the KLX. I'm 6'3", 180 and I can ride that thing like a knife cutting through the woods. And it's a great beginner bike as the wife had taken to it nicely. As with every bike, you have to address a few issues at first. On this one the stock bars are weak and come with an annoying, welded in weight in the ends (making it are to add hand guards). Hers is actually in the shop right now getting all the pieces put on to include; new tires, new 3 gallon IMS tank (reallllly helping range), moose racing skid plate, Renthals bars, Acerbis rally 3 hand guards, going back to 14t sprocket (13t was horrid) and I am still waiting to receive the Happy Trail tail top rack.
All done it should address most issues. The one thing I haven't figured out how to address (and maintain safety) is that the rear blinker is melting from fmf exhaust position. No bueno.
She'd kill me if she knew I posted this.
First trip on the bike.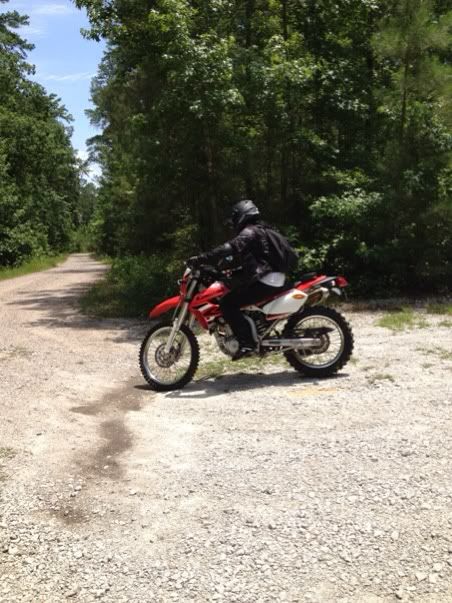 My toy beside a friend's green KLX.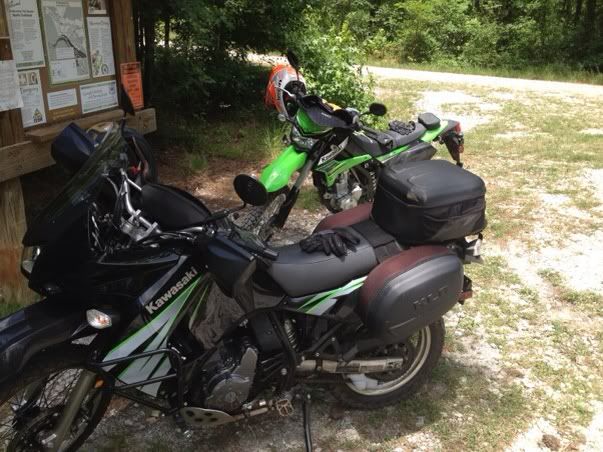 Either way, you're going to be happy. I'm more comfortable and go farther on the KLR, but man is that KLX fun!!