OverDrive
Join Date: Jan 2011
Location: NW MO
Posts: 5,365
I Owe All Adventure Riders An Apology
---
Okay, so yesterday I had some bills that I needed to mail out and the wife wanted a capuccino from the local convenience store. It being hot out and all, I opted to ride the wife's 50cc scooter uptown to run these errands.
The town was deserted except for a couple of folks at the gas station as I rode around town on the scooter with bib overalls and no shirt, work boots and also wearing this creation that I made and have owned for almost 40 years after being inspired by one in the Clint Eastwood movie, "Every Which Way But Loose:"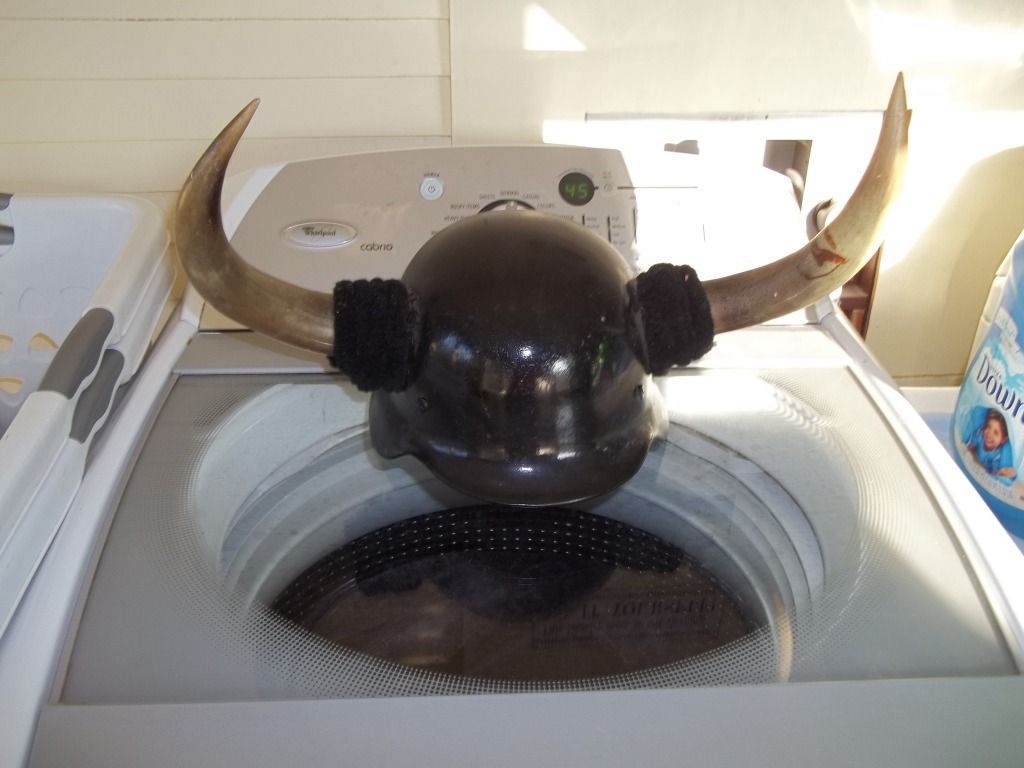 Back in the day, it was my "party helmet." Now it does duty as my preferred headgear when I buzz around town on the scooter.
So, after I leave the gas station, I'm buzzing back through town when I see a white adventure bike being pushed down the street by its rider near the town square. I turn around and go back to check on him, thinking maybe he was having mechanical problems. I don't think he saw me pass by the first time as his head was down pushing the bike, which turned out to be a really nice white BMW.
I come up behind him and he looks up and sees me as I say, "Do you need any help?" I could tell by the look on his face that he interpreted my question as "What the f** are you doing in my town?" I'm guessing instead of seeing me, he probably saw this: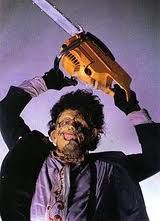 I've gotta admit, I felt bad about it, but it was pretty hilarious. He began speaking in an accent that I couldn't identify as Australian, British or what, explaining that he'd just stopped to take a picture in front of what we here call a "meat locker," (which is basically a butcher shop), didn't have any problems and was simply pushing the bike to some shade. I thought the meat locker was kind of a strange photo opportunity, but perhaps they don't exist where he's from.
As I idled along beside him, I was faced with a choice:
#1 I could either attempt to explain to him that I was actually somewhat normal, admired his BMW and the trip he was on, I rode a KLR and would like to do the same thing, etc. etc.....
#2. I could just wish him well and ride off, leaving him wondering and hopefully giving him a good tale for his account of his passage through Northwest Missouri, where hulking, inbred hillbillies wearing horned Nazi helmets and riding red and white Roketa scooters roam the streets hoping a lone adventure rider will pass through.....
I chose the latter. I think he was scrambling to get his camera back out before I rode out of sight.......
You'll see him on ADVRider with pics of you in that helmet!
---
A bad day on the bike is better than a good day at work...
There's no such thing as enough storage space...
lol That is all I can think to say.
You are also the fellow who puts roman-style Mohawks on your helmets, right?
---
2006 Red KLR 650

Modifications:
1)Doohickey Planned and purchased 2)Aftermarket Grips 3)Grip Heaters 4)Happy Trails Hard Luggage Rack 5)20 mm ammo cases planned soon 6)Aftermarket Exhaust 7)Thermobob 8)Happy Trails Fork Brace 9)Stainless Steel Oil Filter 10)Magnetic Drain Plug

See profile visitors post for details and planned mods.
OverDrive
Join Date: Jan 2011
Location: NW MO
Posts: 5,365
Quote:
You are also the fellow who puts roman-style Mohawks on your helmets, right?
Yeah, I have one on my off-road helmet.
Oh E. Don't Change!
---
~Things work out best for those that make the best of the way things work out~
OverDrive
Join Date: Jan 2011
Location: NW MO
Posts: 5,365
Quote:
Oh E. Don't Change!
Hmmm, the exact opposite of the advice I often get from my wife. Hey, now I can tell her a psychologist told me I'm fine the way I am, no matter how much I embarrass her!
A dear departed friend of mine had a helmet exactly like that one. He drove his sportster into school wearing that a few times....at age 15.
Thanks planalp for a good laugh at the end of the day....needed that...
just don't pass any fields with a bull is all I can say, you may get more than you bargained for.
Where you drawn to the color red?




---
"In a car you're always in a compartment, and because you're used to it you don't realize that through that car window everything you see is just more TV." R. Pirsig
PPMC #1.
Soon, we ride.
AKA JD Mader or you can call me "Dan" just not early for dinner.
Click my handle for a link to my homepage/blog...which has nothing to do with MCs. Free literature and music! Viva La Revolucion!
-------------------
2008 KLR 650
RIP DM - Soon, we ride.