OverDrive
Join Date: Jan 2011
Location: NW MO
Posts: 5,367
Ready For Football Season
---
Well, we crawled out of the dark ages here with our local cable company finally offering CBS and Fox in HD so I can view games in crystal clarity, but I still faced the problem of missing critical plays during bathroom breaks because I'm too incompetent to figure out how to run my DVR box.
So, finally talked the wife into letting me install a toilet right in front of the TV so I never have to miss a second of any game. It looks kind of unusual in front of the living room and will take some getting used to, but what's a fan supposed to do? I'll have to hang a big mirror on the opposite wall for when I'm taking a dump.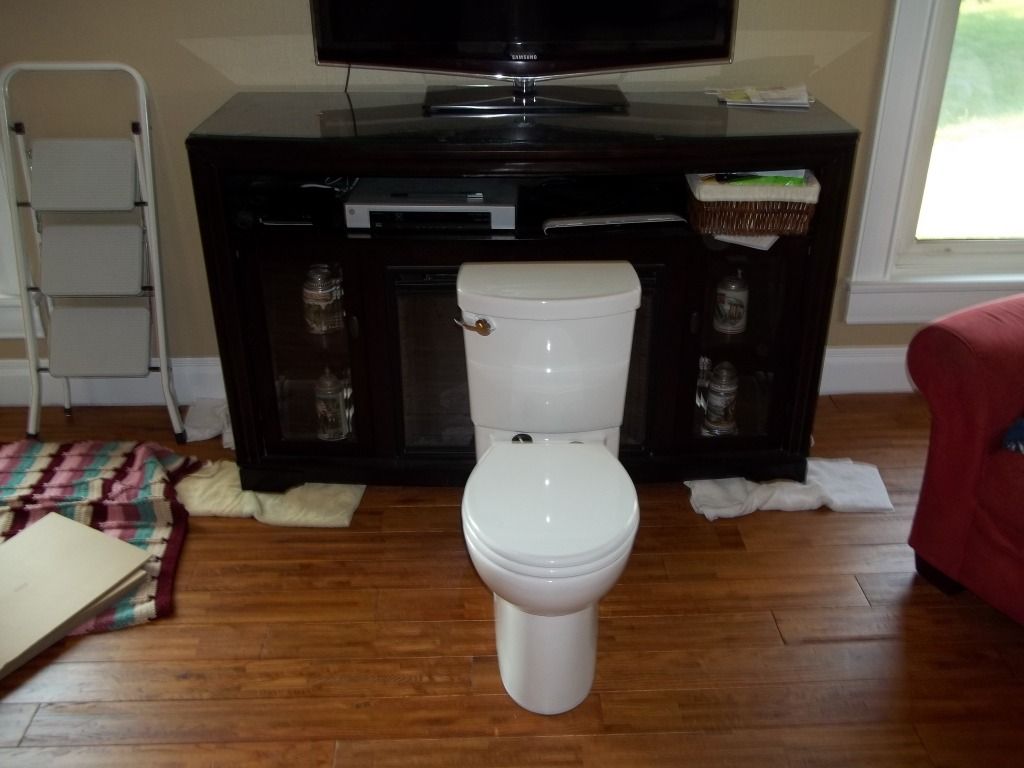 Actually, we're putting laminate hardwood flooring throughout the house. I want to see one of those HGTV teams skip the perfectly square new house and install this shit quickly in a 100-year old house with crooked walls and about 20 1x6" door frames that are hard as rock and have to be undercut individually so the flooring can slide beneath them. I've gone through $60 just in saw blades alone.
I've started calling this place The Labor Camp: took a couple of days off work to get stuff done, haven't taken a bath for three days and spend 14 hours a day painting, taking out a house full of old carpet and laying this stuff, in addition to a re-gut and renovation of the bathroom.
Even though it's seriously cutting into my riding time, it will be worth it in the end. Amazingly, the wife and I haven't gotten into one serious argument throughout the entire process.
---
Last edited by planalp; 08-29-2012 at

12:56 PM

.
5th Gear
Join Date: Sep 2006
Posts: 4,700
Quote:
Amazingly, the wife and I haven't gotten into one serious argument throughout the entire process.
Too busy or tired to fight..
Quote:
too busy or tired to fight..
lol.
---
"In a car you're always in a compartment, and because you're used to it you don't realize that through that car window everything you see is just more TV." R. Pirsig
PPMC #1.
Soon, we ride.
AKA JD Mader or you can call me "Dan" just not early for dinner.
Click my handle for a link to my homepage/blog...which has nothing to do with MCs. Free literature and music! Viva La Revolucion!
-------------------
2008 KLR 650
RIP DM - Soon, we ride.
OverDrive
Join Date: Jan 2011
Location: NW MO
Posts: 5,367
4th Gear
Join Date: Apr 2011
Location: Kansas
Posts: 1,205
I hear ya! I recently finished painting the exterior of our house and shed, going back and thoroughly caulking every little crack, painting over the caulking, staining the cedar trim, painting the trim another color, staining the deck and staining the walkway. It whoops ya climbing ladders, kneeling, etc. But it looks so much better and gives me the piece of mind everything is sealed up for the winter.
What sucks is there is a road by our house that alot of MC's take to get out of town, so whenever I'm stuck at home being a grown up I have to watch all the other guys going out for nice rides.
But yes, I'm ready for football. I bought a new Nerf football for me and the boy to toss around. Good times!
---
Kawasaki KLR650 - Adventure Lite
Tagged KTM250XCF-W - Rocket
Tagged KLX300 - Trail Tractor
'84 XR250R - Retro Ride
RMZ250 - Dirty
CRF80 - Kids
CRF70 - Kids