5th Gear
Join Date: Sep 2006
Posts: 4,700
I have a motorcycle dilema..
---
I have too much "stuff".. Too many guns (yes, it's true), too much gun stuff, too much outdoor stuff (tents, sleeping bags, etc) too much motorcycle stuff (also true) and, yes, too many motorcycles.. :shock: I don't NEED a KLR, V Strom, old Benelli, and a touring scooter...
Now, I've been offered, at a very good price, a 1977 BMW R60/7. I like BMW twins.. They're simple and have a great personality.. Problem is, the R60/7 is about the least desireable of all BMW bikes. Pretty slow, high revving (for a BMW) and kinda boring as BMW's go..
I know I could buy this, ride it for a while, and turn around and sell it for a profit, but I just ponied up for an engagement ring and I really, really don't need to spend the money, and I don't NEED another bike..

If I bought it, I'd end up spending another $100 for title and plate, another $100 for a year's worth of insurance, and as you can see in the picture, it doesn't have saddlebags, which are a must have for me on a BMW.. (another $250 would get me used bags/mounts)..
Suggestions?? :sk0014
If you could make a few bucks on it, buy it and sell it without the costs of the title transfer, or saddle bags.

If you are not into antique M/Cs why would you want it?

I never was into bmws, I think they are lacking in the looks department.
---
Today is the first day of the rest of your life.
Been married 20 years now, buy your toys now while you can. you can always get rid of it later, but once your married, things have a way of changing priority and you might regret not getting such a cherry looking beemer. trust me, been there done that.
---
2002 KLR 650
1978 RD 400 vintage racer
"I'm flat out like a lizard drinking"
Thanks Steve, you will be missed.
Buy it. Come spring someone somewhere will give you cash for it for a profit.
This bike was a 2,500 profit for this man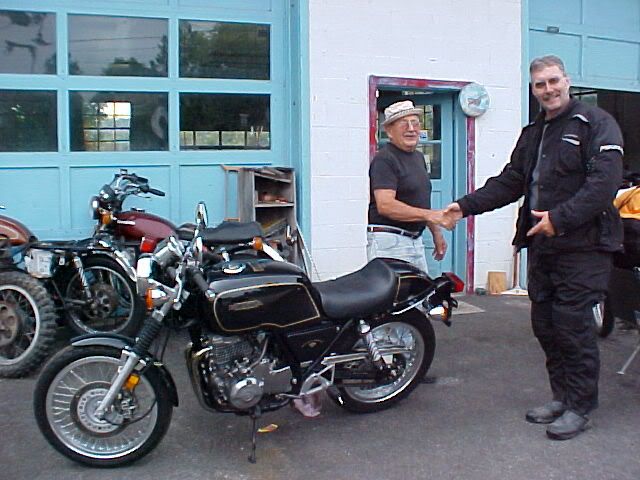 That's also Eddie Fisher.He's in the motorcycle hall of fame.He was a factory racer
for Triumph in the 50s
---
You can't shake hands with a fist
If you can read this,thank a teacher.Since it's in English,
thank a soldier.
---------------
What could possibly happen
---------------
05 KLR The faster Red one
01 Triumph Tiger Sold
08 KTM 990 Adv S
08 Yamaha 250 WR Sold
09 KTM 530 EXC
2nd Gear
Join Date: Oct 2006
Location: South of Spokane
Posts: 477
Buy it and part it out on ebay. :mrgreen: There worth more in pieces ya know. :lol: That old 350 Honda that was given to me, the carbs just sold last week for $102. I have made about $300 and still have the wheels & tires, fenders, complete motor (in the process of being torn down) forks etc...It will be well over 1K when I am done.
---
The shortest distance between two points is a damn shame.......

I rode Broke Back mountain, and my a$$ is killing me.....