Guest
Join Date: Oct 2006
Posts: 206
The Official Winter Carnival Thread
---
Its Winter Carnival time :razz:
This years theme is: Ancient Worlds Come To Play in Snowy Drifts Of Modern Day"
http://www.mtu.edu/carnival/
Things needed for winter Carnival:
Snow:
Check :mrgreen:
Pickled Eggs: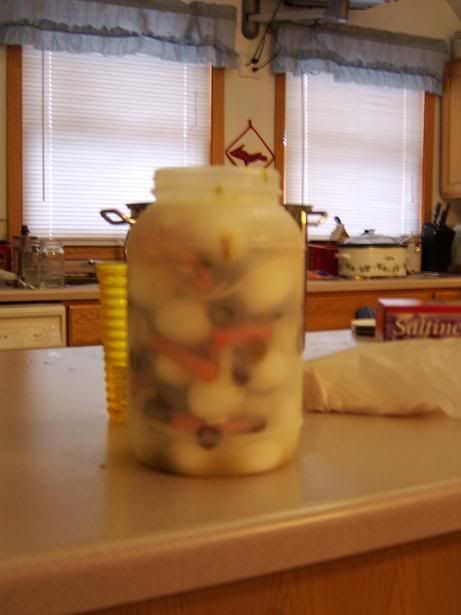 Check :mrgreen:
Beverage:
+
Check :mrgreen:
I'm headed to campus for a night of winter fun. Campus will be crawling with people all night. There will be games, deep and non deep-fried food, and people finishing their snow statues. I took some pictures of the unfinished statues the other day but they are missing from my camera. Here are a couple from last year.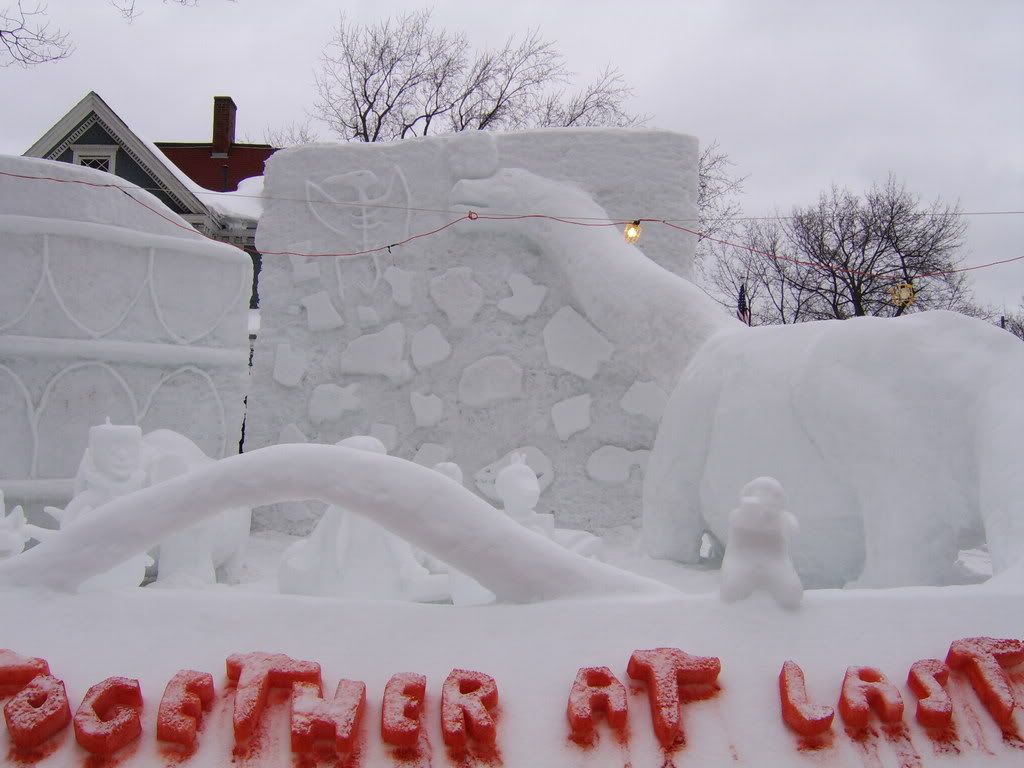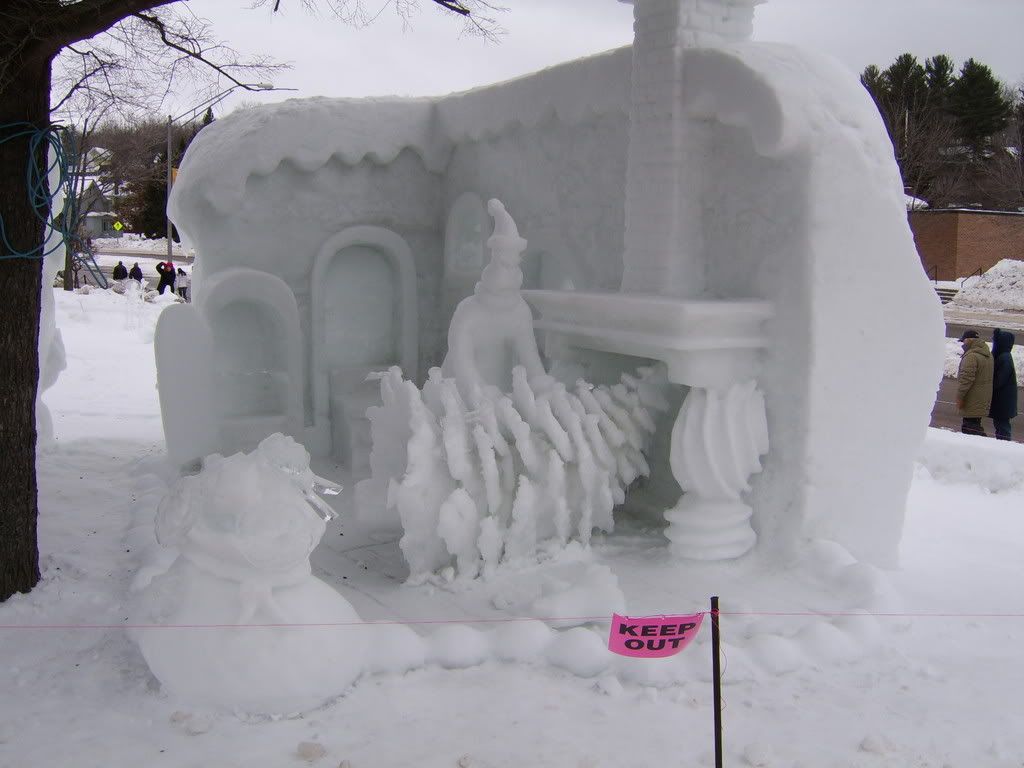 Check out the link at the top, there are links to statue cams so you can watch my fellow students freeze. I'll be the guy walking around with a bowl of chilli
More pics to come from tonight and tomorrow
2nd Gear
Join Date: Oct 2006
Location: Scottsville, KY
Posts: 226
It looks like a blast, but PICKELED EGGS :shock: no way no how. Your from way up north I always thought that was a Southern thing down here. Well I was wrong I "think" one time before. :lol:
---
"Gopher Everett"
Official "Trachoe Gang" Member
Guest
Join Date: Oct 2006
Posts: 206
Really???

I thought that Pickled Eggs were a U.P. Wisconsin thing. Kewl

There are 6 dozen pickled eggs in the house, we made three dozen and I bought three dozen from "Bleachers" for my friend Adam that will be here sometime between now and tomorrow.

Can't have Winter Carnival without frostbite and pickled eggs.

Brian
Guest
Join Date: Oct 2006
Posts: 206
So I'm down in the Civil Engineering Grad student offices after wandering around for a while. Its windy outside, and cold. Its sweet. Winter is here finally and I just gave my boss the finger.

Winter Carnival is GOOD.

Brian
2nd Gear
Join Date: Oct 2006
Location: South of Spokane
Posts: 477
Those are some cool (I meant cold) looking statues. Are they built in peoples yards or a park?
I gave my boss the finger once, but I had to look in the mirror to do it, so it wasn't that fun :lol:
---
The shortest distance between two points is a damn shame.......

I rode Broke Back mountain, and my a$$ is killing me.....
Guest
Join Date: Oct 2006
Posts: 206
To be honest last nights All Nighter was kinda lame. Usually there are tons of people walking around looking at statues, playing games, dancing, and eating sweet foods. It was kinda windy last night and people were being wusses. :sad: Guess there wern't a lot of people in the winter carnival spirit.
Here are some pics from last night:
You can kinda see a guy on a scooter in the middle of the pic. He was riding around all night and you knew to get out of the way when you heard the "putt putt putt" Good thing he wasn't riding a electric scooter because he probabaly would have run me over.
I almost got run over by a Prius in the Wal-Mart parking lot because I couldn't hear it comming. :shock:
This is one of the statues being built. I think it has something to do with trojans, but I'm not sure
Here is a pic of the grad office. From front to back, Brad, Chuck(wearing the hat), Anne (I took her pistol shooting for the first time the other day), and Torsten (the boss that I flipped off)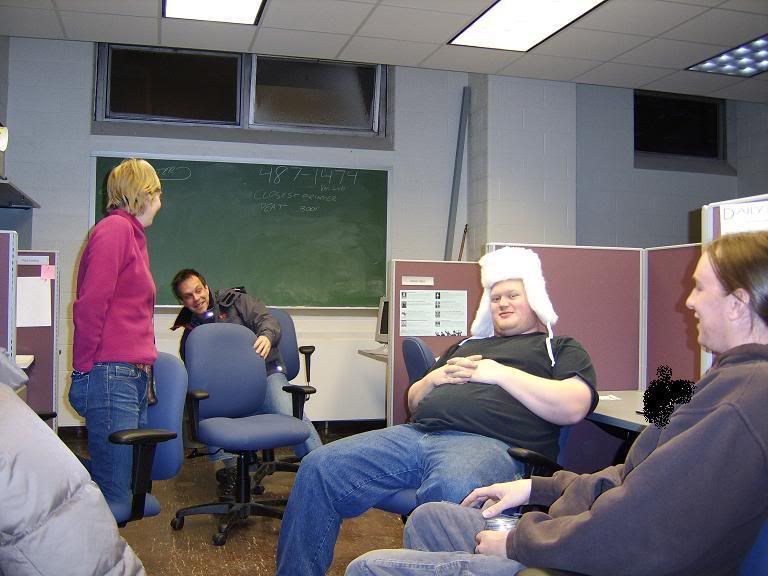 These people are really cool, I have a good time working with them.
My friends Adam and Katie are up visiting. They graduated last spring and are working downstate (which is the worst part of the state) That also means that they buy beer for us because they have jobs... The three of us went snowshoeing to the top of Mt. Ripley (the school's ski hill) today, this is Adam and Katie.
This is Katie and myself.
Adam and Katie are good friends. They used to be closet dating but have since come out of the closet, which is good. I hope that I find myself going to their wedding someday.
We had brats and beer for dinner toinght. Heading downtown soon.
Brian
5th Gear
Join Date: Sep 2006
Posts: 4,700
Looks like fun, Brian!!
The area doesn't look like it did the last time I was there. What's that white stuff? :lol:

Oh, and the pickled eggs. It's hard to find a tavern in MI/Wisconsin that doesn't have a big jar of the counter behind the bar. I haven't made any in a while, but you spiked my taste for some.

How deep's the snow right now, and how much ice is on the local lakes? We've got around 10-12" of snow on the ground, and about the same in ice depth.

Crap.. Now I'm hungry for a pasty, too.. :c00104
Very cool Brian,living life to the fullest :j0051 I also like winters.something pure about winter.
Hanging out with good friends in a festive mood-Priceless!

Thanks for the thread

Happy trails

Mike
---
You can't shake hands with a fist
If you can read this,thank a teacher.Since it's in English,
thank a soldier.
---------------
What could possibly happen
---------------
05 KLR The faster Red one
01 Triumph Tiger Sold
08 KTM 990 Adv S
08 Yamaha 250 WR Sold
09 KTM 530 EXC
Guest
Join Date: Oct 2006
Posts: 206
Paper:
It depends where you go to find the snow. When I cleaned the deck the other day there was about a foot and a half (which we mostly got last week). If you head to South Range (South of Town, and greater in elevation) they probabaly have between three and four feet.
I think someone was saying that the ice on Chassel Bay (in Portage Lake) was about a foot thick. I've got an open invite for some ice fishing but haven't had the chance to take advantage of it yet.
We were having a pretty brown winter for a while. When I returned after Christmas we had a few inches and it stayed that way until last week.
Pickled eggs are awsome. We should swap recipes some time
Quote:
Crap.. Now I'm hungry for a pasty, too.. character00104
You and me both.
Mike:
I totally agree with you about winter. Believe it or not there are a lot of people that complain about the weather up here saying there is nothing to do. You just need to get out with your friends and find something to do.
There is more snowshoeing to be done this afternoon out at the Hungarian Falls, and a Hockey Game tonight. The Huskies are playing Denver and we'll probaaly loose :lol:
Brian[/quote]
Guest
Join Date: Oct 2006
Posts: 206
Friday we had something very yummy for breakfast.
Because we are all engineering geeks we decided to so snowshoeing at Redridge Dam instead of Hungarian Falls. There were two dams at Redridge, the first one was made from timber but as the mining company needed more water (I can't remember for what at the moment) they constructed a second dam out of steel. Here is a link to a little history of the steel dam.
http://en.wikipedia.org/wiki/Redridge_Steel_Dam
This is one of very few steel dams that are still standing.
Adam took more pictures. I was planning on getting them from him but we didn't have the chance. The hockey game against Denver went very well. The Huskies pulled it off 2-1, which was pretty sweet seeing Denver was ranked fith, well at least until this weekend.
--------------------------------------------------------------------------
Today Katies parents drove up from Marquette to see the snow statues and the hockey game. I think we are starting to get wimpy students because the statues were not as nice as past years that were much colder. We're going to need to get some hardy freshman this year or all will be lost.
Here is the first place statue.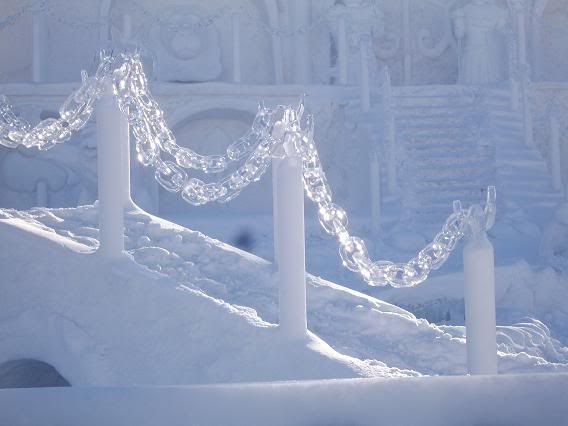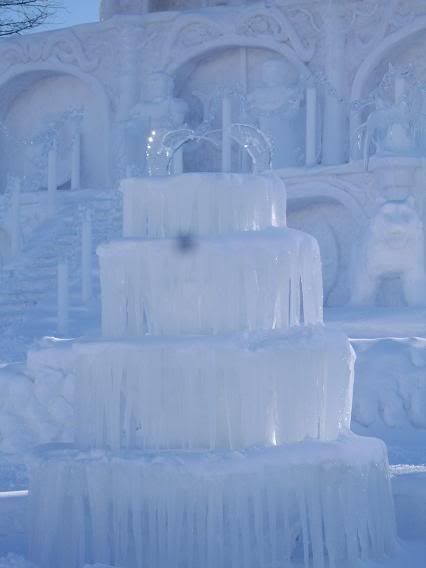 Here is Adam and Katie in front of the third place entry.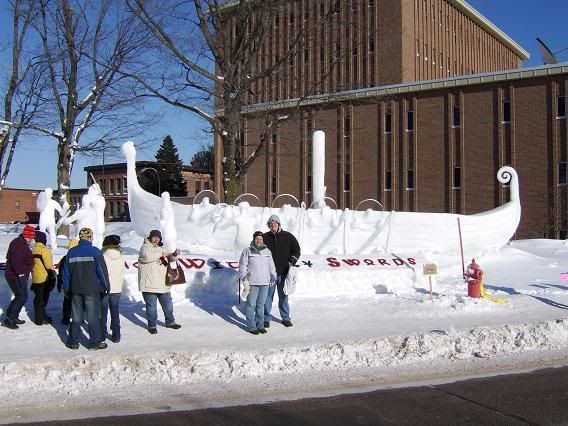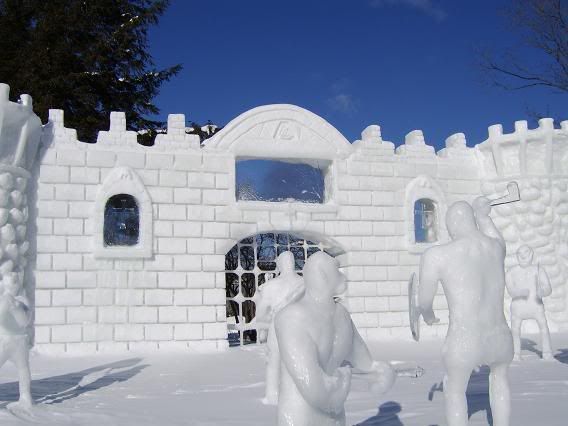 Here is a Huge Trojan Horse.
and its sign. Don't ask me what it says, its all Greek to me :mrgreen:
After we looked at statues it was time for the hockey game. This is the MacInnes Student Ice Arena, home of the Michigan Tech Huskies.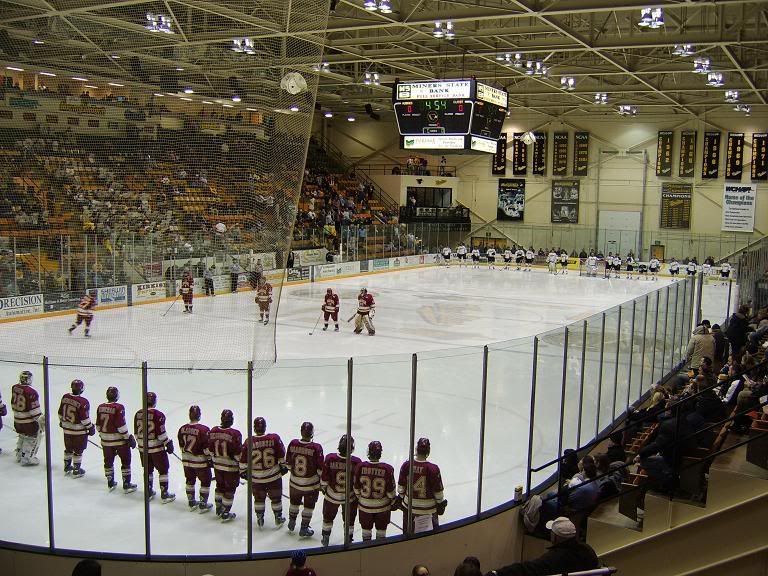 It wouldn't be Husky Hockey with out the famous Michigan Tech Pep Band
http://en.wikipedia.org/wiki/Huskies_Pep_Band
Between periods the pep band plays and the Huskies Blimp floats around dropping cuopons on the unsuspecting crowd. The blimp is one of my favorite parts of the game, a good pilot can get it to dance along with the pep bands tunes.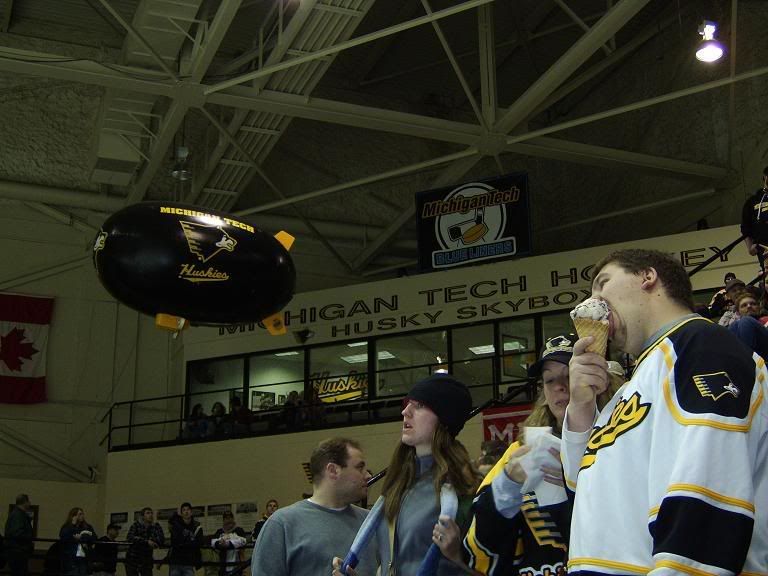 I guess that guy was really enjoying his ice cream.
Between the second and third period the Zamboni driver, Tom, wears a tuxedo while resurfacing the ice to the Zamboni Song. This was supposed to be a picture of Tom and the Winter Carnival Queen, Guess Tom is just to fast for my camera.
If we are lucky Mitch Lake, the only skating hockey announcer will skate over to the other teams goal and put a curse on it.
It was an exciting and physical game. Although we didn't win we tied 4-4 in Over Time. Because of our victory friday we once again took poseshion of the Winter Carnival Trophy. Its been a while :lol:
After the game we all went to dinner and said our goodbyes.
Everyone had a great time. I got to visit with friends that I haven't seen in a while, get some snowshoeing in, and consume too many beverages and pickled eggs.
Thanks for reading,
Brian