"Well there's your problem"
---
Had new tires and tubes mounted a few months ago when it was inspected. A few weeks ago I noticed a wiggle from the rear end taking a turn. Checking things out seems the air pressure was low. Pumped it back up and it sat for several days with only a few psi drop. Played with the valve stem some just to see if maybe it was leaking from there or not. Checked pressures and go for a ride and it's fine for a while. The other day I get home after being gone for 2 weeks and it's almost flat. Aired it up and went for a nice long ride. Well half way home I hear some tire noise and stop at a gas station and of course it's flat again. Aired it up and made it home but in the short trip back to the house it had lost about 15 psi. Time to do the nasty !
Pulled it off today to find the issue.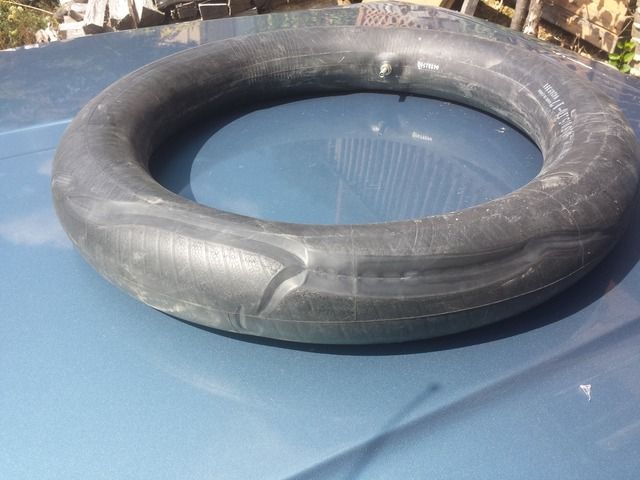 Looks like it was folded and pinched in several places from when it was installed. I don't see how this would have happened from just riding on it flat if it was leaking from the stem. Patched it for now and ordered new tubes but it sucks that a bike shop would screw it up that bad. It looks like maybe it got caught under the bead lock ?
OverDrive
Join Date: Nov 2009
Location: Lander, Wyoming
Posts: 5,707
I'll suggest that you purchase the next size smaller inner tube (400/450-17) if using the same Brand. (Sedona, maybe?)
The 450/510-17 does seem to be quite Large!
It is better to slightly stretch a small tube, than to wad-up/wrinkle-up too large of tube.
---
pdwestman
Modify at "YOUR OWN RISK"!

Still riding my 1987 KL650-A1. 85,000+ miles & counting
1st Gear
Join Date: Aug 2013
Location: Hamburg, Pa
Posts: 89
I hadn't done the math (until now) but it seems like the size of the tube is to big for that tire. 130/80-17 is only 4.10-5.10 and not 4.5-5.10. The bad part is that's what everyone recommends for that tire online. Maybe I'll order a smaller tube and keep the fat one for a spare.