About GoldWings...
---
This is a copy from my December issue of Motorcycle Consumer News, Downtime section.
It struck me funny. I only copied the first part of Kevin's answer.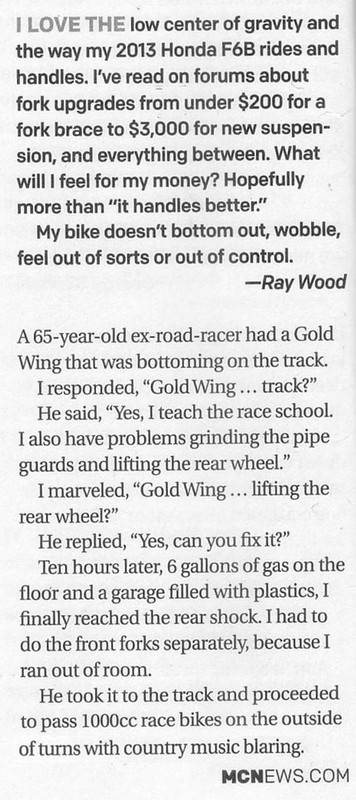 ---
Ageing Gracefully
2017 Yamaha XT250
1990 Honda NX250 (Green/White)
2011 Kawasaki KLR 650 (Orange & White )
My KLR Page..
http://www.powers31.info/2011_KLR650.htm
Mod's to KLR:
Power socket, L.E.D. Battery Indicator, Camera bag holder
Custom Saddlebag frames .
Louder horns, Firstgear Onyx tail bag.
Custom Aluminum Skid Plate.
Cut down seat with Custom pad.
Go Pro Camera mount.
Doo-Hicky
OverDrive
Join Date: Nov 2009
Location: Lander, Wyoming
Posts: 5,932
I recon that is a little proof that its not always how fast your ride
is
, but how you
ride
your ride fast.
Thats sort of like my fastest trip down the Thunder Run ski slope at Teton Village, WY in February 1986, with a broken left ankle,
in the sled controlled by 2 Ski Patrol
. ha ha
I will suggest that track quality suspension on a Gold Wing might be just a little firm at legal speeds on public roads. Especially the long, boring, straight ones.
---
pdwestman
Modify at "YOUR OWN RISK"!

Still riding my 1987 KL650-A1. 85,000+ miles & counting
1st Gear
Join Date: Feb 2017
Location: Cedar City, UT
Posts: 37
I had a 04 ST 1300 that was a blast to ride. I picked up a 2012 wing and I could ride it through the twisties just as fast as the ST. Sold the ST. The wing is much more comfortable.
They are a lot quicker than they look! Lol, Of all the bikes I've bought and sold over the years, I think I miss the old Wing the most.
---
---
Last edited by 650Stew; 12-09-2018 at

08:50 PM

. Reason: Bad spellingz
You can absolutely fly on a Wing. I had a 1500 and a 1800. The 15 was more fun. Had to shift more. They suck in a parking lot but they can be hard to catch on the road. There's things I miss about the wing but the Versys 1000 makes up for 99 percent of those. The stereo was killer and I wish I had cruise control again but the V can wheelie at 50 MPH!
---
"Take the risk of thinking for yourself , much more happiness , truth, beauty, and wisdom will come to you that way." Hitchens
3rd Gear
Join Date: Feb 2017
Location: Van Nuys Cali
Posts: 620
Passing 1000cc bikes on the outside LOL.
Where is THAT video?
---
2016 KLR 650
2017 BMW S1000RR (traded in for
2018 Ducati V4S
1983 GL1100 Goldwing
2017 Yamaha R1