Post up photos of your stickers......
---
Idea shamelessly stolen from another forum. Can be from your bike, toolbox, whatever. I've accumulated several over the years and will start with my latest on a cheapo plastic locker I use for my gear.
---
Gray-haired riders donít get that way from pure luck.

Unknown
5th Gear
Join Date: Sep 2006
Posts: 4,700
I keep most of my stickers on my KLR.. I figure it's easier to cover faded plastic with stickers than trying to keep it from fading.. I'll be installing aluminum panniers on it soon, and I'm sure the collection will keep growing..
Been waiting for something big enough to put a few bumper stickers on.. I have this one, just waiting for the chance!!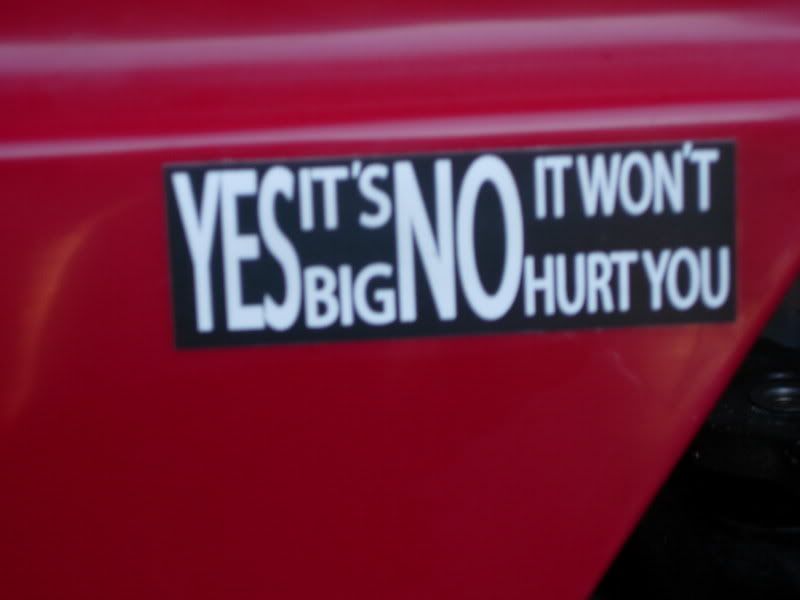 ---
PPMC # 3

Yo! To the brothers.

RIP Darin, Ben, Carey


"I am the muffin man"
Teh Hillicycle .....
---
.... all stickered up. Actually, the stickers are to cover an "OOPS". I was loading the bike for a trip, phone rings, I am sitting at my desk talking on the phone, kinda thinking I need to shorten my kickstand, when BLOOP! The Hillicycle falls over onto my stool. $175 to replace it. S**T!!!
---
____G.O.D.S.____
Geezer On a Dual Sport
One from my toolbox at work.
---
Gray-haired riders donít get that way from pure luck.

Unknown
stickers
---
These are NOT to cover boo-boos. However, I lost control and took a hard crash yesterday on a rocky trail. May need some band-aids now.

As if it wasn't enough that I survived the BIG German Shepherd chasing me, just to get there, after successfully crossing the rocky bottomed Piney River, I hit the throttle to negotiate the rocky upslope on the other side. OOPS! I lost control.

It happened so fast that I don't even know what really happened. I usually pick better lines, but this time I tried to just force it over some large rocks embedded in the trail. I think the wet front tire may have been culprit.

I torqued my back getting her upright. The wheels were on a rocky upslope, so the bike was almost upside-down...leaking fuel...all alone...miles from help...stream to cross...etc. Note to self: Don't try this again without the buddy system.

Before I did the big lift, I had dragged the bike off the bank as far as I could (with every inch I could just imagine the damage I was doing to the cosmetics). Still, the contact point with the tires is uphill. Do you know what that does to your leverage? This bike is hard enough to pick up on flat ground.

Couple of deep breaths and an adrenaline surge...I heaved, snorted, uh...maybe farted a little...but I got her up. But, I'm now standing on the wrong side and can't reach the shift lever or kick stand.

After the big heave-ho, the bike is still standing precariously partway up the bank. I stand there for a while carfully balancing the bike while I figure out how to get out of this predicament. I finally decide to try to maintain the balance of the bike while I walk around the back end and sqeeze between the bike and the bank. I finally get there without dropping it again...but now it won't start. I guess the carb doesn't like being upside down.

After almost draining the battery, it finally fired up and I was able to move on up the hill to a flat spot and park.

Then, as I start to walk back down the hill to retrieve my helmet, left mirror, cell phone, left rear blinker (I don't understand this, because it was laying on its right side), and a few other piece parts left behind...I realize that I strained my back and every step is a stabbing pain.

I fixed my mirror and blinker with my leatherman tool and was on my way back out of there within the hour.

Next challenge is to get past that bad-ass German Shepherd that lives down near the trailhead.

My back was (and still is) in a fragile state now, but I continued to ride for the rest of the day and found some less challenging trails to ride, so I had a good discovery ride after all. Now for recovery...and new stickers...and clean underwear.
---
Last edited by draley; 08-13-2011 at

09:20 AM

.
OverDrive
Join Date: Jan 2011
Location: NW MO
Posts: 5,365
[IMG]
[/IMG]
[IMG]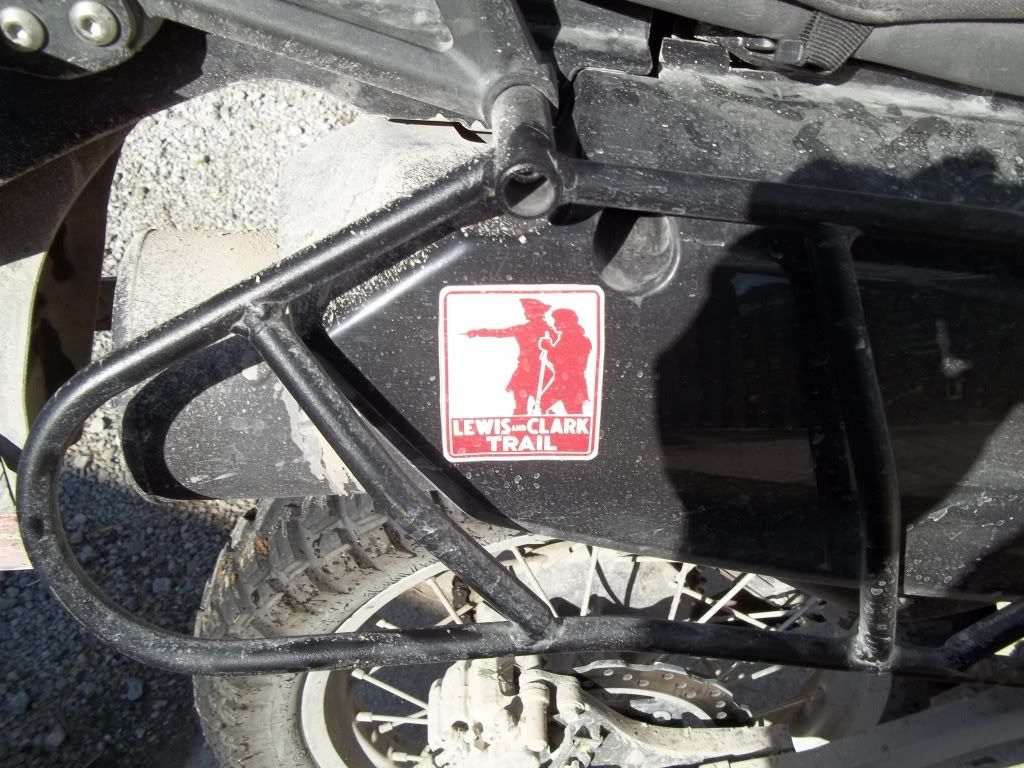 [/IMG]
[IMG]
[/IMG]
[IMG]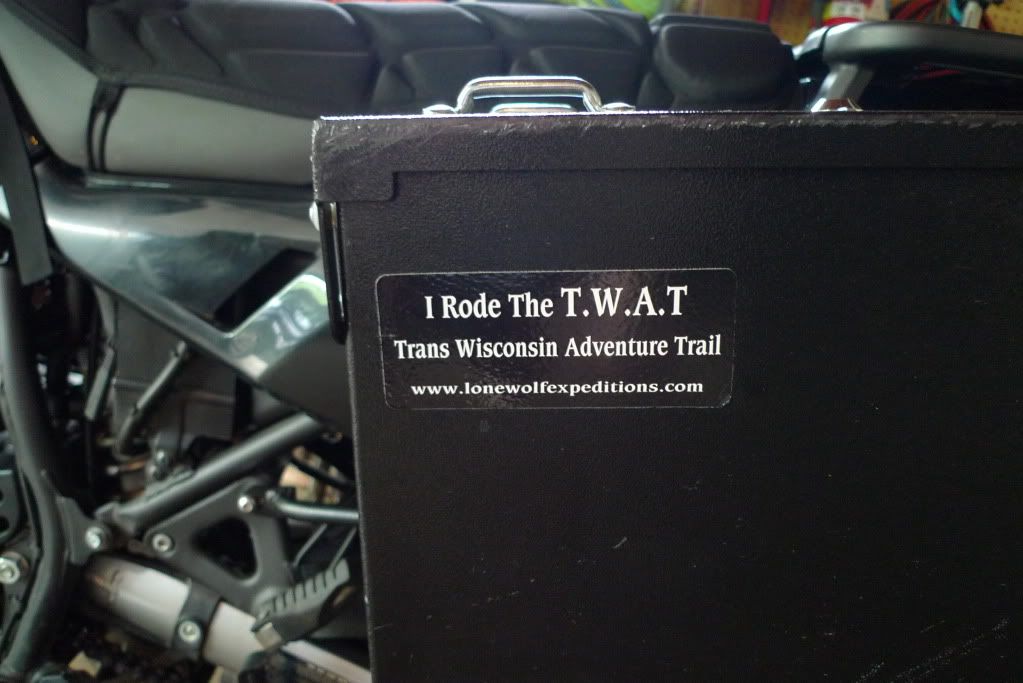 [/IMG]
---
09 KLR650
01 Jeep XJ w/ 200,000 miles as of 3-26-11
Oh man. Might be my new favorite thread. How I do love stickers. I try and keep the ones on my bike relevant to places I've been to on it or parts I've put on it, stuff like that. But the tool box at work is a completely different story. It's fair game for anything.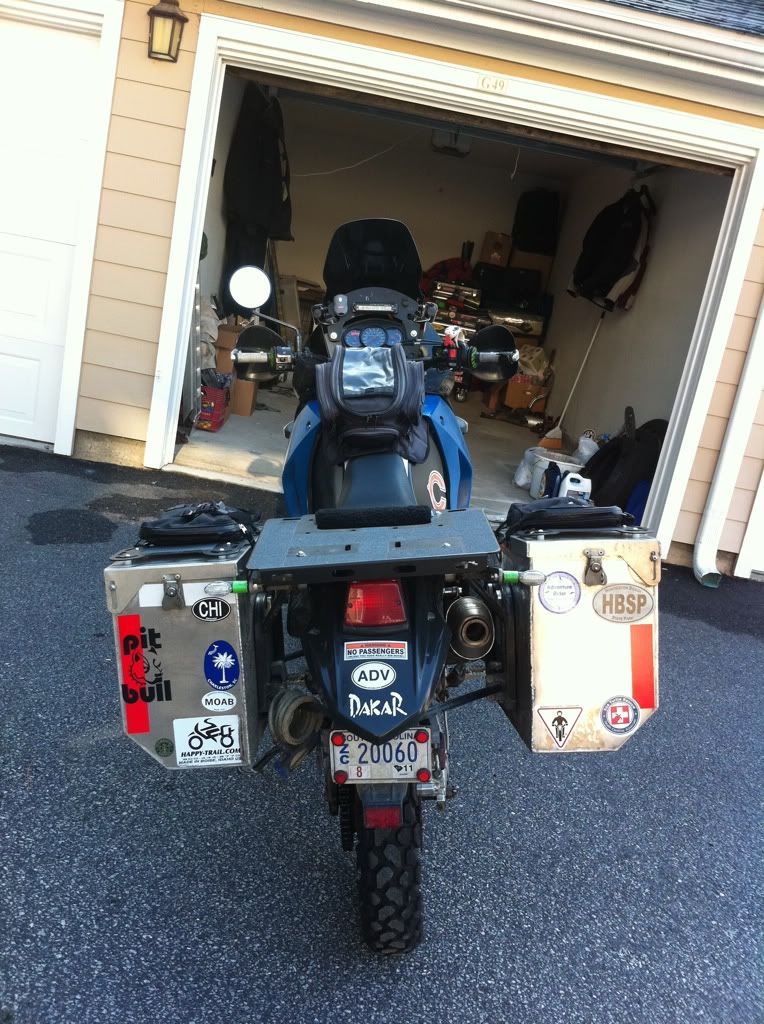 More to follow. But am trying to get the paint sorted out first. Dint want to waste any stickers on something that isn't finished.
---
"If you don't ride in the rain, you don't ride."
"Work to ride and ride to work."
"Accidents hurt - safety doesn't."