My other DS's
---
This was my main ride for ~ 3 yrs. Tagged DRZ E model with a Yoshimura 450cc kit. It was a ripper!
This is my super clean '93 XR250L. Not a scratch on it, never laid down.
This is my tagged '98 KLX300. Just like new when I got it, I've been doing light mods to it to get it to fit me better.
DR650. I took her from this:
To this. I like'd her alot.
I planned on getting another until I test rode a KLR. I wanted a more road friendly bike so I thought the extra wind protection would be a plus.
To be cont...
I didn't own this but a friend did and he let me ride it a couple times.
I know I wasn't the only one that had one of these bad boys!
My newest ride that brought me here.
Nice bikes!




---
"In a car you're always in a compartment, and because you're used to it you don't realize that through that car window everything you see is just more TV." R. Pirsig
PPMC #1.
Soon, we ride.
AKA JD Mader or you can call me "Dan" just not early for dinner.
Click my handle for a link to my homepage/blog...which has nothing to do with MCs. Free literature and music! Viva La Revolucion!
-------------------
2008 KLR 650
RIP DM - Soon, we ride.
My "new" toy.
It'll be fun to mess with and lightly customize. I just don't know how well it's going handle gravel.
---
Kawasaki KLR650 - Adventure Lite
Tagged KTM250XCF-W - Rocket
Tagged KLX300 - Trail Tractor
'84 XR250R - Retro Ride
RMZ250 - Dirty
CRF80 - Kids
CRF70 - Kids
Ive had my DR for almost 20yrs, used it when I was a moto courier.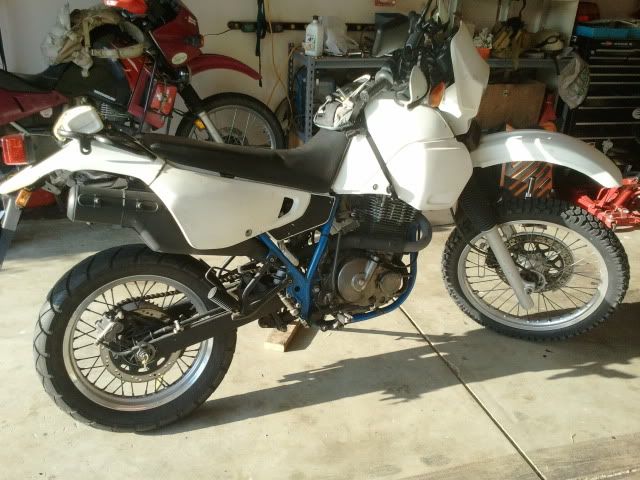 just got it back from my brother and went through it. Its been recently rebuilt
up and down, in and out. Valves, Piston, all bearing points. Its a super quick and
powerful bike for a big bore enduro.
I can throttle pull wheelies almost through 3rd gear.
Old courier pic from 15yrs ago:
Check out those Evil Kenivel leathers
---
Tractorking
Sitting on a dock of the Bay
Redwood City, California

"Although motorcycle riding is romantic, motorcycle maintenance is purely classic."
Robert M. Pirsig
---
Last edited by tractorking; 09-16-2011 at

01:09 PM

.
Alright so this isn't a DS but I didn't think it needed its own thread. Picked up this CRF250. Newly rebuilt engine. Runs great but didn't look so hot, so I put on new plastics, grips, pad, sprockets, chain and polished the muffler. Sounds great for a stock bike.
---
Kawasaki KLR650 - Adventure Lite
Tagged KTM250XCF-W - Rocket
Tagged KLX300 - Trail Tractor
'84 XR250R - Retro Ride
RMZ250 - Dirty
CRF80 - Kids
CRF70 - Kids
5th Gear
Join Date: Sep 2006
Posts: 4,700
Do you still have the Hawk? If so, you should ping Double A here.. He bought one for his daughter and has been doing a bunch of work on it this winter to get it ready for her..
This is one of those bikes I've always liked the looks of. It's just one that sticks in your head for some reason since you were little. I've always wanted one. I wasn't looking for one but stumbled across it. Luckily my wife understands when you come across a deal this good you'd be an idiot not to buy it. It wasn't running when I got it, which I'm always leary of because I'm not the best mechanic and you never know what could be the issue. Luckily it was a cheap and easy fix. It just hit 9k miles.
---
Kawasaki KLR650 - Adventure Lite
Tagged KTM250XCF-W - Rocket
Tagged KLX300 - Trail Tractor
'84 XR250R - Retro Ride
RMZ250 - Dirty
CRF80 - Kids
CRF70 - Kids