Definitly NOT a KLR
---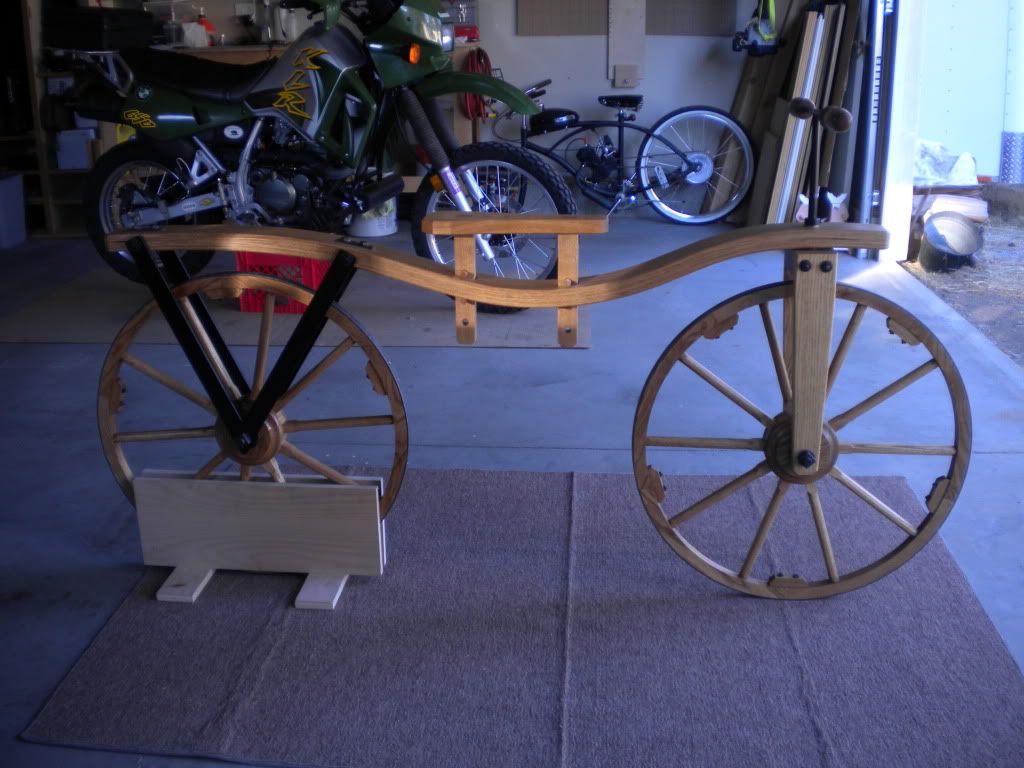 I know that this is not a klr but it is another "bike in the stable", still working out the kinks...
Royce
Wow! Did you make that yourself?
---
Me and my family Civil war reenact and my persona is a woodworker in 1863, so along with having a working wood shop that I use for demonstrating I decided to make some thing a little different for showing people what was available during that time period. Also it gives me a chance to "get out for a ride"

Royce
Pretty Cool.

Seat looks about as comfortable as a stock KLR seat..
---
Sent from my rotary phone
================================
Track me here -
https://spotwalla.com/tripViewer.php...354a61e5f3997a
Michael G in SF
|
2018 KTM 1090R Adventure | 02 XR400R (Plated)
|
2011 FJ Cruiser Army Green
|
------------------------------------------------------------
"If you have the will and not the way, you wont get very far."
Snakeboy66
Quote:
Pretty Cool.

Seat looks about as comfortable as a stock KLR seat..
My sentiments exactly.
---
"In a car you're always in a compartment, and because you're used to it you don't realize that through that car window everything you see is just more TV." R. Pirsig
PPMC #1.
Soon, we ride.
AKA JD Mader or you can call me "Dan" just not early for dinner.
Click my handle for a link to my homepage/blog...which has nothing to do with MCs. Free literature and music! Viva La Revolucion!
-------------------
2008 KLR 650
RIP DM - Soon, we ride.
2nd Gear
Join Date: Jul 2011
Location: Dead Center
Posts: 256
I think if you add the oil leak and modify two or three things your right there in KLR territory.
---
Mark
"My KLR belongs to God, when he wants it clean he washes it."
'an slap some knobbies on it!
---