5th Gear
Join Date: Sep 2006
Posts: 4,700
VFR Exhaust
---
As many know, I stumbled onto a screaming deal on a 1996 VFR750 around Christmas. Fantastic shape, the only issues where a upper fairing that had been reworked due to a tip over (I replaced it with a factory piece) and when I had a friend give the bike a complete go over this spring he found (as I suspected) that it was RUNNING ON 3 CYLINDERS because someone had inadvertently unplugged the #2 plug wire from the coil. The bike still ran strong above 5000rpm, but was pretty gutless below that..
A quick push of a plug wire, and I had a bike that revved correctly and my gas mileage went up from 30 to almost 50mpg... I had him swap out the stock (dirty) air filter for a new Uni filter, and change all needed fluids..
The bike only had 7200 miles on it when I bought it, and the previous owner had ony put 3000 miles on it in the last 10 years.. (maybe because it was running on 3 cylinders?)
Anyway, it runs great!! The only thing I didn't like about the bike was the fact that the first owner had installed a Yoshimura aluminum pipe on the bike.. It didn't sound BAD, but it was too noisy for my taste.. The loudest thing on any of my bikes is the stereo on my Goldwing..
So, even though the bike was quieter than 99% of the Harleys I've ever seen, it was still a little noisy for me.. Even at idle, it was rumbly enough that I'd have to talk a little loud.. It bothered me, even though I love the growl of this bike when taken above 5-6000rpm!! It's completely different than an inline 4 sound..
Anyway, I'd checked around on aftermarket exhaust that are quieter, or close to stock.. I wanted to keep the weight down but didn't want loud!!
So, I went with the 450mm Delkevic Ti slip on due to other recommendations, and tonight I installed it.. It comes with a "quiet insert" that forces the exhaust into the packing before allowing it out.. I tried it with this, and as most have done, I quickly removed it..
The bike was almost silent with the pipe.. Even when revved, it was quiet, and since I'd fallen in love with the exhaust note, I wanted to hear it, at least a little..
So, the pipe came out (one simple screw) and I instantly fell in love with this exhaust!! It looks GREAT and yet is still more quiet than the engine gear noise while in town.. A very, very deep rumble can just be heard up until 4000rpm, (typical town engine speed) and once out on the road and cranked up to 6000 or more, the engine still has the great growl, although about 1/3 quieter than the Yoshi..
I'm in love with this bike!! If only it had invisible saddlebags for luggage!!
Got a chance to take a photo.. My camera made the red look orangish for some reason..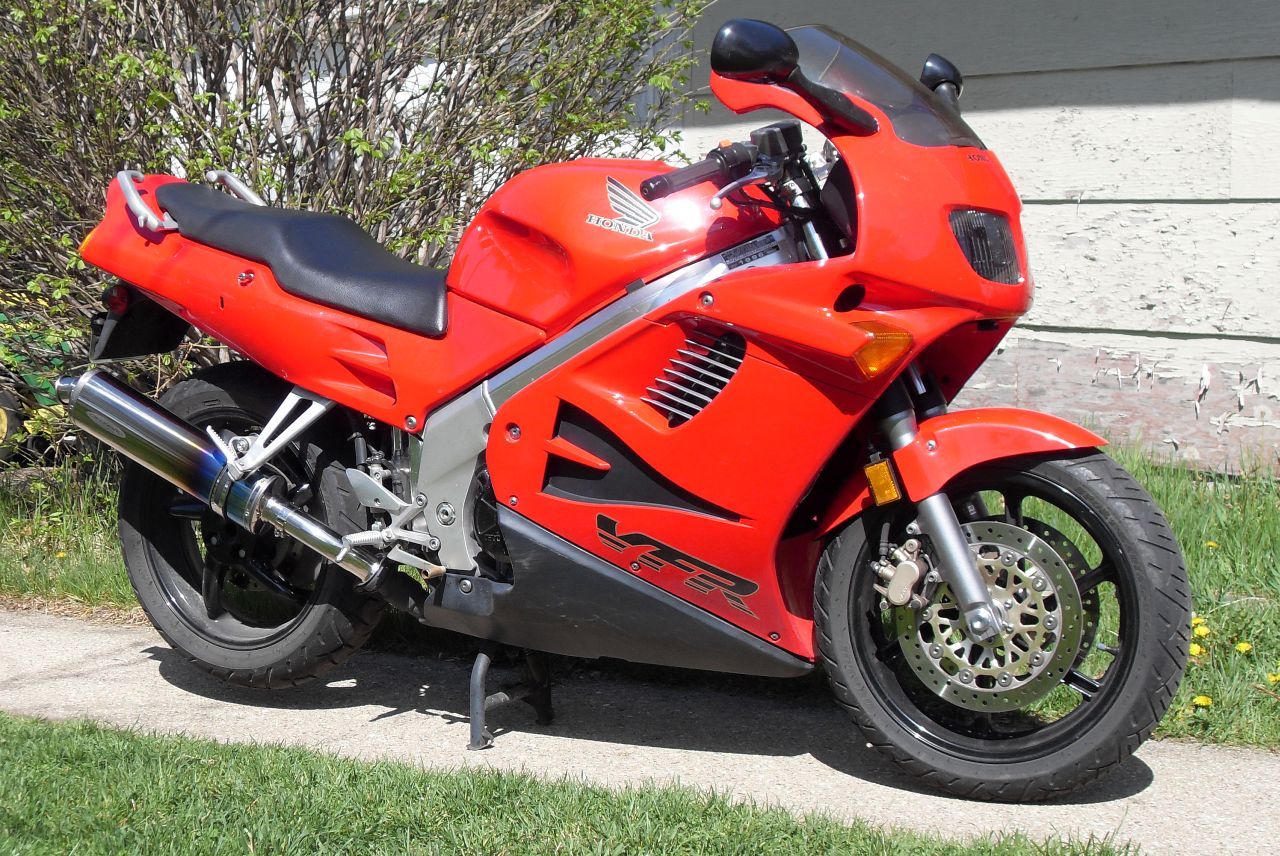 ---
Last edited by Paper; 04-18-2010 at

01:03 PM

. Reason: Photo
Very nice Paper!!! I had a Honda V65 Magna....loved the mill but hated the cruiser ergos. WOW, judging by the bluing is there a cat in that can or she just running a little too hot?
---
Gray-haired riders donít get that way from pure luck.

Unknown
5th Gear
Join Date: Sep 2006
Posts: 4,700
I should take video/audio of the exhaust.. Hard to tell with a camera's video, though..

As far as the bluing on the cannister, that's the way they are when they come out of the box.. If you jump on Delkevic's website you'll see that all the Ti cannisters are colored that way from the factory.

Actually I've touched the cannister after getting back from a ride because I wanted to see how hot it got, as my luggage straps to the passenger pegs, which is close to the can. It was warm to the touch, but not so hot I couldn't touch it..

It's just a looks thing.
5th Gear
Join Date: Sep 2006
Posts: 4,700
Man, I hate looking at old threads..

R1100R sold
V Strom sold
1500 Wing sold
VFR sold
1800 Wing sold
FZ6 soon to be sold..

What's the bike that outlives them all in my garage?? KLR.. Remains and still brings a smile to my face.. (and that silly old BMW R80, too)
Similar Threads
Thread
Thread Starter
Forum
Replies
Last Post
08 exhaust

klr1st

2008+ KLR650 Wrenching & Mod Questions

1

05-06-2009

10:14 AM

New Exhaust

ssgmiddleton

2008+ KLR650 Wrenching & Mod Questions

14

02-12-2009

06:10 PM

klr exhaust

jeff745

KLR & Other Motorcycle Related Discussion

4

06-02-2008

12:36 PM

FMF exhaust

Kawi_KLR650

1987 to 2007 Wrenching & Mods

5

04-04-2008

09:31 PM