Neutral
Join Date: Mar 2011
Posts: 1
Hi, What is this KLR250 worth
---
Hi,

I have been searching for a KLR 250 for a while and have found one in my city.

It is older (1988) but has 2000 original miles. Original owner. It is in very good shape and runs like a top.

He wants 975$ for it.

Worth it? I cannot seem to find a value on this bike.
2nd Gear
Join Date: Sep 2009
Posts: 257
Can't speak for a KLR but I sold an xr250 '01' last year for $1200 that I took good care of but rode the crap out of, it still ran good.
Only 2k miles and runs like a top, I'd do it, good luck.
Hi, and welcome the forum. The bike can be parted out for more than the seller is asking for it. If it is presentable, and runs good, I would be on it like white on rice. In some markets, it will fetch double that asking price. Do be sure to check that all of the bike is there, including title and keys, and that it is running as designed. This is one bike that seems to enjoy a home for life, once it gets under the owner's skin. They can be harder to find than a clean Charley Sheen urine sample.
---
******
ďmany a trip continues long after movement in time and space have ceasedĒ- Steinbeck, [I]"Travels with Charlie"
[/I]
[IMG]http://i718.photobucket.com/albums/ww187/vatrader01/KLR%20mechanical/04e28c5e.jpg[/IMG]

[FONT="Century Gothic"][I]Sometimes your only available transportation is a leap of faith[/I] [/FONT]
I paid for my KLR by selling clean samples to Sheen!
5th Gear
Join Date: Jan 2011
Posts: 4,387
Fellow motorcycle club member in King George (near Dahlgren), VA, has a '98 KLR250 for sale; sound, good tank, familly-owned from birth, 6000 miles, $ 500.

Decent tires, fresh safety inspection, clear title.

(A unique bargain, IMHO; not a "typical" price.)

CORRECTION: KLR250, NOT KL4650 (EDITED)
---
Last edited by Damocles; 03-19-2011 at

08:01 AM

.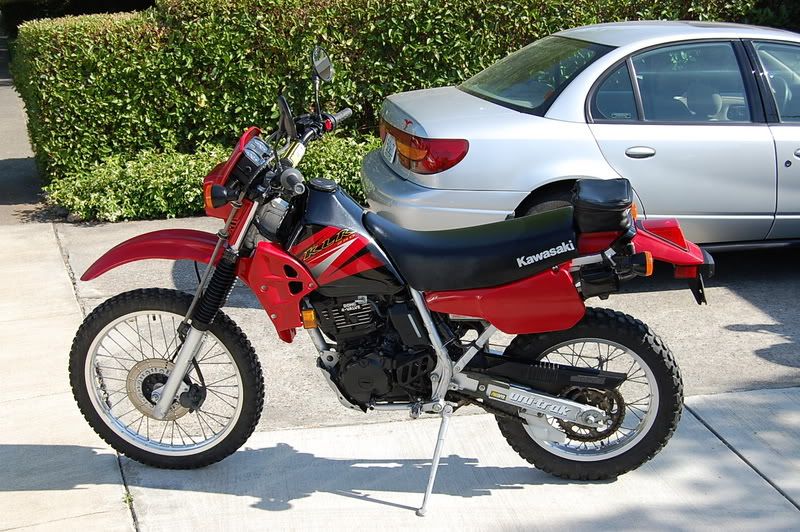 Sold my '05 with 4,400 miles on it for $2300
MB4
---
PPMC # 3

Yo! To the brothers.

RIP Darin, Ben, Carey


"I am the muffin man"
Neutral
Join Date: Jan 2012
Location: Mesa Arizona USA
Posts: 1
What wonderful news! I bought an '05 (the last year they made them, IIRC) with 1700 miles on it (garage kept) for $1500 w00t w00t!!!