Neutral
Join Date: Apr 2016
Posts: 5
2018 KLX 250 - Could that mean 3rd gen KLR soon?
---
So I just got done watching a video by Psycho Cruza about the new 2018 KLX 250.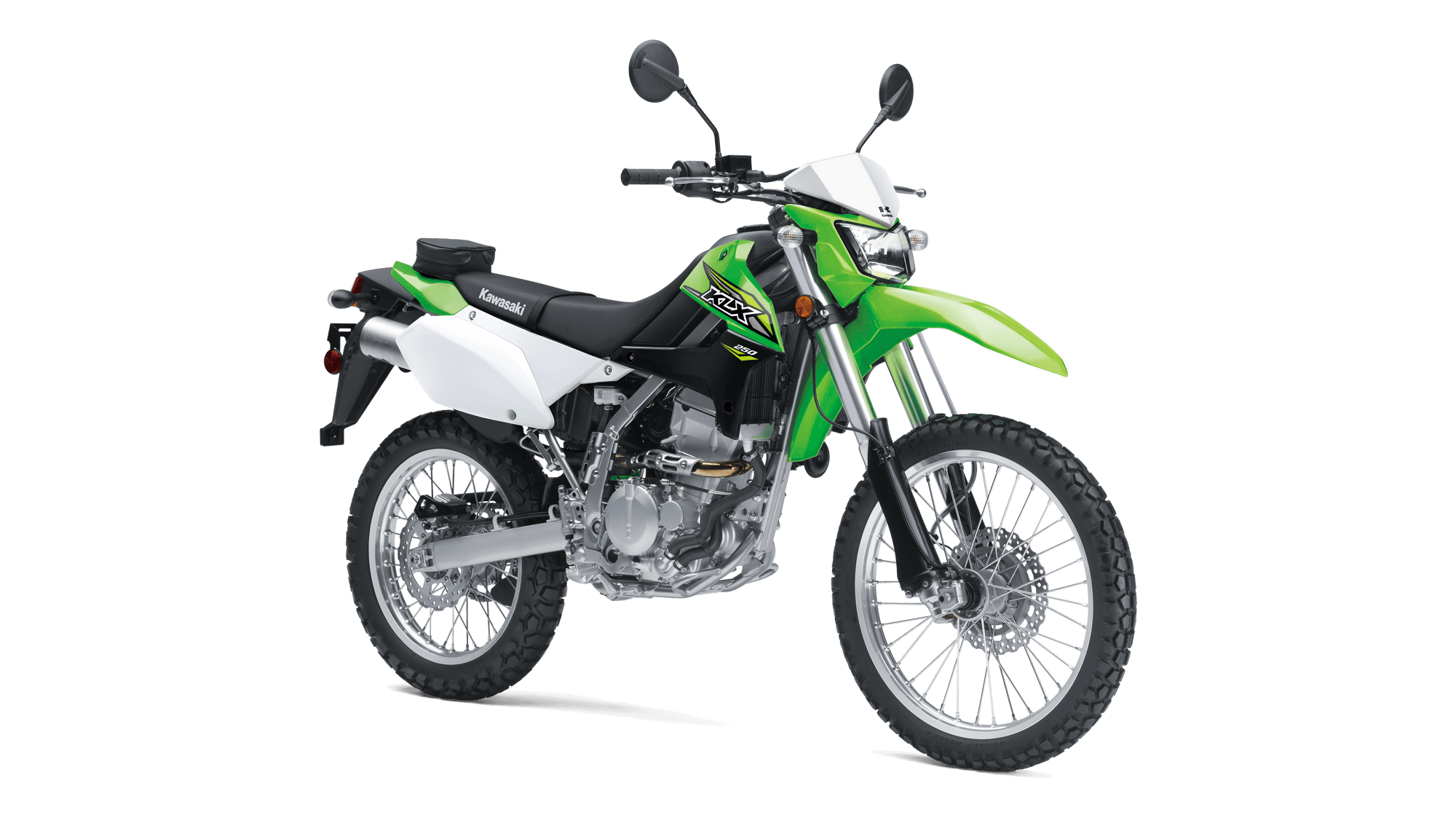 KLX 250S has been gone since 2015.
New 2018 model has Fuel injection.
This makes me wonder... is there a possibility of a 3rd Gen KLR 650 (or some variant, like a KLX 650) with fuel injection?
I know a lot of people here like their carbs, and I totally understand, but I think fuel injection would bring KLR power up while improving economy. I know there is room for improvement.
-nb
2nd Gear
Join Date: Mar 2017
Posts: 391
IMHO, Fuel Injection might not be such a bad thing here in the US. Not sure if taking it into third (or second) world countries would be such a wise idea though. Between fuel quality and repair/replacement parts availability . . . . ?
I bought a brand new KLX250S for my wife once. I think it was a 2010. Those bikes are so lean from the factory it wouldn't hardly every start. She hated it and so did I.

I don't think they'll change the KLR until emissions requirements force a change or you guys quit buying them.
---
"Take the risk of thinking for yourself , much more happiness , truth, beauty, and wisdom will come to you that way." Hitchens
OverDrive
Join Date: Nov 2009
Location: Lander, Wyoming
Posts: 5,632
From an emissions stand point, it might be easier for Kawasaki to bring back the KLX650 engine and fit fuel injection to it.
The narrower included angle of the valves and the more modern port design made a more compact, efficient combustion chamber. (Think Ninja design.)
The "R" model or dirt only engine was a very strong running engine 1993-1996.

They might need to change the crankcase to dry sump design like a XR650L Honda to reduce engine height. The old KLX650 engine was so much taller that Kawasaki choose to use a perimeter frame to go around the cylinder head instead of over it. But that reduced fuel tank capacity, which the American buyers Hated!
1st Gear
Join Date: Sep 2017
Location: Bethlehem, PA
Posts: 68
Quote:
I bought a brand new KLX250S for my wife once. I think it was a 2010. Those bikes are so lean from the factory it wouldn't hardly every start. She hated it and so did I.

I don't think they'll change the KLR until emissions requirements force a change or you guys quit buying them.
Before I had my first bike, I really wanted a KLX250 supermoto, but I too test drove a 2010 250S and I also thought it ran really poor. I test drove a 2011 WR250R and I thought that thing had some snap to it, especially for a 250.
I think the thing is someone will/does have a tune or a computer flash for the KLX250S. They probably only have it lean JUST to pass emissions.
I know Harley's had to do that for some of their bikes because the factory had them run extremely lean off the assembly line just so they could pass emissions. They then offered a factory tune to make the engine run the way it was supposed, but had to name it something else for legal reasons.
That being said, I think if we could gain an extra bump in power while keeping emissions at the same level they're at now, fuel-injection would be awesome on these bikes.
---
DO NOT QUESTION IT!
1st Gear
Join Date: Jul 2017
Location: Texas
Posts: 43
I agree, EFI would be great. As mentioned above, HD sold their very bikes lean. We offered a factory "race only" tune which changed the timing and fuel curve. Then adding a high flow exhaust and air cleaner made them much more rideable. Kawasaki could do the same thing and make money on the bike and the tune.
---
OverDrive
Join Date: Nov 2009
Location: Lander, Wyoming
Posts: 5,632
And Harley Davidson paid an EPA fine earlier this year for their 'dirty computer' or 'race tuning' which wound up on the streets and highways.
Of course that 'fine' didn't even equal the profit margin of the part or service, un-like VW's TDI Clean Diesel.
The EPA could have attempted to balanced the national debt, if they had any Real enforcement power.

Read the 1st few pages of a Kawasaki OEM Service Manual and probably any brand manual.
Also printed into the Kawasaki Owners Handbook, just ahead of the maintenance schedule. Of course the Owners Handbooks do not have the potential fines published in it. And I have no idea of why not!

Here is my interpretation.
Up to $10,000 for the person that installs the noisy exhaust, on a street legal vehicle.
Up to $10,000 for the person that modifies the jetting or EFI to work with the noisy exhaust, on a street legal vehicle.
Up to $10,000 for the person that uses the modified vehicle on the public streets and highways, instead of on a closed course race track.

I think the dealer trade magazines reported a number which divided out to less than $40 per modified HD motorcycle. Which imo amounts to protectionism of a USA owned company, while sort of appearing to appease the green environmentalists.
---
pdwestman
Modify at "YOUR OWN RISK"!

Still riding my 1987 KL650-A1. 85,000+ miles & counting
5th Gear
Join Date: Jan 2011
Posts: 4,398
EFI for KLR?
Cut to, "Fantasy Island" (TV show) opening credits; script: "Look, Boss! Da plane! Da Plane!"
The flying boat brings new guests to Fantasy Island; one or more whose fantasy is, EFI for the KLR.
My prediction: Kawasaki will exploit the amortized jigs, fixtures, inventory, etc., of KLR production to the bitter end, an exploitation that does NOT include the capitalization expense of adding EFI to a product now delivering satisfactory market share and profitability as-built.
Don't get me wrong; I wish my prediction to be in error. Yet, . . . money makes the world go round. Don't think it would be economically responsible to the stockholders, the widows and orphans with their life savings in Kawasaki Heavy Industries, to guild the KLR with EFI.
YMMV!
One final comment: IMHO, EFI ain't that big a "thang." No more power is available from optimum air/fuel ratio, whether delivered by EFI or by carburetor. On that score, the Keihin CVK40 comes close. Yeah, yeah, altitude compensation and contextual starting improvement with EFI; advantages significant enough to convince the green-eyeshade boys (financial decision-makers) to ante up the R & D, manufacturing and logistics expenses for EFI? What do YOU think?
4th Gear
Join Date: Aug 2010
Location: Kelowna, B.C.
Posts: 2,409
My understanding from what I've heard (Paul?) is that the current KLR650 is "grandfathered" by the EPA and that any major changes would result in them having to recertify the bike.....which would force a complete redesign effectively killing the bike as we know it. I thought that "grandfathering" ran out in 2018....

My prediction is that the KLR650 will be BNG's only until a complete redesign which may mean a different badge completely (KLX, Versys 650X, etc. ) ....but even if they call whatever they build a KLR....it will have zero in common with the current bike. ....just my speculation.


Dave
Pretty in Pink, dunno why
Join Date: Feb 2009
Location: Redondo Beach
Posts: 7,625
I have heard the same thing, yet can find no basis in fact for that rumor. "In 2019 the KLR will be dead and go to its grave clutching the CVK40 to its chest, never to be seen again and we'll all be riding the new 300".

Motorcycles are currently under the EPA ruling for Tier II with two important dates; model year 2006 and model year 2010+. Emissions were tightened in 2010, which may have been what brought on catalytic converters.

I have read, quite extensively, the documentation at the EPA site, particularly the final rule making for Tier II and the comments on proposed rule making for Tier III. Tier II clearly states what the emissions requirements are for motorcycles and covers the model years (that we are interested in for this discussion) 2010 and up.

Reading the proposed Tier III and comments, I find nothing for motorcycles other than an investigation of their contribution to sulfur emissions (0%) and the use and effects of E15 (it's bad for motorcycles and small engines not designed for it). Nothing about any proposed change in the allowable emissions.

My takeaway is that motorcycles are currently allowed the Tier II level of emissions from MY 2010 to infinity. Manufacturers are allowed to average their emissions across the stable and, given the size of Kawasaki's stable, the KLR isn't dragging the corporate emissions limits down.

To me that means that the KLR will continue inits present form with no changes other than BNG until such time as Kawasaki decides to kill it off. Given that they can sell every one they make, the tooling is fully depreciated, and that its entry into the Kawasaki accounting books probably falls under the heading of "Cash Cow", that will probably mean it stays as-is for the foreseeable future.

As usual, I reserve the right to be wrong.

All of this could change if there are revisions to Tier III (look to California to drive that), or whatever supersedes Tier III. It is notable that allowable motorcycle emissions are some 20X that of any four-wheel vehicle and that, per mile, motorcycles are quite, um, filthy. California does crazy crap with respect to emissions. You can't even buy a decent gas can here anymore.

If someone has something concrete on this 'grandfather clause' I'd love to see it.
---
Tom
[email protected]
"The muzzle of the Luger looked like the mouth of the Second Street tunnel, but I didn't move. Not being bullet proof is an idea I had had to get used to."
-Philip Marlowe
"'Why'
and
'How'
are words so important they cannot be too often used."
-Napoleon Bonaparte
Sting like a butterfly.
Noli Timere Messorem
---
Last edited by Tom Schmitz; 09-26-2017 at

05:44 PM

.