OverDrive
Join Date: Nov 2009
Location: Lander, Wyoming
Posts: 6,073
You need to drown those parts with penetrating oil of some flavor and let it set for a day. Then you need to attempt to wedge the 'dog bones' off of the long pins which you are trying to turn with pliers.
Those pins go all the way thru many parts. The suspension seals are behind those dog-bone links.
---
pdwestman
Modify at "YOUR OWN RISK"!

Still riding my 1987 KL650-A1. 85,000+ miles & counting
Ok perfect, thanks!! Ill get right on it!
Update:
I´ve got movement! Finally making progress! Thanks for the nudge in the right direction. After several hours today of spraying PB Blaster and wedging the dog bone links, I´ve managed to be able to relatively easily slide both links back and forth by about a half inch as shown in the pictures below:
I´m going to have to get back at it either tonight or tomorrow. But in the mean time, I was able to get the castle nut off today in order to remove my steering stem. One step closer to repainting the entire rusted frame with some fresh coats of truck bed liner : )
Photo of removed steering stem, not sure why but hope you enjoy..: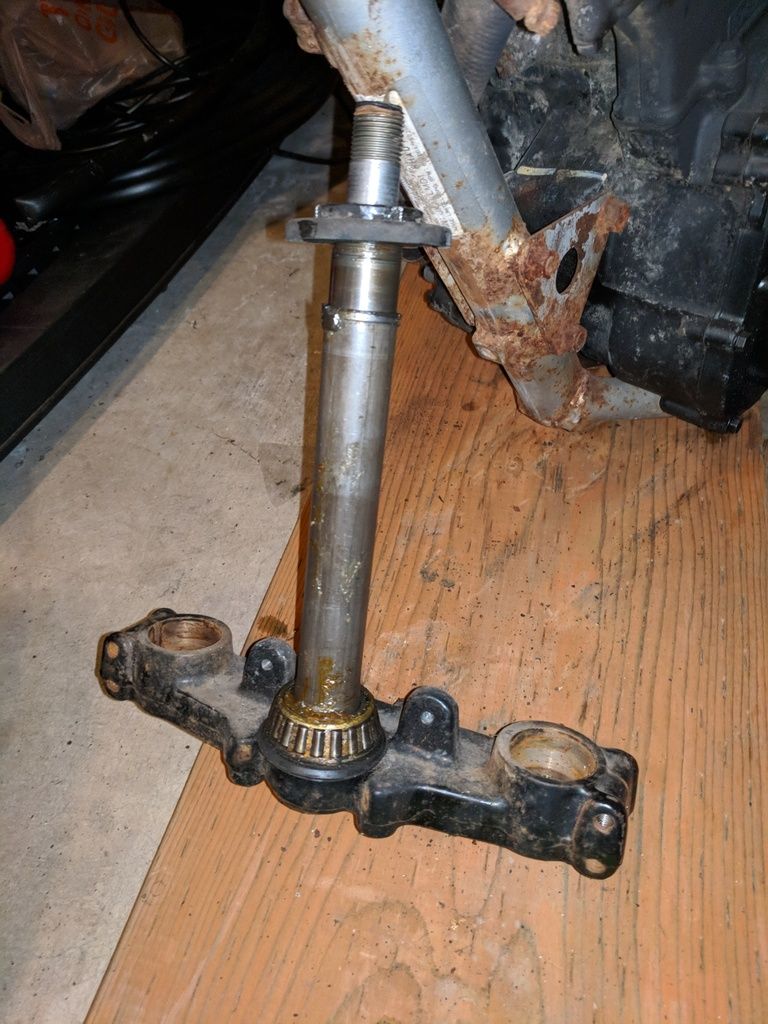 I´ve also started cleaning up my old forks. Just the uppers today: from a youtube video I watched where they only use wd40 and 1500 grit on the upper forks. here´s a before and after photo: It was really simple and I like how it looks so far but does anyone know how to remove the small black marks that I have left?
Before of Upper Forks: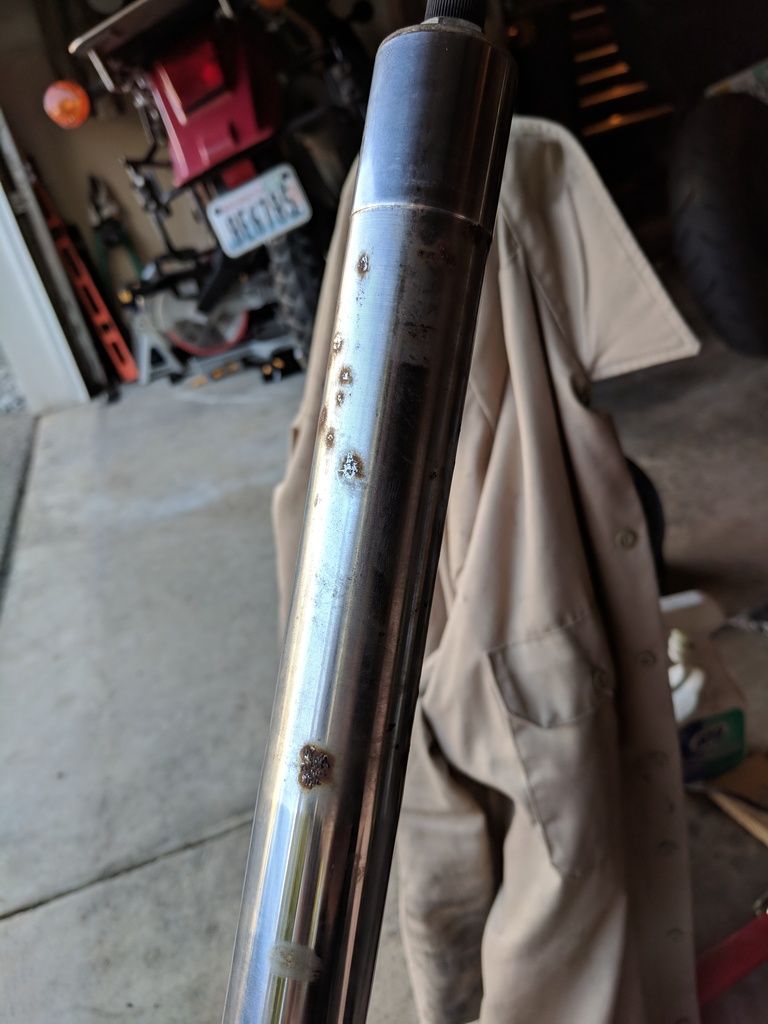 After 20 minutes of wd40 and 1500 grit wetordry paper:
Here´s the current status as of 10 minutes ago of the build in my garage: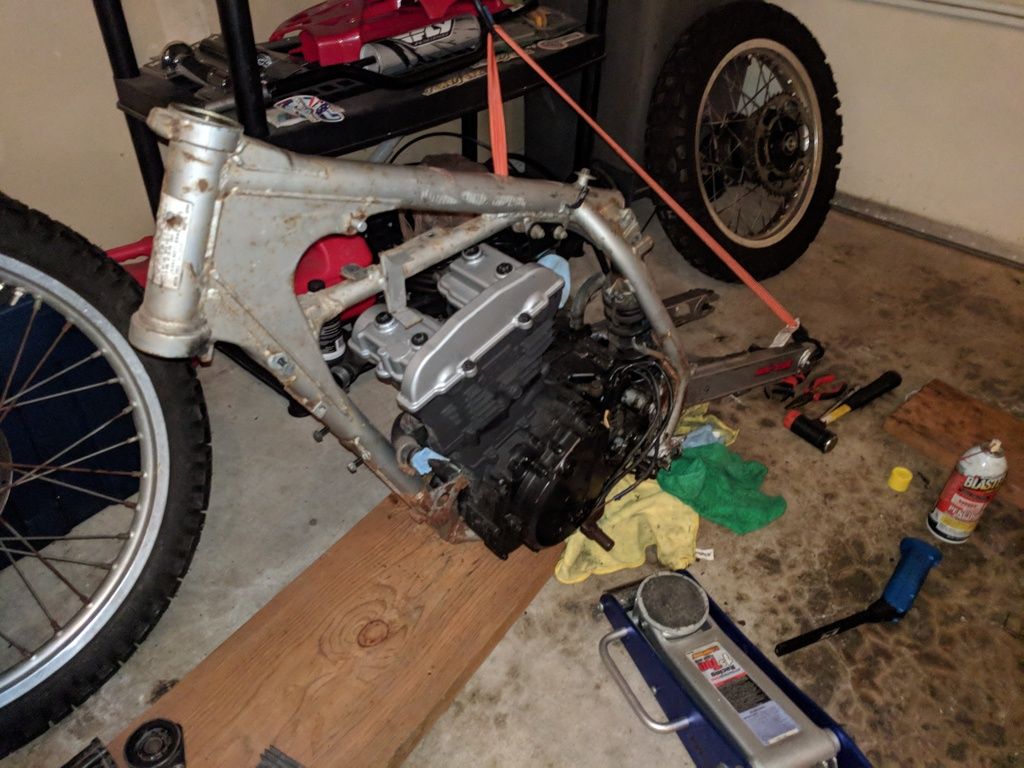 First I yell from excitement in my garage alone.. then I blow up a needle bearing. This is how my day went today.
IT FELT SO DANG GOOD! After lathering myself in PB Blaster and wrestling these damn side links for a week, it´s done : )
Photo of components just after popping off the side links:
But then I got a little carried away with the swing arm...
I wanted to remove all the needle bearings prior to soaking the swing arm in degreaser to clean and repaint it...
As you can see, went smoothly at first with a 19mm socket, extension and hammer (this is my first time removing swing arm bearings so please jump in if I´m doing anything incorrectly):
But then I thought I could slide the double packed needle bearings out in the same way:
THIS DID NOT WORK (Needle bearing on socket side blew out almost all of it´s cylinder rollers, far side needle bearing still intact)...
If anyone is listening... I´m continuing to read online about this today but this is all new to me so any info at all on how you´ve experienced anything similar or how to properly remove and replace these would be greatly appreciated!! .. Thanks!
My plan for the swing arm needle bearings is to keep soaking em in penetrating oil and then hope that the 19 mm socket will eventually knock em out of there. Then I buy new ones. In the meantime...
Last night and today I got to start working on restoring the lower forks:
Before photo of both lower forks: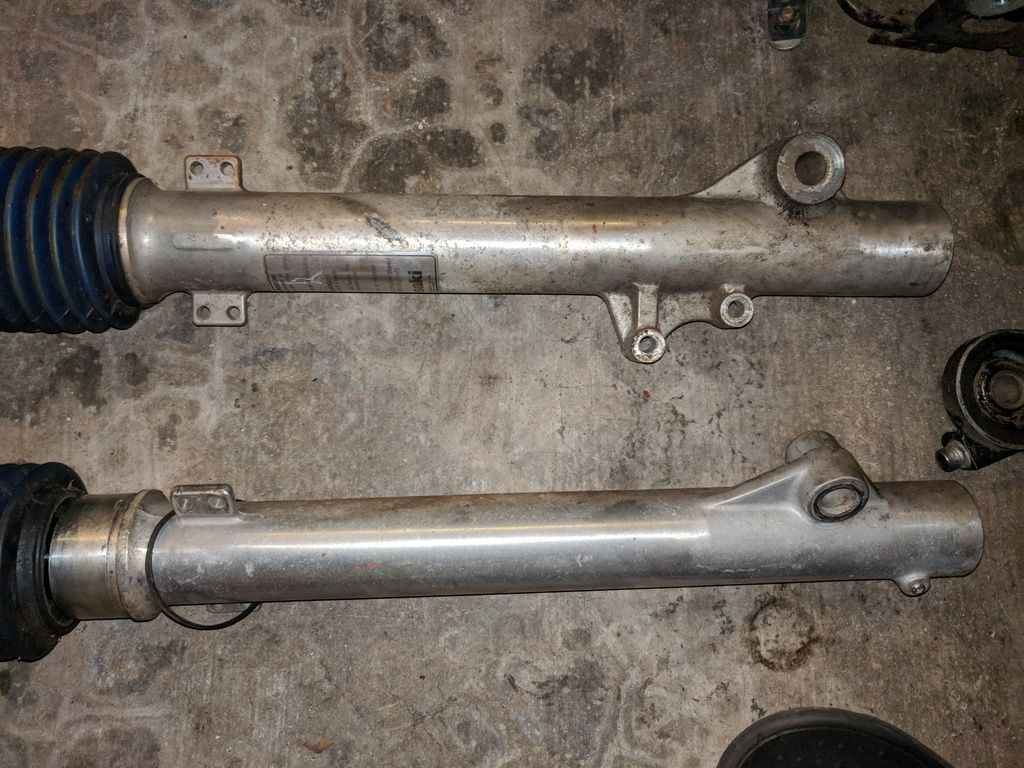 Photo of my sanding set up. The used strips in front of each package shows approx how much I used of each grit to clean up only one of the lower forks. I had each fork sitting in a 5 gal bucket of water to help with the sanding. There was a tiny amount of Dremel use but it couldve been done entirely by hand.
Photo of first fork polished next to second fork untouched:
After Photo showing the Mag´s Aluminum Polish that I buffed in by hand:
Close up of sanded/polished forks. I swear they look better in person. Pretty happy about the results!
More Updates!!!
In the last couple of days I managed to remove, sand, paint, and put back together my subframe/rear fender assembly and exhaust. I love how much better they look now:
Before photos of subframe assembly and exhaust from last year: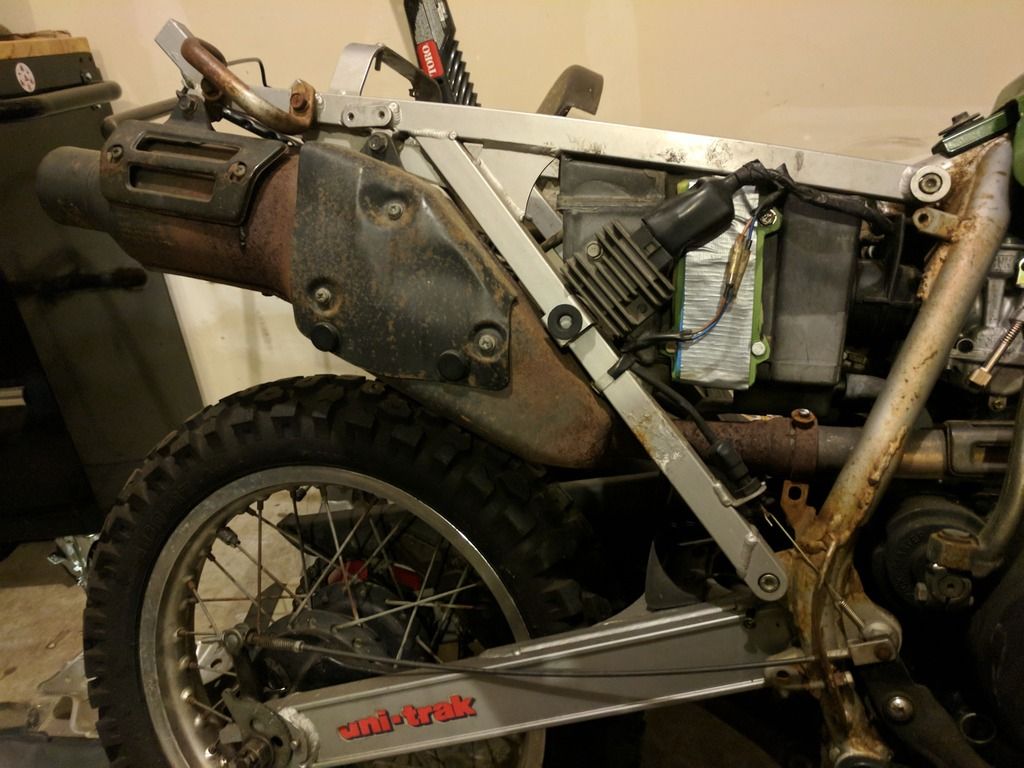 After Photos (Sanded/Painted: Reg plastic paint for fender assembly, truck bed liner for subframe, and bbq paint for exhaust)
---
Last edited by Wapahhsopitted; 06-26-2018 at

07:35 PM

.
Update to swingarm needle bearing removal:
The fight continues with the swingarm needle bearings...and I feel like I´m losing. This feels a lot like last week with the rear shock side links...
The last couple of days I´ve been soaking the swingarm bearing housing in pb blaster and liquid wrench. I then try hammering the double needle bearings out with the seemingly perfect fit 19 mm socket and nothing gets better...
Photos of remaining bearing sleeves left behind still stuck in place (all the innards have been removed from both bearings but I can still use my finger to rotate the ´outer bearing sleeves´ that remain in place: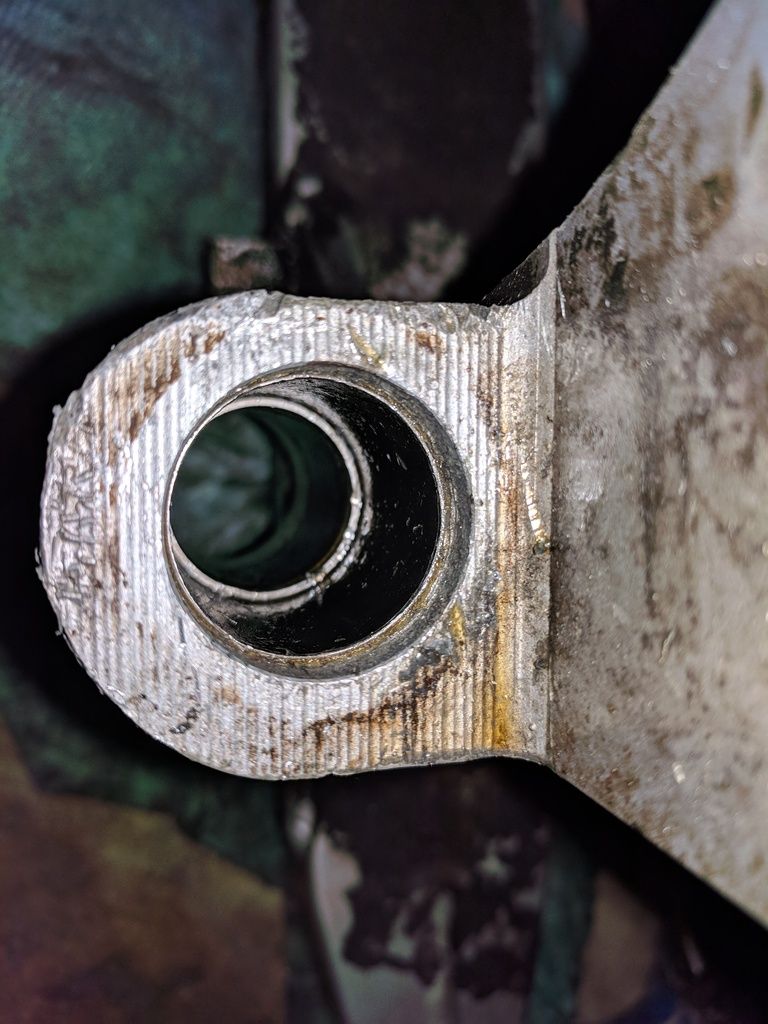 I might need to come up with an alternative to my 19 mm socket..
---
Last edited by Wapahhsopitted; 06-27-2018 at

06:44 PM

.
OverDrive
Join Date: Nov 2009
Location: Lander, Wyoming
Posts: 6,073
In absolute worst case / last ditch efforts where you are currently at, with home tools. I have had to use a Dremel tool and grinder stone to grind a trench thru bearing races in order to relieve them from their bores.

Sorry to say that they used to look like 'usable bearings', as in not actually rusted.
---
pdwestman
Modify at "YOUR OWN RISK"!

Still riding my 1987 KL650-A1. 85,000+ miles & counting
Pretty in Pink, dunno why
Join Date: Feb 2009
Location: Redondo Beach
Posts: 7,867
You are using the wrong tool.
A socket has rounded shoulders. You are deforming the bearing cage and wedging it into the bore.
A bearing installer/remover has sharp, square shoulders to properly engage the bearing and move it.
This is called a bearing installer, but it also works as a puller with some ingenuity.
https://www.summitracing.com/parts/m...iABEgIKWfD_BwE
This is the one I use for the 650. You'd need to check and see if the tool is the appropriate size for the 250 bearings.
To use it as a puller you need to set up a deep socket to push the bearing into. It might be hard to get yours moving if it is wedged in, but once moving it should be OK.
I'm not familiar with the dimensions of the 250, but if it all doesn't fit you can substitute some all-thread for the supplied arbor.
---
Tom
[email protected]
"I decided I could lose nothing by the soft approach. If that didn't produce for me—and I didn't think it would—nature could take its course and we could bust up the furniture."
-Philip Marlowe
"'Why'
and
'How'
are words so important they cannot be too often used."
-Napoleon Bonaparte
Sting like a butterfly.
Noli Timere Messorem
---
Last edited by Tom Schmitz; 06-27-2018 at

02:20 AM

.
Thanks for both your responses! Yeah I´m struggling over here. In the last day I attempted to get my rotary tool´s small cutting wheel and grinding stone in to cut the outer bearing sleeve but it could only fit in enough to barely score the edge. I couldn´t manage to wedge a small flathead into the outer sleeve either. I just finished using a propane torch in attempts to heat up the aluminum swingarm to release what´s left of the bearings but this didn´t work either. Tom, I think you are right about me wedging the bearing cage into the bore.. I was angrily swinging at the 19mm socket a bit ago and apparently hit it a few times off axis cause it´s now lodged in the bore. I´m tired and am gonna temporarily browse klr swingarms on ebay for now while I rest..
UPDATE: After a bit of rest and then more hours in the garage...
pdwestman, the dremel seems to have worked! I managed to wedge a very fine flat head screwdriver into the scored outer sleeve of the needle bearings. Now I´ve got a bore that needs to be cleaned/deburred. Any suggestions or will honing it a tiny bit cause the replacement bearings to not fit right? Any suggestions? Here´s photos of the status:
Flat head screwdriver gutting bearing outer ring:
After photo of scuffed up bore after all bearing components were removed:
Largest intact pieces of removed swingarm bearing outer rings:
---
Last edited by Wapahhsopitted; 06-27-2018 at

08:30 PM

.