1st Gear
Join Date: Jun 2018
Posts: 27
What about making your own puller? I'd use heat from your propane torch while you are pulling out the rest out. I can't post pics/URLs yet basically it's a threaded rod though the socket and uses washers and nuts to force the bearing out.
Hagan, good idea. Thanks for the suggestion, I had been a little concerned with only having the outer rings/sleeves left over from the bearings that I just wouldn´t have much to push or pull on but I didn´t see your post until just now, after I finally chipped out all of the remaining sleeves. Now I gotta figure out a way to clean up the bore of the swingarm...I done f*ckered it up pretty good.
1st Gear
Join Date: Jun 2018
Posts: 27
Glad you got it out! How did you remove the remaining piece of bearing?
Thanks! No better feeling than when an old rusted or busted part finally comes loose after fighting it for several days! Check out the post I edited just before these where I show how I got the bearing sleeves/outer rings out with dremel/screw driver/hammer.
---
Last edited by Wapahhsopitted; 06-27-2018 at

11:08 PM

.
1st Gear
Join Date: Jun 2018
Posts: 27
I'd suggest cleaning up any areas that are raised in the bore. I wouldn't remove any material unless it's going to make installing the new bearing difficult. A good idea (I've used working on my own vehicles) is placing the bearing in the freezer before you install it.
Nice tip! I´ll keep that in mind for when I get the replacement bearings. I´m currently soaking the swingarm in a parts washer sink filled with a simple green solution while I figure out how I´m going to lightly clean up the swingarm bearing bore.
Also, while the swingarm is soaking, getting ready for cleaning/sanding/painting, I managed to finally break the remaining rear engine mount which allowed me to finally drop the shock out and remove the engine from the frame! Now I get to start cleaning up the frame and figure out how to rebuild a 30+ year old shock. I´ll come back to you guys for guidance once I´ve read up a bit on shocks : )
Photos of progress in my garage from 20 minutes ago: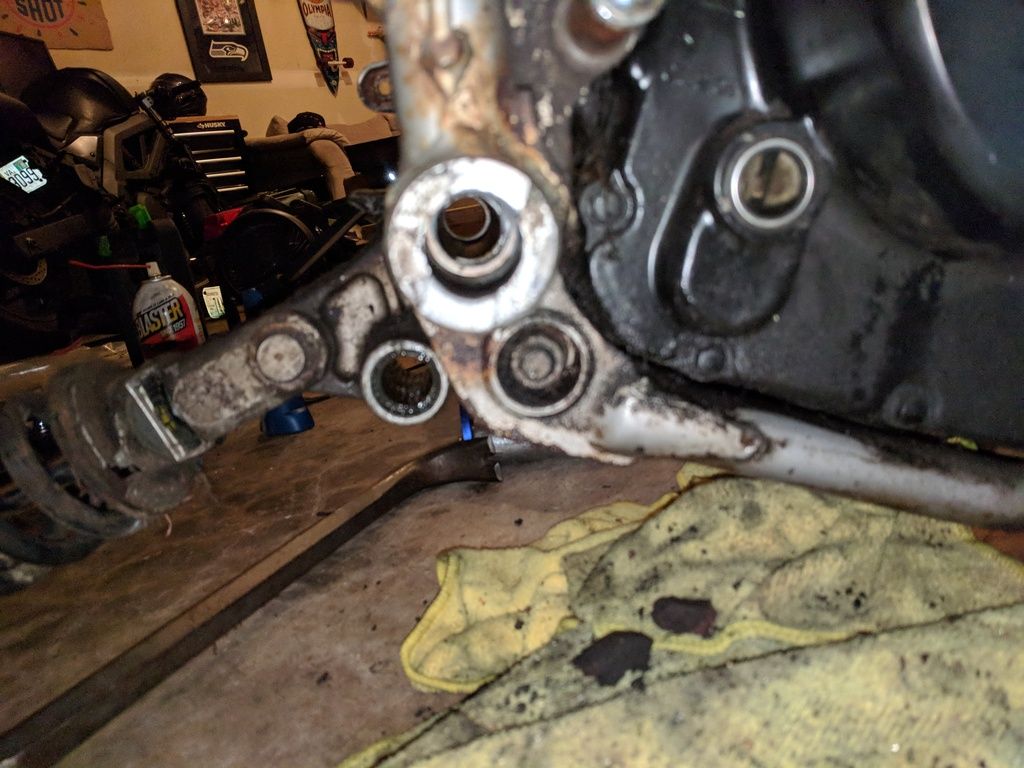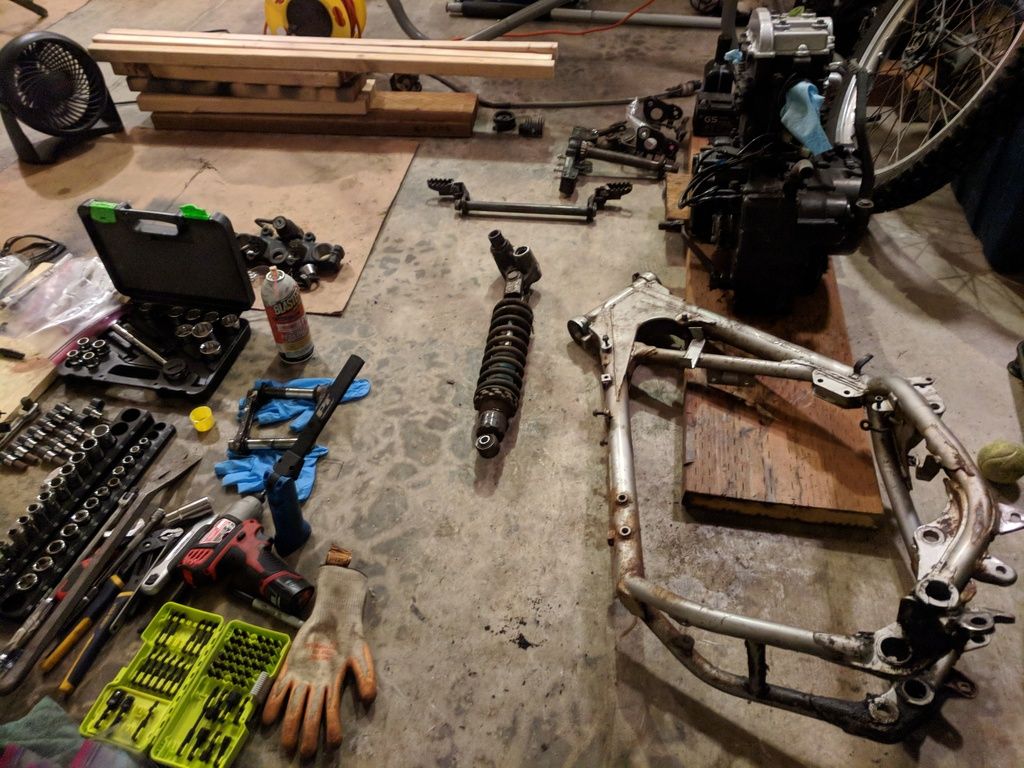 Updates on my Rear Shock Restoration Adventures:
The local Kawasaki dealership referred me to KFG Motorsports in Auburn, Wa. I called them and they said they would charge a base rate of 150 (or was it 160?) to service the shock separate from additional costs if parts need replacing. They also charge a shop rate cleaning fee for every 15 minutes of cleaning that might be required.. I watched plenty of shock restoration videos prior to this but wanted to consult a professional for the piece of mind.
First I soaked the rear shock in simple green solution for a day and attempted to scrub up the shock: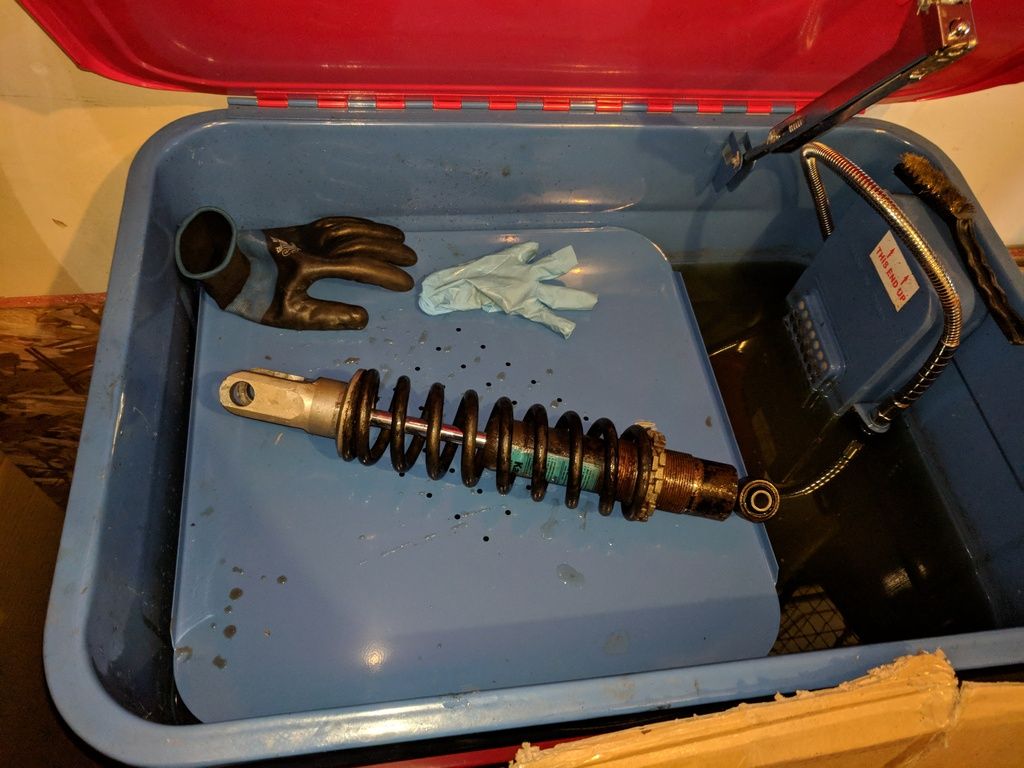 Drove down to KFG Motorsports and I gotta say, these guys are awesome!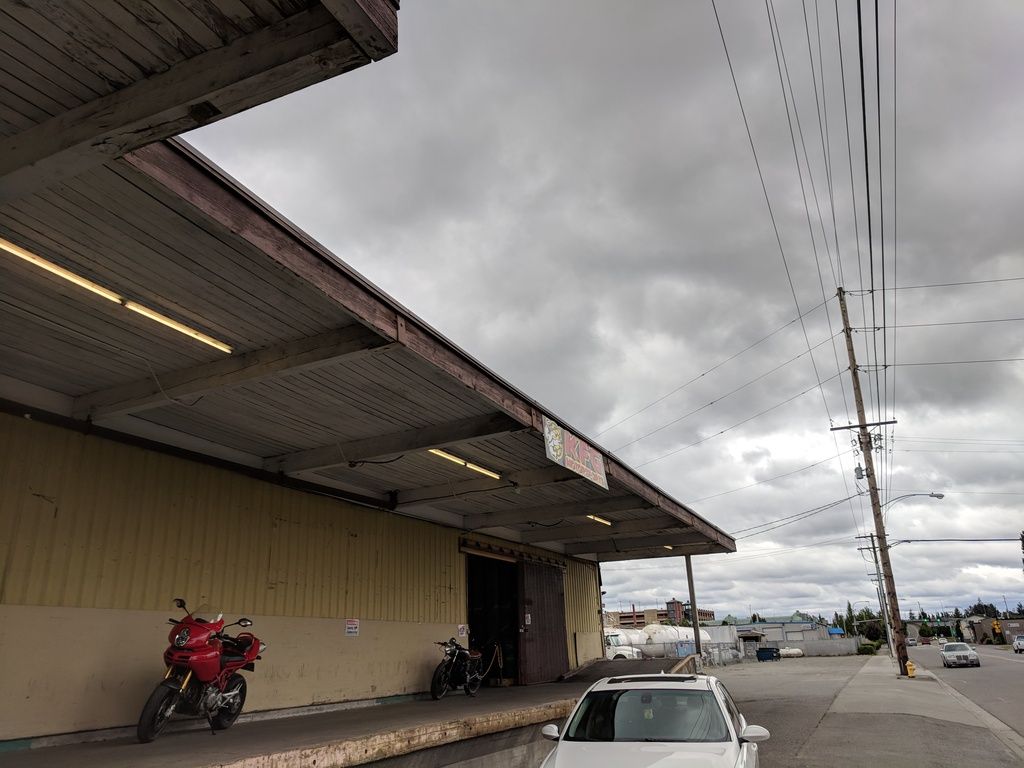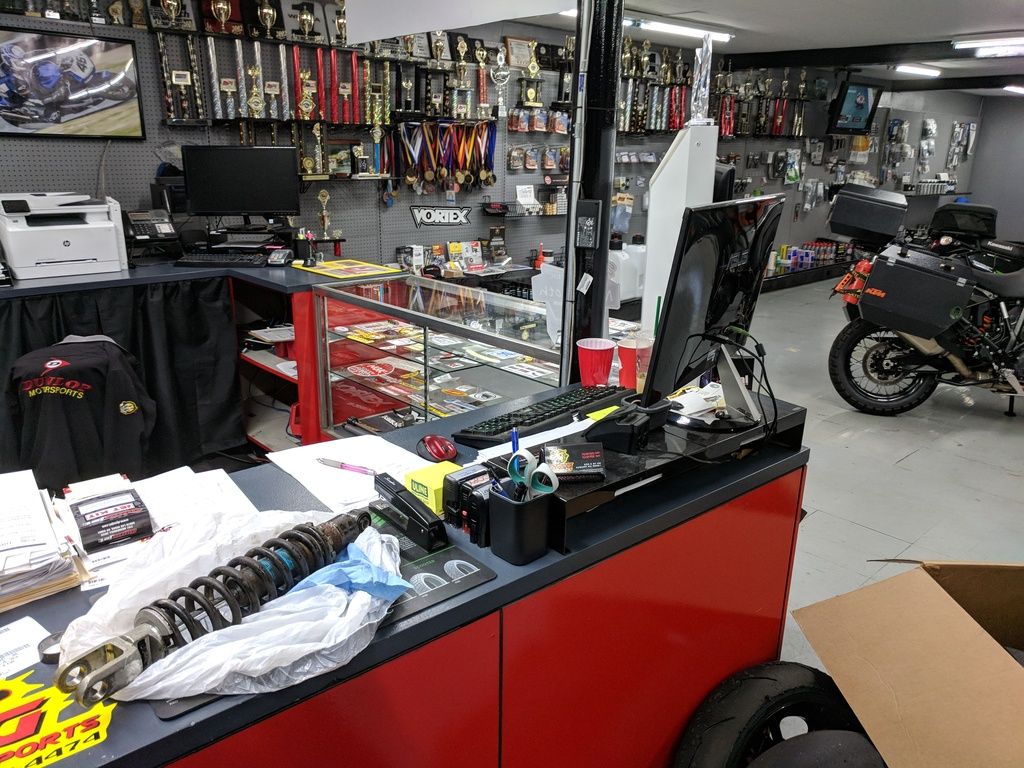 Extremely helpful and provided plenty of suggestions for my build. They also explained to me that the shock I have is not conventionally serviceable due to it being welded here as shown in the photo:
and also because it does not have a separate chamber for nitrogen to be refilled up here: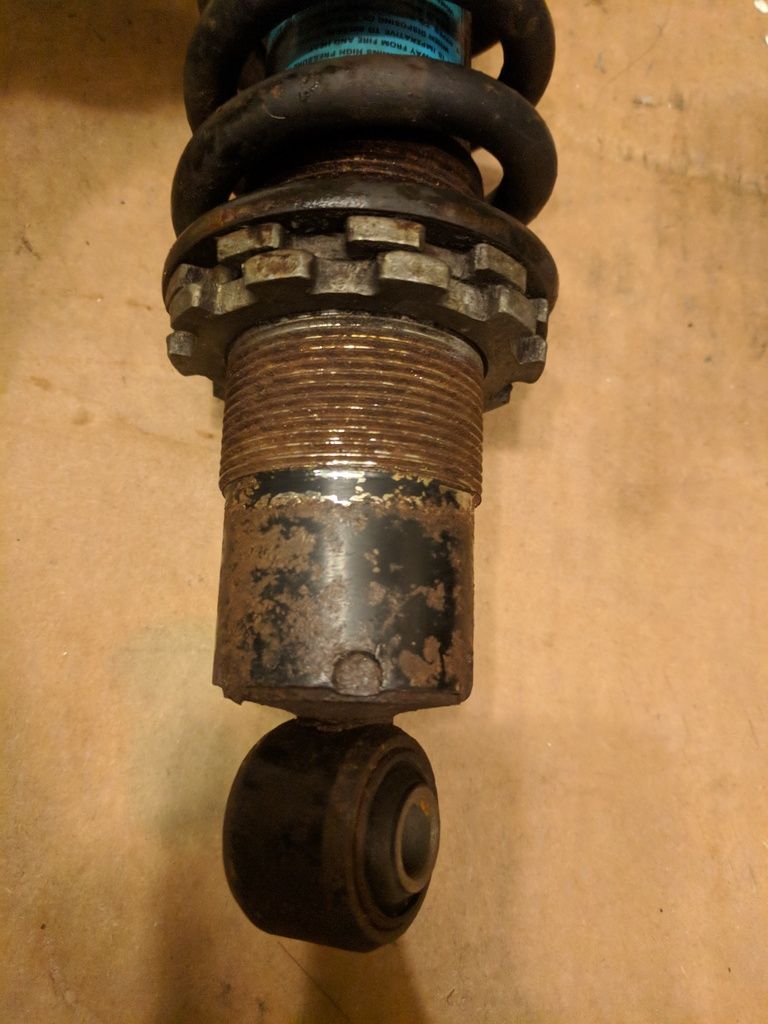 After getting some sweet free KFG Motorsports Stickers, I went back to do some research.
So far what I can find is either going brand new with MOAB shock ($490):
https://www.motocd.com/product/the-moab-shock-klr250/
or the reasonably but still way out of my budget new Hagon Shock at around $400:
https://www.hagon-shocks.co.uk/catal....aspx?TypeID=M
or I go the route of the conventional KLR 650 shock replacement with minimal mods (one of many resources below)...
Or... I´ve been looking for the past week and only now have found a used KLR 250 shock on ebay but I might not have looked that hard..($220):
https://www.ebay.com/itm/Kawasaki-KL...0AAOSwX8da350u
Did I miss anything here? Does anyone know of an additional route to go? Here´s my decision, that I´m sure no one else really cares about but I´m going to tell you anyways... I sadly at this point care a bit more about the aesthetics than the actual function of my shock. Maybe I say that because if I care about the function, I also have to not care about 400 bucks. I could buy the one on ebay for $220 but my current shock still works enough that I´m not sure what i´d gain from it without really knowing the condition of the one on ebay.
I´m considering sticking with my old shock but attempting to clean it up more, paint the top portion, and then remove the spring to have it powder coated (or buy new spring)? Does anyone agree with this plan?
In the last couple of days I´ve lined a few things up for the build and got a sweet surprise..
I called around to several different sand blasting/powder coating shops in the Snohomish County area. Craig from Bulldog Powder Coating was really helpful and it seemed to be pretty routine for them to do motorcycle parts. I took my bare frame in and he quoted me $250 cash (no addtl tax) to sand blast/powder coat the frame with a selection of colors. For only $25 extra, he´ll let me throw in any additional smaller parts to get the same treatment with the frame.
So I´ll be dropping these off tomorrow to join the frame: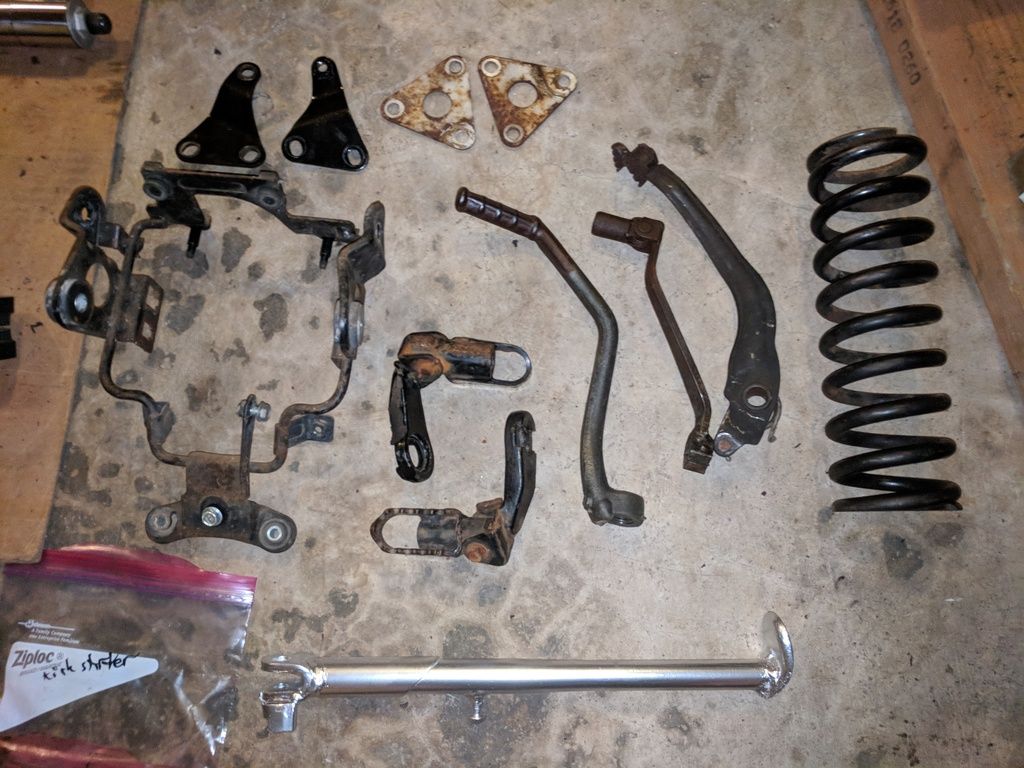 can´t wait to see everything back at the end of next week!
sorry, off topic, but c´mon... this week we discovered a family living under the small deck I just finished this spring:
so now they´re helping me take breaks from the build..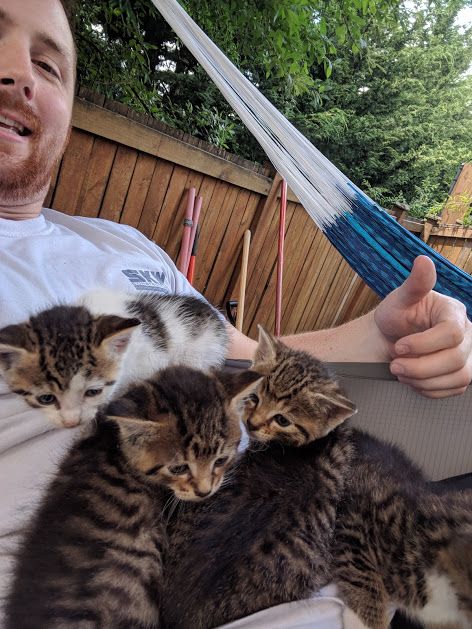 but seriously.. Mom cat is still taking care of them for now. We´re asking around if she´s a stray. We might need to find some homes in the next couple of weeks. Let me know if you live in the Seattle/Snohomish County area and are interested.
Random Update on Valve Adjustment and Valve Cover Clean Up:
My online KLR 250 Motorcycle Service Manual Supplement specifies ¨Valve Clearances for both Inlet and Exhaust to be .20 - .24 mm.¨ I found both my intake and exhaust valves were too tight (approx .18 to .19). From what I´ve read online it seems to work to set them on the looser side so I set them to .23 mm.
Photos of tools and some of the process: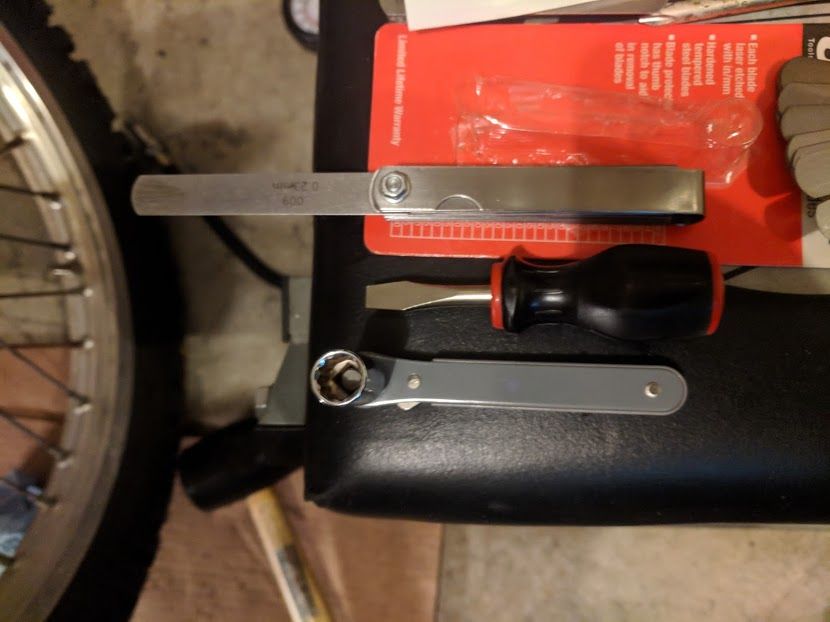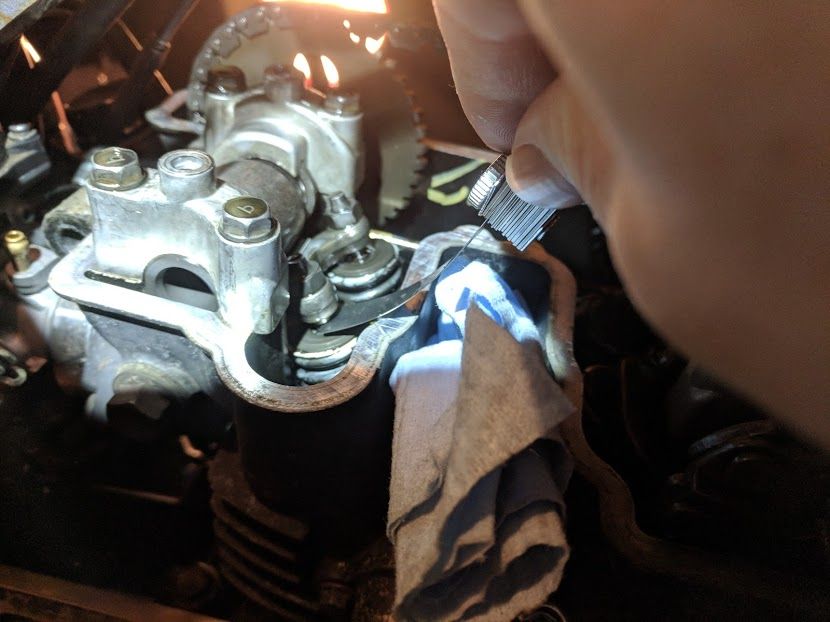 After setting the intake and exhaust valves to .23 mm, I sanded and painted the valve cover:
Pre: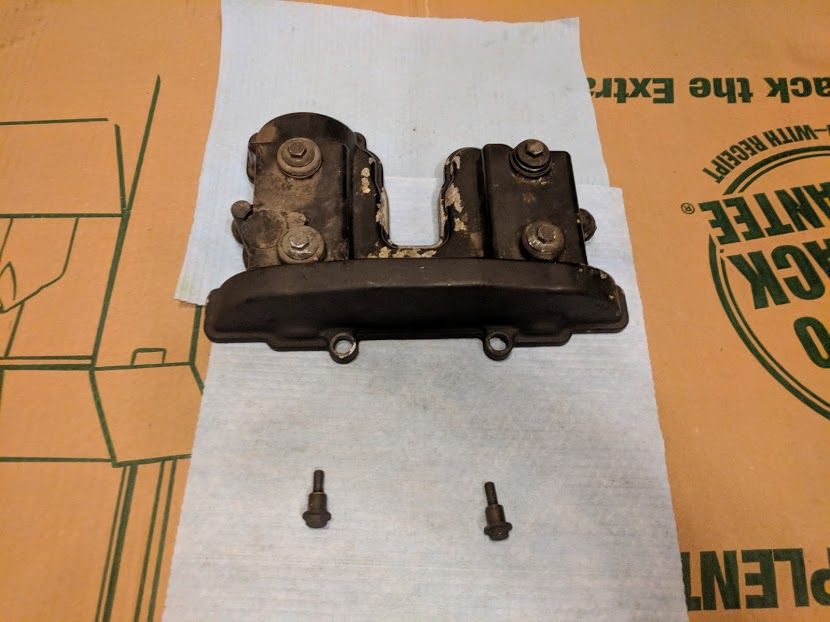 Post: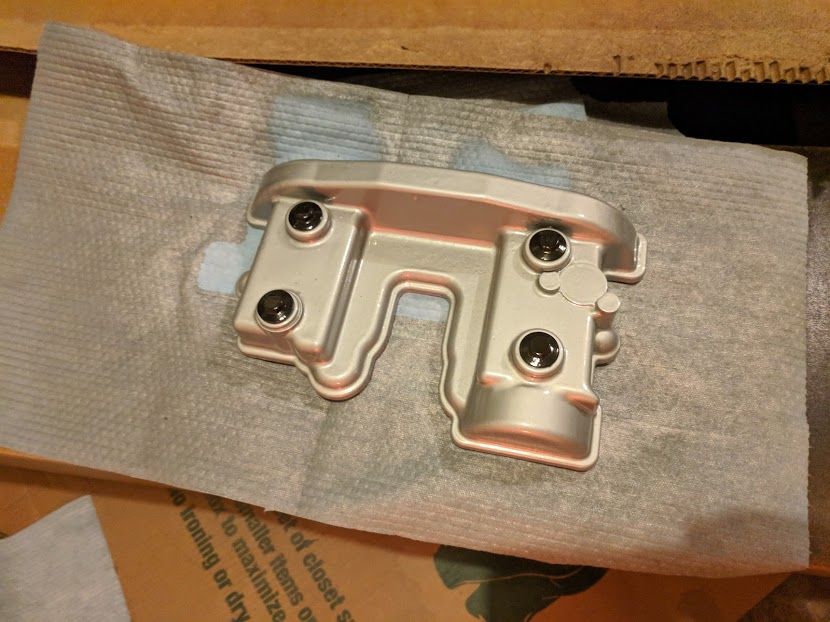 Right now I´m waiting a few more days on the swingarm needle bearings and new fork boots to get in from the Kawasaki Dealer. I´ve also gotta wait til the end of next week to get the frame, rear shock spring and misc parts back from Bulldog Powder Coating. I should be able to start putting everything back together at the end of next week.