1987 KLR 250 Beautiful Rust Bucket Restoration Build
---
Hey Guys/Gals,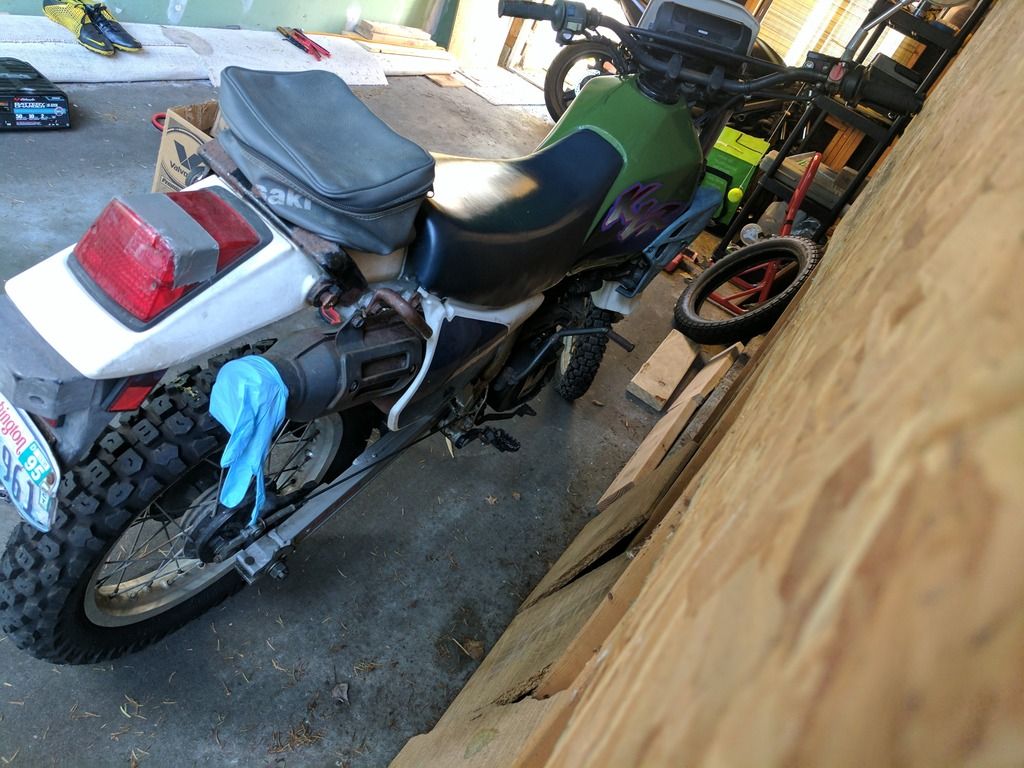 INTRO:
Long time listener, first time caller. I hope I´m received well enough in the forum. It´s always been a passion of mine to tinker with old carbureted motorcycles but I´ve never really known what I was doing or had a workspace to do anything properly (used to try my old apartment living room when I was younger which never went over so well with roommates or why did I ever try using carb cleaner with a window cracked open.. desperate times. : ) ). By the way, I´m still young. My name is Casey and I´m 29. Grew up most of my life in the Pacific Northwest. Nice to meet you guys. Basically, up til now I´ve only cleaned/synched carbs, replaced chains/sprockets and done valve adjustments so now I´m in need of help on a full restoration!
I now have my own garage and after checking PNW craigslist for months, I managed to trap myself into a 1987 KLR 250 (photos hopefully correctly linked above..after 14 more posts..). Currently I own a 2006 SV 650 and a 2005 KLR 650, but Im a sucker for the small displacement bikes (in 2015 I rode my old XT225 from Seattle to Panama) and I really wanted something that looked in bad enough shape that it would motivate me to finally do a full tear down. I managed to start the bike up and ride it home with it dying a few times. The bike still has carburetor issues which I will have to address later in the thread if possible (constant leak from float bowl overflow tube which can only be stopped by a screw plugging the end of the tube. I´ve replaced the float bowl drain plug, needle, and set the float height all to no avail.) Sorry for the boring intro but I just wanted to give some backstory.
TLDR; SKIP INTRO AND JUMP HERE:
OK OK, This brings me to today and why I currently need help! I´ve started a full restoration of the baby killer and the 30+ years of rust combined with my lack of real experience is leading to some confusion in the garage. I am extremely nervous to force anything too hard in fear of stripping/breaking anything and right now I´m exhausted trying to remove my rear shock. Please see the photos that will hopefully be inserted correctly into this thread below (after I apparently make 14 more posts).... I´ve already removed the subframe, airbox, top shock bolt, and c clips/washers on the rear linkages. I´ve spent several days now periodically spraying the rear linkages with PB blaster and then prying on the rear linkage seals with a vise grip. Is there a special tool that could get into the seals groove and pry it out? Has anyone encountered this? Am I even prying on the right part?? All help is greatly appreciated! Even just a hello so I can start racking up my posts to be able to submit photos ; )
Rear linkage seals that I cannot figure out how to remove: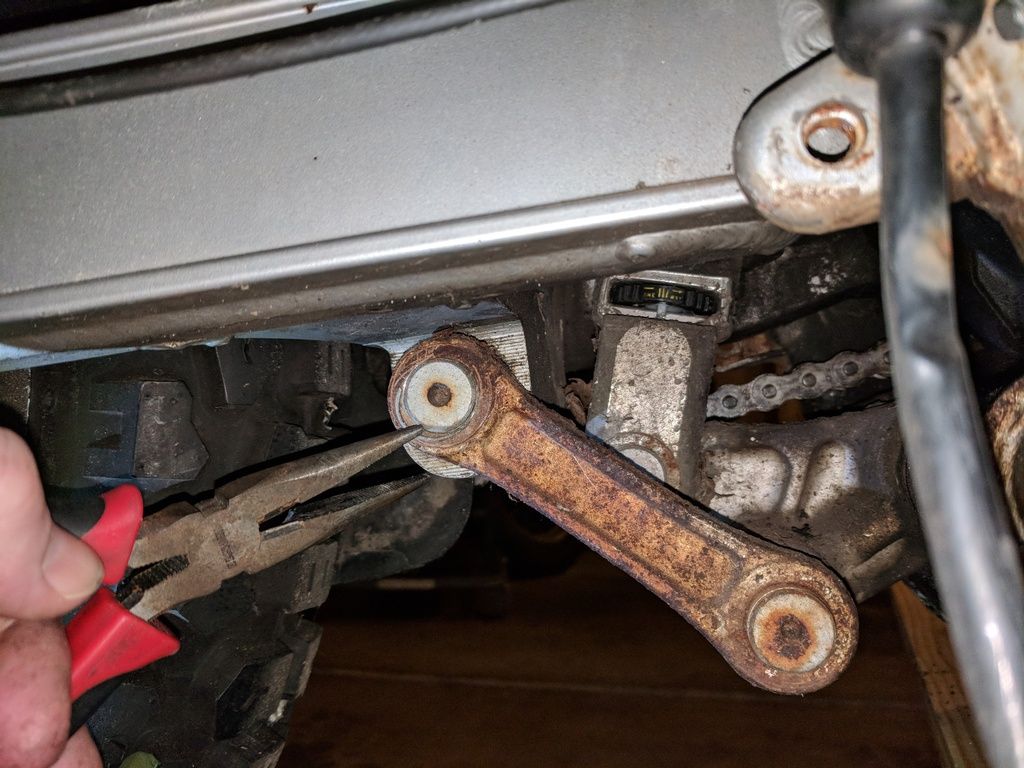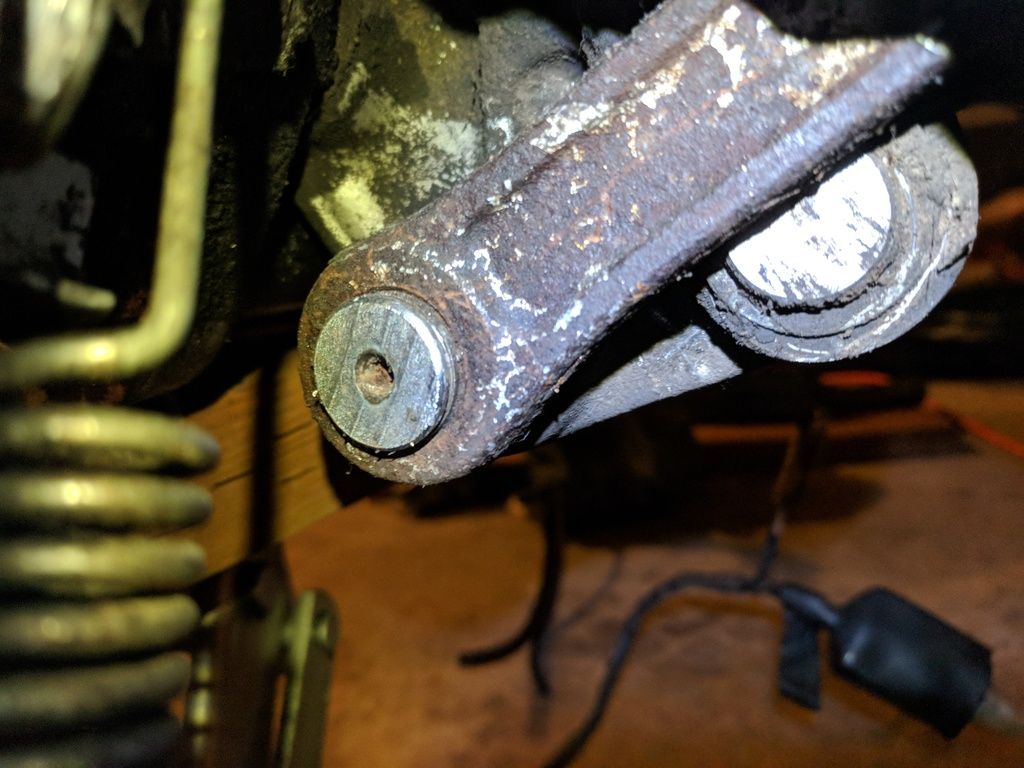 After removing c clips/washers and several days of periodic pb blasting: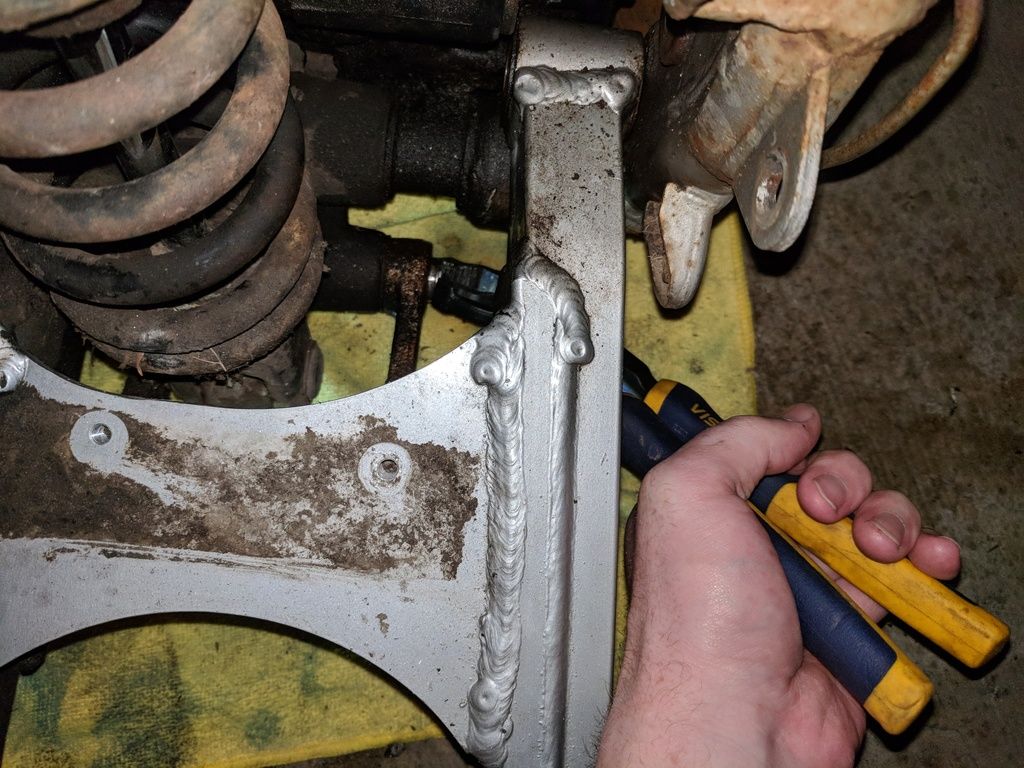 Misc: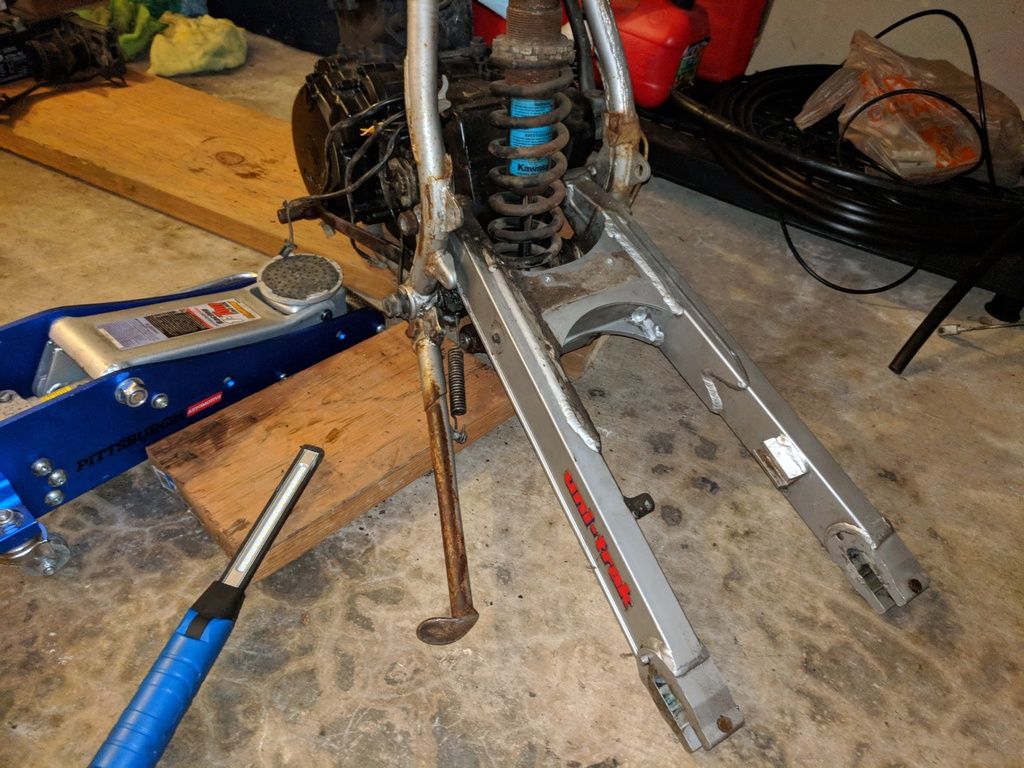 ---
Last edited by Wapahhsopitted; 06-25-2018 at

11:32 PM

.
can´t wait to show you guys these photos
OverDrive
Join Date: Nov 2009
Location: Lander, Wyoming
Posts: 5,609
---
pdwestman
Modify at "YOUR OWN RISK"!

Still riding my 1987 KL650-A1. 85,000+ miles & counting
Did you see my photos though? The rear shock is not coming out easy. I managed to remove the top bolt but the rear links have what I believe are 4 metal ´seals´ (from bike bandit diagram) and Ive had a pretty solid grip on them with the vise grips and have been rocking the bike up and down from ripping on the seals.. and nothing will budge at all.

Im not entirely sure I know what you mean by is the long bolt removed? I had to fight the long swingarm pivot bolt for several days to finally get it out yesterday...

**EDIT: just compared the diagram to my bike in the garage, yes the long bolt labeled 33032 ´shaft-swing arm´ is what I was referring to and it has been removed after quite a fight.
---
Last edited by Wapahhsopitted; 06-23-2018 at

03:06 PM

.
OverDrive
Join Date: Nov 2009
Location: Lander, Wyoming
Posts: 5,609
---
pdwestman
Modify at "YOUR OWN RISK"!

Still riding my 1987 KL650-A1. 85,000+ miles & counting
Beautiful, thanks for the quick responses!!! I really appreciate the support! Great link too. Sorry for being slow here but it´s kind of hard for me to tell from all the rust.. is 42036A/B the part that I have been prying on and it´s actually a sleeve that passes all the way through? Also are we saying it´s all rusted together and I need to just air hammer to attempt to free the mating surfaces of all the components of rust before taking it apart?
---
Last edited by Wapahhsopitted; 06-23-2018 at

03:01 PM

.
To make my specific question more concise and cut out a lot of my bullshit:
In the photo below, should I be prying on what I´m referring to as the rear shock side link ´seals´ as shown with my vise grips or are these sleeves that pass through completely and I need to be hammering them out from one side to the other? I already removed the c clips and washers...theres just so much rust.. or option C is I dont know what Im talking about.
Sorry for multiple posts, I just am dying to break this bike down/rebuild it and all the rust is driving me crazy!