New kaw fan
---
Just bought a 04' klr with 4000 miles on it. Very fun bike. I am wondering if there is a way to get it started without needing the choke. I have changed the look up a bit and will post some before and after pic when I can. Glad to be part of the klr crew!
Welcome aboard!
I'm not sure what everyone else's experience is, but I always have to use the choke to start mine as well. That is unless it's just been shut off. Heck, I even have to use the choke to start it on a warm day.
---
5th Gear
Join Date: Jan 2011
Posts: 4,387
Quote:
Originally Posted by
PalmStateCrawler
View Post
I am wondering if there is a way to get it started without needing the choke.
Short answer, "No."
Don't want to be like the guy from whom you ask the time of day, and he then tells you how to build a clock, but the following may be useful.
First, it ain't a choke (or, a "strangler," as our British cousins say). It's a
starting enricher
.
In fact, it's like a mini-carburetor, when activated, allowing the engine to ingest a fuel-rich air/fuel mixture for initial, cold-engine starting.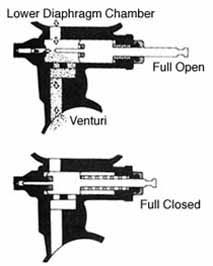 Activating the "choke" withdraws a plunger from its orifice in the carb, allowing fuel to flow (shown as little droplets entering horizontally from left to right); simultaneously, an air passage is opened (as shown by the arrows descending vertically in the diagram) and the resulting mixture is ingested into the venturi and the engine.
Thus was designed the Keihin constant velocity carburetor on the KLR650.
---
Last edited by Damocles; 11-09-2012 at

05:43 PM

.
Ahhh.. thanks. I just wanted to be sure there was no need to rejet. I appreciate the explanation so feel free to let me know "how to build the clock". Stock is 40/140 and it has 42/150 in it. The bike had a big gun on it but currently has the stocker and tape over the airbox holes. I am going to remove the rust and paint the big gun and see how I like it. It also has an aluminum skid plate but the stocker is currently on it.
5th Gear
Join Date: Jan 2011
Posts: 4,387
With everything more-or-less stock, 42/150 might be expected to be a little on the fuel-rich side, but a plug reading or exhaust gas analyzer would be needed to tell the tale.
Have you adjusted your fuel screw? 1-3/4 turns out, I think is good stock-engine starting point. This fuel-enrichment of the idle (pilot) circuit might facilitate cold starting somewhat.
If you're still using the stock needle, shimming it with one # 4 washer will fuel-enrich mid-range operation for more power in that operating domain (do a search on, "22-cent mod," discussed on this website; I think YouTube videos exist (here's one:
I've found this article about the Keihin CVK40 carburetor useful:
http://www.gadgetjq.com/keihin_carb.htm
Welcome to KLRdom and this forum.
---
Last edited by Damocles; 11-10-2012 at

01:19 AM

.
I am waiting to do about 200 miles and then about 2miles wot to do a plug chop. I intend to put the big gun back on it but want to finish everything else before I get around to sanding and painting it. I also have a few other projects going on in the garage so it'll be a week or two before I get the big gun back on. Just wanted to see how she runs stock for a little bit so I can see the difference between exhausts.
I got impatient and painted and reinstalled the big gun! Didn't notice much of a difference with the butt dyno but it is definitely louder and sounds less like a mower. It is super lean with the choke on causing the header to glow red and slightly lean when when revving it in neutral. I will check to see if there are any washers under the needle when I get some time and the l-mod has been done so what else should I do to fix the lean condition if the washers are already in there? 150 main and 42 pilot are installed, my altitude is right around 500ft asl.
---
Last edited by PalmStateCrawler; 11-11-2012 at

09:29 PM

.