Did a little work on my 09 today
---
well, yesterday and today:
Givi crashbars
Happy trail SU rack and panniers
Lexx exhaust
C.Bailey headlight protector
painted the black fairing panels an obnoxious florescent orange
added super cool KLR roundel stickers.
Tried to attach the Barkbusters but couldn't figure it out. Will happen next day off perhaps.
Also on tap: JNS engineering sidestand foot and ADVmonster LED spotlights. I have a JNS skidplate, but apparently it wont work with the Givi crash bars, so I have to wait until they have a Givi-compatible plate and I will mount that.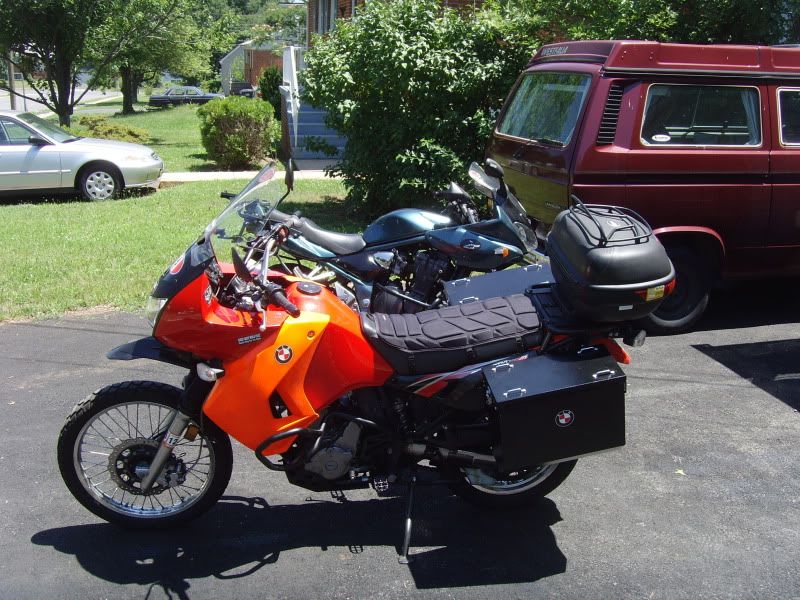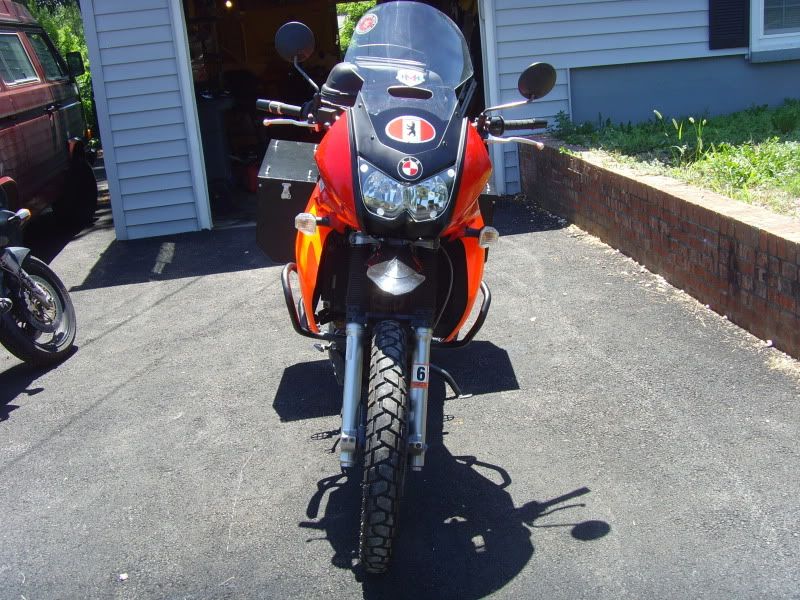 ---
Erik
2003 Bandit 1200S
2009 KLR 650

74 Honda CB360
2nd Gear
Join Date: May 2008
Posts: 153
r those shinko 705's? I am heading out to the shop to pick up my bike...had a set of shinko 705's put on. Hopefully they will be awesome.
OverDrive
Join Date: Jan 2011
Location: NW MO
Posts: 5,340
Nice additions. What's up with the headlight protector? Is it just some kind of clear shield?

Good-looking ride.




Yes those are Shinko 705s. I like them, better than the Kendas

The headlight protector is some kind of plastic that just goes on over the headlight. Uses four little velcro 'dots" Cee Bailey aviation plastics
---
Erik
2003 Bandit 1200S
2009 KLR 650

74 Honda CB360
1st Gear
Join Date: Jun 2011
Location: Roaoke Va
Posts: 33
Looks great! I like the orange with red


Sent from my iPod touch using Motorcycle
Timothys687
More miles and smiles for all!
2nd Gear
Join Date: Aug 2010
Location: Apache junction Az
Posts: 148
---
You have a KTM, Beemer thing going on the with the paint, I like it.
I seem to confuse a lot of people with this bike
Here are a couple more things I have recently added:
"tool tubes" for carrying spare oil and unleaded-
The ADVMonster LED spots:
The JNS Engineering Givi compatible skid plate:
JNS Engineering Side stand foot:
---
Erik
2003 Bandit 1200S
2009 KLR 650

74 Honda CB360