1st Gear
Join Date: Mar 2011
Location: Bama
Posts: 61
My KLR the day I got her
---
This was after I put 33 miles on her with no tag
Been wanting one for years... This is one of the happiest days I can remember. Just the color I wanted and the price too... I paid $3800, I think it was a bargain.. Been farkled a little since then
She now sits close to 1900 miles...(I dont get to ride as much as I want)
Mods: Shortned kickstand...saftey removed...Clutch safety removed.. Coo Case V28 With alarm, brake lights and tail lights and keyless enty..Corbin Dual Platform seat...More to come
You must click first pic to get vid to work ( dont know how to embed vid)
This is how she sits now...shorter kickstand not on in this pic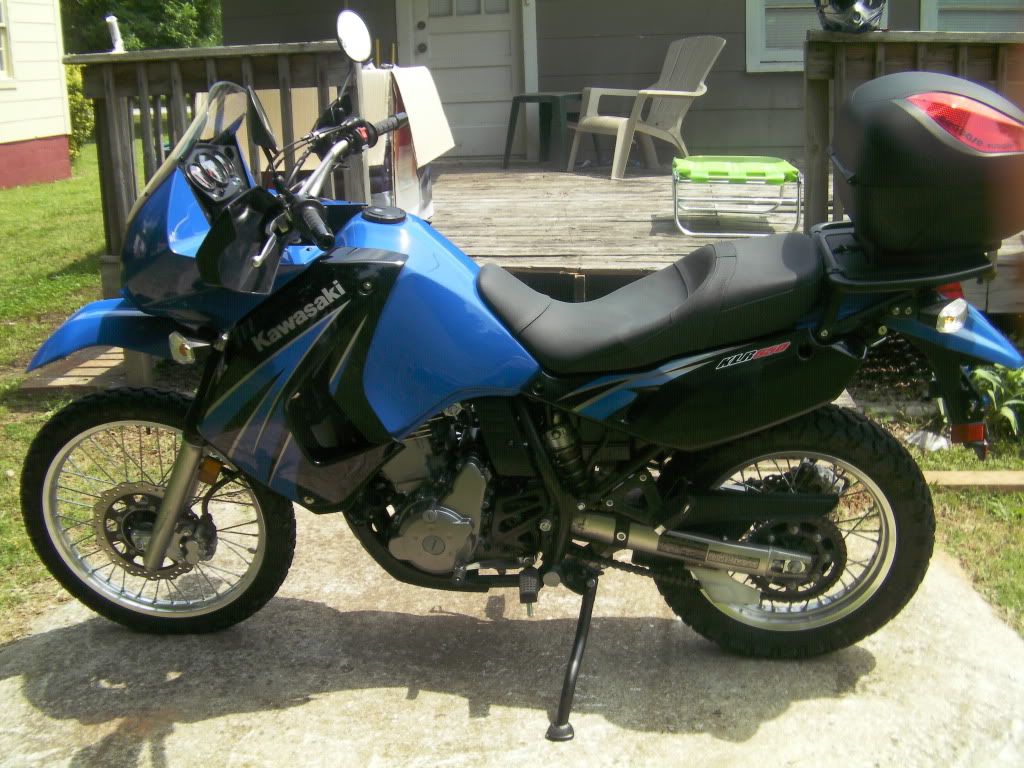 ---
Last edited by kw4tx; 07-10-2011 at

11:26 AM

. Reason: cant get link to work
Nice. That new bike feeling is awesome. But so is having a bike you have lived with for a while. you illustrated that well.




---
"In a car you're always in a compartment, and because you're used to it you don't realize that through that car window everything you see is just more TV." R. Pirsig
PPMC #1.
Soon, we ride.
AKA JD Mader or you can call me "Dan" just not early for dinner.
Click my handle for a link to my homepage/blog...which has nothing to do with MCs. Free literature and music! Viva La Revolucion!
-------------------
2008 KLR 650
RIP DM - Soon, we ride.
2nd Gear
Join Date: May 2008
Posts: 153
1st Gear
Join Date: Mar 2011
Location: Bama
Posts: 61
No it had 1133 miles when I bought it
hey man, nice. my buddy has the exact same colors on his new bike. same bike -the corbin seat. so I'm sure your rear feels better. I'm still on a gen 1. hard for me to replace it but one day I know i'm going to have to. Hope I'm as happy as you are when that day comes.
2nd Gear
Join Date: May 2008
Posts: 153
cool. Where did you buy it? I bought my red one from a guy north of Huntsville 1 month ago today. I was looking on craigslist every day for a month before I bought mine. Just wondering if I saw yours for sale at any point. I remember there being a blue one in Ft. Payne for sale for $3950 that I wanted but sold too quick. I sent out alot of emails on CL lookin for a blue one. I'm happy with my red one...but at the time I decided to go with a gen2 KLR, I was enamoured with the blue.
4th Gear
Join Date: Apr 2011
Location: Kansas
Posts: 1,205
You got a great deal. Congrats!
---
Kawasaki KLR650 - Adventure Lite
Tagged KTM250XCF-W - Rocket
Tagged KLX300 - Trail Tractor
'84 XR250R - Retro Ride
RMZ250 - Dirty
CRF80 - Kids
CRF70 - Kids