Spot's 07 KLR 650 project.
---
Hey guys new to the forum and to this KLR, but not to motorcycles. I just picked up a cherry 07 with 6600 miles on her....never been offroad:eek1. That will change!! I have big plans with many $$$$ on parts already spent and farkles on the way. Anyway, on with the pics. This is how she looked when I brought her home.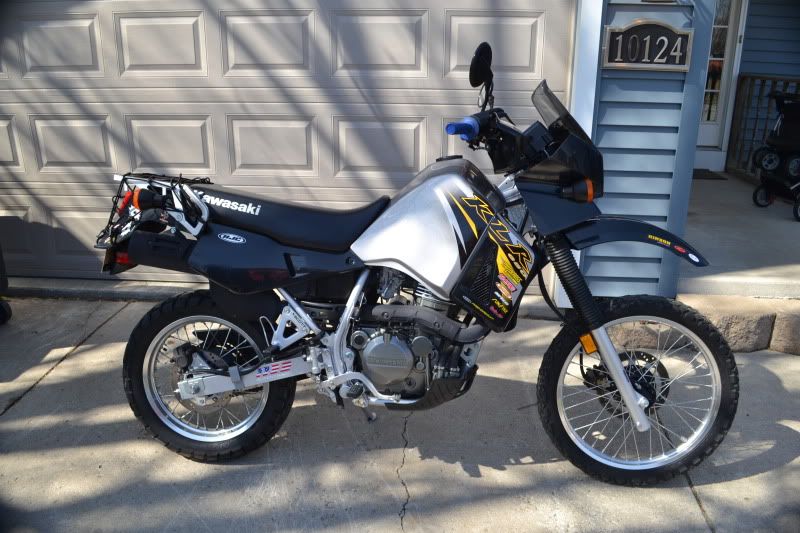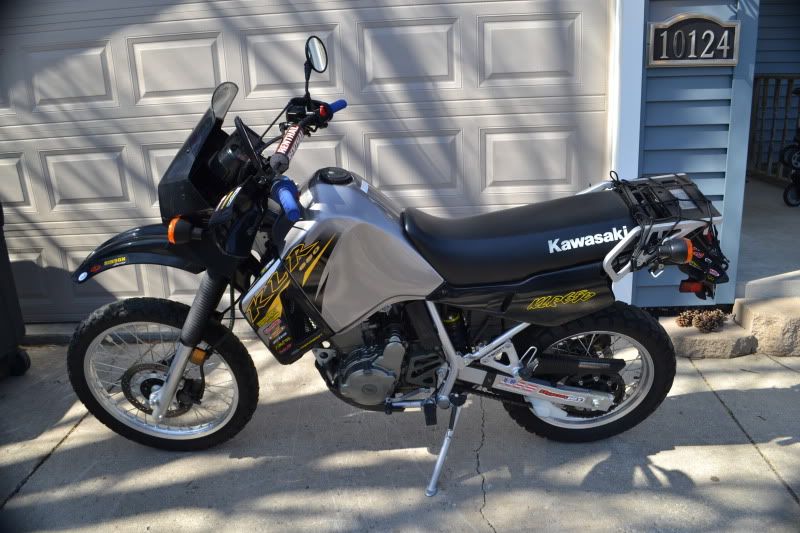 She even had the break in stickers still on her????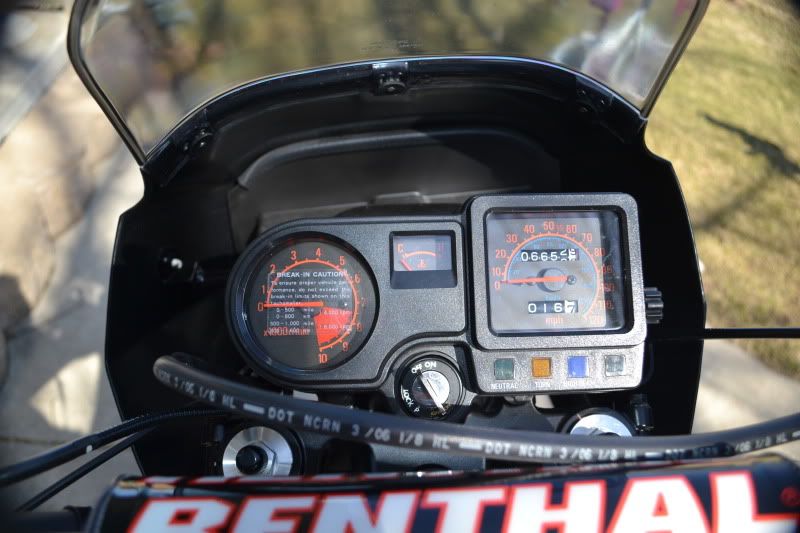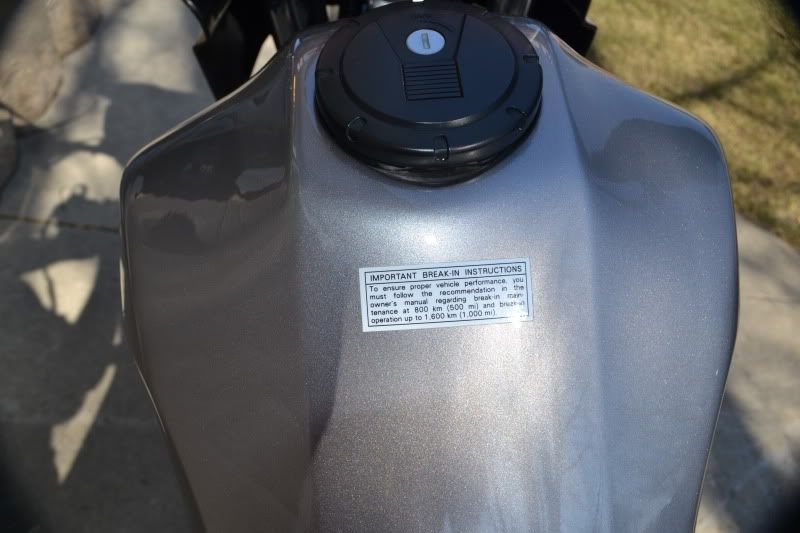 The front tire was gone, and the back was newer, but not really offroad ready!
And a few of the parts arrived yesterday. New tires, exhaust, front fender, and battery. Still waiting on a LOT more.... (guards,skid, brakes, stainless lines, Corbin seat, bark busters, bags and racks grips, complete visual make over....)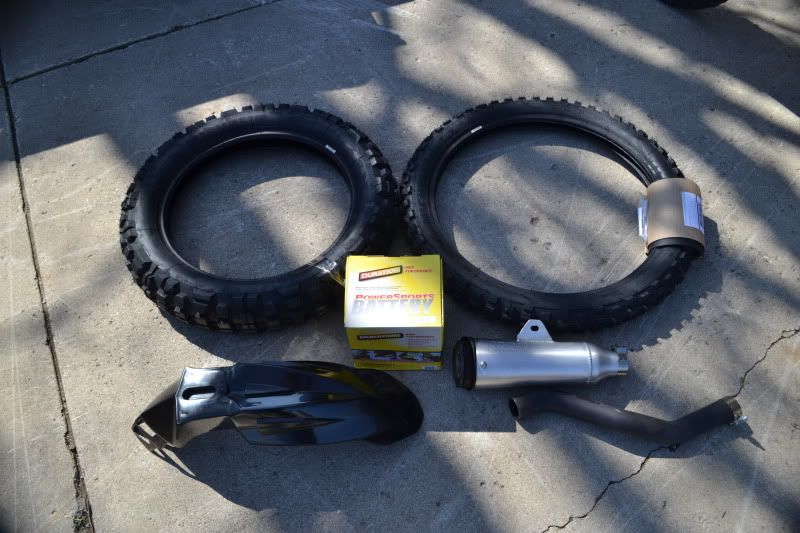 that thing is in good shape! ... looks sharp already
I got the new fender and front tire on. Installed the racks and bags, and the exhaust. Just waiting for the rest of the parts.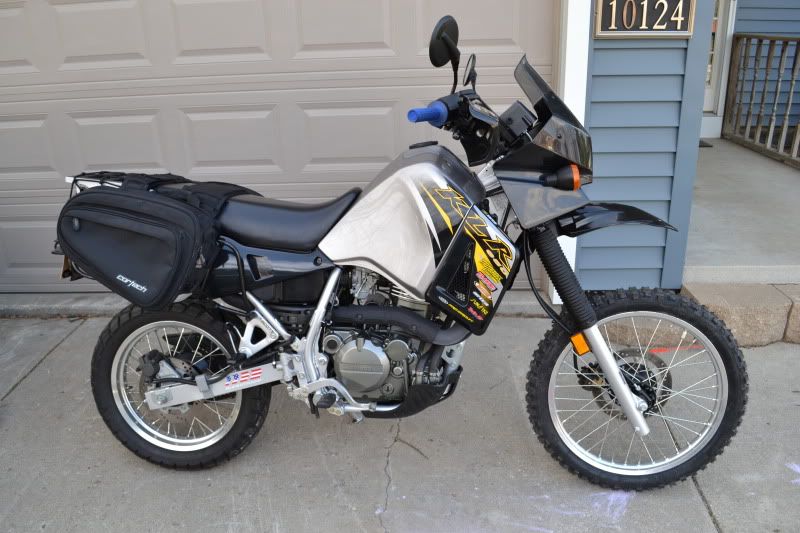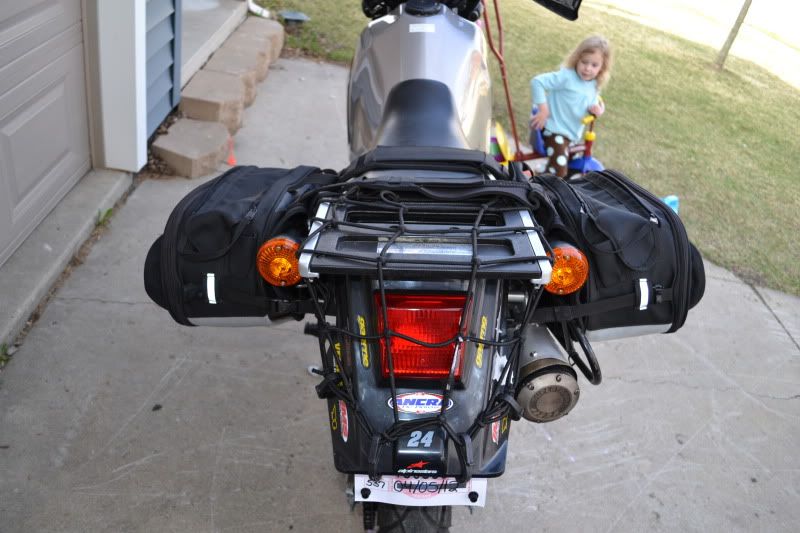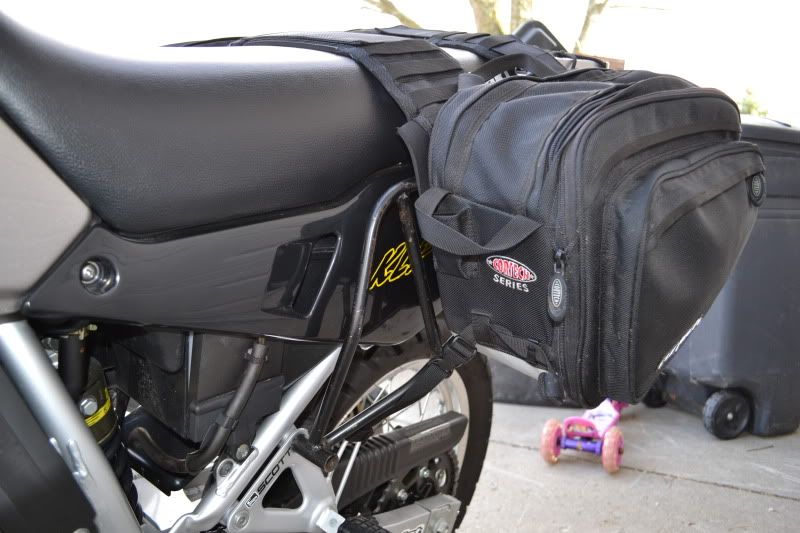 Hello, Nice KLR. You might want to remove your supertrapp rear disc assembly and modify the last disc that the allen screws thread through. I welded real nuts on the back of mine. Why? Because they will rattle off on the road and you will lose all your discs. Ask me how I know that. Or don't ask. Also, once I lost the entire baffle on the freeway. I found it 2 days later though. Supertrapp. Get your act together. I run a fmf q4 now. I still have my old supertrapp though.
---
94 KLR,tank guards,sw motech centerstand,Doo done, african switch,mirror dampners, powerpegz, twisted throttle fuses, aluminum skidplate, Bigcee shark disc and jug holder and subframe upgrade, progrip grips,maier handguards/brushguards, avon distanzias,fmf q4 exhaust, headlight guard, handlebar risers, billet rear brake reservoir bracket and guard, dual star shifter,garmin 2820 gps, tmod,disc cover, pcv mod,corbin flat
Nice bike
---
Very nice looking 2007 model. The previous owner must have been a clean freak. Lucky for you. Your new fender looks like an acerbis. I have that same fender. Like the looks better, don't know if there are any other benefits.
Good luck with your upgrades.
The fender is the most unappreciated mod, I think. If you ride on the freeway and in windy conditions, it makes a BIG difference.




---
"In a car you're always in a compartment, and because you're used to it you don't realize that through that car window everything you see is just more TV." R. Pirsig
PPMC #1.
Soon, we ride.
AKA JD Mader or you can call me "Dan" just not early for dinner.
Click my handle for a link to my homepage/blog...which has nothing to do with MCs. Free literature and music! Viva La Revolucion!
-------------------
2008 KLR 650
RIP DM - Soon, we ride.
Quote:
The fender is the most unappreciated mod, I think. If you ride on the freeway and in windy conditions, it makes a BIG difference.
I noticed that on my ride today. Much better at 55 + mph! I also noticed it will allow the front tire to throw up a lot more mud in the air!!!!!
2nd Gear
Join Date: May 2008
Location: Nanaimo, BC, CANADA
Posts: 269
what tires you get?
---
02 klr - heated vest and grips, corbin dished, EM doo, petcock mod, MB PCV mod, stainless oil filter, bash plate, mayher hand guards, low mount fender, power socket, tall windscreen, jardine exhaust, jetted, studebaker shifter, magnetic plug, airbox mod, k&N, kenda knobbies, DIY pelicans, HID light
96 zx11 - bone stock - saving for a collector plate
2011 BMW f800 GS -
[email protected]
crash bars, altrider skid plate, barkbusters, kako, aeroflow med, heated corbin, wolfman, kenda big blocks