1st Gear
Join Date: Jun 2012
Posts: 37
my 27 year old
---
wait for it
1st Gear
Join Date: Jun 2012
Posts: 37
wont be long now
1st Gear
Join Date: Jun 2012
Posts: 37
just a few more posts
1st Gear
Join Date: Jun 2012
Posts: 37
0k people 1 more
1st Gear
Join Date: Jun 2012
Posts: 37
ok post no 15,
I give you my 27 year old,,,yeah 27 year old klr600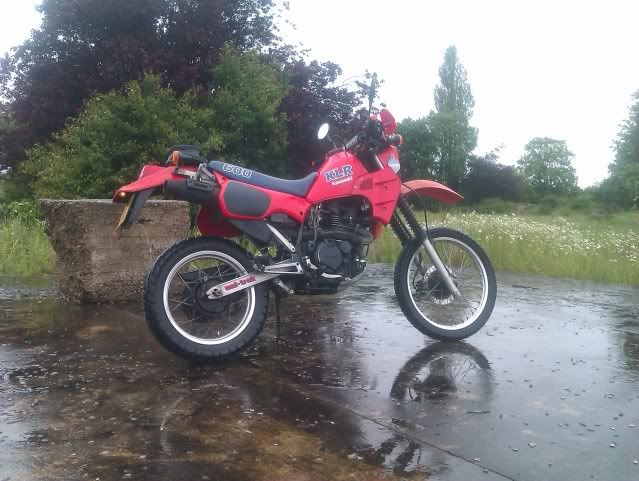 an oldie but a newie to me,,,,,,,,,,
2nd Gear
Join Date: May 2010
Location: Prescott, AZ
Posts: 290
4th Gear
Join Date: Apr 2011
Location: Kansas
Posts: 1,205
She's in great shape. Those are more like a KLX & XR aren't they?
---
Kawasaki KLR650 - Adventure Lite
Tagged KTM250XCF-W - Rocket
Tagged KLX300 - Trail Tractor
'84 XR250R - Retro Ride
RMZ250 - Dirty
CRF80 - Kids
CRF70 - Kids
Nice bike! Keep us posted as you get to know it!!


Sent from my iPod touch using Motorcycle
Timothys687
More miles and smiles for all!
OverDrive
Join Date: Jan 2011
Location: NW MO
Posts: 5,340
Great bike, man! What a find, especially in such good shape. Reminds me of when I started riding the larger dualsports and had a Suzuki SP600 that, if my math is correct, would have been from the same year as your KLR600.

Congratulations on acquiring it. Enjoy!




1st Gear
Join Date: Jun 2012
Posts: 37
thanks for the feedback,