1st Gear
Join Date: Jan 2012
Location: Cypress California
Posts: 46
And the winner is
---
I know. It was supposed to be a KLR,
but here's what happened. About a month after paying off a couple of loans with my credit union, I applied for a $7000 loan to purchase a new motorcycle. While waiting for a response I decided to check out the BMW dealership just in case. I applied for the 3asy pay plan, got approved for $10,000 with $450 down $150 a month. I decided to sleep on it. On the way home, while stopping for gas, I was informed that my application was approved.
After weighing the options I decided to go for my brand new 2013 BMW G650GS. The loan that would have went toward a KLR paid off my truck, Zeroed out half of my credit cards, got me new riding gear and set me up to have more than $25,000 in my savings account by the time my new motorcycle is paid off. The opportunity was just too good to pass up. Sometime things work out better than you intended.
Be safe out there guys.
4th Gear
Join Date: Apr 2011
Location: Kansas
Posts: 1,205
Congrats, but to me bikes are just toys so I won't finance one. Credit unions are loan sharks.
---
Kawasaki KLR650 - Adventure Lite
Tagged KTM250XCF-W - Rocket
Tagged KLX300 - Trail Tractor
'84 XR250R - Retro Ride
RMZ250 - Dirty
CRF80 - Kids
CRF70 - Kids
Congrats on a beautiful bike!
I think your going to love it, the 650 and 850 are two of my fave BMW's. Enjoy the ride!
---
OverDrive
Join Date: Jan 2011
Location: NW MO
Posts: 5,340
Nice, man. Congratulations. Enjoy it!




1st Gear
Join Date: Sep 2011
Posts: 15
Moderator
Join Date: Mar 2007
Location: Fort Sask , Alberta, Canada
Posts: 3,489
Actually the winner is YOU. You have a brand new bike to ride.
---
My Kaw Barn - 2004 KLR, 2006 Concours (sold), 1997 Bayou 400.
"It's a friggen motorcycle, it's not supposed to be comfortable, quiet or safe. The wind noise is supposed to hurt your ears, the seat should be hard and riding it should make you shit your pants every now and then. "
<--- Please fill in the 'Location' on your personal profile page. User CP/Edit Your Details

This information makes it much easier for other members to answer/comment on your posts.
1st Gear
Join Date: Jan 2012
Location: Cypress California
Posts: 46
Although I agree completely with Savage, I'm sure you will have fun. I hope BMW bikes are cheaper to maintain than BMW automobiles.

I love my KLR, but have my eyes out for a good second, more street oriented ride. Not sure I'm into crotch rockets, so either a cruiser or a conventional bike like my old Kawasaki 750 I had in the late 70's. Maybe an older Goldwing? Whatever it is, if I buy it, it will be a cash deal. There is something to be said for delayed gratification. :-)
5th Gear
Join Date: Sep 2006
Posts: 4,700
Corni,
I'm looking forward to your review of the 650 twin.. I haven't ridden any of the new twins and part of me is afraid to do so.. Back in 1992 I test rode a purple R100GS, and a month later this happened..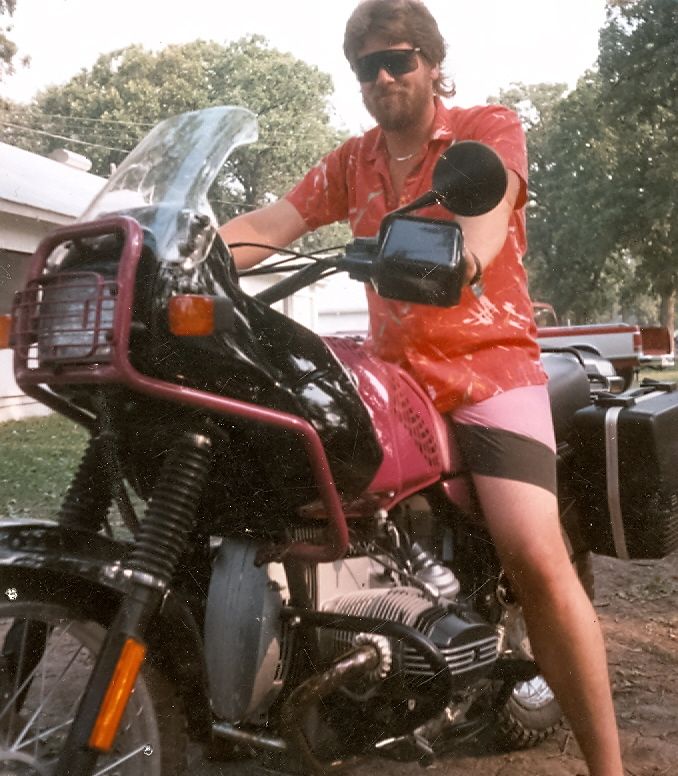 And yes, I had protective gear.. Actually a new Aerostich Roadcrafter 2 pc suit.. This is what I had on under it.. I was at a BMW rally in IL at the time, and was only riding in the rally grounds..
As far as maintaining a BMW bike, it's very inexpensive.. Just don't let a dealer touch it..