OverDrive
Join Date: Jan 2011
Location: NW MO
Posts: 5,365
Condensed KLR Photo Thread
---
I like seeing other folks' KLR's and what they've done to them. There are lots of pics on the Show Off Your Bike forum, but I thought it would be kinda cool to condense them into one thread for easy viewing along with a list of what you've changed, removed, or added along the way. So, if you're up for it, show us what you've got. I'll start with my 2009.
Kaoko Throttle Lock
Kawasaki Handlebar Bag
1" Eagle Mike Bar Risers
Madstad Windshield Base (minus the actual windshield)
Happy Trails Nerf Bars/Engine Guards/Highway Pegs
Cheap "Tractor Light" for headlight backup
Extended Shift Lever
IMS Steel Footpegs
Peg-Lowering Brackets
Raising Links
Sink-No-Bob kickstand pad
PVC Tool Tube
Stearns Walmart Seat Cover
Action Packer/Soft Cooler for rain gear and to serve as a back rest.
Small HT bag on left side rack for tire repair kit/tubes
Ebay Side Guards
.22 Mod
Low-Buck Exhaust Mod
Current Tire Choice: Shinko 244's front and rear
My red and black 2009
---
DONE:
SW Motech crash bars
Ricochet skid plate
Ebay side racks
SW Motech rear master cylinder guard
KTM aftermarket front fender
Tool tube: Gempler's welding rod case
Grip Puppies
Walmart ATV seat cover
22 cent mod
UNI air filter
Nelson-Rigg saddlebags (as needed)
Action Packer (as needed)
Graphics removed
Dollar Store dash clock
WISH LIST FOR THE KLR:
Upgraded foot pegs
Bark Busters
Cycle Knutz brake light
Higher windshield
A 1200GSA to keep it company
A Honda TW200 for the wife (cause she's too short for a KLR).
Thumper-

Those bridge boards look like they're spaced just right to catch a front wheel. Careful man !!!

Oh, and I like how you just "happened" to add a BMW to your wish list, and such a gentleman thinking of your wife also. I know, my KLR got lonely and needed a stablemate so I got a KTM. They get along fine even if the KTM is like a KLR on crack.
5th Gear
Join Date: Oct 2011
Location: Lac La Biche Alberta Canada
Posts: 3,205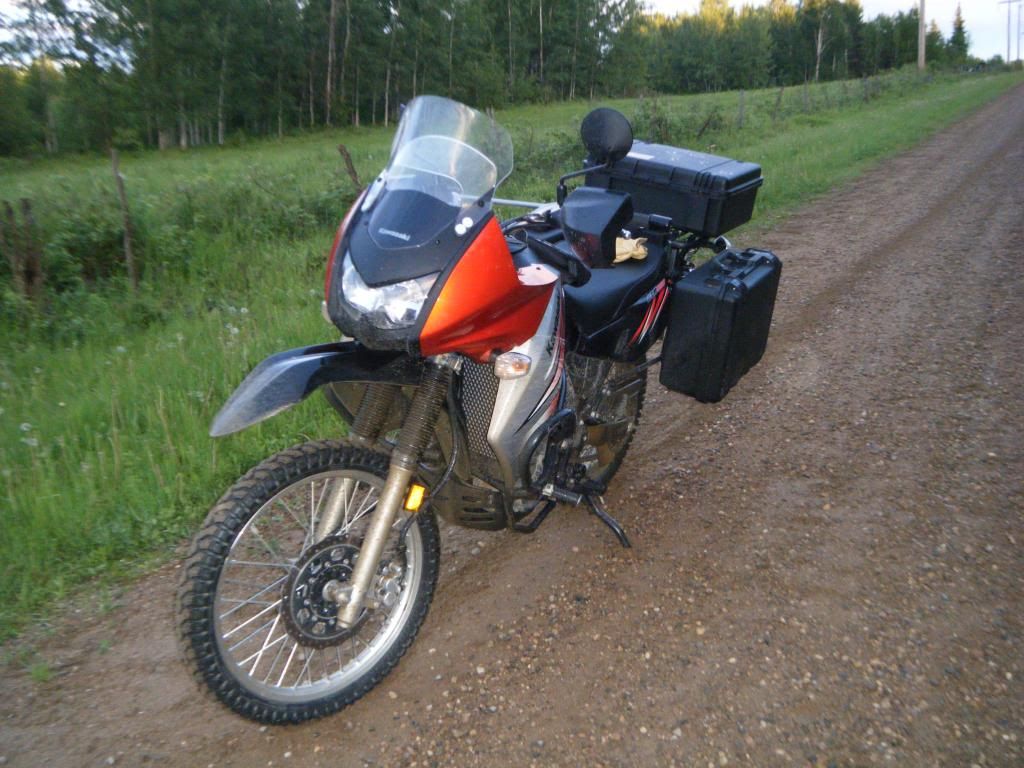 SW Motec crashbars and racks with quick release box mounts
Pelican topbox and panniers
Pirelli MT 21 tires
Hiendeau heavy tubes
Motion Pro bead locks
Seagent flat seat
Stebel horn
Kawasaki tank bag
Laminar lip
Barkbusters
1 1/2" bar risers
Kaoko throttle lock
MSI footpegs
22cent mod
Uni air filter
1" shortened sidestand
5/8" custom rear spring spacer
Front fork caps modified with air valves
---
It's not a Tractor....It's a LOCOMOTIVE!! Chugga Chugga
Woooo WOOOOO!!!!!
OverDrive
Join Date: Jan 2011
Location: NW MO
Posts: 5,365
That's one cool photo, NH Thumper!




A Bridge over Troubled Waters
---
Old Bridge on New Hampshire Rt9
---
Ageing Gracefully
2017 Yamaha XT250
1990 Honda NX250 (Green/White)
2011 Kawasaki KLR 650 (Orange & White )
My KLR Page..
http://www.powers31.info/2011_KLR650.htm
Mod's to KLR:
Power socket, L.E.D. Battery Indicator, Camera bag holder
Custom Saddlebag frames .
Louder horns, Firstgear Onyx tail bag.
Custom Aluminum Skid Plate.
Cut down seat with Custom pad.
Go Pro Camera mount.
Doo-Hicky
hey, i'm from fl., so that white 'dirt' must be snow?
gotta love the "hardcore".
I've posted this before (at least I think I have).
High up in the Oquirrh Mountains above the Bingham Canyon Mine which is operated by Rio Tinto.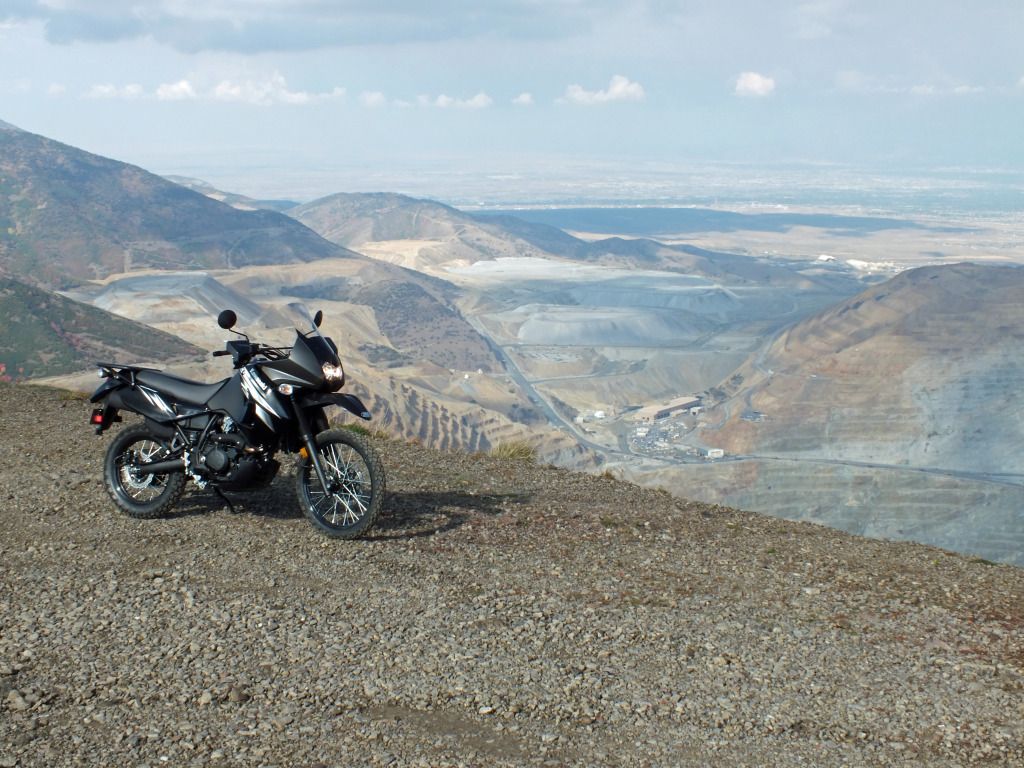 And another angle...
---
People should not be afraid of their governments. Governments should be afraid of their people.
5th Gear
Join Date: Oct 2011
Location: Lac La Biche Alberta Canada
Posts: 3,205
Awesome Acidman!! Those could be KLR advertising photos!!
Regards....justjeff
---
It's not a Tractor....It's a LOCOMOTIVE!! Chugga Chugga
Woooo WOOOOO!!!!!
Similar Threads
Thread
Thread Starter
Forum
Replies
Last Post
Amusing Photo

planalp

The Off Topic Lounge

0

07-28-2012

12:10 PM

Photo Gallery?

larry31

KLR & Other Motorcycle Related Discussion

1

06-23-2012

07:32 AM

Race Day Photo KLR

Mr Adventure

Introductions

0

03-28-2012

03:17 AM

Random Photo Thread.....

theotherbigjoe

The Off Topic Lounge

18

04-22-2010

08:06 AM