1st Gear
Join Date: Apr 2014
Location: NE. Wisconsin
Posts: 35
The running $250 95 KLR!
---
Um....needs a lil work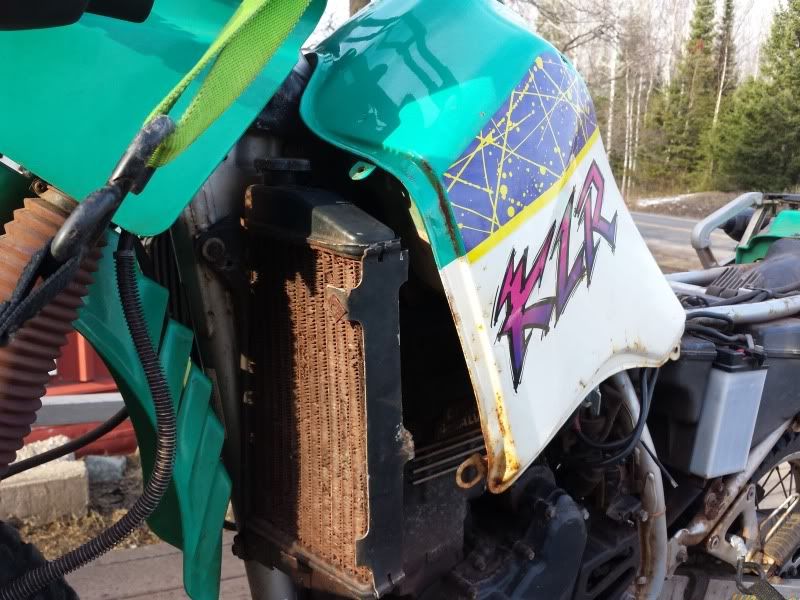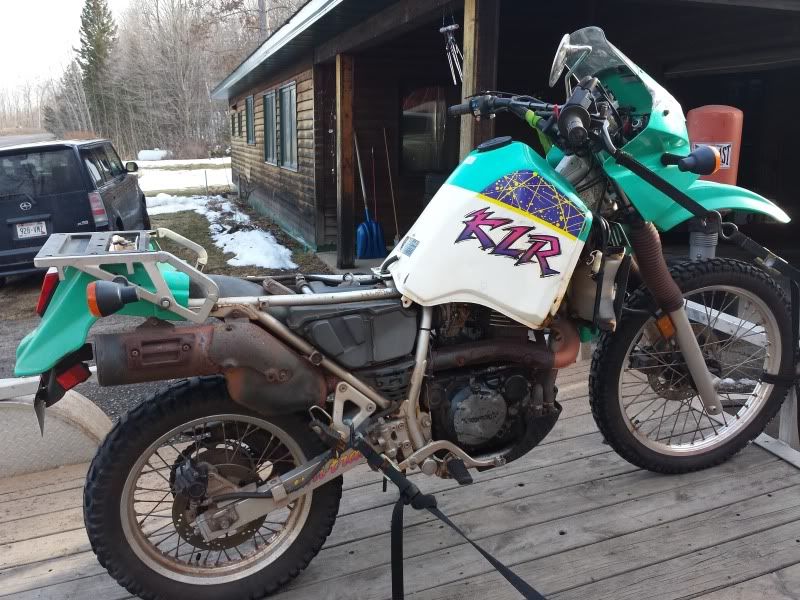 such a good project bike. i am jealous.
---
Never ride faster than your angels can fly
3rd Gear
Join Date: Jan 2014
Location: Phoenix, AZ
Posts: 527
Looks like a great project! Enjoy!
1st Gear
Join Date: Mar 2014
Location: San Diego (San Carlos) Ca.
Posts: 29
1st Gear
Join Date: Apr 2014
Location: NE. Wisconsin
Posts: 35
So far, after the JB Weld carb fix got the bike running, I've added a nice used seat, got a free pair of side covers, a used pair of forks, flushed and fresh fluids with a set of Progressive springs, new grips and levers and top triple. Also a used instrument panel, still need front wheel speedo drive parts or will use an old Garmin for speedo, Oddo. Radiator doesn't leak but is in rough, wobbly condition. Need radiator shrouds, radiator? fan, front indicators and a headlight, numberplate setup. I'll make the headlight numberplate set up myself, are those ebay chinese radiators any good?
1st Gear
Join Date: Mar 2015
Posts: 28
I think it looks lovely!
You should see my ride...
Oh dude, great find. That would be a fun project bike.
---
'11 KLR 650: KLR Full Bag Kit, 22¢ Mod, Thermo-Bob w/ Overlay, Angular Mirrors, Studebaker Doo, Tusk Drain Plug, UNI Filter, K761's, ODI Emig Grips, LED Cluster & Tag, Digital Clock w/ Temp, Eibach 400# RR, Progressive FR w/ adj Pre-load caps, ZG Double Bubble
'07 Aprilia Tuono 1000 Factory '17 Highball Suede Nuclear Sunset Orange
Slammin' Tunes!
I wonder how he ever made out with this bike? That definitely was a steal of a deal, he could have parted it out for much more than he paid!

I like the Barbie's. Kinda gaudy I know, but I very nearly bought one way back. Still kicking my butt on occasion that I didn't!
1st Gear
Join Date: Jun 2016
Location: Monroe, MI
Posts: 39
I need to find one that cheap!


Sent from ...
---
'82 XV920: Soon to be tracker --'00 KLR685:adv -- '04 DRZ400E --'12 Super Tenere --'13 Versys