1st Gear
Join Date: Sep 2016
Location: California
Posts: 20
Resurrecting a 1994 KLR650
---
As I posted over in the introductions, I was given a 1994 KLR650 which has been in a shed for 10+ years, and has only 3400 miles on the clock.
In that thread, I was given lots of good information from some very helpful and knowledgeable folks which I appreciate. Have parts on order and some already in hand (full doohickey kit and more).
Here are some photos of the bike as found, on the trailer, and an interesting air filter. (Glad there was a screen in place). As this project progresses, I'll post some more photos.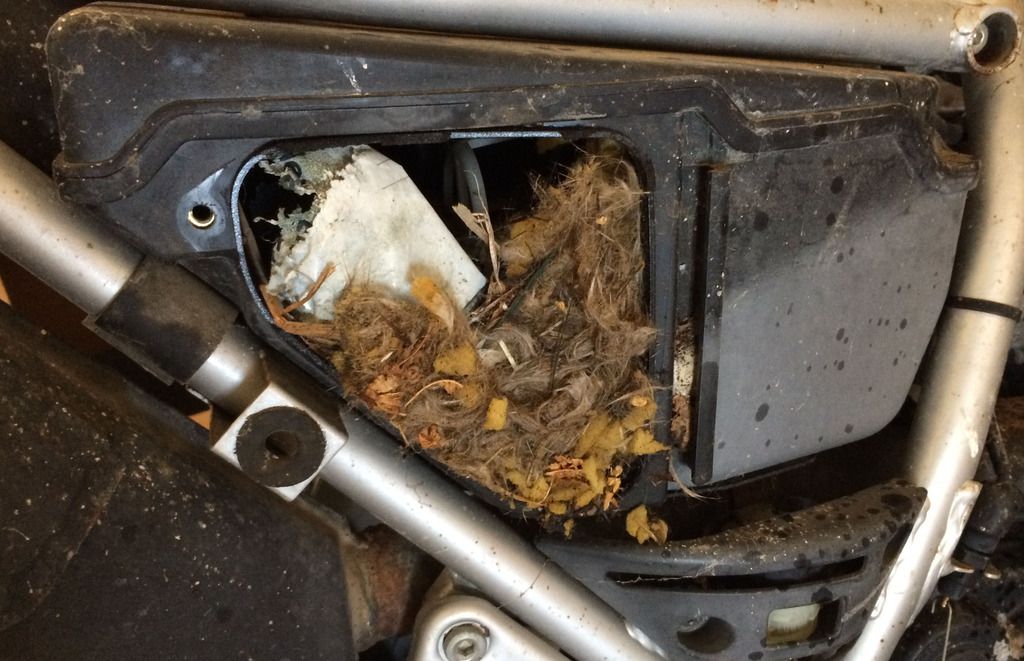 ---
Previous bikes in order: Honda Dream 150 CA95 (stripped down with knobbies and scrambler pipes *laugh*), Honda Trail 90, Honda SL350, Honda XL250, Honda XL350, Honda Elsinore 250, Honda XR200, Kawi KDX200, Honda XR600, KTM 300, Suzuki DRS350/400, Honda XR400, BMW R1150R, Kawi KLR650...
---
Last edited by Tom Schmitz; 01-20-2017 at

02:38 PM

. Reason: Clean up [IMG] tags.
That's such an awsome find!!! Good luck with the rehab

Sender1,
design and fabricate
The old girl looks pretty good! I'm sure it will be a reliable scoot for you once you get all the cobwebs out
---
5th Gear
Join Date: Oct 2011
Location: Lac La Biche Alberta Canada
Posts: 3,205
Hi C2Vette
I believe that is the old style "rat nest" airfilter. They were not very efficient and caused power loss. Best to replace it with a modern oiled foam type!
Regards....justjeff
---
It's not a Tractor....It's a LOCOMOTIVE!! Chugga Chugga
Woooo WOOOOO!!!!!
Banned
Join Date: Nov 2016
Posts: 0
Wow! I hope it runs again soon!
1st Gear
Join Date: Aug 2016
Posts: 42
that air filter looks like it was a good home for something...