First Adventure Bike... and I've owned a few Bikes over the many years.
---
Haven't got a name for her yet, but I'm working on it, and her!
She needs the 'Once-Over-Twice' as she would have not likely been supportive of any long ride much less an Off-Road one. She wasn't unsafe, buuuuuuut...
I found things from the DPO that were embarrassing maaaaaan! I'm thinking the PriorOwners were ALL OWNERS OF STOCK IN JBWeld, or any Epoxy Company... SHEESH! NO, REALLY!
Around the Choke Screw Cap at the Carb was a Pile o' GOOP, like a HardPutty to hold that cracked cap in place. Hey, I know it to be common on the KLR, BUT COME ONE, MAAAAAN... I just keep pulling Taffy with my NeedleNose in trying to get all that OFF!
BTW, went with that VERY ELEGANT Stead Engineering Manual Choke in lieu of the Cable and faulty cap... Nice finish and works VERY WELL!
You know that 'puck' that you schlide the FuelTank onto, one on either side of the BackBone??? They fall off and get lost a lot I guess! Okay, NP, order OEM and glue the heck out of it, RIGHT!!!
NOPE!
DPO had 'twisted' a coupla GroceryBags (like the Charity-folk do when they 'crochet' those GroceryBagQuilts for the Homeless) and secured them to the frame with ZipTies! Though the Tank was only a bit loose, it sure cost a lot less than 'The 22c Mod'!
Goop/Solder/Weld/JBWeld/Epoxy... I caught some of it on the Pre-Buy look but not all (we never do). I knew the rear brake pads were gone, but did NOT know they were down to the SHOE! And I failed to see the 'wedged-in-piece-o-metal' twixt the back of the outside rear brake pad and the caliper (since the shoes were so worn). I'm not sure how they made it work (outside of liberal use of epoxy), but they did!
Little things like the back bracket to the Stop/Start Switch was a weld... bracket had broken in half. Similar on the HeadLight Switch.
and, And, AND...
BUT I'M EAGER TO GET HER ROAD-WORTHY, AND SOON! It was a BLAST the 100 miles ShakeDownCruising I did, and I can't wait to load her up for a CampOut!!!
Here's the BEFORE, which means you'll have to COME BACK to see the Final Product. I promise you, she'll be MoreBetter!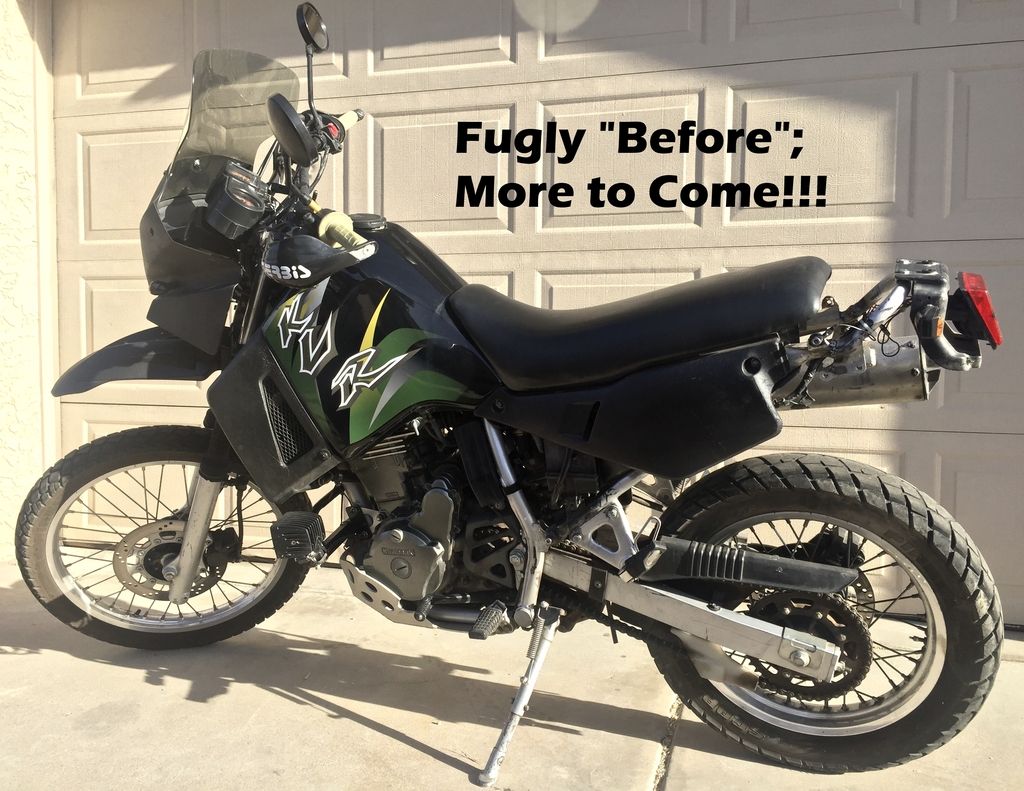 What I mean when I refer to the "Hyena-Looking-KLR"... of mine!!!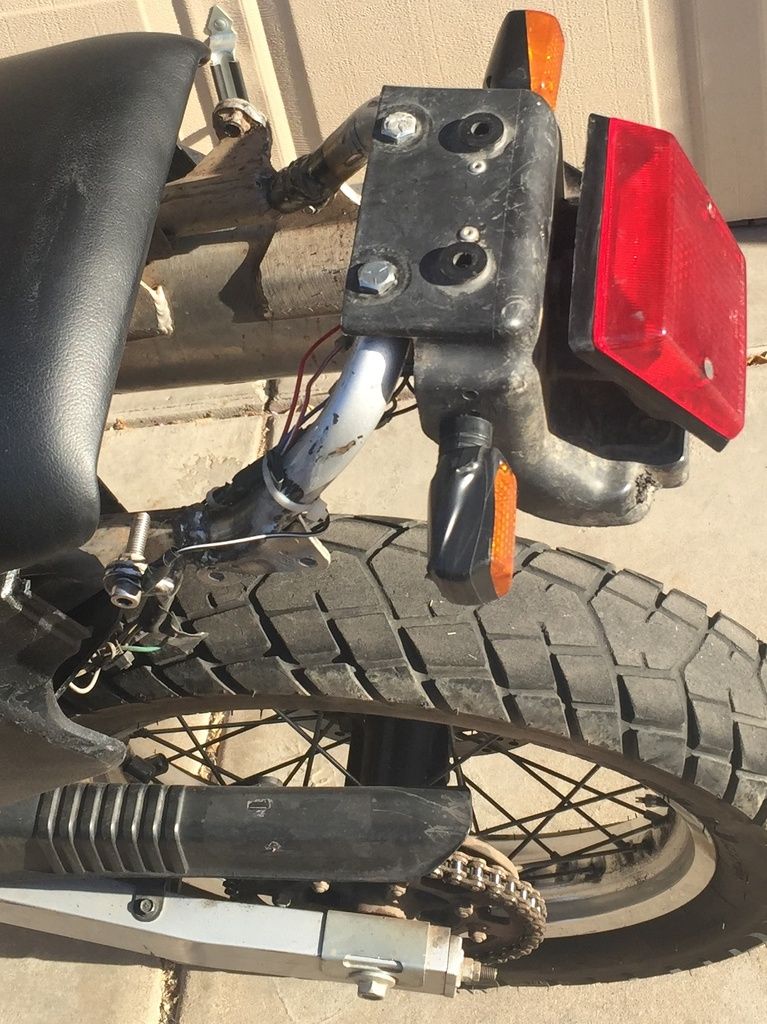 ---
Last edited by KLRCraig; 07-26-2018 at

03:58 AM

.
2nd Gear
Join Date: Mar 2017
Posts: 391
Reminds me of the TV Show "The Six Million Dollar Man" . . . . . we can rebuild him. Or almost any version of the "Terminator" movies.

With the amount of the P.O.'s "creativity" you've come across already . . . . might want to check the Doo and the Exhaust Camshaft Bearings.
Doo on the List,
Skip the Bob in PHX,
Valves on the List too...
Above budgeted, time and money ('prolly won't tackle Valves) in miles 100 - 1000
(shake-down was first 100... sketchy, but not too serious it turns out).

Rear Shock after that, but I'll have to break open my Piggy-Bank to even start thinking about one-a-those
(Progressives sans Emulators out front in just-rebuilt forks already).

Got replacement OEMs skinned with 705s today...
woooohhhoooooHHHHHOOOOOoooooooooO!

Closer and Closer, baby!!!