5th Gear
Join Date: Jan 2011
Posts: 4,330
Veterans, Service Members Invited: National Memorial Day Parade
---
Veteran and son ride in 2010 National Memorial Day Parade: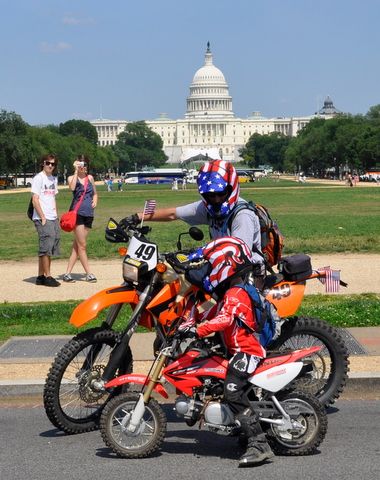 (Photo by Paul McNaughten)
The Washington Area Trail Riders invite Veterans and active duty/reserve component riders of dual-sport and dirt bike motorcycles to join us in the National Memorial Day Parade.
Wearing of military uniforms is encouraged.
Distinguishing the National Memorial Day Parade (sponsored by the American Veterans Center) from Rolling Thunder, the Parade is held on Monday, May 30, while the Rolling Thunder event is held on Sunday, May 29.
The Parade, with over 100 units, is held on the National Mall, down Constitution Avenue before hundreds of thousands of spectators, and will be televised nationally. The Washington Area Trail Riders unit is the first off-road motorized unit participating in the National Memorial Day Parade; 2011 marks the club's fourth appearance in the event.
Here's a copy of an E-mail message sent to club members:
-----------------------
Dear Parade Participants:
Just got the word on our assembly area for the 2011 National Memorial Day Parade:
We're # 92 in the marching order; assemble on Madison Drive, NW; enter from 4th Street NW.
You'll see a sign staked in the ground where our unit will meet on Madison Drive.
Plan to arrive before noon; leave time to park your truck and/or trailer and return before 12:00; street closing begins around that time and you may get stranded/isolated from the event, if caught up in the parade traffic pattern.
We will have a limited number of parking permits; commercial parking and shuttling will be arranged on-site for those needing this accommodation.
Bring riding gear; jersey (let me know if you need a loaner), and your machine.
[Veterans and Service Members are encouraged to wear military uniforms; contact me if instead you need a loaner jersey; size, please.]
Two-strokers, please use low-smoke oil, and--let's keep noise discipline as best we can, in consideration of the other Parade participants and the spectators.
We'll have drinks and snacks available in the Motorcycle Factory, Inc. side-by-side; wouldn't hurt to have your own rations on-board your machine, as though you were taking a ride on a hot day.
We again welcome the Family Off-road Riders of Prince William County, joining us in this positive public image of off-road riding.
AMA Washington Representative Rick Podliska, and AMA Grassroots Coordinator Jessica Irving are also invited to ride with us.
See you Monday morning, May 30, 2011, on the National Mall!
Washington Area Trail Riders Parade Marshal
-----------------------------------
Glad to have Veterans and Service Members join in this tribute to America's fallen heroes.
PM me with any questions about Parade participation.
---
Last edited by Damocles; 05-15-2011 at

11:39 PM

.