1st Gear
Join Date: Oct 2007
Posts: 21
Bat Out of Helen VI - Oct 5th, 6th, 7th 2012
---
A Long, Long, Time Ago, in a land far, far away, (or not so far away) there was a really nice man who went by the name of Dulcimer Bob!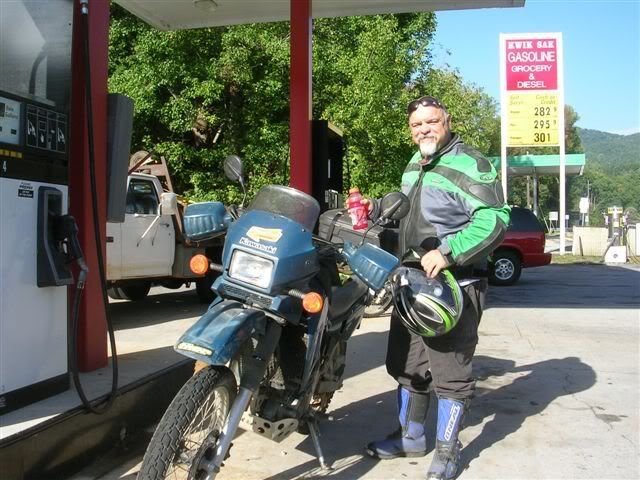 In the fall of 2007, Dulcimer Bob had a vision. Florida had the TDA, North Carolina the TDP and in Tennessee it was the TDT. All were fine and FUN rides, but maybe it was time for the KLR community to come and experience the beauty that is North Georgia. And so, the first annual Bat Out of Helen DS Ride was born!
Friday's ride would head out of TWO (Rest in Peace) and Saturday would leave from the Unicoi State Park in Helen GA. Well the first Friday ride was met with a no show and equipment failure that would become a tradition for the "Bat Out of Helen rides for one member, but even in the rain a hardy young man from north GA and a speedy new friend from Alabama would come together for the first ever BOOH ride. Come to think of it, this wouldn't be the last time that the rains came on Friday at BOOH.
Saturday a great first ride group of eight bikes would gather at the lakeside parking lot at Unicoi State Park that would become one of the traditional launch sites for the ride.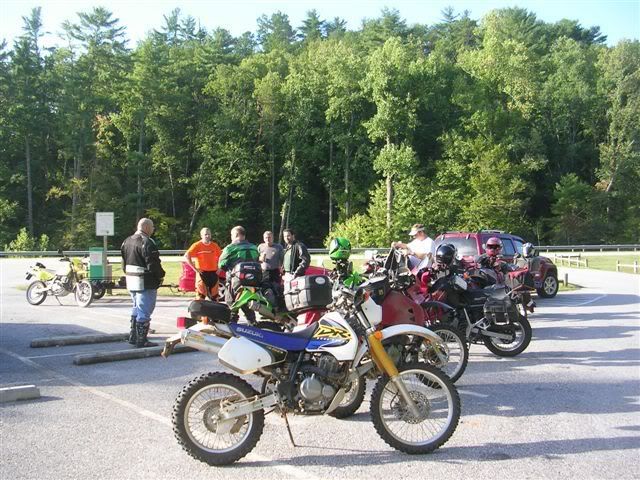 The BOOH has always been a small group, but each and every one a great group of old and new friends! Dulcimer Bob has been missing for a few years, as well as the unnamed ride leader from TN who seems to be jinxed when it comes to BOOH, but I did see a post tonight from Bob on the "other" KLR forum where he hangs out, and he's talking about getting another KLR! Come on BACK, Dulcimer Bob, We Miss You! at the Bat Out of Helen!
There have been five years of BOOH rides now, and I hope there will be many more. So mark your calanders and plan to join us for the 6th annual Bat Out of Helen! I'll be working on some planning and will probably lead a ride on Friday (or Saturday). We'll HQ out of Helen, and I'll see what our options are for a base camp soon. I, for one, can't wait to see some old friends and make some new ones again this year!
Traditional water crossing at the Tallulah River on the first annual Bat Out of Helen in 2007
and just a little taste of North Georgia scenery from the first BOOH!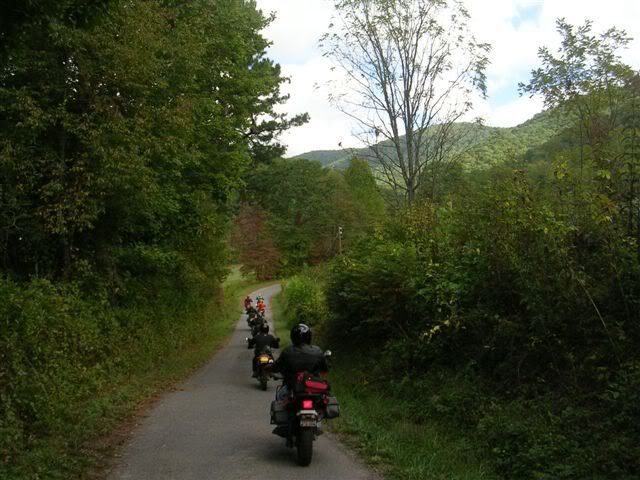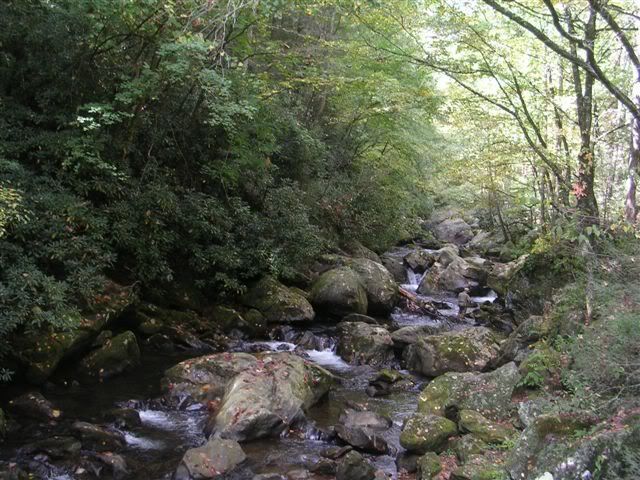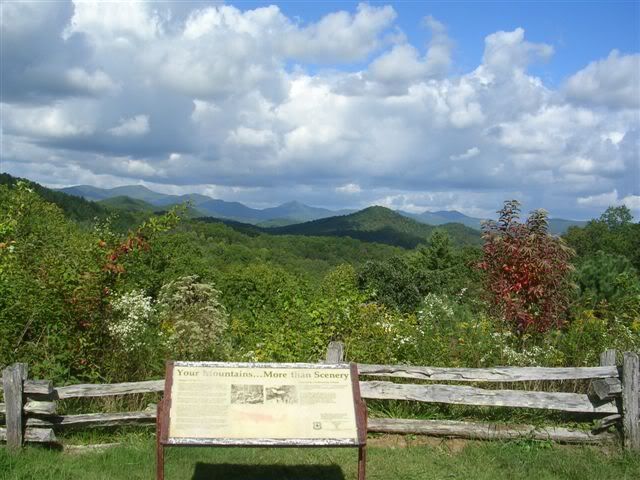 1st Gear
Join Date: Oct 2007
Posts: 21
Had a great ride scouting this afternoon with (the other) Steve and have the first section of the Friday Ride tenatively set.
Section 1 progresses up the Chuck-O-Meter from a 1 to a solid 3, starting with a short section of pavement, to a dirt road, a steeper less maintained dirt road, then getting steep and rocky for several miles before dropping back down to a nice 10 mile downhill dirt road. The rocky section is not near as bad as Squally, but it will require attention. No big obstacles, just a few miles of baby head and larger rocks, some larger rock outcroppings, and some ruts and washes to manage. Maybe I'll try and go back through and take some pictures, but it's not too bad.
I had no problem with the stock Trail Wings on my DR650 and no skid plate, but I would recommend skid plates and knobbies or good 50/50 tires. I'll have my new skid plate installed and probably knobbies, too, but it can be done on a stock bike, (however Steve dented his header today).
The rest of the ride will probably not go over a 2-2.5.
There are two FS Road alternate routes around the first section for anyone who wants a pass on the rock garden!
Section 1 Scouting Ride - About 24 Miles
Section 1 Alternate 1 - Tray Mountain Rd / Indian Grave Gap
Section 1 Alternate 2 - Chattahoochee River Road
1st Gear
Join Date: Oct 2007
Posts: 21
I'll be planning a route for Friday, and will be glad to take the lead on Friday, but I'm looking for help planning and maybe leading the ride Saturday. I refer to Friday as the "Eastern" ride since we've traditionally rode from Helen to the east (and north).

Saturday has traditionally staged out of TWO and rode to the west. We can stage from Helen if everyone is staying up that way, or find a new place around Suches to stage from. I've not rode much over that way and I don't think I've made any of the Saturday rides. I'm planning to ride Saturday this year, but would really appreciate some help from someone who knows that area!
1st Gear
Join Date: Sep 2012
Posts: 18
im down for this and have a buddy or two that will be down as well
1st Gear
Join Date: Oct 2007
Posts: 21
So I've combed the four forums where this has been posted and I THINK this is a pretty good list of attendees so far.

If you're lurking and want to reveal your self, come on down!

If you're lurking and you don't want to reveal your self, you know where to be Friday and/or Saturday and are welcome to join us!



In no particular order...


GaThumper................commuting
(the other) Steve.......commuting
dualindalton...............camping........Wildcat
ElectroJoe..................camping.......Wildcat (maybe)
dulmicerbob................commuting
recrazyjax..................commuting
Gallowbraid................commuting
Joe Gurley..................camping........Helen
drsmiley....................maybe (Saturday only)
Swamp Rat................commuting
DirtRoadPassion..........camping.........Wildcat (non-snoring section)
KentuckyKLR..............camping.........Wildcat
Myechtatel................commuting? (Saturday only)
tube8520...................camping.........Wildcat
bubba681...................DNF - mechanical
RamMan4x4.................?? maybe
holabird......................commuting (Friday only)
SloDon.......................camping.........Wildc at
MacGyver...................commuting (Friday only)
longleke.....................camping..........Wild cat (Saturday only)
Gumbeaux..................commuting (Friday only)
---
Last edited by GaThumper; 10-04-2012 at

06:11 PM

.
Neutral
Join Date: Oct 2012
Posts: 1
Booh
---
Hey guys, I posted up in an ADV forum about finding riding buddies for this weekend in the Helen area and drsmiley sent me this direction. I think I met him a couple years ago at a similar camp/ride at TWO. ???

Mind if I join you on Friday?

I will be on a white F800GS equipped w knobbies. Have ridden Tray Mountain and surrounding areas once before and it was a great place to ride!

I will be in Helen at a cabin with a bunch of non-riders, so it will just be me...I may cut out a little early to head back and maraud the town with my buddies, but would like to at least get in a few hours of riding!

I don't mind riding sweep or wherever you want me...

-Dan
1st Gear
Join Date: Oct 2007
Posts: 21
It's ON! Get off the computer and join us Friday and/or Saturday!
If you're on the fence, jump off!
The weather is going to be awesome!
Friday and Saturday low is 60 and high is 83-84 with no rain in the forcast. The heavy rain earlier this week could make things interesting, but it also left us with NO DUST! Couldn't ask for a better day to ride!