Hanging Dog!!! ---- Fall Ride Oct. 19-21
---
Two years ago I thought it would be a good idea to squeeze in a fall colors ride for the NC/TN/GA area! The 3rd weekend in October was picked and we decided to have it at Crawford's Campground! The owner (Danny) is an avid DS rider and leads groups as well. Last year we didn't have Hanging Dog, because we stationed TDT VI at Crawfords the previous spring.........but I am happy to say we have Hanging Dog back on the calendar and looking forward to some great Fall Riding!
Hanging Dog October 19-21 Crawford's Campground............
www.crawfordsattellico.com
Cabins (large/medium/small), RV's, and Tents
I will get an attending thread started later on........
Here are a few pics of Hanging Dog '10 .......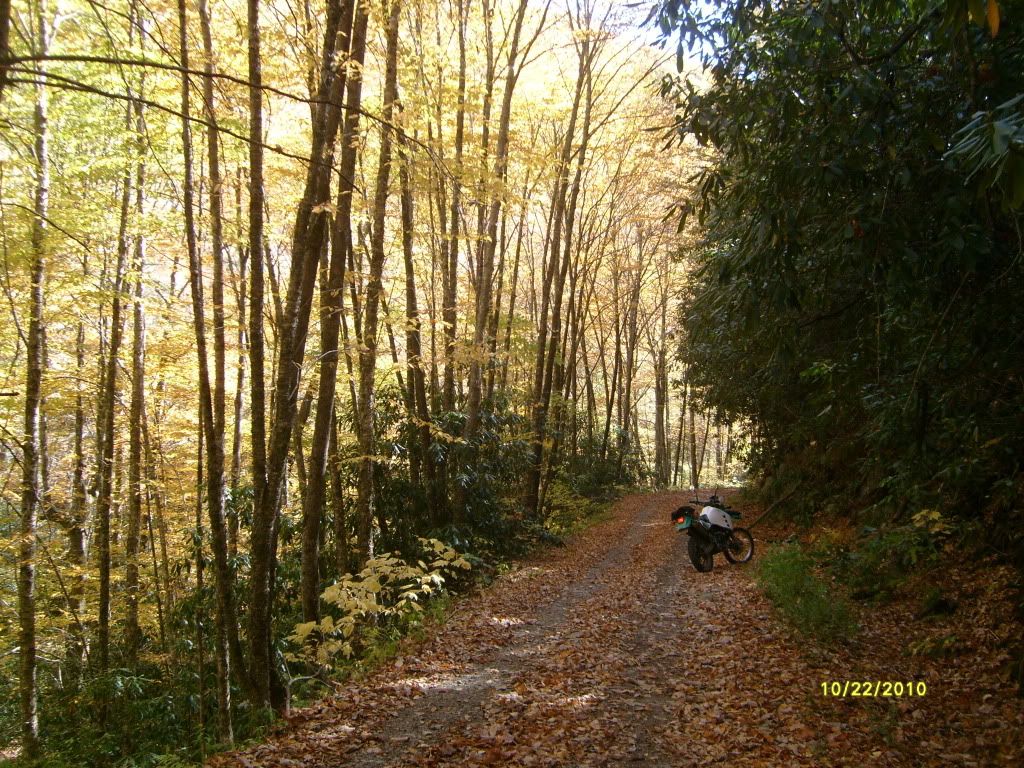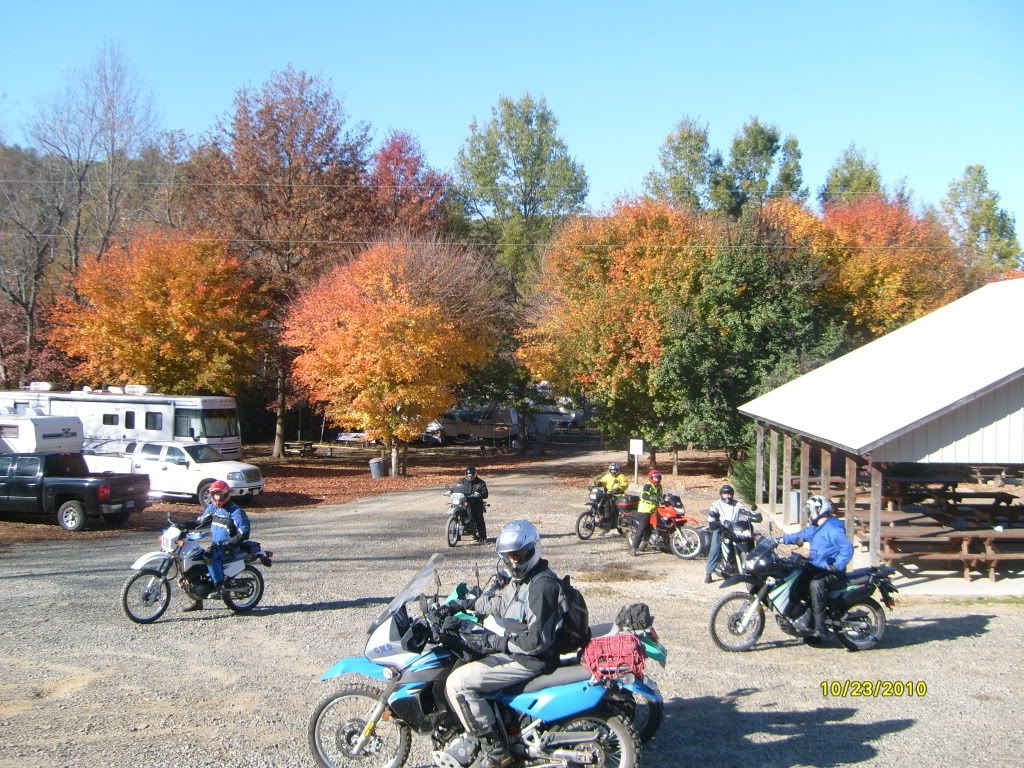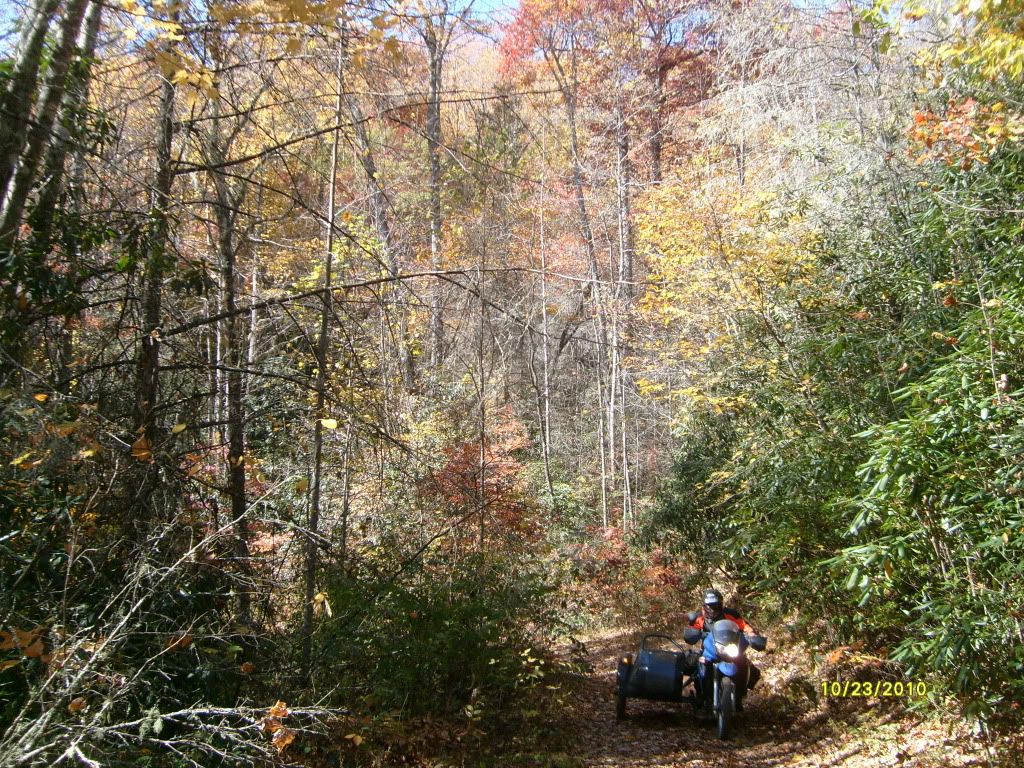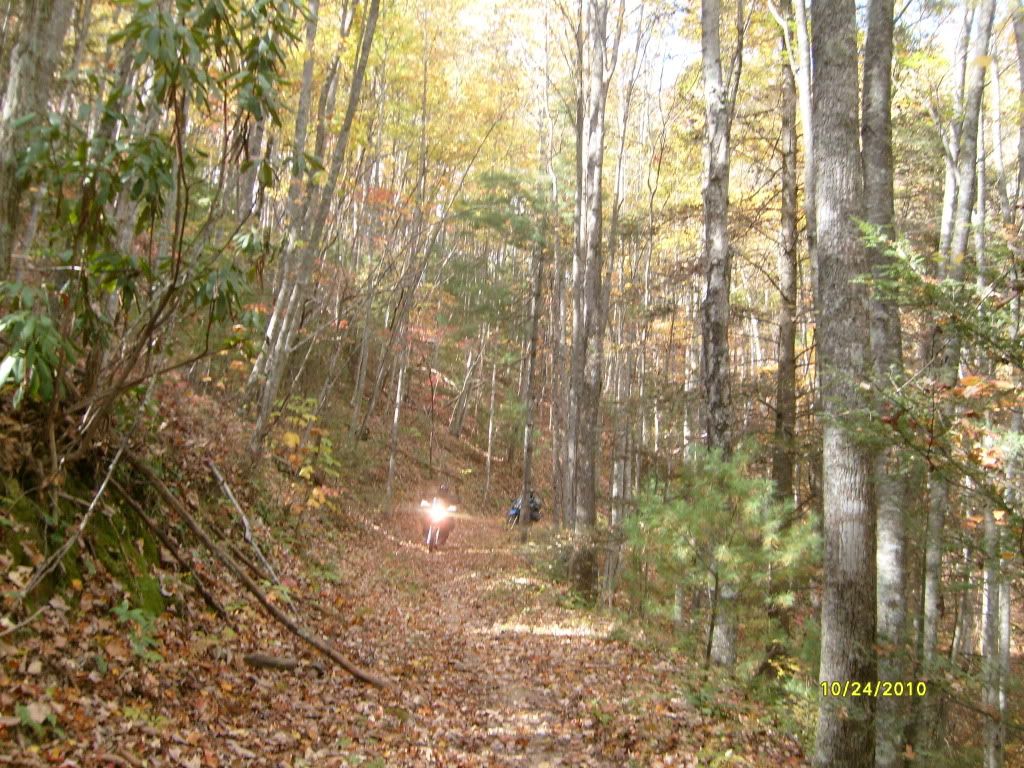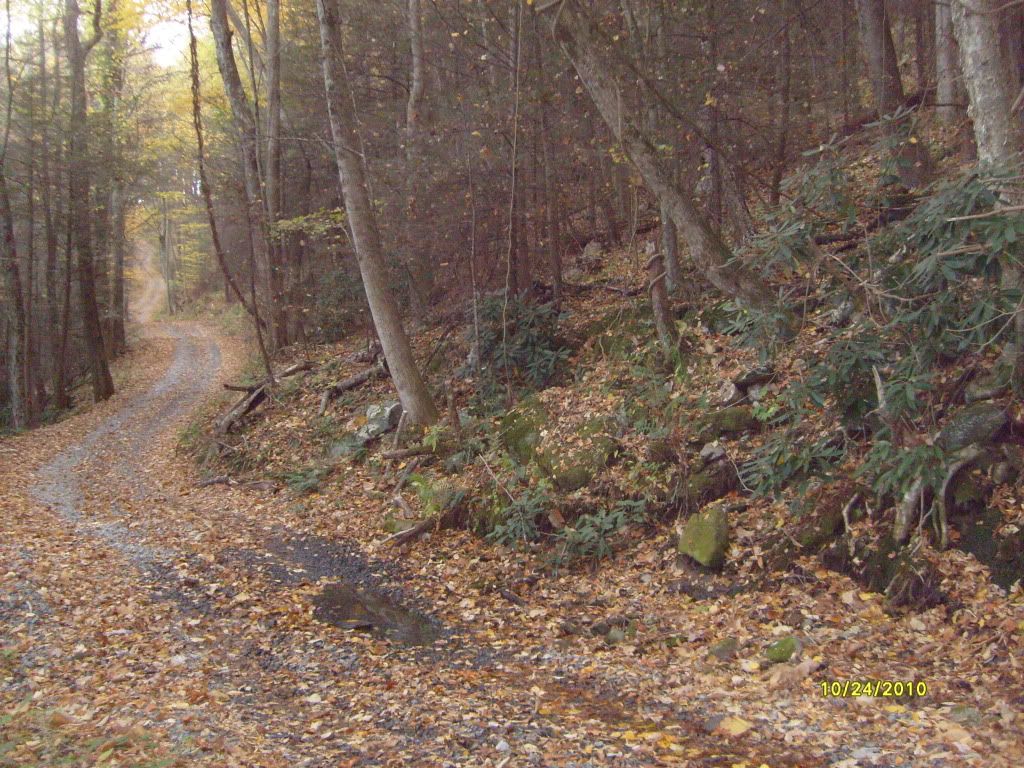 The BBQ was great last time..........hope to have it again!
---
Keep Loving Rides!
---
Last edited by cherokee_chuck; 09-30-2012 at

06:44 PM

.
Talked to Crawford's today!!!! Our plan is simular to our first Hanging Dog event..........we will have Hot dogs and Burgers on the grill for Friday night and they will be catering BBQ in on Saturday night! Danny is back in Florida, but the campground is still going strong and Lynn is running his side of the business.

It's going to be great to ride in the fall colors again! Being able to hit TN/NC/GA mtns in such a short distance makes for some sweet riding. Bring whatever bike you want to........whether street, dirt, or mix, we should be in for great times! Hanging with friends isn't that bad either! Ha!

I'm going to be tenting this year and rolling in on Friday morning. Let's see who is coming................


ATTENDING LIST

Rider___________Steed_____Digs_______Days
cherokee_chuck___KLR650___Tenting____Fri-Sun
---
Keep Loving Rides!
Moderator
Join Date: Mar 2007
Location: Fort Sask , Alberta, Canada
Posts: 3,486
Quit pissin' me off!!! I want to go but .....
---
My Kaw Barn - 2004 KLR, 2006 Concours (sold), 1997 Bayou 400.
"It's a friggen motorcycle, it's not supposed to be comfortable, quiet or safe. The wind noise is supposed to hurt your ears, the seat should be hard and riding it should make you shit your pants every now and then. "
<--- Please fill in the 'Location' on your personal profile page. User CP/Edit Your Details

This information makes it much easier for other members to answer/comment on your posts.
Quote:
Quit pissin' me off!!! I want to go but .....
What's stopping ya?????? A few miles?
---
Keep Loving Rides!
Slowly but surely........


ATTENDING LIST

Rider___________Steed_____Digs_______Days
cherokee_chuck___KLR650___Tenting____Fri-Sun
Jerry Atrick_______KLR650___Cabin_____Thurs-Sun
johnrandall_______KLR/MZ?____ ? ________?
harvickdaman29___WeeStrom__Tenting___Fri-Sat
adventure finder___KLR650____RV_________?
---
Keep Loving Rides!
---
Last edited by cherokee_chuck; 10-11-2012 at

11:03 PM

.
The weather looks great for this weekend! As usual, we will tailor the rides/tours for the riders! I will see you guys Friday morning! If anyone wants to hang out with Dave Despain on Thursday, you will have him all to yourself........
I met a guy this weekend trailering his KLR with his camper while I was camping with the family. I invited him to come to this rally......and would you believe he is the next door neighbor to Crawford's Campground.......small world!!! He and a KLR buddy of his are coming!
Here are a couple of pics of Doug's KLR and his camping setup........... Love the Panel Truck!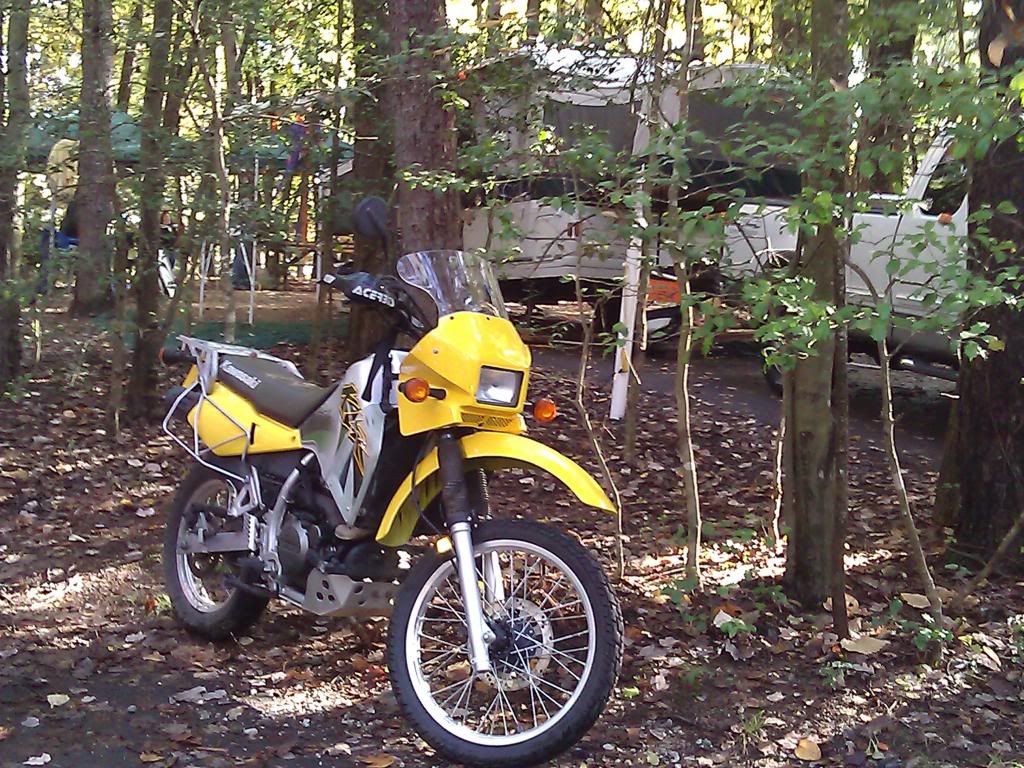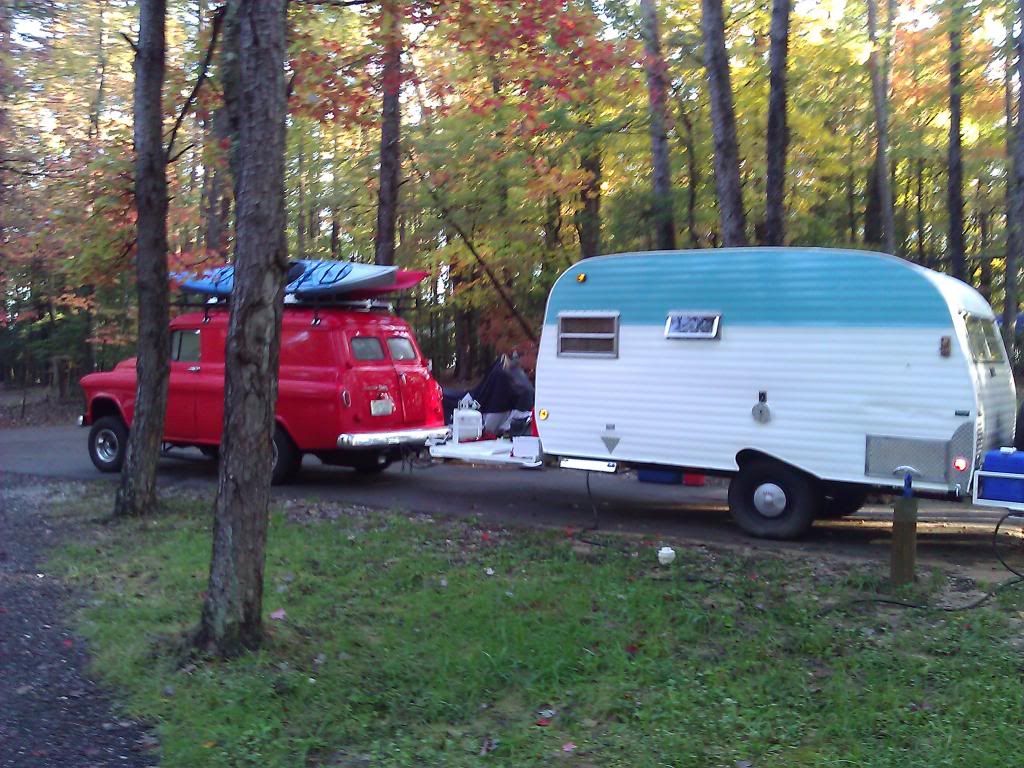 ATTENDING LIST
Rider___________Steed_____Digs_______Days
cherokee_chuck___KLR650___Tenting____Fri-Sat
Jerry Atrick_______KLR650___Cabin_____Thurs-Sun
johnrandall_______KLR/MZ?____ ? ________?
harvickdaman29___WeeStrom__Tenting___Fri-Sat
adventure finder___KLR650____RV_________?
'Doug' & friend_____KLR650____Commute___Sat
---
Keep Loving Rides!
2nd Gear
Join Date: Jul 2010
Location: wasilla AK but stuck in CO
Posts: 452
sure wish i could go !
---
2000 army green klr
2012 blue/white /blacked out daily driver

recession is when your neighbor looses his job
depression is when you loose your job
recovery is when Obama looses his job
Looks like a small personable group this time around. If any day-trippers are thinking of coming, we will probably be leaving out at 9:30 Fri and Sat.
---
Keep Loving Rides!
Can't make it Saturday...anything planned for Sunday, or is than a "de-camp" day?
CL
clogan, sorry just seeing this. It was a short trip this year...........
It was great riding in the fall colors again during Hanging Dog! This was to be a short trip for me........ Harvickdaman29, his friend Ron, and I rode to camp Friday morning. When we got there, some of the guys were finishing up some biscuits and they told me Jerry Atrick was having some bike issues............so we went to set up camp, first.......
No view of the tent I set up but never slept in..............but here is Barbie!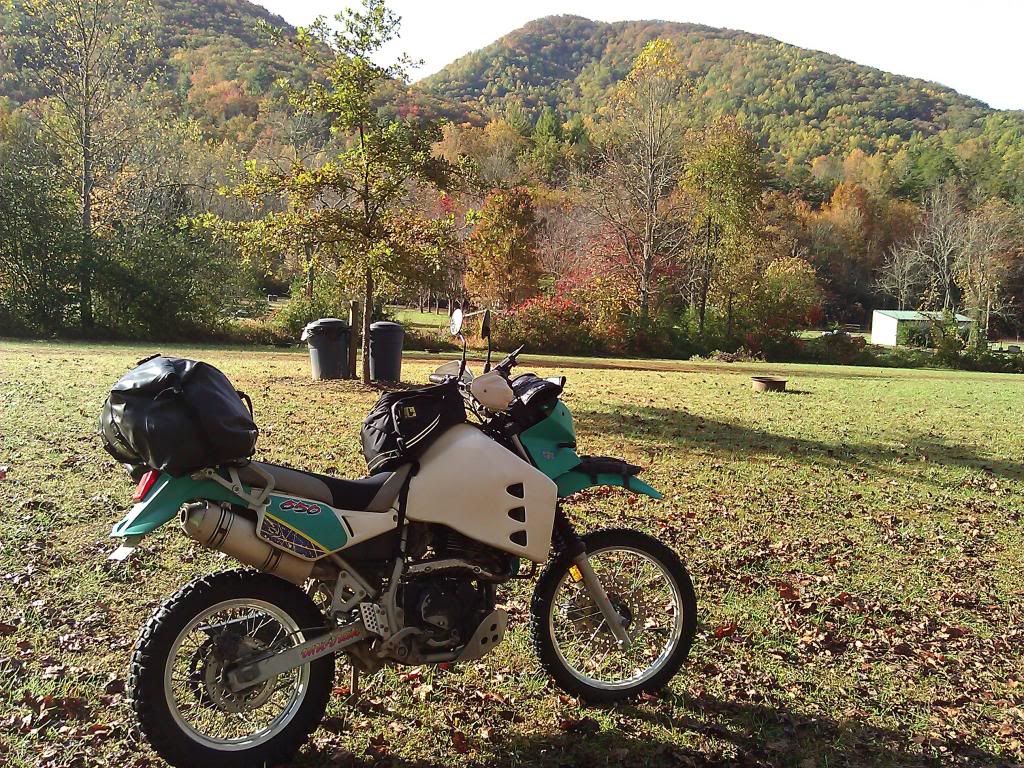 Dave's bike had started fine the day before, when he was heading to camp, but this morning was a different story! After trying several avenues, the only way to get it started was to take out the plug and put fuel directly in! It was determined by people much more knowledgable than myself, that it was probably tight valves.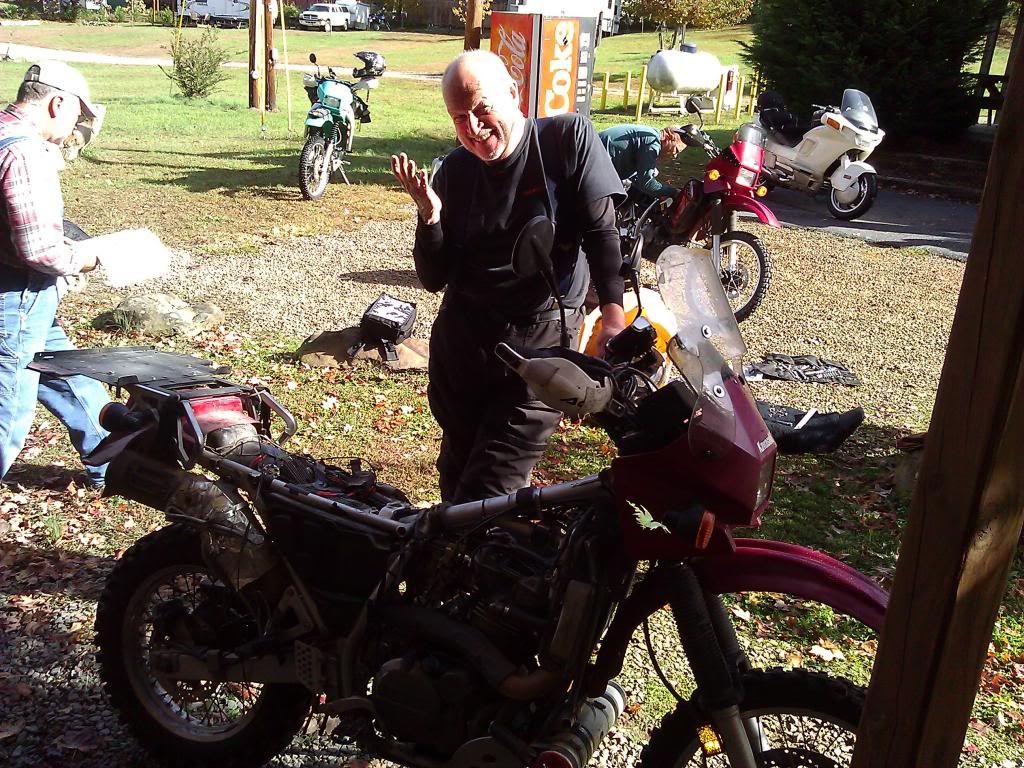 After getting Dave's bike road worthy, 3 of us go out on a pavement only day, while the other 4 go do some trails........maybe they got a few pics they can share soon.......... Here we are getting ready to head out!
The pavement dwellers plan was to take all back roads over to Andrews, take the beautiful Junaluska Rd. over to Wayah Rd. and head over towards Franklin. Check out how much water is let out of Nantahala Lake!!!!
As we head up the mountain, the ride was just Awesome!!! As we passed the southern end of FS 711, I saw that it had fresh black top!!! I had remembered someone talking about the new pavement back at TDP, so we turned around and checked out the new look! I have always been jealous of people that had ridden this road back when it was new and before it's decay........the only thing that kept us from ripping throught the curves was all the leaves on the road............the fresh pavement ended near the overlook, so we turned around and went to finish our ride!
My phone/camera battery went dead about this time..............but the rest of my party has pics of the rest of our ride..........we hit the super twisty Hwy 28 over towards Bryson City, were I took the boys on the Road to Nowhere. They had never been there, and we got to walk throught the abandoned 1300ft tunnel. They got plenty of pics here...........afterward we headed back to camp for some burgers and dogs!!!! Thanks, Crawford's Campground!!!!! Normally I take pics of food, but the phone was a charging.................after supper, the 9 of us (Randall and Jason came in that evening) had a great time around the campfire! I wish I had my camera.......because I missed a great shot of Dave dozing off by the warm fire! Not sure if the boys ran him ragged that day or if the liquid in his cup had something to do with it!
Dave offered one of the twin beds in his cabin to me.......so I slept on a nice bed for the night!!!! The next morning, his bike was still upset with him............
Here is a group shot Sat. morning before heading out! Somehow, Randall snuck out of the shot........ Jason (AdventureFinder) is the newest addition to our group......he brought up the family (wife and 7 month old) in the RV! Great times!!
---
Keep Loving Rides!