Bama Jama ---- Fall Ride Nov. 2-4
---
MESSAGE FROM TAGALONG!!!
Ok, I know I'm late getting this up, and it may be short notice for some, but here it is. The official
Bama Jama '12
thread.
I know that the KLR Rally thread says the venue for this will be Chief Ladiga Campground, but since I never got around to calling and verifying that they would be open the weekend of this ride (or that they would even welcome us) I am once again offering up free camping at my lake lot in Leesburg, AL. It's nothing fancy, but it is a spot to pitch a tent or pull up a small trailer and have a spot to sleep, plus there is the bonus of some really good DS riding that seems to slip under most folks' radar due to it not being in what is known as "mountain country". I have a shower available and if someone wants to bring a small electric heater or blanket and drop cord then I can provide an outlet. We usually also have some good vittles and bench racing around the fire in the evenings. Beer is sold at Walmart in Centre, approx. 3 miles away, anything harder will need to be brought with you. Anyone looking for more luxury, there are some chain motel/hotels in Centre. If you have a toy hauler, there are a few RV parks within a short distance.
All rides will begin/end at my place.
If anyone is planning on coming just let me know and I'll get some directions to you.
Some pics from previous years...
---
Keep Loving Rides!
With just a week left, hope to see you guys for some cool Fall riding on the mountains and around the canyons!!! Looking to have a progressive ride........Great Street riding (think snakes/rollercoasters), then dirt options are at the end of the rides for those wanting to get dirty!!!
Rider__________Camping_______Steed
tagalong_________Fri/Sat___________KLR650
cherokee_chuck____Fri______________KLR650
harvickdaman29____Fri _____________WeeStrom
Joel DC____________?_____________KLR650
ElectroJoe - ?_______?______________KLR650
---
Keep Loving Rides!
Tentative Riding Schedule....pics from past Bama Jamas
Friday - Skyway Motorway on Mt. Cheaha...........dirt options later on......around the Piedmont area!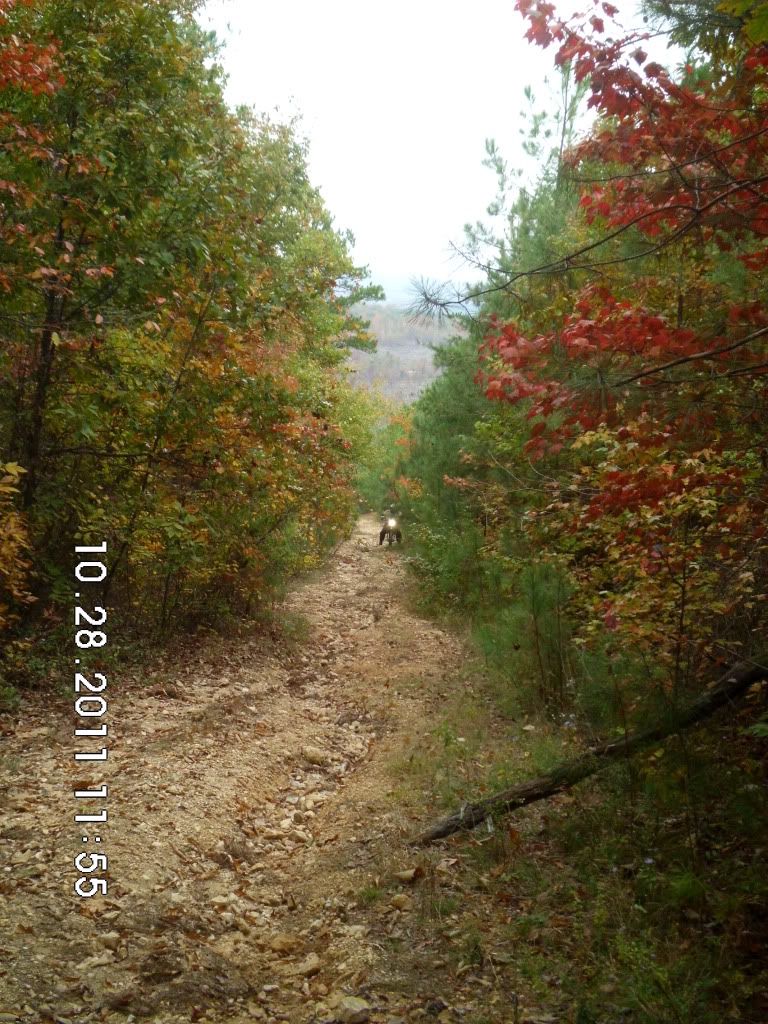 Saturday - Little River Canyon Rim Road.............dirt options later on......north of Little River Falls!
A few of us are riding in on Friday morning from the Chattanooga area..........how about we say kickstands up at the lake lot at 10am Central time?
You can bring campfire chairs, but I think Brad has a bunch!
---
Keep Loving Rides!
The 4th annual Bama Jama was a short, but great weekend of riding! I headed out Friday AM, traveling south through NW GA to meet up with harvickdaman29, JohnRandall, and tagalong! Plans were to ride to Leesburg and drop off gear, pick up anyone else and head south......aiming towards Mt Cheaha!!
We hit some great scenery in GA and stopped here so Tagalong could make a call to camp!
Tagaglong having fun on the powerline trail!
These boys decide to walk........as I did!
Since nobody else was waiting for us at camp, we decided to head due south from where we were and run the route in reverse order! Here we have the traditional lunch at a gas station.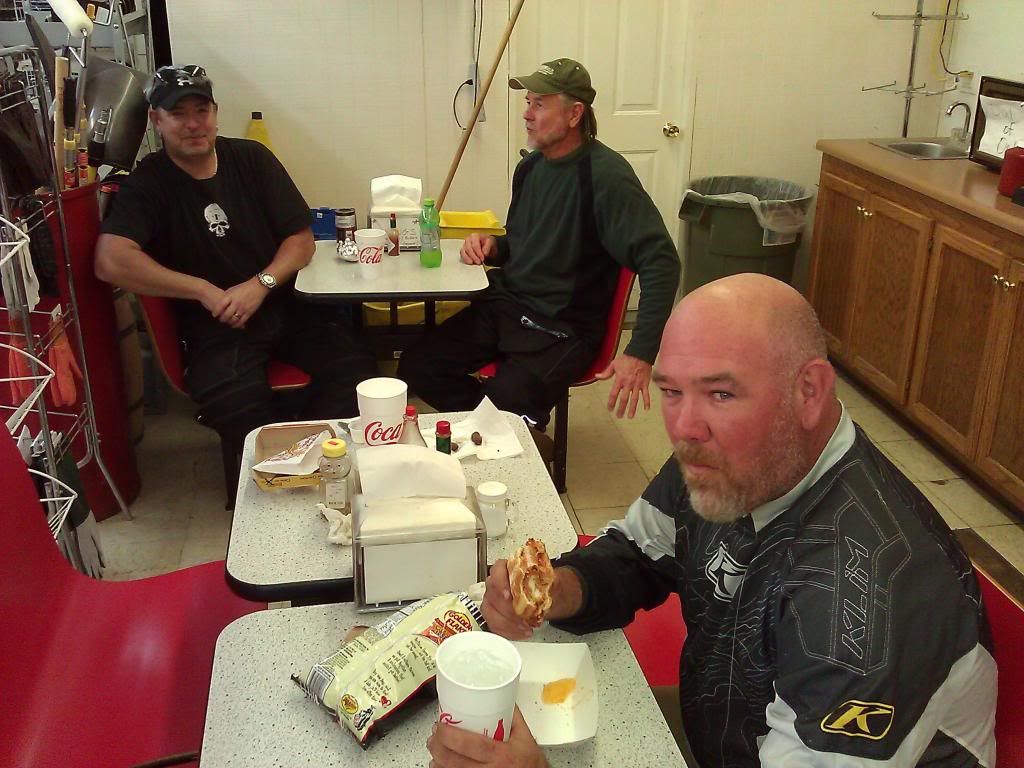 I ate a lot......including a BBQ (big surprise)!
We go over to cross the 'Closed' bridge in Vigo, like we did the previous year.......
Only to find a fresh, new tank trap........a serious one at that!! This angle doesn't do it justice!!!
---
Keep Loving Rides!
Pics of the lake at the bottom of Mt. Cheaha (highest pt. in Alabama - 2407')!!
.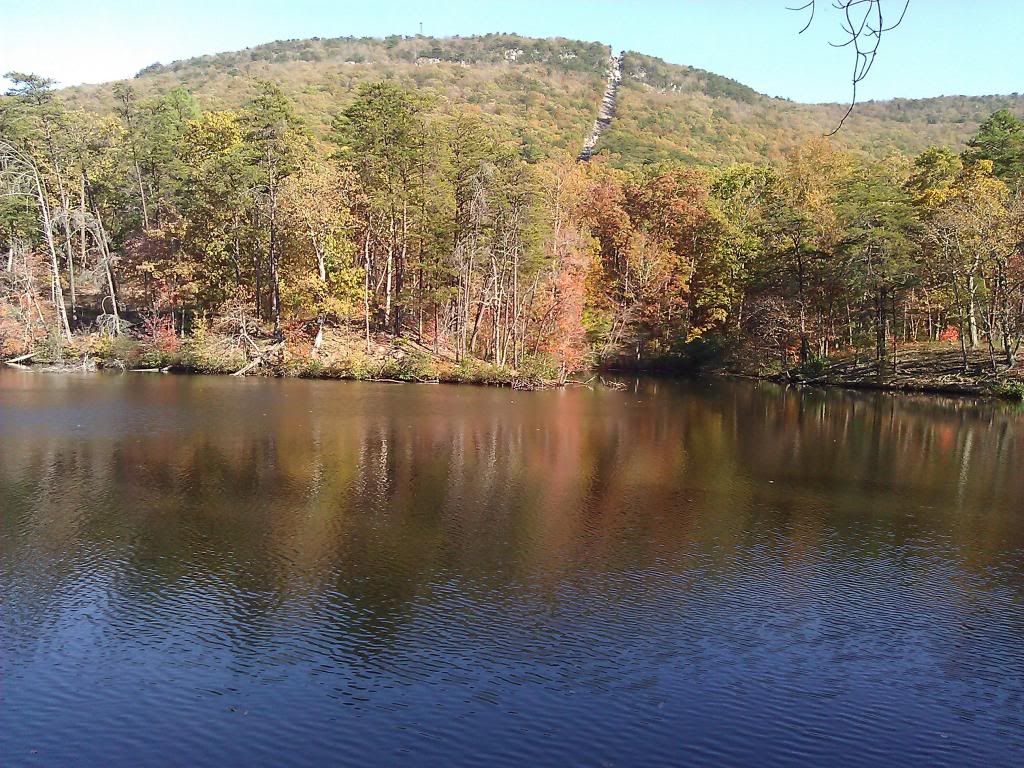 We take a break on the top of Mt. Cheaha.......and up comes some fellow riders from B'ham!!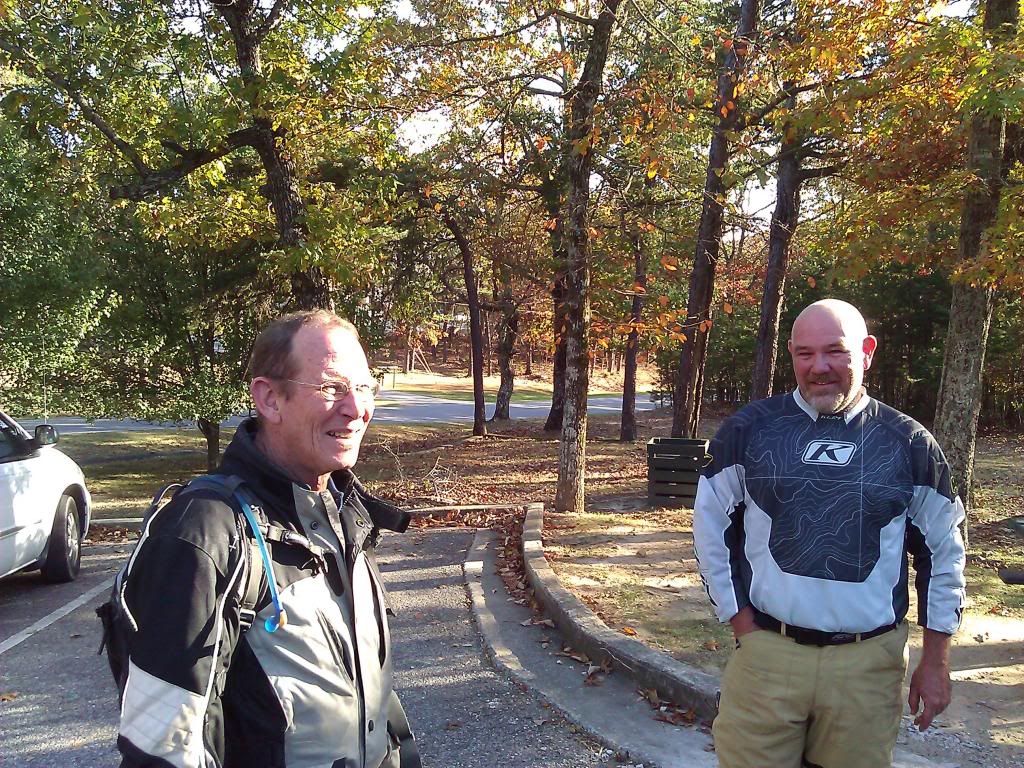 Randall won best bike of the weekend!!!!! Love that MZ 660!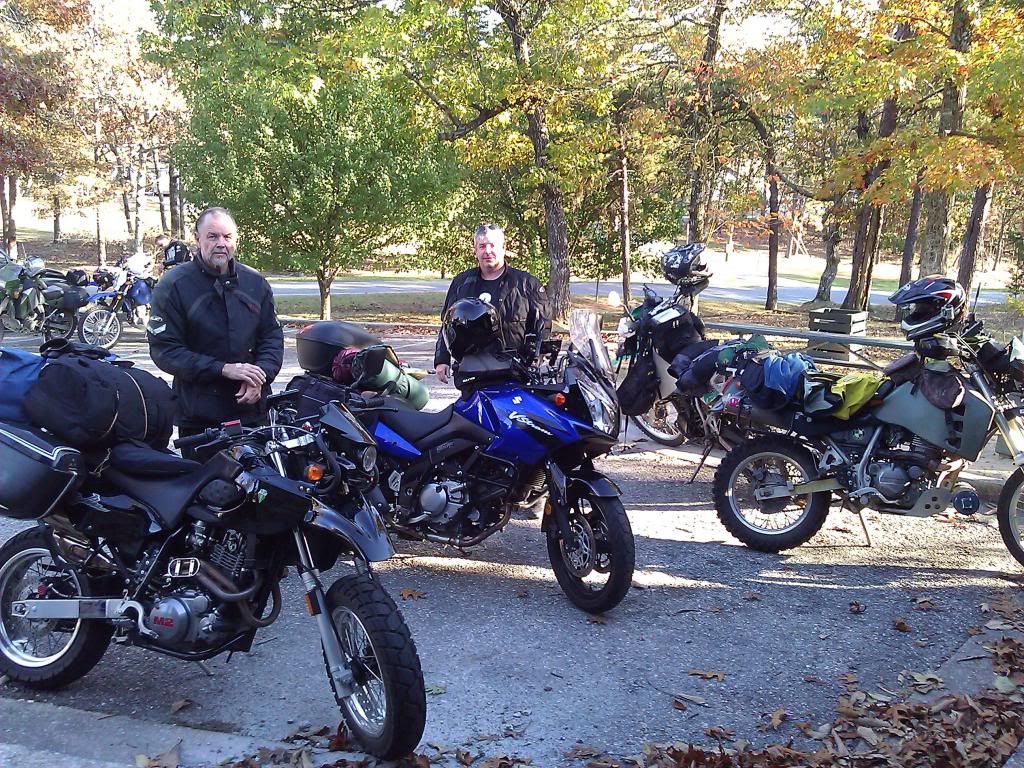 I must not have gotten any pics at the JSU overlook???? The other guys have some, I believe!
Nice campfire on a perfect warm fall night!!!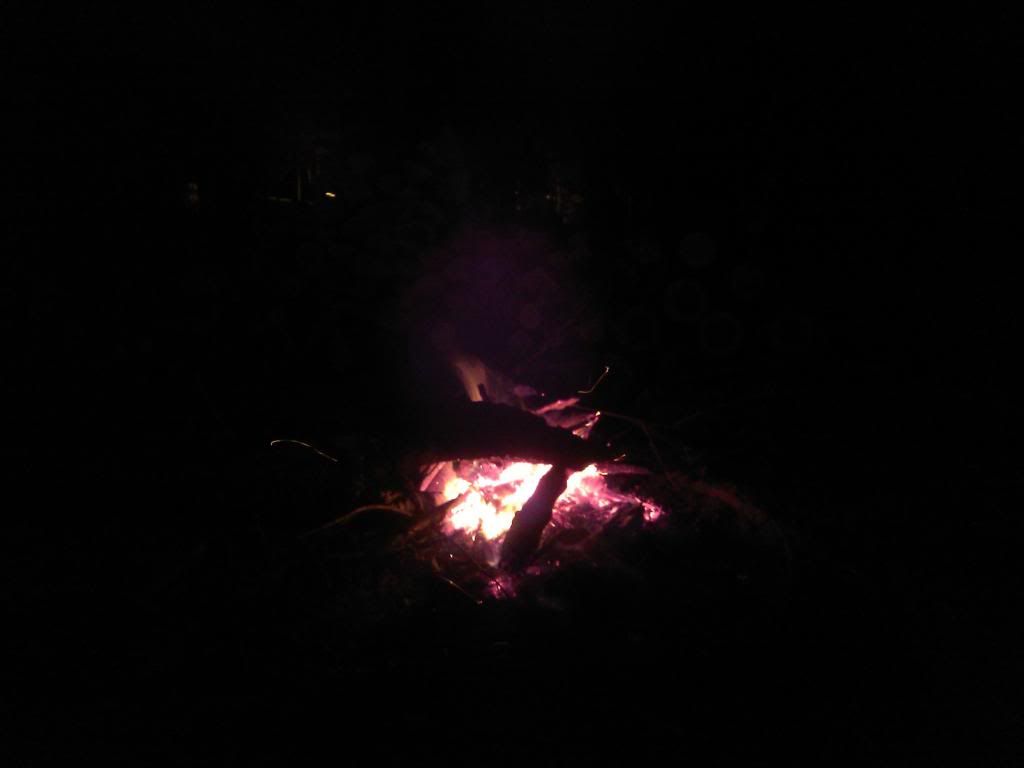 ---
Keep Loving Rides!
Since I was only 15 minutes from my folks house, I decided to go hang with them the last couple of hours of the day............still nice sleeping in my old bed!!!
Next morning about 15 minutes after I rolled into camp, the wind blows in ElectroJoe! I was hoping he would make it!!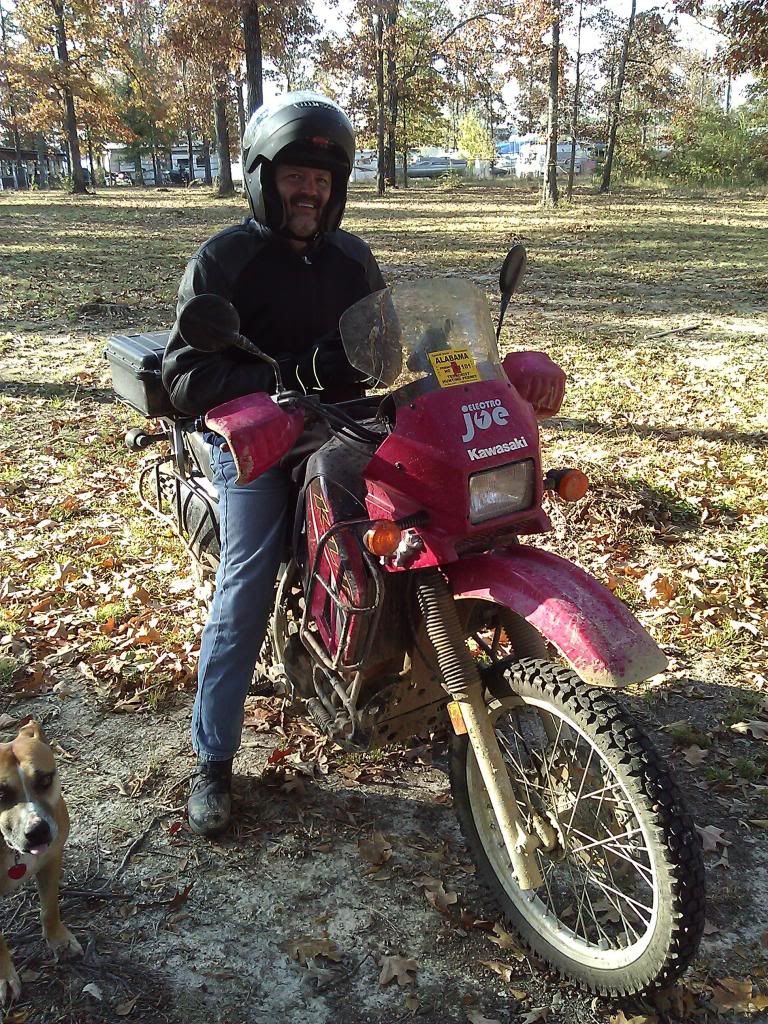 The girls fixed us up a mean breakfast Sat. Morning!! Thanks guys!!
Cherokee Rock Village (aka. Little Rock City) is becoming a AL State Park
Scott checking it out for the first time!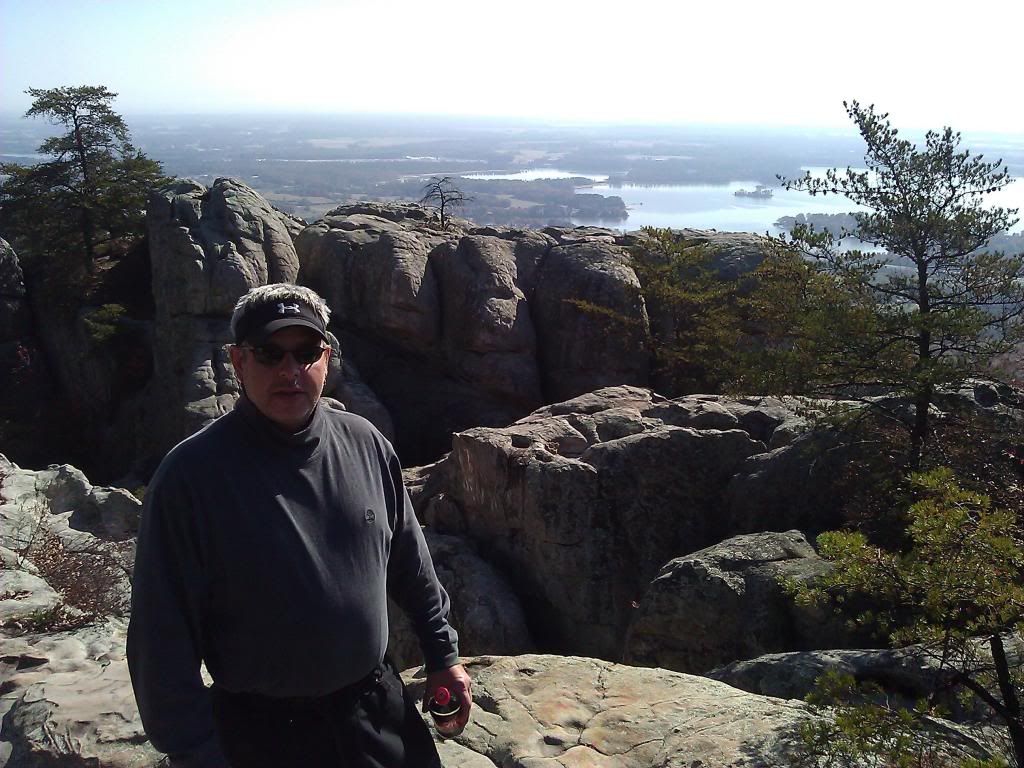 Entrance!
The 'Big Pumpkin'!
Glamour shot in front of Yellow Creek Falls and the old Tennessee Alabama Georgia (TAG) railway!
Stroming it!
---
Keep Loving Rides!
Tagalong on the flattest part of the roller coaster I could find......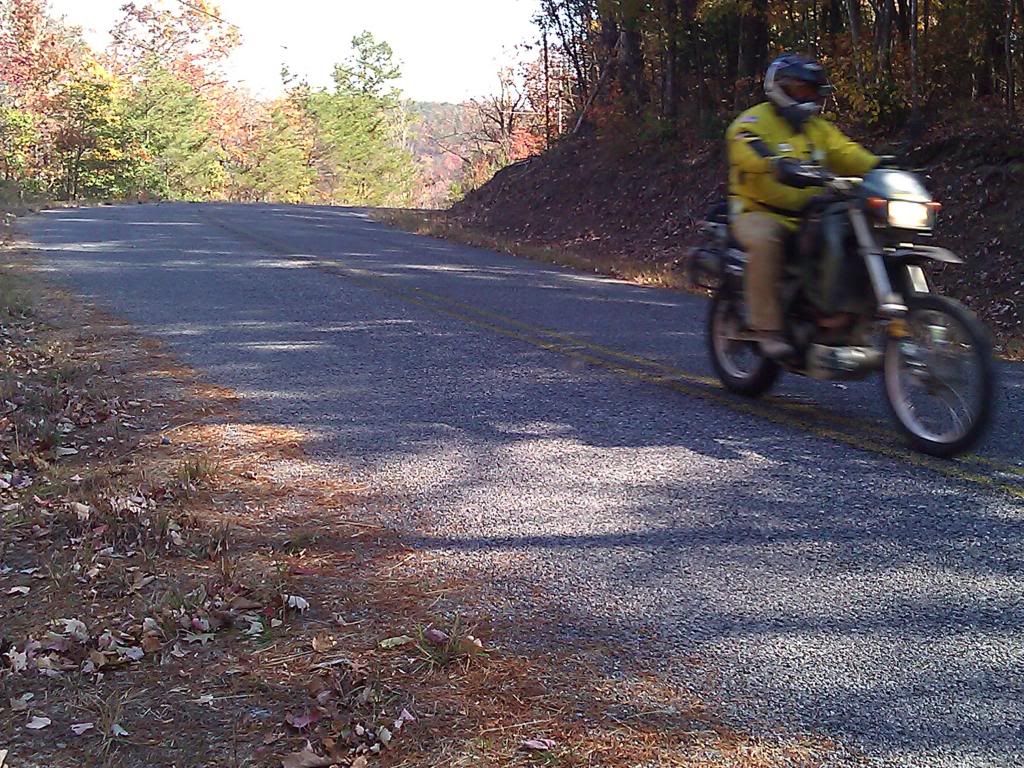 I've have climbed out of the canyon over beside the falls.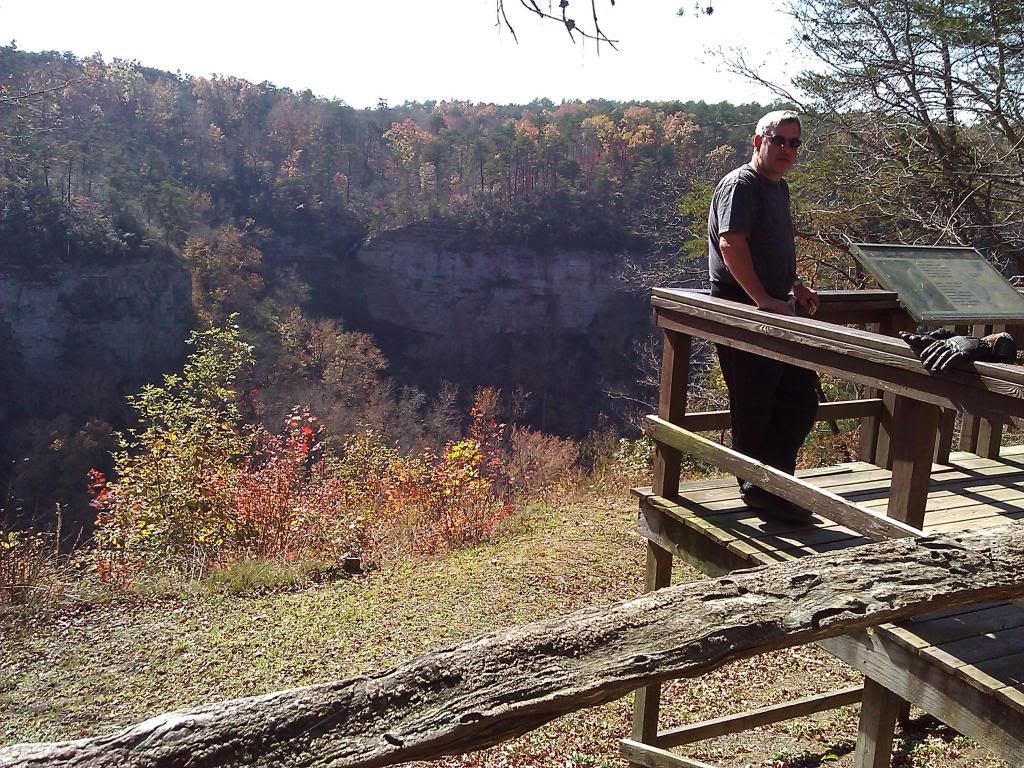 Gotta stop and get a pic of the Mushroom Rock!!
Little snack on part of the old bridge across the Little River Canyon Falls!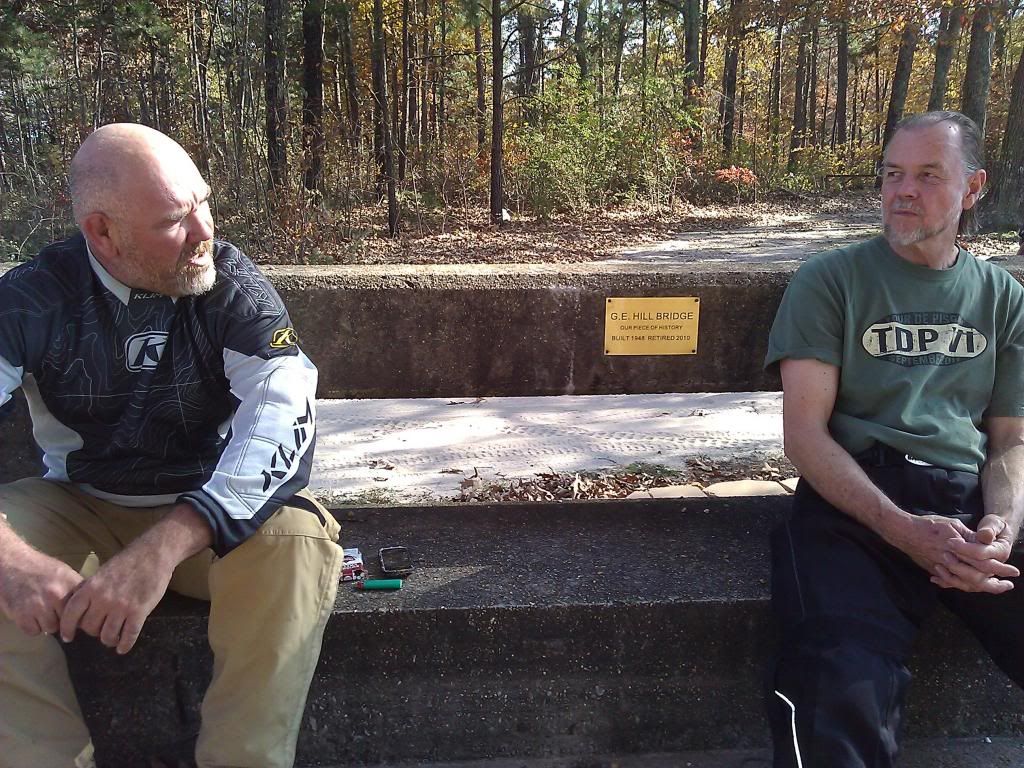 Lake beside the entrance to Mountain Cove Farms!
Love this route!
The old general store for Mountain Cove Farms!!
One of the big trees!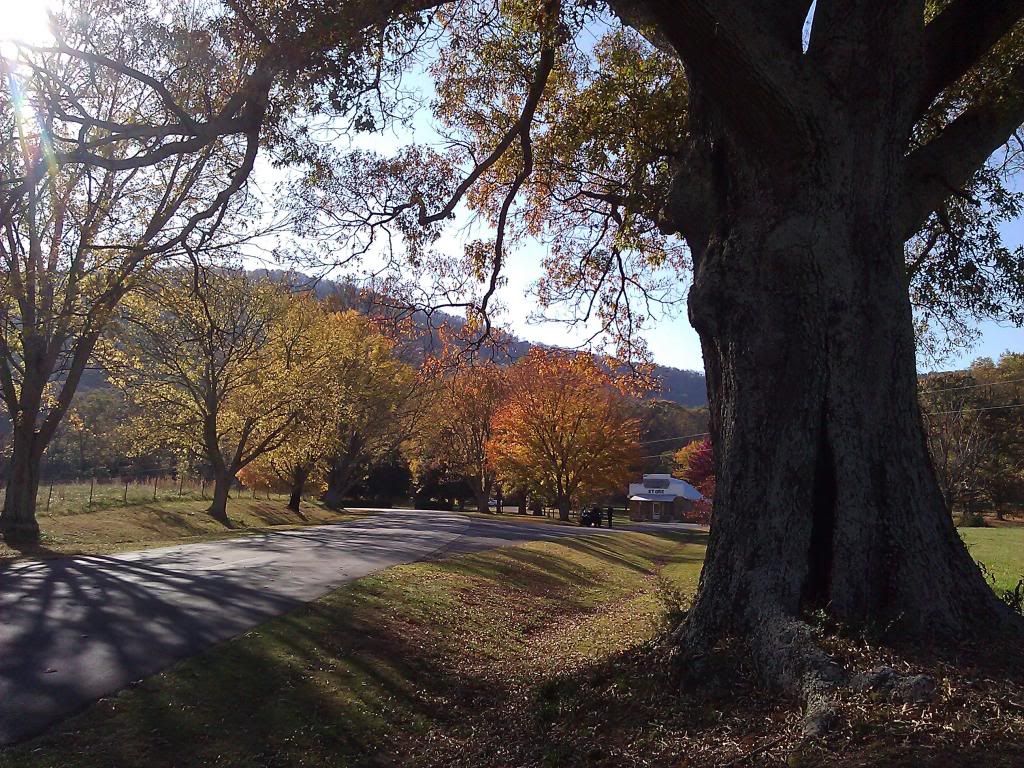 ---
Keep Loving Rides!
It was time to part ways........Joe and Brad took off back east and south, respectively......while Randall, Scott, and I head north! After Randall split off to head east, Scott and I rode through Chicamauga Battlefield!
I love to see the park when the hay is rolled!!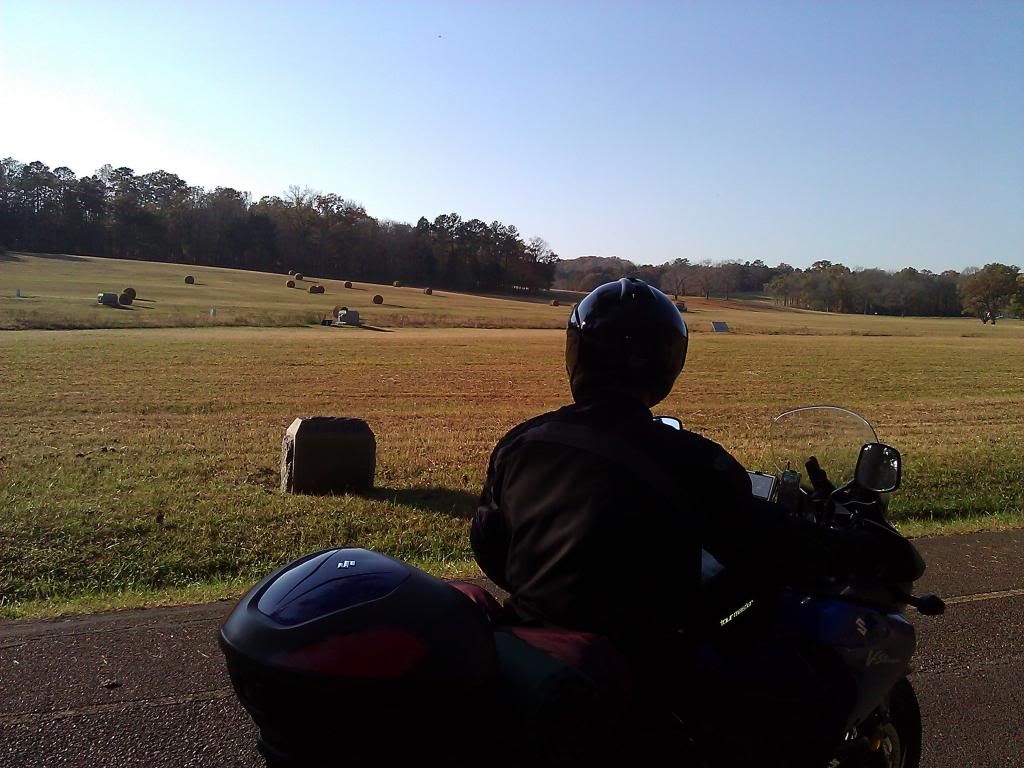 After Scott and I parted ways, I had about another scenic hour ride before I got home. In Ringold I stop at the Cleburne Monument!
Amazing!
Heading south to Atlanta!
---
Keep Loving Rides!
April 27, 2011, an EF 4 tornado ripped apart Cherokee Valley......you can see on the right side where the edge of the storm hit......on the left side of the pic, you can see how the valley makes a turn more toward the east.....the tornado went right down this valley. The only time you could see the rock bluffs prior to that date was during the winter......
The last hint of Alabama.....until the game that night.......way to close for my taste.
I timed the train coming over perfectly!!
It was great to see the kids, even though it was just 1 night.......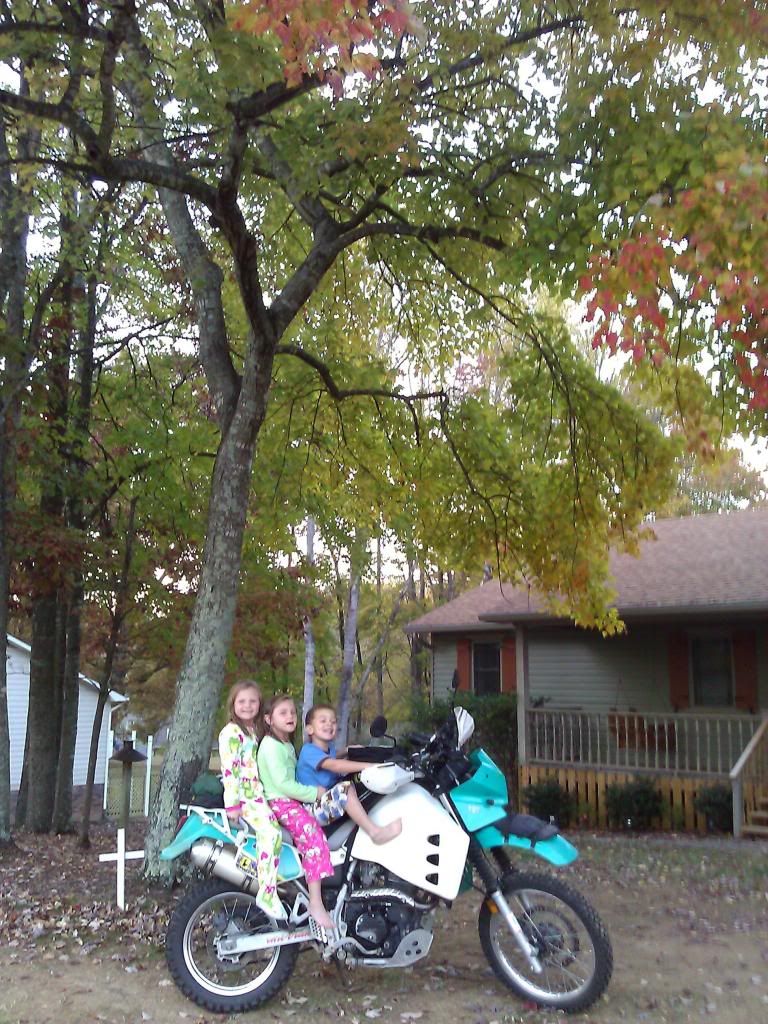 The past couple of days was filled with twisty roads and mountain scenery during the greatest time of year!!!! Love the fall riding!!!! Hope to see you guys next year!
---
Keep Loving Rides!
Sorry for the poor quality......I need to get back to using my 'real' video camera!!!!!









---
Keep Loving Rides!