BOOH '14 Rally
---
Who: Anyone wanting some Dualsport action!
What: Bat Out Of Helen
Where: Cherokee Campground
http://www.cherokeerv.com/
When: October 17-19 (Early bird Thurs -16th)
Why: To Ride and Fest
We are are fortunate to get the 4 campsites designated for just tents!! I told the owner, Phillip, we may have between 10-15 riders ..... that will work out for him. We will just take care of the cost when we get there.....he is letting us have the 4 sights. So if you want to call him, just tell him that you are with the Bat Out Of Helen Dualsport Rally and wanted him to add you to the list.
ATTENDING..............WHEN.............STEED
cherokee_chuck..........Thur-Fri..........KLR719
GAThumper.................Fri-Sat...........DR650
dualindalton................Thur-Sat........DRZ400
JoeGurley...................Thur-Sat........KTM520
KentuckyKLR...............?.................KLR705
rickyp3278..................Thur-Sun........KLR650
the other steve............Fri-Sat...........DR650
Multiple people per campsite.
---
Keep Loving Rides!
---
Last edited by cherokee_chuck; 09-08-2014 at

09:49 PM

.
Updated the first post in Red.
---
Keep Loving Rides!
These pics are from BOOH 2014. I didn't have my camera, so I stole pics from other riders............
From Phil....
Just a few random pics from the 2014 BooH ride.
The "Other Steves" flat tire. Luckily it happened prior to the beginning of the days ride. Lots of "on lookers" to help get the job done.
GaThumpers pre-ride pep talk before the assault on Tray Mt.
cherokee chuck and longleke ready to follow GaThumpers charge up Tray.
chuck returning from a little side road exploration trip.
Short break.
Looking back....
....and ahead.
---
Keep Loving Rides!
Hmm, left or right?
Where did we miss the turn off?
Joe Gurley
Jerry Atrick
That's all of the photos that I took.
Tray Mt. was so entertaining on Friday's ride that Joe Gurley, tube8520, Jerry Atrick, yotaman and myself decided to go enjoy it again on Saturday.
www.youtube.com/watch?v=3ZsdL9tCBnU[VID][/VID]
www.youtube.com/watch?v=QERzuNeVq4I[VID][/VID]
Just as much fun the second time. It did seem as though someone had came in overnight and rearranged the rocks. Seems some of the others were thinking that also.
---
Keep Loving Rides!
From Brad...........
A nice day of riding at B.O.O.H. 14. I wasn't able to camp so I rode he 65 mile commute
this morning. The weather was great, clear and sunny, 47 deg. when I left home and probably reached a high in the 70s during the day. We had 10 riders and when we rode it was a nice steady pace.
With the leaves starting to turn and the temps dropping a bit, fall is in the air here in N.E.
Georgia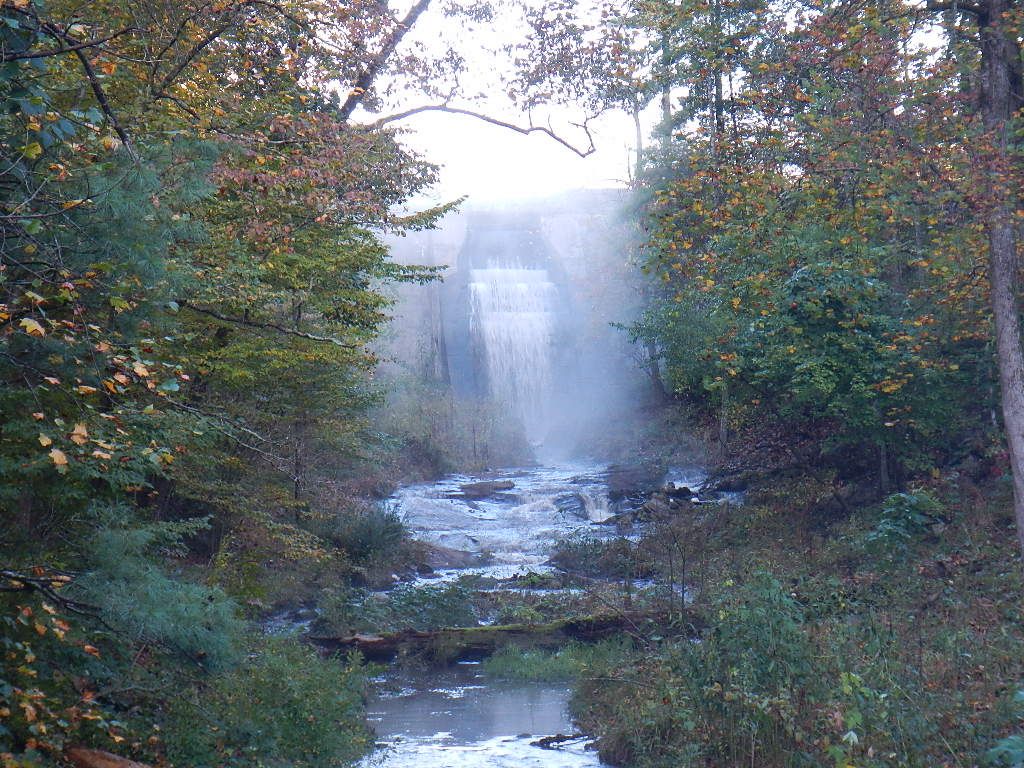 When I FINALLY found the campground( humph1 GPS took me the LOOOOONG way round) the guys were all set up in a nice area.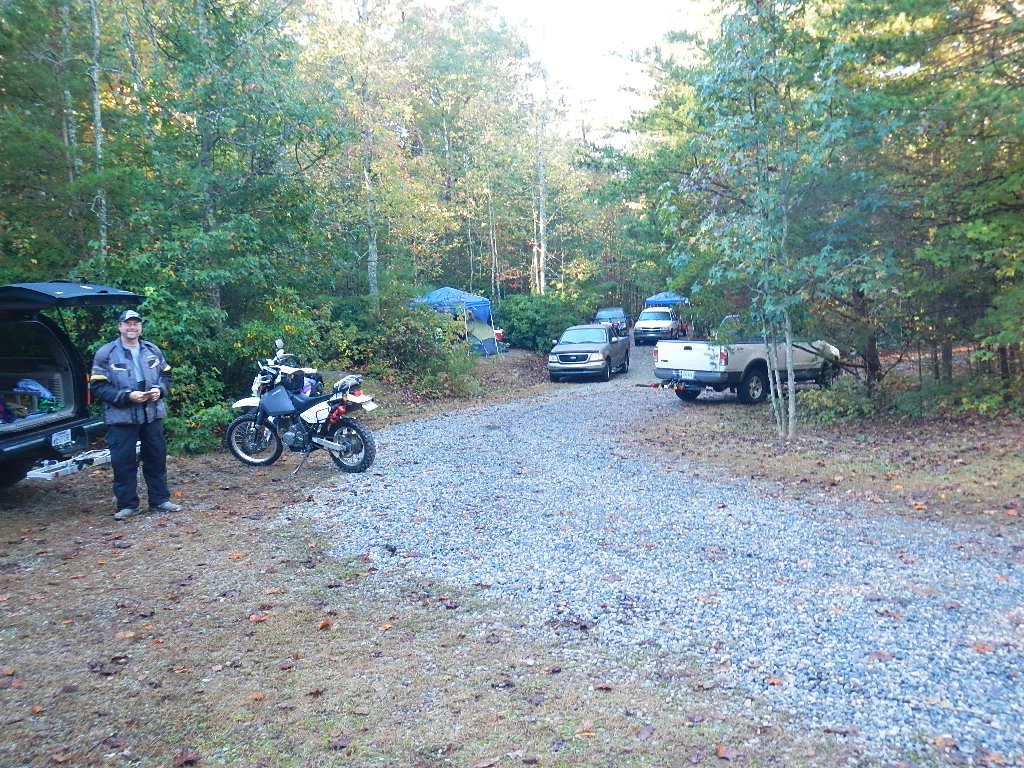 We hadn't seen Ga.Thumper or "the other Steve" at camp so a couple guys went out to look for them. On the way in Steve had a flat on his DR so everyone went that way.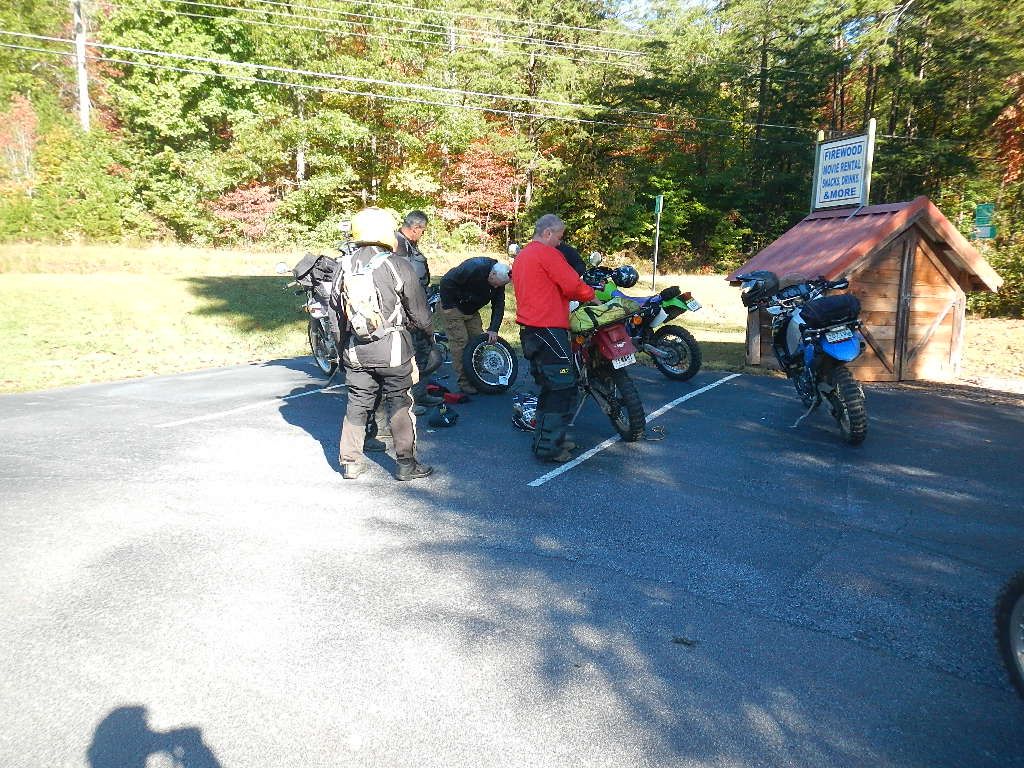 After the flat was repaired we took off for the woods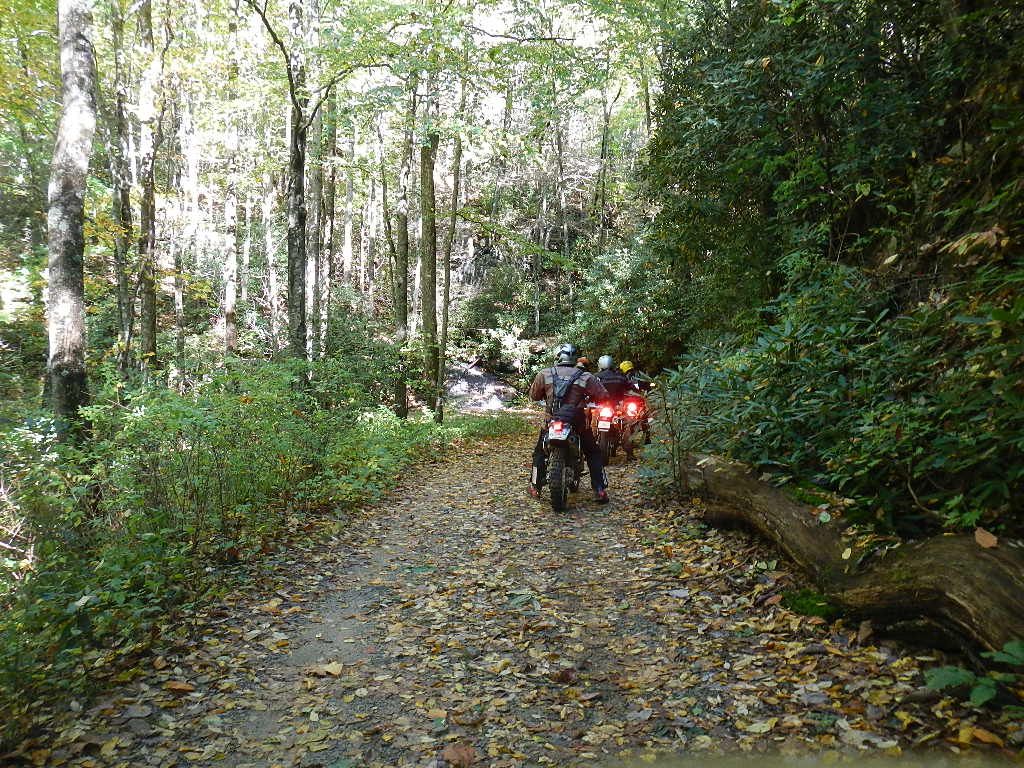 Miles and miles of this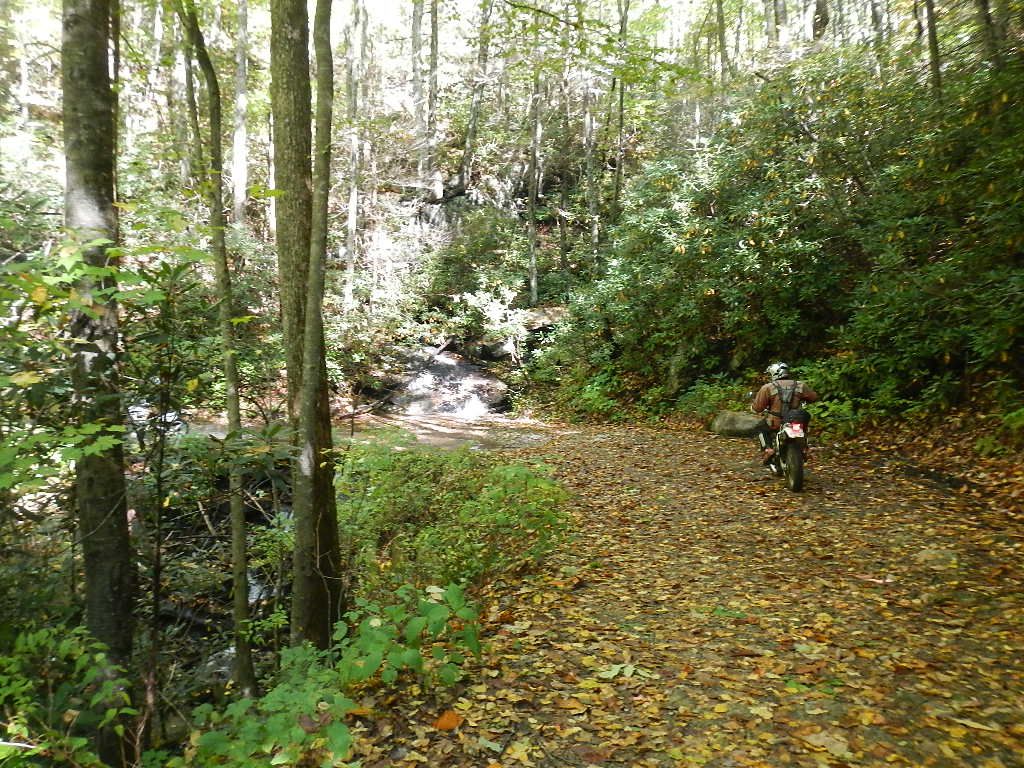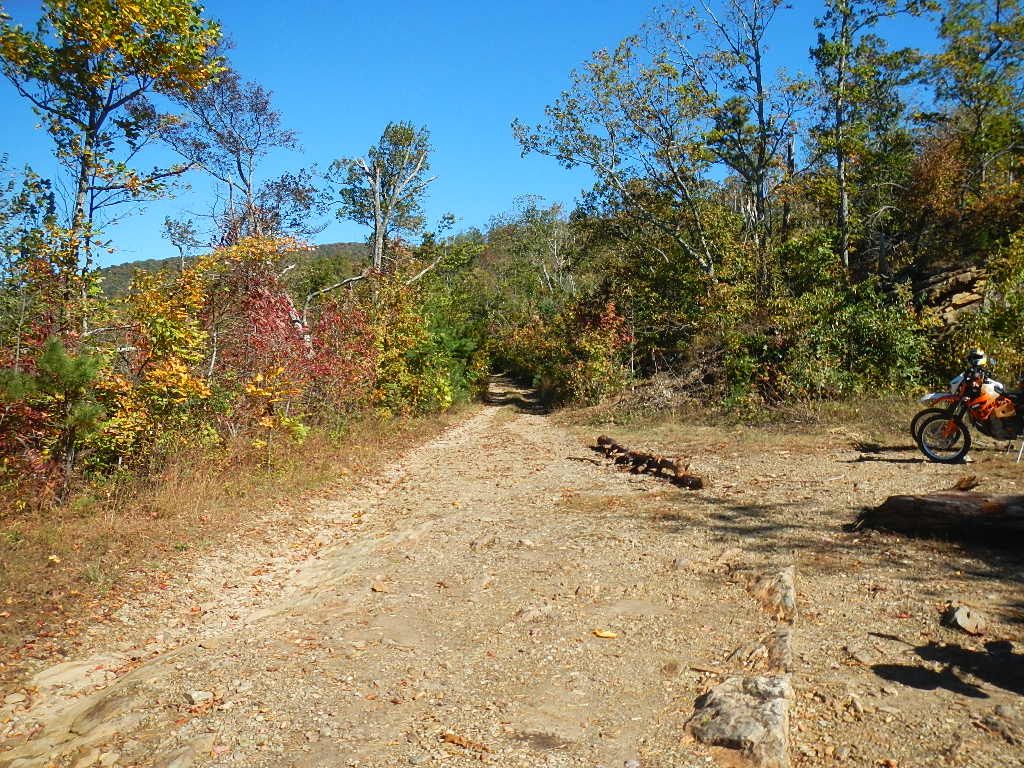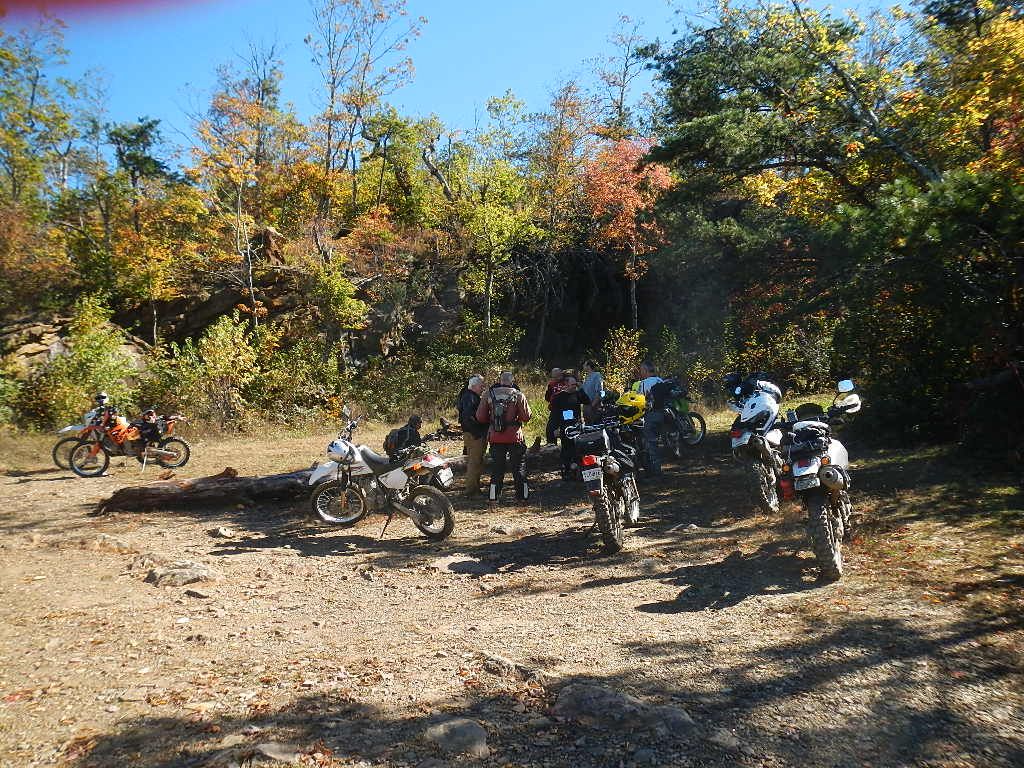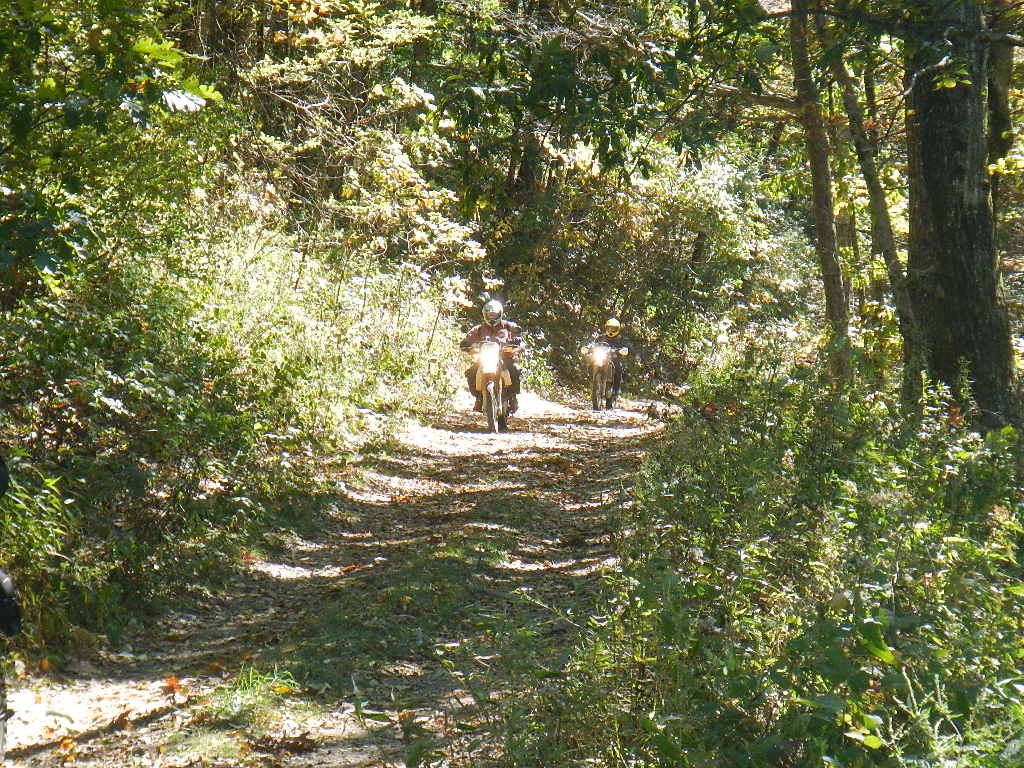 ---
Keep Loving Rides!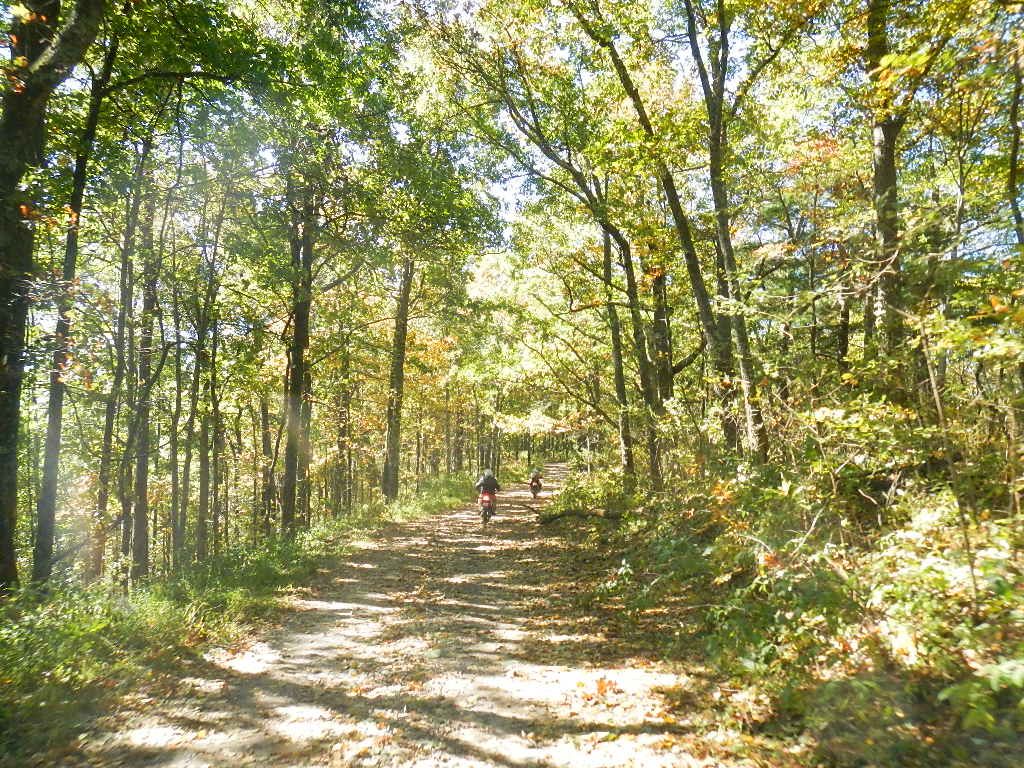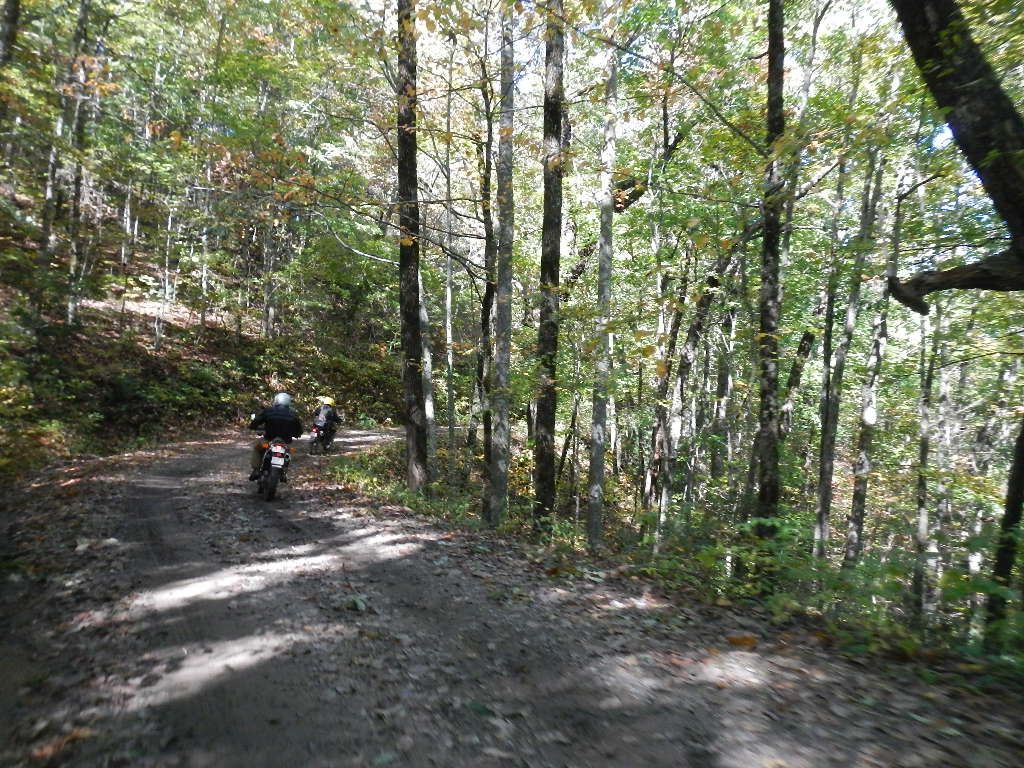 We ended up here for lunch, it was really good! The place was tiny inside and between the customers already in there and us, it was packed.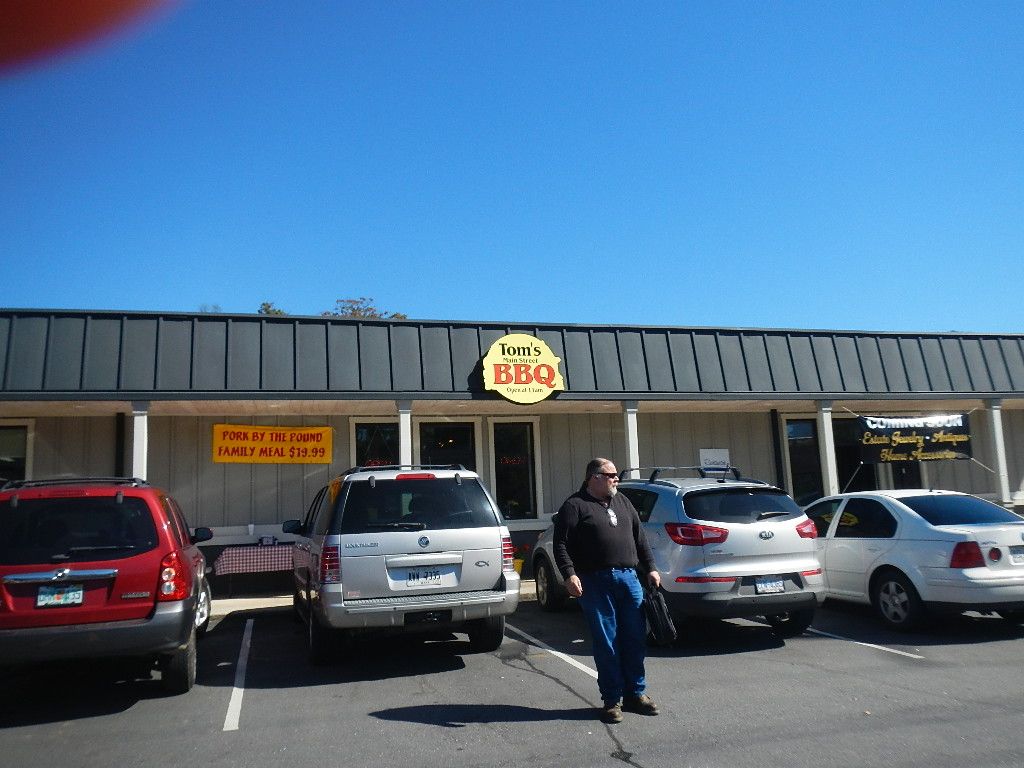 The customers in this place were exceptionally friendly. Many smiled and nodded when we came in and most of them made comments like "y'all ride safe", "have a great ride" etc. as they left.
Outside in the parking lot after the feast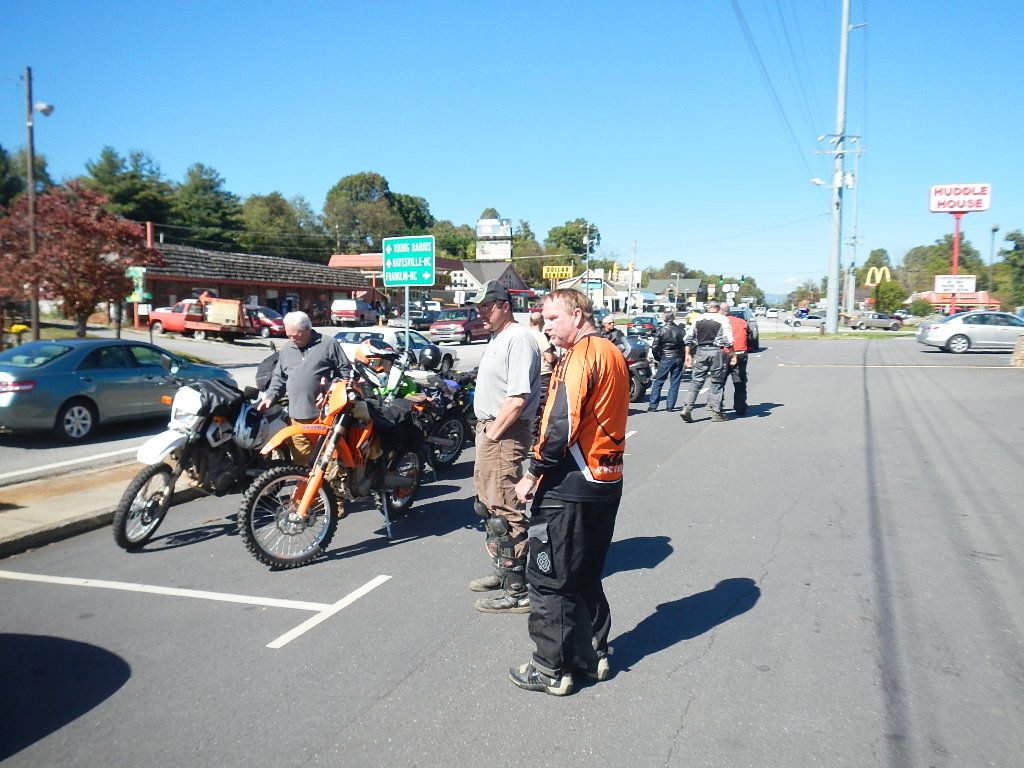 Here's one of Chuck climbing out of one of the dead ends we found.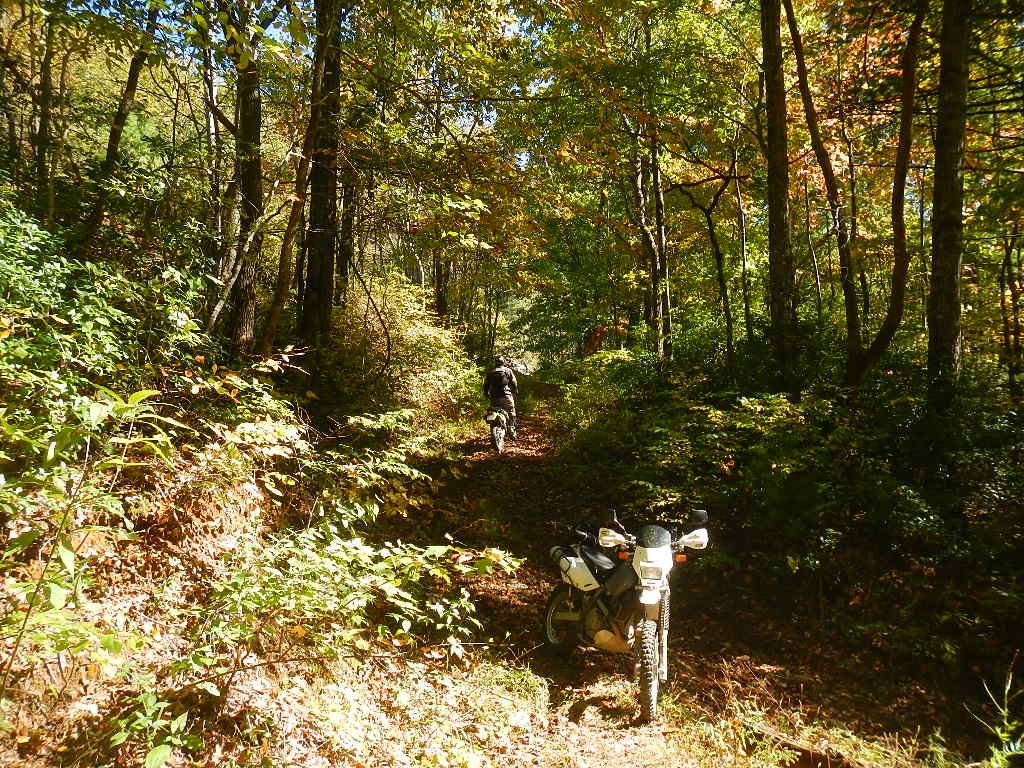 ---
Keep Loving Rides!
A short break and "where to next" session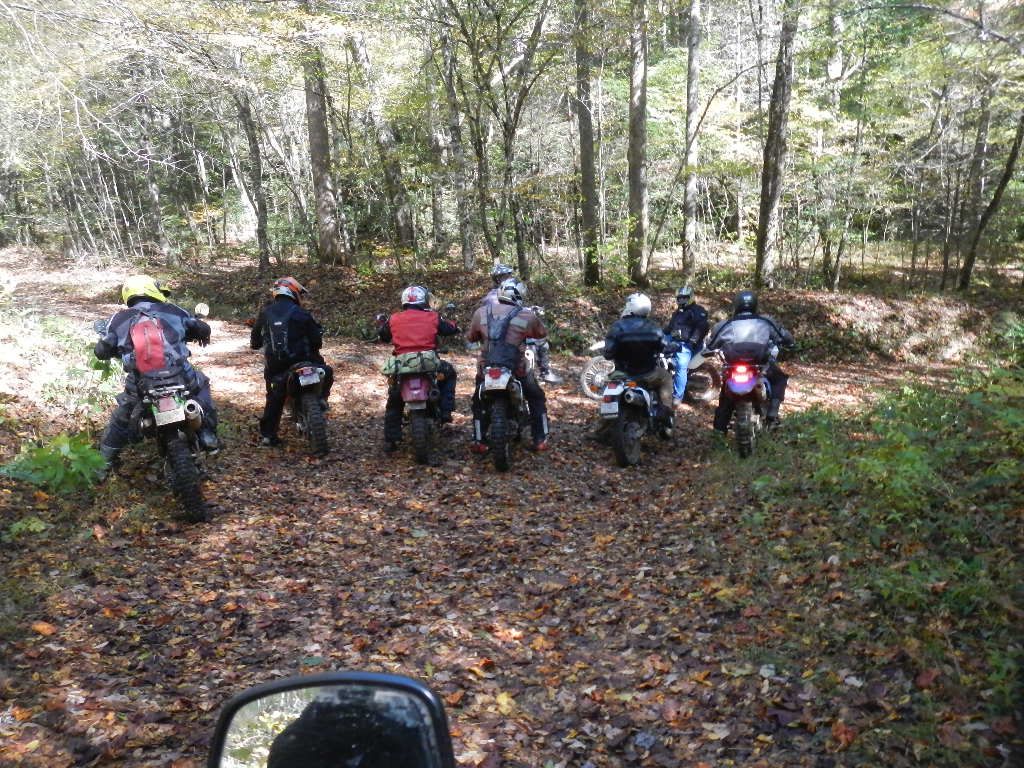 At one of the larger water crossings,Chuck decided to take Ken up stream to the deeper water. Here's where Ken decided he didn't want to go any further and quit. :figwav: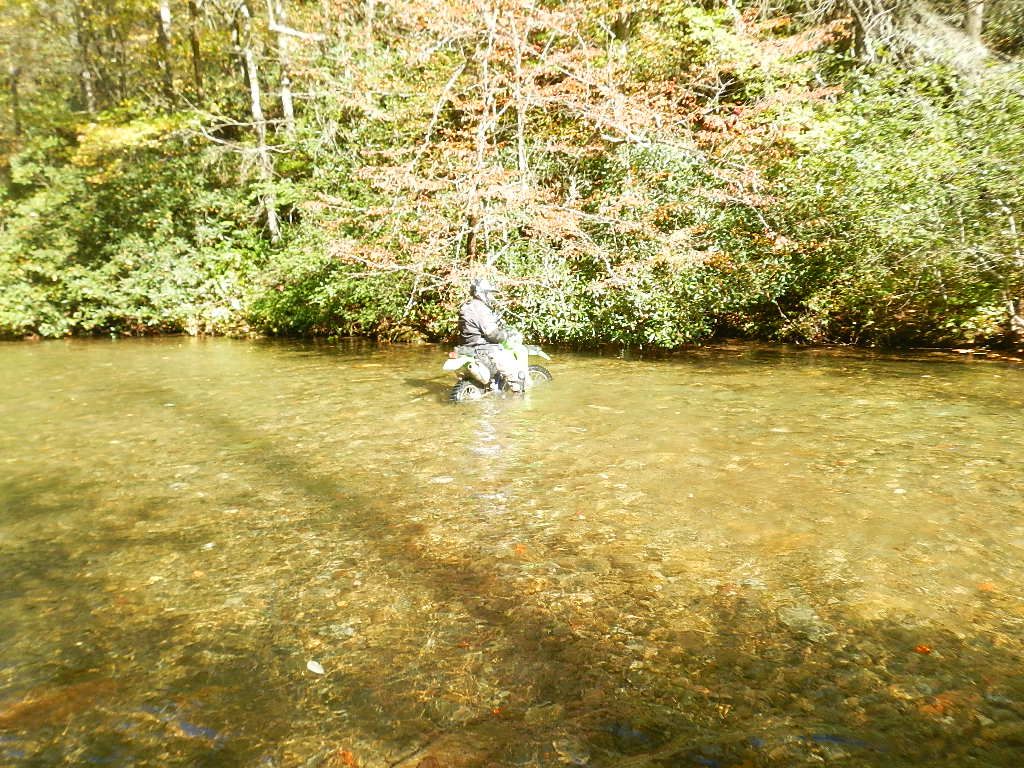 Here's Chuck trying to kick start Ken in the deep water…what a splash it made! :duel: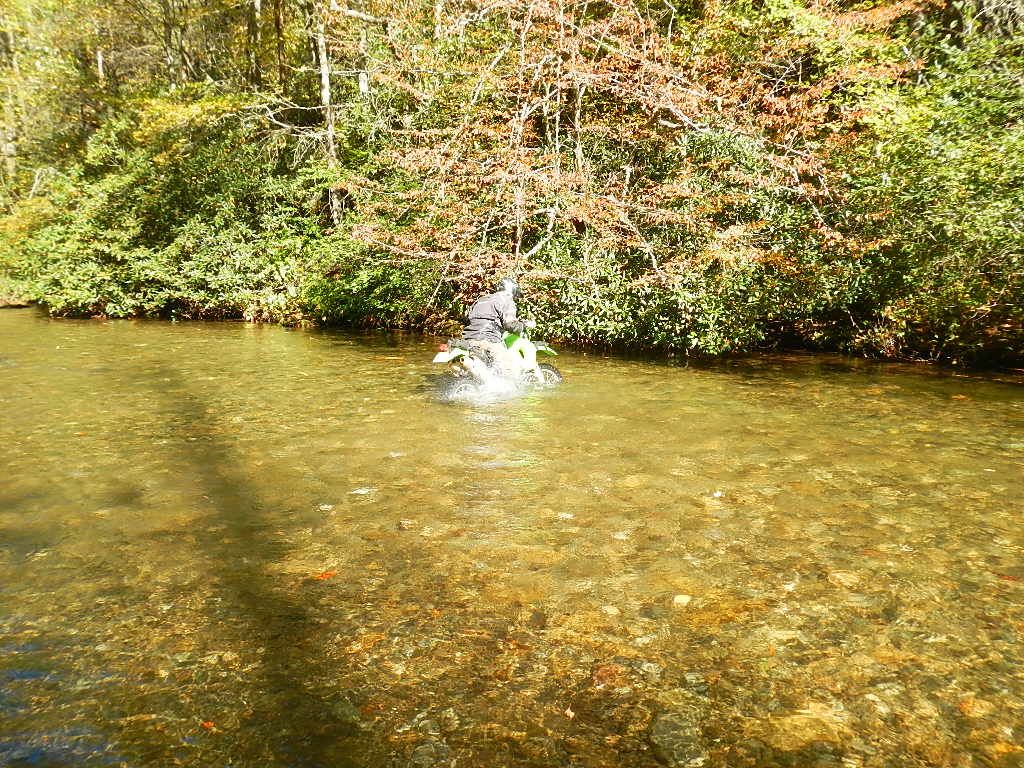 Here's Chuck pushing Ken back to dry land, where he started without incident
)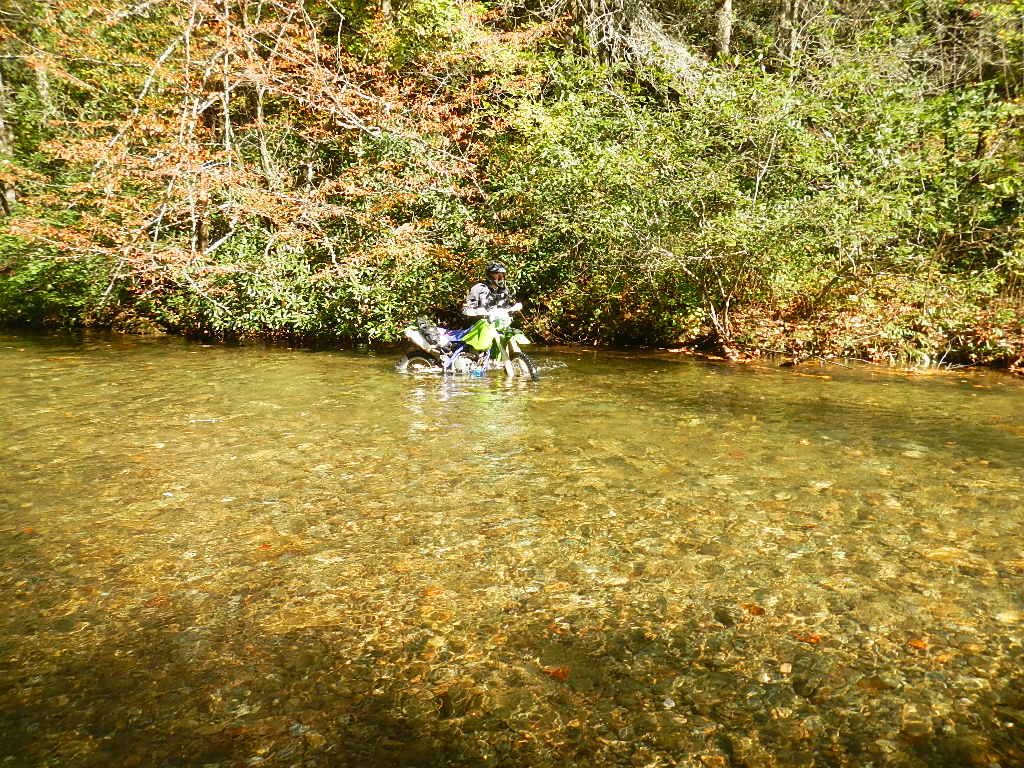 After that we headed out through some jeep trails and gravel roads.
Jerry Attrick in one of the many water crossings of the day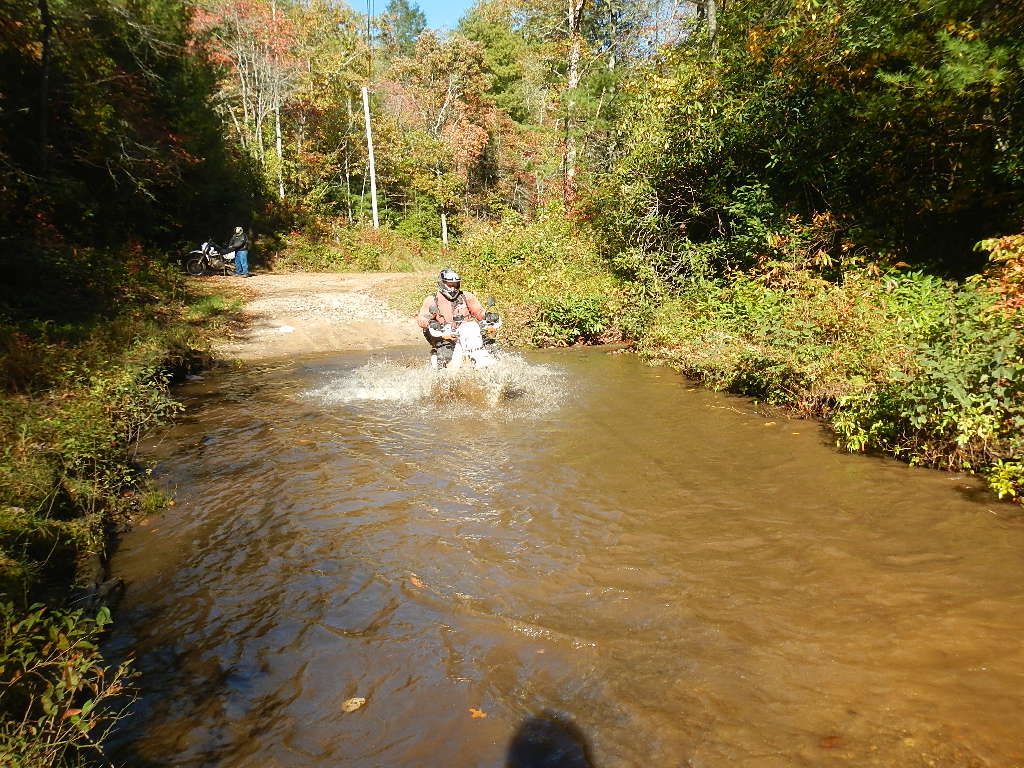 With the recent rains, dust was not an issue and there were plenty of puddles. I had ridden with many of these guys but it had been a couple of years. All of them are fun to ride with and hang out with between the rides. Thanks everyone for the great ride and to Chuck and Ga Thumper for the tour
guiding. :beer:
---
Keep Loving Rides!
Similar Threads
Thread
Thread Starter
Forum
Replies
Last Post
SLAP Rally

ammca

Deep South Riders

0

04-12-2013

04:18 PM

Almost ready for the Rally...

edamron

Show Off Your Bike

7

02-02-2011

11:14 AM

TDT V rally!

cherokee_chuck

Travel Log & Trip Reports

5

06-02-2010

11:03 AM

Two Bits Rally

NoBull

Western Riders

0

05-02-2010

10:29 PM

Rally 2 guards

Jamie

1987 to 2007 Wrenching & Mods

5

10-10-2006

12:01 AM