1st Gear
Join Date: Oct 2007
Posts: 21
Standing Indian/Wayah Rd Exploration Ride - Friday 7/18
---
I just wanted to extend an invite to our upcoming ride to this forum. Everyone is welcome. The ride will range from 1.5 - 2.5 with some optional 3.0 - 3.5 sections, no hero stuff.
Here is a copy of the original post that can been seen over at klrworld.
Change is GOOD! and good plans change...
Thanks to RBrider this is now going to be a joint exploration of the Standing Indian / Wayah Rd area. Bob is heading back to the flat lands and the sand and the sea soon, so we're going to get in one last mountain ride before he leaves. He has kindly offered to be our host and tour guide for the day!
The date for the ride is now going to be Friday, July 18th. I just love an excuse to be off work on a Friday and missing the weekend mountian sight seeing traffic is a nice bonus.
We plan meet up somewhere in the Wayah Rd area to be determined by RBrider. We will have a full day of riding and playing in the mountians and hope that you can join us. I think we will have a limit of 500 riders so sign up early to guarantee your spot!
I'm going to cut out the Otto NC Coweeta Hydrologic Lab to Rainbow Springs section to make room for more exploration in the Winding Stairs/Tellico Gap area. The final routes will be determined as we go and subject to change.
Well, when a good old boy from Georgia hears about a road that was built for Jimmy Carter in the North Carolina mountains, he's just got to go see it. And when he rides a dual sport motorcycle, he's just got to turn it into an off road adventure. We are shooting for either July 19th or 26th.
Here's our planned route for our day of exploration. Any comments or thoughts are welcome as you will also be MORE than welcome to join us. Looks like there is no way we can make all of the area discussed in this thread in one day, so I've trimmed down the route to below and above Wayah Rd for this trip.
Rainbow Springs / Wayah Rd / Aquone Lake area.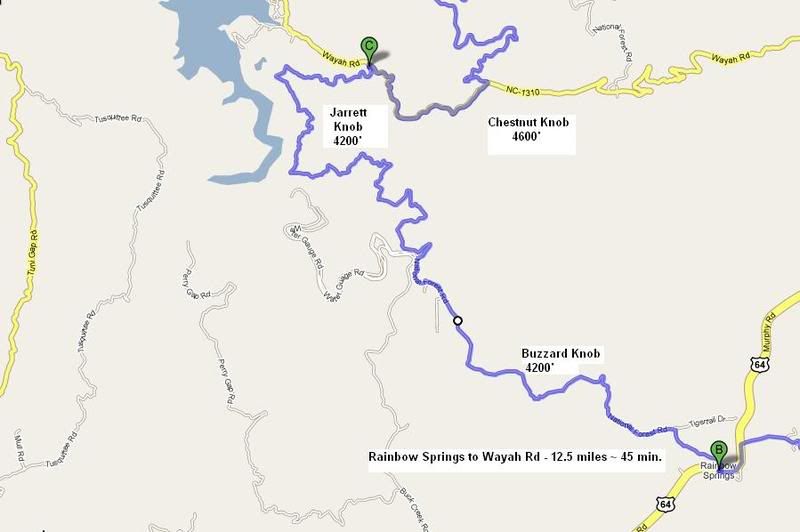 Wayah Bald / Jimmy Carter's abandoned road area.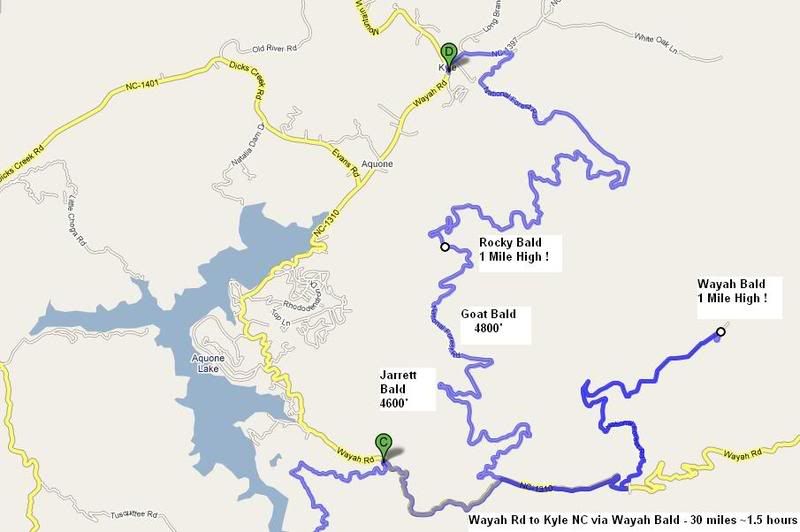 (Map of the Winding Stairs area will be posted here.)
A little pictorial on James Earl (Jimmy) Carter, the 39th president of the US of A (1977-1981)
Early in his life a young Jimmy show his love for his dog "Bozo"
Name another president who made the "Cover of the Rolling Stone"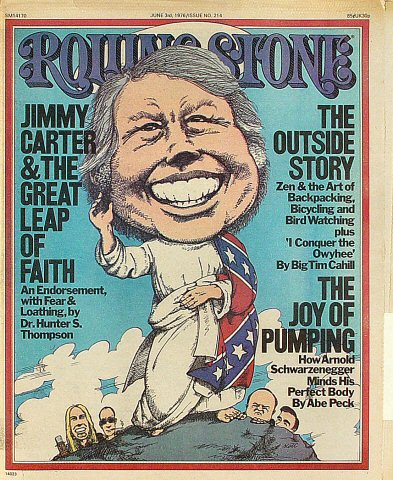 Gregg Allman, Phil Walden, Dickey Betts, and... Jimmy Carter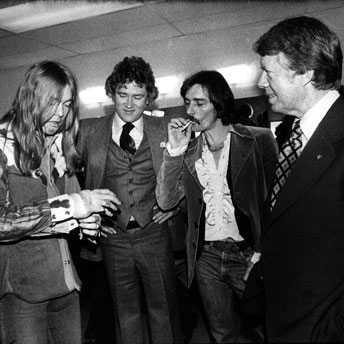 Jimmy Carter with Toy and Tommy Cauldwell of The Marshall Tucker Band...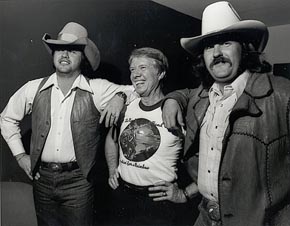 In 1973 Jimmy saw a UFO and filed an official UFO sighting report...
and who could forget brother Billy and Billy Bear!
Jimmy Carter Rabbit Incident
Dubbed the "killer rabbit" attack by the media, the Jimmy Carter rabbit incident involved a swamp rabbit that caught press imagination after furiously trying to board then-U.S. President Jimmy Carter's fishing boat on April 20, 1979.
Carter had gone on a solo fishing expedition in his hometown of Plains, Georgia when the rabbit approached his boat, "hissing menacingly, its teeth flashing and nostrils flared and making straight for the president", trying desperately to enter the boat, causing Carter to flail at the swimming creature with the oars from his boat.
Upon returning to his office, Carter found his staff disbelieving of his story, insisting that rabbits couldn't swim, or that they would never approach a person threateningly. However, it was later confirmed that a White House photographer had in fact captured the incident on-camera
The Rabbit can be seen swimming away from the boat in this picture.
Close-up of the rabitt...
Jimmy also had a gold record!
Voyager I and II, NASA's interstellar probes were carrying copies of the Golden Record, a phonograph disc with photos, music, and other material to give an extraterrestrials a sense of life on Earth. Carl Sagan led the committee to pick what was on the record, and it quite a strange and interesting collection of stuff, from a Blind Willie Johnson tune to a surreal photo "demonstration of licking, eating and drinking."
Pioneers 10 and 11, which preceded Voyager, both carried small metal plaques identifying their time and place of origin for the benefit of any other spacefarers that might find them in the distant future. With this example before them, NASA placed a more ambitious message aboard Voyager 1 and 2-a kind of time capsule, intended to communicate a story of our world to extraterrestrials. The Voyager message is carried by a phonograph record-a 12-inch gold-plated copper disk containing sounds and images selected to portray the diversity of life and culture on Earth. The contents of the record were selected for NASA by a committee chaired by Carl Sagan of Cornell University, et. al. Dr. Sagan and his associates assembled 115 images and a variety of natural sounds, such as those made by surf, wind and thunder, birds, whales, and other animals. To this they added musical selections from different cultures and eras, and spoken greetings from Earth-people in fifty-five languages, and printed messages from President Carter and U.N. Secretary General Waldheim. Each record is encased in a protective aluminum jacket, together with a cartridge and a needle. Instructions, in symbolic language, explain the origin of the spacecraft and indicate how the record is to be played. The 115 images are encoded in analog form. The remainder of the record is in audio, designed to be played at 16-2/3 revolutions per minute. It contains the spoken greetings, beginning with Akkadian, which was spoken in Sumer about six thousand years ago, and ending with Wu, a modern Chinese dialect. Following the section on the sounds of Earth, there is an eclectic 90-minute selection of music, including both Eastern and Western classics and a variety of ethnic music. Once the Voyager spacecraft leave the solar system (by 1990, both will be beyond the orbit of Pluto), they will find themselves in empty space. It will be forty thousand years before they make a close approach to any other planetary system. As Carl Sagan has noted, "The spacecraft will be encountered and the record played only if there are advanced spacefaring civilizations in interstellar space. But the launching of this bottle into the cosmic ocean says something very hopeful about life on this planet
From Jimmy Carter's message recorded on the Golden Record:
Of the 200 million stars in the Milky Way galaxy, some—perhaps many—may have inhabited planets and spacefaring civilizations. If one such civilization intercepts Voyager and can understand these recorded contents, here is our message: This is a present from a small, distant world, a token of our sounds, our science, our images, our music, our thoughts and our feelings. We are attempting to survive our time so we may live into yours. We hope someday, having solved the problems we face, to join a community of galactic civilizations. This record represents our hope and our determination and our goodwill in a vast and awesome universe."
---
Last edited by GaThumper; 07-04-2008 at

05:01 PM

.
2nd Gear
Join Date: May 2008
Posts: 153
1st Gear
Join Date: Oct 2007
Posts: 21
It's in North Carolina! We're going to meet up on Wayah Rd west of Franklin NC off of Hwy 64. The "Jimmy Carter" road is now abandoned and is a forest service road off of Wayah Road.
The origianl thread with most of the discussion is here...
http://klrworld.com/forums/index.php/topic,9055.0.html
1st Gear
Join Date: Oct 2007
Posts: 21
I'll TRY and get the important facts on each of the forums where the ride is posted, but I can't really duplicate every reply in every forum...
The original post is here...
http://klrworld.com/forums/index.php/topic,9055.0.html
There's also a thread in the "southeast" forum on klr650.net and klrforum.com if you want to read them all!
Here's Bob/RBrider's post with some meeting place details...
If anyone needs to trailer in (for whatever reason), I can find a safe place to park 'em . Pm me for an address. I'd recomend Batemans Gas Station & Lakeside Cabins as a good meeting point. It's on Wayah Rd 1/2 mile east of Junaluska Rd. I say hitting the road at 9:30 oughtta work well. So shoot for being at Bateman's, or the trailer parking spot by 9:00 am, Friday 7/18/08. The proposed trailer parking is two miles from Bateman's Gas St.
You can top off your tank here, if needed.
I emailed James a proposed route, but nothing is cast in stone. My route contains nothing new, but is still a fun day of riding,imo. It covers most of the roads discussed in the previous thread, but laid out in two loops. Before & after lunch. And yes, it is pretty easy,if you keep the speed down.
Chuck, if you can make it, I'll gladly turn tour guide duties over to you. You're a walking talking road map. That's good thing!! sml3.. BTW, I found the (deep & wide) river crossings on Water Gauge Rd, but no luck on finding a route out to 64, except via Rainbow Springs. ??????
James, I appreciate you (& Steve) arranging this so we can do it while I'm still in town. :clap: :clap:
Looking forward to seeing everyone.
RB
1st Gear
Join Date: Oct 2007
Posts: 21
Teaser pics...
What do you think guys? Chuck said we could hit this after lunch with an alternate route for the less adventurous.
Looks good to me!
Later on, Scott lost his front tire and ended up breading his leg near the ankle.
Let's hope for better results, this time.
---
Keep Loving Rides!
1st Gear
Join Date: Oct 2007
Posts: 21
Here's our planned little morning ride, ending with lunch in Andrews. After lunch... Up Chuck's Revenge!
Blue is the main loop, Red is Buck Creek Rd, Green is Perry Gap Rd, and Pink Is Nelson Ridge Rd.
There's at least one big river crossing (Bob?) and if the water is not any higher Bob has scouted and crossed over to Buck Creek Rd. If we can cross there we probably take Buck Creek Rd instead of Rainbow Springs Rd.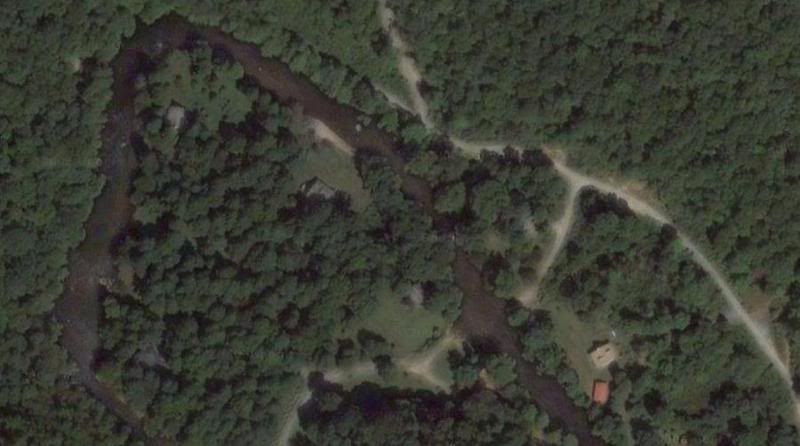 River crossing to Buck Creek Rd
Then we could take a run up Perry Gap Rd if it looks interesting.
Off of Cold Branch Rd is Nelson Ridge Rd (In HOT Pink), if we have time before lunch and it looks interesting we could take a side trip to check it out.
BTW, the dotted orange line is a 5.5 on Chuck's scale, we just push you off down the hill and then we ride around to Tusquittee Rd and see if you made it!
If you survive, then it's a good short cut.
I guess it's time for roll call so we will know how many to expect at Bateman's and also if anyone is meeting us at lunch for the afternoon excursion.
Let me know if you are not on the list and are planning on meeting at Bateman's (or at lunch: Andrews). We don't want to leave anyone behind! I'm combining from all forums.
Meeting at Bateman's Gas Station & Lakeside Cabins, 17974 Wayah Rd, Topton NC
Rider_______________________For Sure!______________Maybe?
GaThumper___________________
Steve (GA)___________________
John (GA)____________________
RbRider______________________
cherokee_chuck_______________
drutbike_____________________
Driller___________________________________________ ____
Hines________________________
NC Rick______________________
Arkangel_____________________
Keener______________________
dualindalton__________________
motopro_____________________
___The Dalton Gang!__
tube8522____________________
jb44________________________
harvackdaman29______________
---
Keep Loving Rides!
---
Last edited by cherokee_chuck; 07-17-2008 at

07:53 PM

.
Been meaning to set a rating for this ride and haven't done it until now......

Rating = 2.0 (optional 3-3.5s)
---
Keep Loving Rides!
MESSAGE FROM KEENER....


I still haven't replaced my lost camera, so I have no pictures to share. Sorry, folks.

I got up pretty early Friday morning and fed the dog, played with him some, and then pulled the KLR from the garage.
I did a quick check of bolts and screws, topped off the front brakes and bled them a little. (still need to do the rear)

Around 7:00am I was on the road to the Nantahala Outdoor Center.
I had to ride kind of slow due to thick fog and very limited visibility. Traffic was light, though and I made pretty good time given the circumstances. I stopped at Cowee Convenience Store, topped off the tank, cleaned my face shield, and rode on to Needmore Road.

Needmore Road is a flat, fairly straight section of gravel road that runs right next to The Little Tennessee River.
The river, to me, is just beautiful and with the added "mystery" of the fog it was quite a sight. Fog was sitting just above the water in sections and it just looked..eerie.

Soon I arrived at the NOC. I was a little later than anticipated, but there were no bikes parked there waiting on me.
I went inside, got a table, and had my breakfast alone. If you've never been there, The NOC has a great menu and sits on the Nantahala River. As I ate my food, I watched some ducks feeding in the river and saw several decent trout break the surface. Ah...a fly rod would have been great right then!!

I left the NOC and rode to Wayah Road. Wayah, a winding, twisty section of good quality asphalt, climbs up through the Nantahala Gorge. The river here is narrow and in some sections produces stair step waterfalls. These are sections of rock that channel the water into a series of cascades and deep pools. Very pretty in the early morning sunlight.

Well, the plan was to meet at Bateman's around 9:00am. I was there at 8:40. <sigh> At least I wasn't late.
I spent my time waiting by looking at the flowers and talking with a couple of older guys about weather, fishing conditions on the lake, and listened to them reminisce. You know, sometimes being early has some unexpected rewards. Listening to these guys was a jump back to the good ol' days. Just some ordinary General Store banter that is rare in our world of strip malls, Wal-Marts, and fast food joints.

After a little while, I heard a couple of thumpers coming up the road.
A yellow DR and a KTM pulled in. (I spent most of the day riding and talking with these two and I have already forgotten their names! That really sucks.)
We talked a bit, compared bikes and waited. After a little bit, two KLRs pulled in. A green '06 I think, and a great looking black '07 (?)
In due time, more bikes, more riders, and we finally left the station.
A quick stop at RBrider's place to call Scott (missed you, bro!) and we were off and riding!
As a group we rode down Wayah to River Road. This is a narrow gravel road with some rocks and a few potholes. It's not a bad road at all, but not a typical graded gravel road, either. Long and straight in sections, it is a fun one to blast down. You just have to be aware that it is a two way one lane road and ride accordingly. Be aware of what's coming, or COULD be coming, from the other direction and you'll be fine.

A couple of quick turns put us on a short section of narrow muddy two track. It was here that I saw what a good rider could do! Chuck, the KTM, and the yellow Suzuki were ....gone. POOF! Gone.
I was riding - to me - pretty hard. It was all I could do to just keep them in sight. The only reason I could was due to the tightness of the trail not letting them open up completely. It is always a treat for me to follow someone like that. I learn from their lines and try to improve by seeing what they do and how they position themselves for turns and terrain conditions. Pretty cool.
So, after splashing through several mudholes and spinning up some gravel, we came out on Junaluska Road. This paved section took us back up to Bateman's Store and closed this little loop.

From there we headed over to the beginning of FS 711. 711 is a paved road, sort of, that doesn't appear to challenging from a dual sport perspective at first. But here is the catch: large sections of pavement lure you into "street mode", then the road throws a big patch of dirt/gravel at you in a blind curve. If you are not on your toes, this road could put you down. You'll be in full on asphalt warrior mode and then BAM! the pavement is all ripped out and you're leaned into the turn, committed to a paved line that suddenly no longer exists! Get it?

We emerged from 711 and were back on Wayah Road. A quick jaunt took us to Rainbow Springs Road. This is another graded gravel section that connects to US 64. Here I saw the true ability of Chuck and the KTM/Suzuki guys. I really don't understand the physics of how they ride like that and not fall down in a turn. I try to emulate them, but fall short. I keep thinking the front will wash out and cut my corner speed accordingly. These guys just slide the rear, power out of the curve, and are gone like a bat out of hell! I envy that skill. I truly do.

At the end of Rainbow Springs, we decided we were hungry. The plan was to head to Hayesville for Bar-B-Que! Oh yeah, I am all for that! So down 64 we went, a group of DS bikes thundering through the mountains headed for FOOD!

I swapped bikes with David from Chattanooga for part of this ride. But, just up the road from where we stopped, Chuck had turned onto Old US 64. I had never been down here before. David and I switched bikes again because his had street tires and I didn't want to dump it if we hit some rough stuff. I didn't need to worry, though. This was "just" a twisty asphalt ride on a section of old road. It was a more interesting and fun way to get to Hayesville.

After lunch, we geared up and went in search of Tusquittee Gap. I like Tusquittee Gap. It isn't too rough, but it has enough technical turns and dirt to make it just plain fun. We rode up and over the mountain to the Gap. I was chasing Chuck and the yellow DR and doing my best to stay with them. Yeah, right. I followed their tracks.

I came out of one turn and there is Chuck, camera in hand, waving me on by. At this point I heard a rumble beside me. The KTM had appeared out of nowhere like a great orange ghost. I had been expecting him, but even though I had been checking my mirrors now and then, he took me by surprise. A nod to acknowledge him and I moved aside to let him by.
We rode fast through the next section of the road, hitting the high spots and powering through turns as best I could. In short order I was again looking at empty road ahead of me. Wow.

At the end of Tusquittee, we had grouped up and made our way back to Junaluska Road. Some of us split off from here and others continued on.

It was a great ride and I am truly sorry I can't remember the names of all the people I rode with yesterday. I need to work on that. Everyone in the group was great to ride with and I'm glad we got to meet.

I look forward to the next ride!!
---
Keep Loving Rides!