Saturday ride (7/25) out of Randall's place (Cuhutta area)
---
Weather is looking nice and cooler for this Saturday! We are gathering at Randall's place at 8am....and kickstands up soon afterwards. Gonna ride Patterson Creek, Cashes Valley, and/or Rich Mtn. (if time). Hope to see you guys there!
Where: 786 Crandall Elijay Rd. Chatsworth, GA
Bing Maps - Driving Directions, Traffic and Road Conditions
When: Saturday, July 25
Who: Everyone wanting double and single track!
Rider..........................Steed
Johnrandall...................barn full
cherokee_chuck............KLX650R
tube8520.....................KLX300
dualindalton..................DRZ400
---
Keep Loving Rides!
It was a nice day for a ride this past Saturday! Heat never really was a factor, the bikes were great, the riding pals were so-so, and what an interesting day of events!
Including my pics, videos and the like from Les and Phil, we should be able to show proof of everything that happened on Saturday!
We started the day heading out from Randall's place near Eton. We made our way across mostly forest roads of all types and back roads. The rain a day or 2 before kept the dust down and the creeks full! The creek was deep in places and made for a nice place for water activities!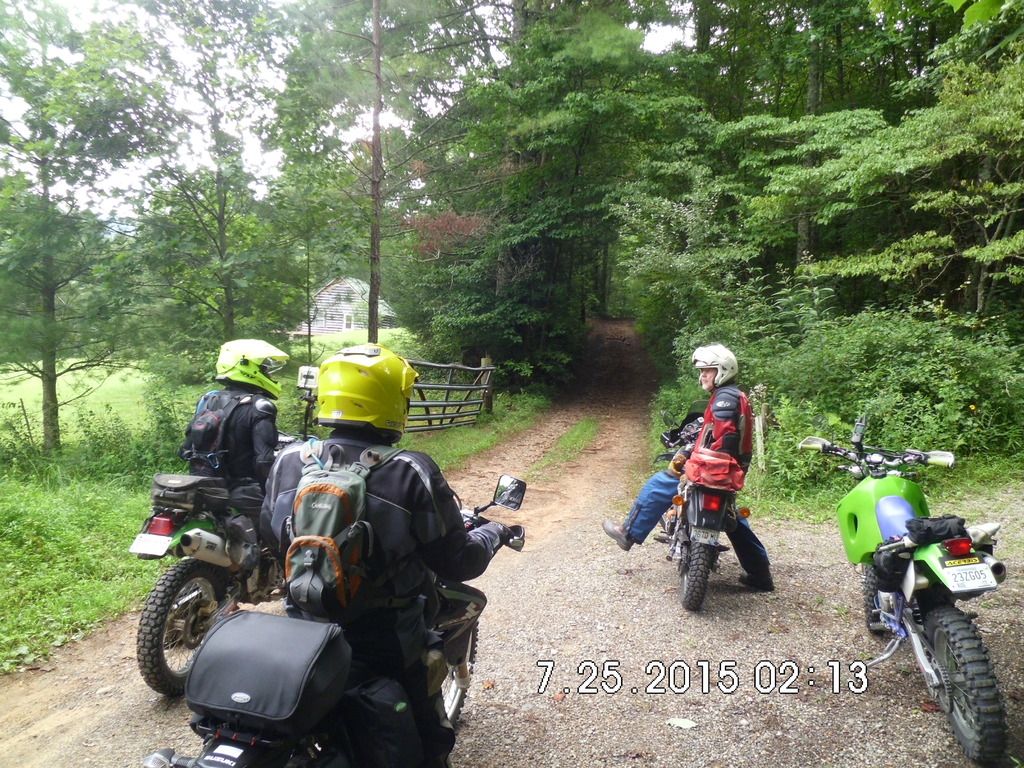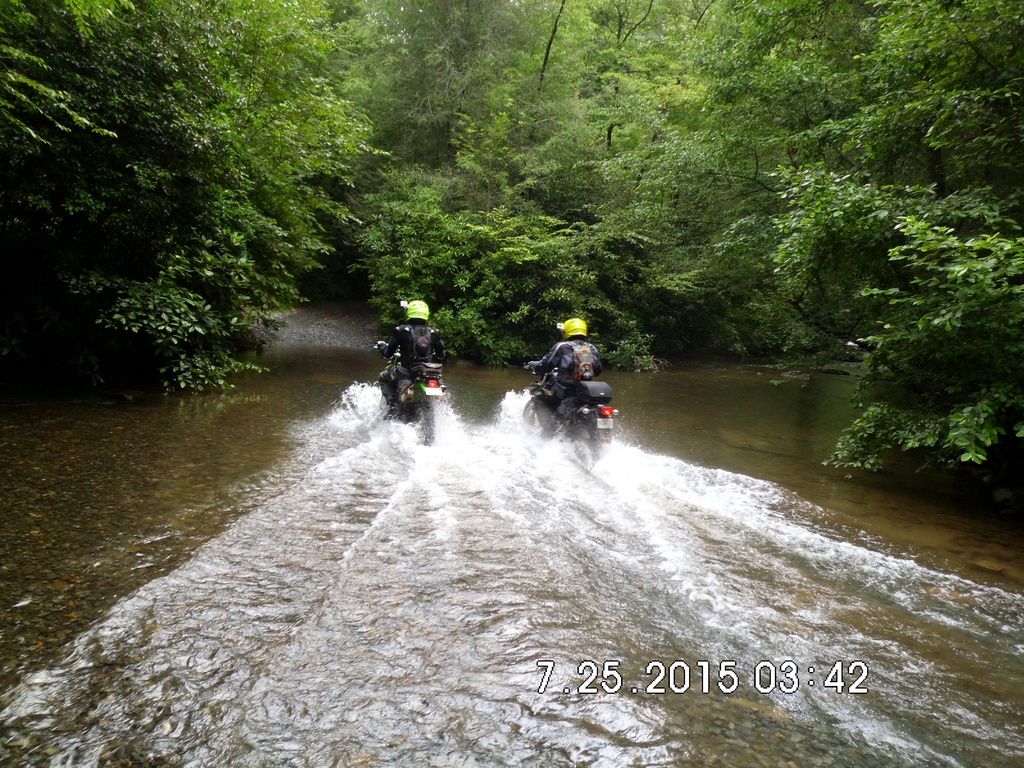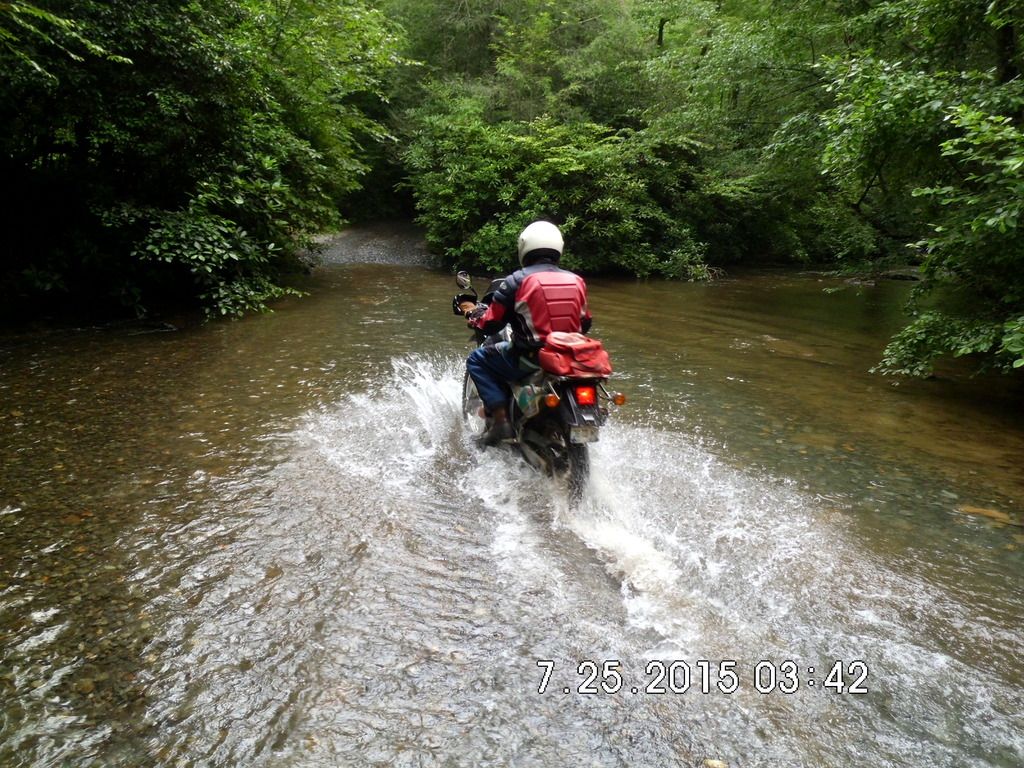 ---
Keep Loving Rides!
After some grub, we headed out to one of the main reasons for the journey today...........to ride Patterson Creek Rd, before it is gated up forever! I don't have the video footage of riding the road, seeing a scantly clad girl, and nearly have a close contact with black bear, but someone should have it ready soon!
I do, though, have pics of the Devils Tail Trail that I got to finish! It was a blast and I hope to ride it again before the closure! The others decided I should experience this by myself, so not long after they saw bears......I had a nice one run across this very narrow trail (at that point in time) about 40 ft. in front of me. After I went by where he had crossed, I got jammed up on a log which killed the engine........that was a spooky experience.....me trying my best with several attempts to get over that log and not kill the engine every time I did it made for some terrifying thoughts with a big bear nearby!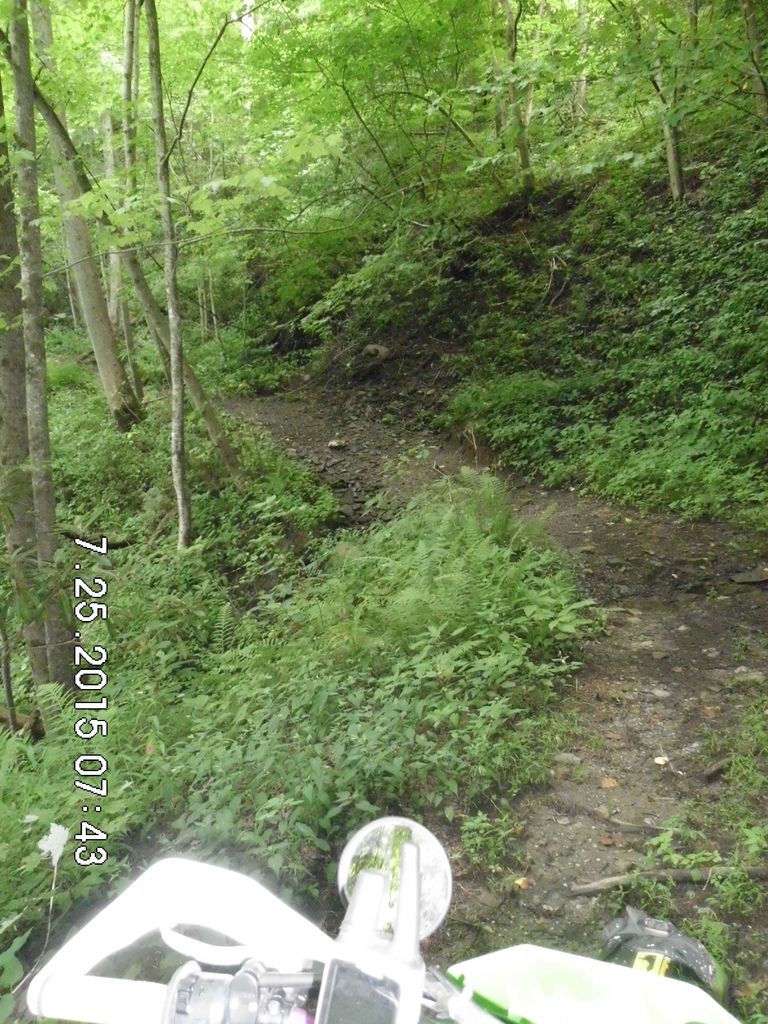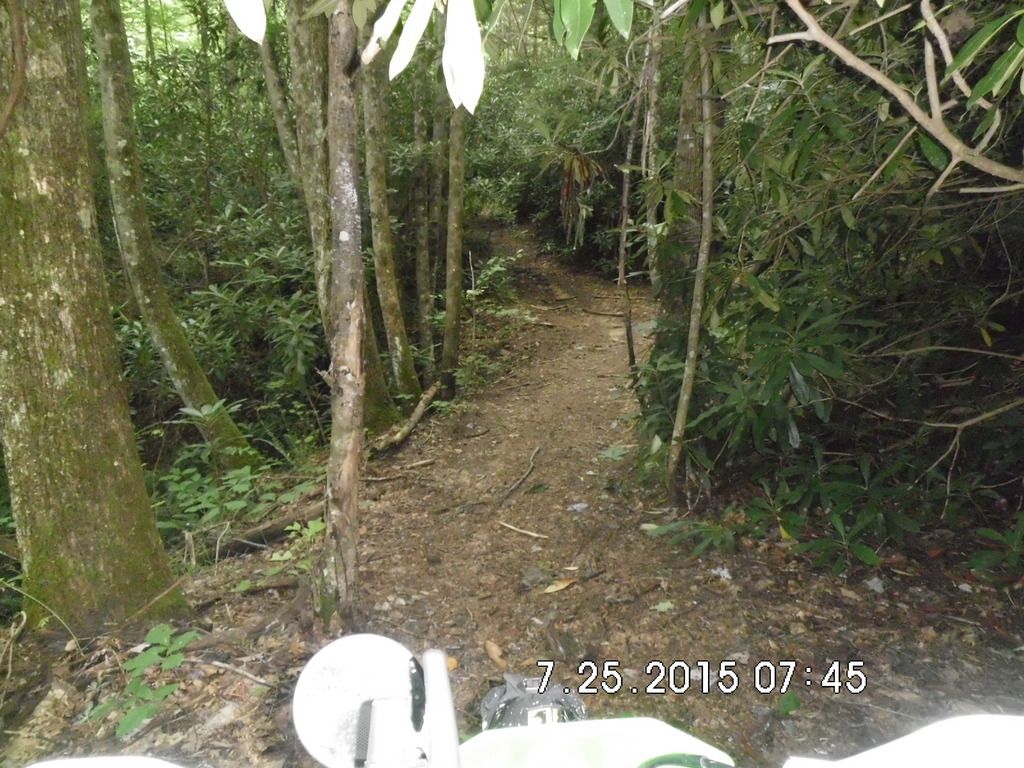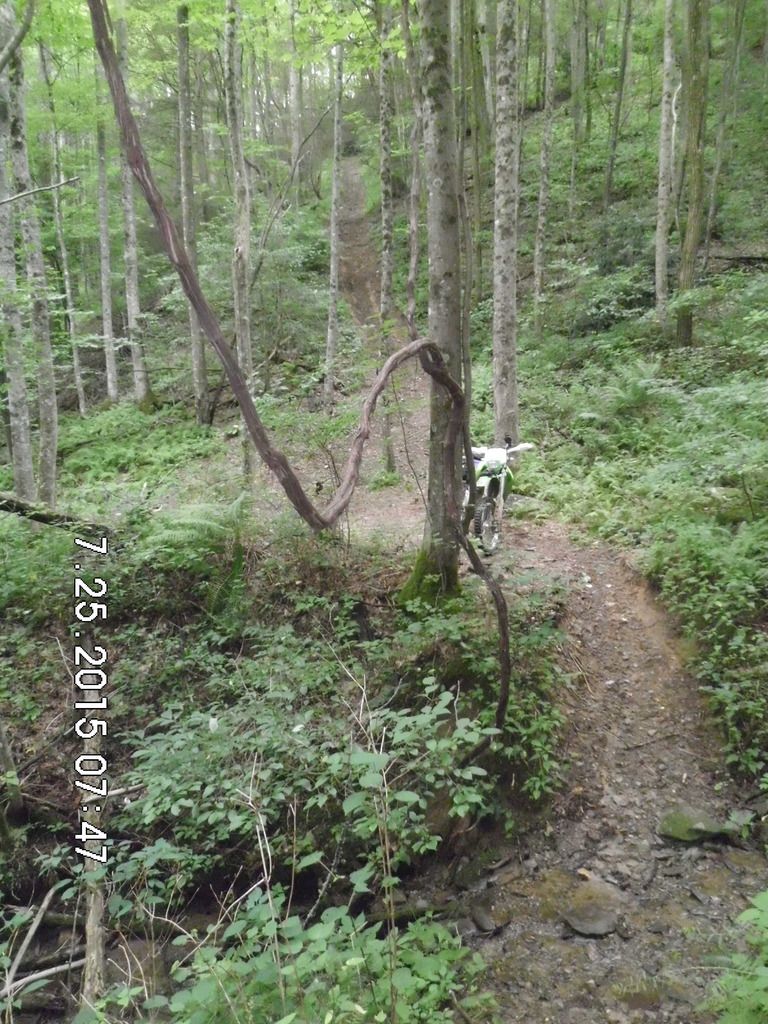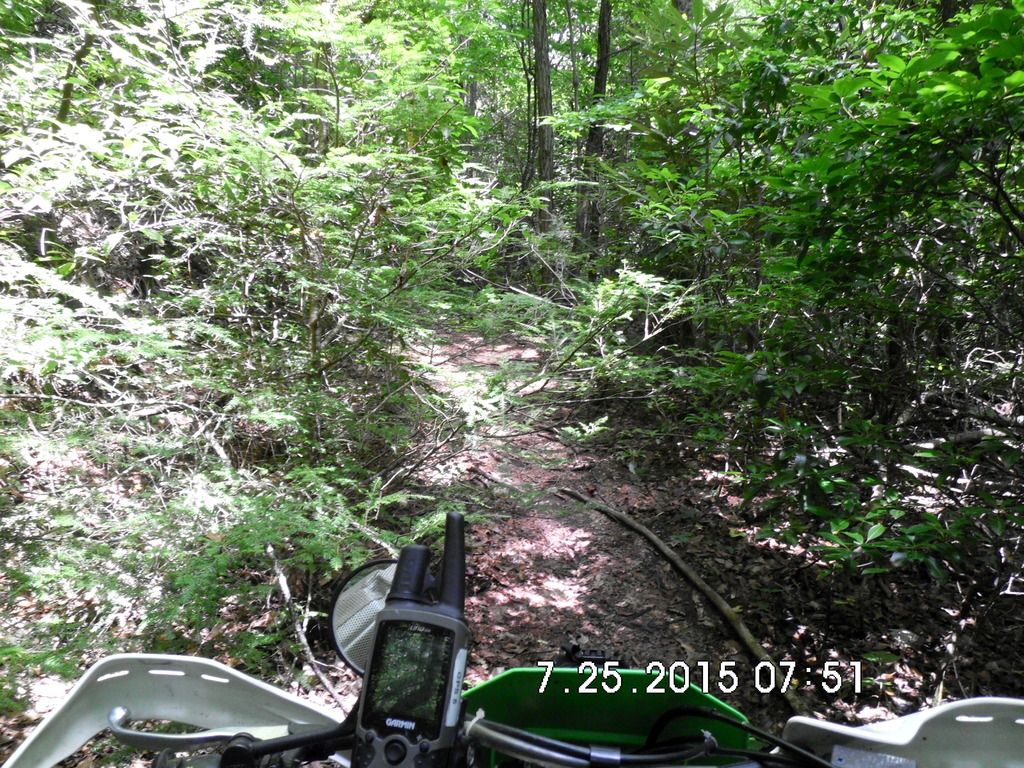 I finally met back up with the group to cool off by the creek that is the source of all this closure issue!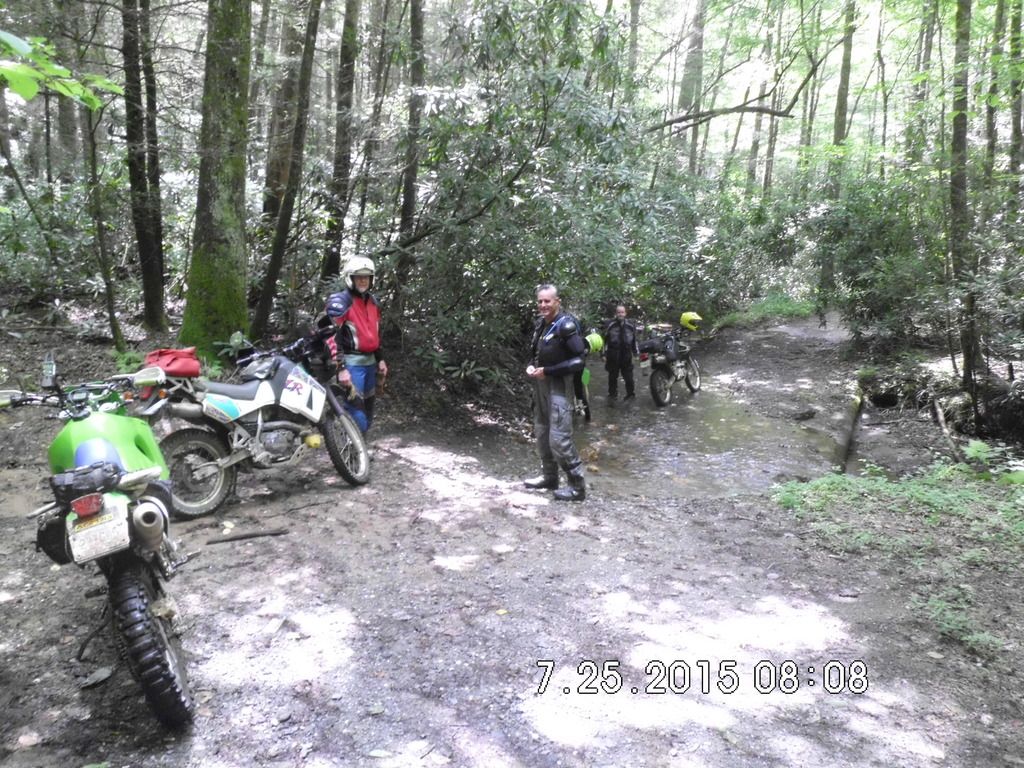 ---
Keep Loving Rides!
From dualindalton............



Unlike Chuck, I didn't take many pictures but I did have the camera rolling for a good part of the days ride.

OK, camera on. Let's start with a nice ride through Wolf Pen Gap Rd.

www.youtube.com/watch?v=yRPj56sSbSs[VID][/VID]

Next destination, Cashes Valley and the creek crossings on Cashes Creek Rd where Les and myself had a short drag race through the 1st creek crossing.

Let's see you wins..................

www.youtube.com/watch?v=z7Zl9Wq7ihU[VID][/VID]



After thrashing or maybe that should be splashing around in the water crossings on Cashes Creek for an hour or so it was time to move on.

Les, Randall or Chuck had never been on McClure Creek Rd. Since we were in the neighborhood I suggested that we make a run through there before it's scheduled demise.

Let's go...............

www.youtube.com/watch?v=q5p522QVAjw[VID][/VID]

www.youtube.com/watch?v=PaGiAYhemD4[VID][/VID]

Sorry boys, I forgot to warn y'all about the motorcycle chasing dog. I wonder why he didn't come after me?



While stopped in the McClure Creek area it seemed as though everyone was in the same mindset.....as in we're getting hungry. So after Chuck had finished trying on his uh, new apparel (I believe it was a 38d)(Les, where's the picture?) we turned and burned, well Chuck did, to the metropolis of Watsonville to the finest dining establishment in the area, Watson Grocery. There we feasted on some really very good BBQ. Honestly it is quite good.

Having stuffed ourselves with the aforementioned BBQ, tater chips, an assortment of wrapped sweets and a container of chocolate icing we bid farewell to our gracious host and were on the road again. Destination, Patterson Creek Rd.

On our journey to the next adventure we happened to fall in behind a couple of 4-wheelers boogieing down the asphalt. Like us, they were heading to the forest for some peace and serenity. Unfortunately one of the 4-wheelers got a little overheated once in the forest. After seeing what was on board the ailing vehicle it was clear as to what may have been the cause of the hot-flash shutdown. I mean if this gal was riding me I'd probably overheat too.......watch the video

Here we go..........

www.youtube.com/watch?v=HitefJp-TMI[VID][/VID]

www.youtube.com/watch?v=QXy8X5R0gGc[VID][/VID]

www.youtube.com/watch?v=EWRzmoB9CXc[VID][/VID]

Saw a bunch of deer, 3 bears, a group of 10 horses, a not happy barking dog in a vehicle that we had to maneuver around, a crime scene well attended by emergency response folks, a cross dressing KLX rider and oh yes......that scantly dressed chic.

Just a fun day to be out for a ride.
---
Keep Loving Rides!