East Tennessee trails
---
I live in Knoxville, TN. Can someone point me to some good trails?

Thanks
Tom
---
"YOU CAN'T FIX STUPID"
At Interstate 75 north of Knox at the 141 exit you'll find Royal Blue and Sundquest.
Is this enough options?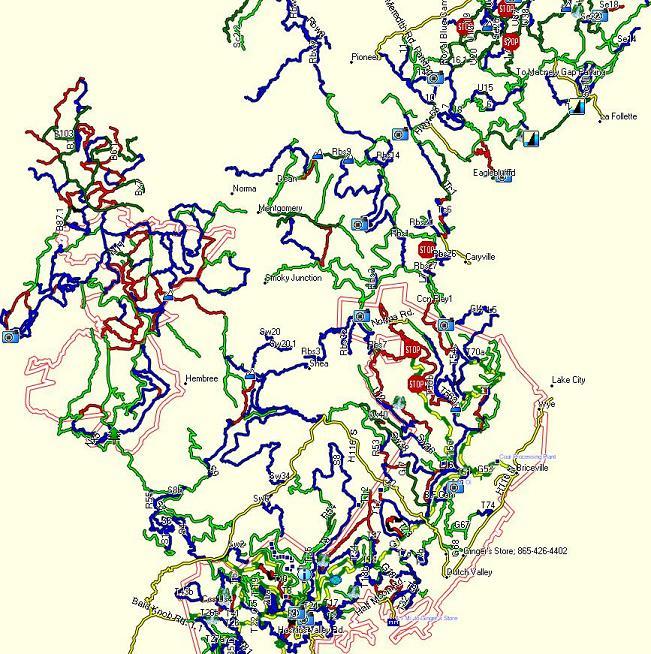 You can download a map for your GPS here:
North Cumberland OHV / ATV Trails v2.3, TN Garmin Compatible Map - GPSFileDepot
There's lots of easy gravel roads and some trails that get really over a KLR's head real fast.
Don't go without GPS! Have met many lost people up there.
Riders permit required! Purchase at gas station at 141 exit on east side of 75
Go take a look around:
Exit 75 at exit 141
Turn right
turn right again and head south on service road along interstate
Veer to the left at power lines on trail #1 (Flatwood road)
Trail 1 is a easy gravel road so you can go have a look around.
Trail 13 is a good ride. Dumps you out up at stinking creek on 75 but there's a creek crossing toward the stinking creek end.
Also some good rides up at Turley Bridge off old 63
https://goo.gl/maps/X1arwL55gGs
Another good place is 1t exit 134
At 134 turn at Shoneys (on the west side of the interstate) go up the mountain on mountain road and turn on tower road.
https://www.google.com/maps/place/36%C2%B017'33.3%22N+84%C2%B015'05.7%22W/@36.2925883,-84.2537697,17z/data=!3m1!4b1!4m5!3m4!1s0x0:0x0!8m2!3d36.292584!4d-84.251581
That should get you started!
There's also Coal Creek ATV area in Oliver Springs:
Windrock Park
88 bucks a year for a pass and the trails get torn up my ATV's. Lots of easy gravel. But ATV's tear up the trails so bad a KLR is useless there.
Th Norris watershed is a great place for a beginner:
Check out these guys at
http://www.meetup.com/Dixieland-Dual-Sport/
---
"Take the risk of thinking for yourself , much more happiness , truth, beauty, and wisdom will come to you that way." Hitchens
---
Last edited by Toney; 07-05-2016 at

09:29 AM

.
Thanks.
That should keep me riding for a long time.

Tom
---
"YOU CAN'T FIX STUPID"