Bama Jama 2016 - Nov. 4-6
---
Message from our host, Tagalong........
It's almost time again for our annual ride in "The Heart of Dixie". There's some pretty good riding here in the foothills of the Appalachians. From the natural beauty of Little River Canyon to the highest point in Alabama, Mt. Cheaha. Desoto State Park to Talladega National Forest. Come see what Northeast Alabama has to offer. Come join the comradery around the fire pit. Come enjoy the good food. Come just to get away. Whatever your reason, just come.

Once again, we will be riding out of my place on Weiss Lake in Leesburg. We have space for tents and tow vehicles, but there's no longer anywhere for campers to set up. There are some RV parks within a 10 minute ride if you need that. There's also motels within 3 miles. We'll fix breakfast and dinner each day, lunch will be somewhere along the ride.
Hope to see all the regulars and some new faces.

Who's in......?
Tagalong....................950 Super Enduro
Gary............................Versys/klx250
cherokee_chuck........Barbie/Ken
BamaDirtPilot............KLR/Vstrom
Jerry Atrick................KLR650
If you have never been to Bama Jama, this is Tagalongs location......look forward to seeing everyone!
---
Keep Loving Rides!
---
Last edited by cherokee_chuck; 10-25-2016 at

09:28 AM

.
There is a camper available too....first come, first serve!
---
Keep Loving Rides!
1st Gear
Join Date: Sep 2016
Location: Tulsa, Oklahoma
Posts: 18
Damn I will have to try and catch this next year!
It was a super weekend of riding! The weather was perfect.......and the riding was plentiful! I would like to thank Brad and his family for always being so generous to us on everyone's stay at Bama Jama! We had a total of 6 riders over the weekend..........so we hope to see a few more of you guys for next year's ride! It was Chet and Roger's first time to this rally........hope you guys had fun? Now, on with the pics!
(Some pics out of sequence)
FRIDAY

After trailering in to my folks place, so my kids can stay with them, I met up with the gang (tagalong, RedFunduro, clogan, BamaDirtPilot) at tagalong's place to go ride the Little River Canyon area! Always tons of fun! Due to the bad drought the past couple of months, we only found spots of leaf colors that were not brown. At least the fishermen had a shade under the docks........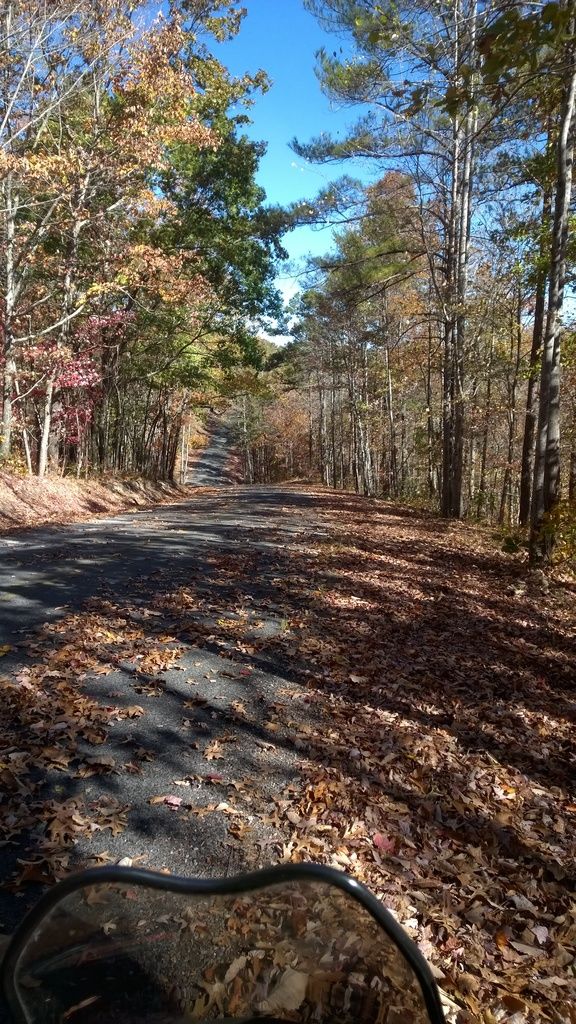 ---
Keep Loving Rides!
After a 'Night of the Grandkids' at my parent's house (7 total).....and me sleeping on the couch......it was time to get out and ride! Chet needed to go home to a sick wife, but we picked up my brother as a 5th. The decision was made to go check out a new place to all of us. We spent the day riding a great loop to Buck's Pocket State Park! It's hard to believe, but that close to where I grew up and we never went there. Anyway......it was a great day of riding, but I wish the road wasn't closed going over the creek so we could have seen the other side. Due to money issues, the state closed the campground as well. Still.......a great day of riding was had!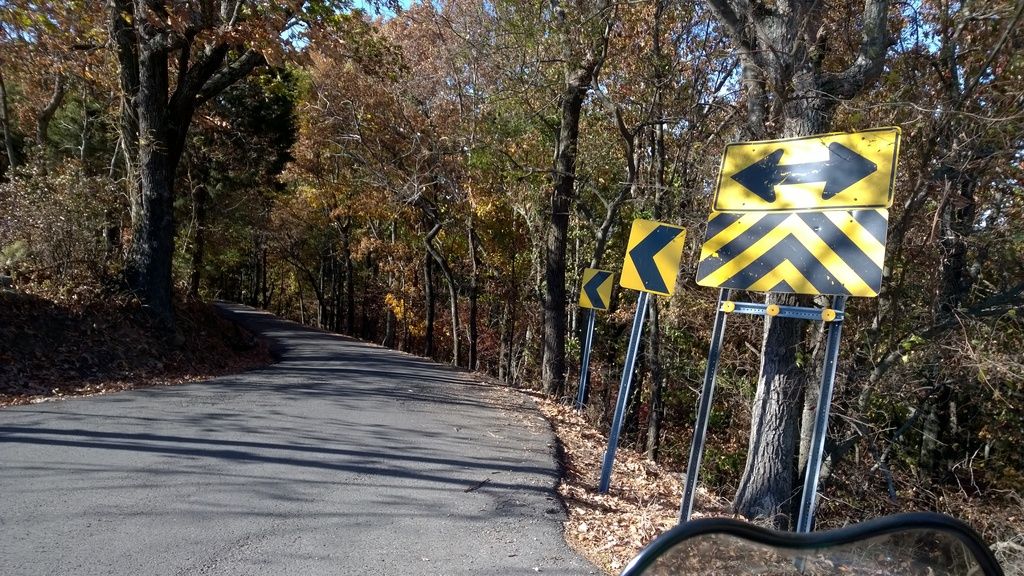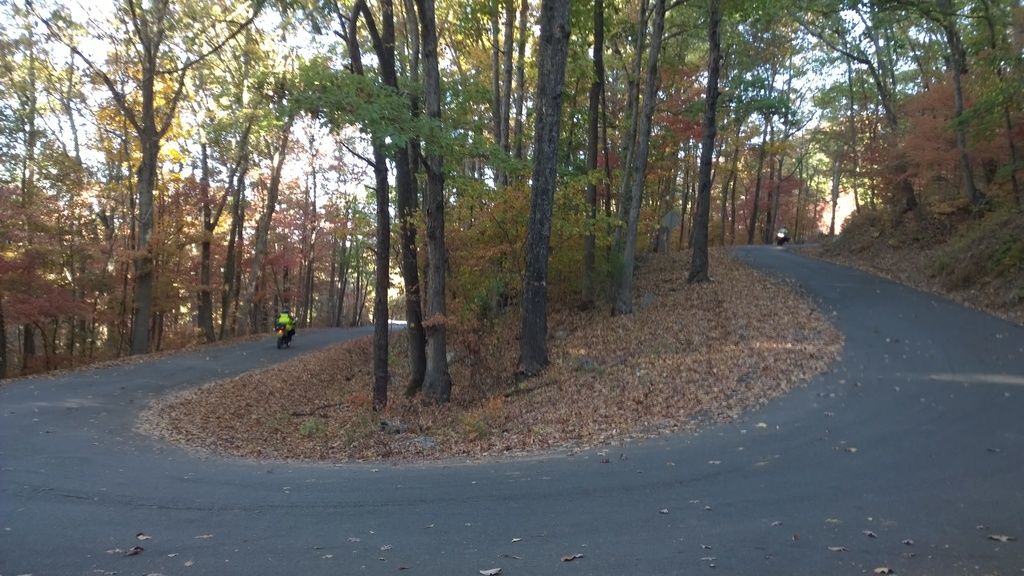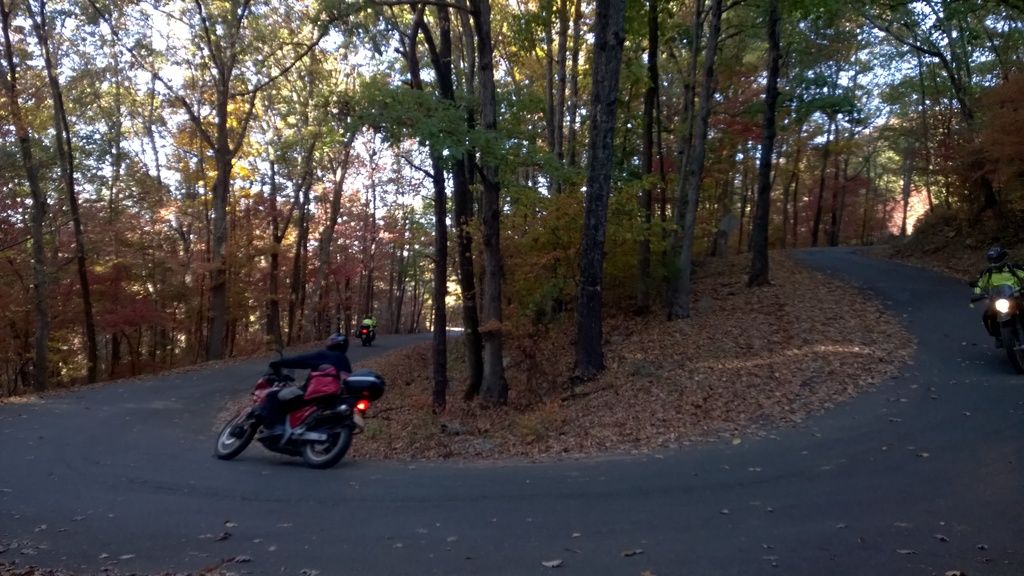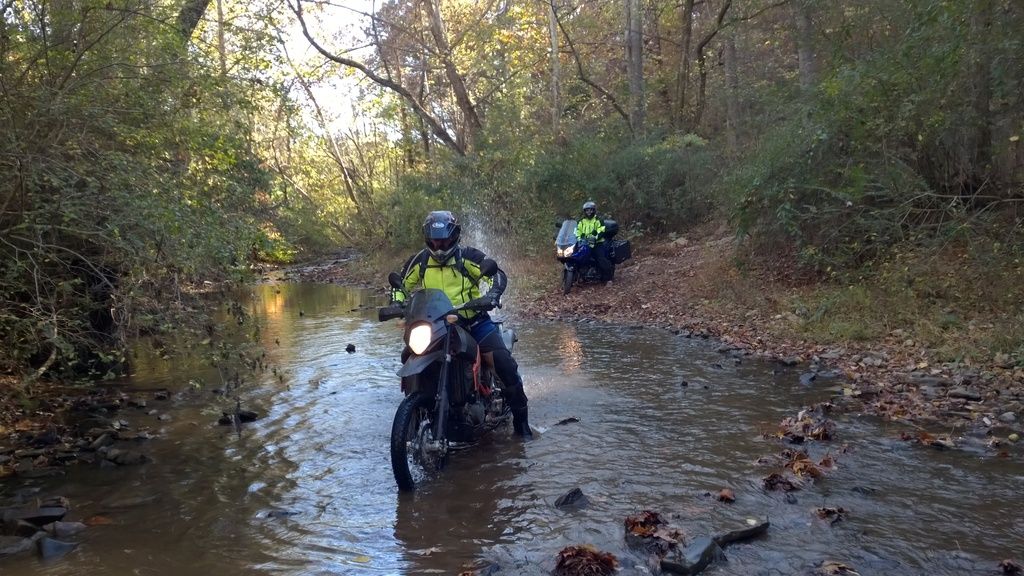 ---
Keep Loving Rides!