deming nm and surrounding area's
---
me and my old man have 09's and we need to do our doohickey's i was wondering if there is anyone in the area with the correct tool's, mostly the rotor puller. i just dont see the point of buying them if there is someone close who has them. anyway let me know
Hey there scrapper. If you have access to a torch and a welder, you can whip up your own tools for about 12 bucks. You need a rotor puller, which is a bolt that shoves the flywheel off the crankshaft. It needs to withstand some pretty good torque, as those flywheels can be stubborn, and you don't want to know what replacing the flywheel costs. Most rotors / flywheels on Japanese bikes are the same size. Looks like it might be kind of a standard. The size is 22mm X 1.5.

That is a picture of a per-fesh-anal rotor puller. About 13-15 bucks in industrialized areas of America. Some strip out. It's hard to tell which one's do and which one's don't. So I don't use them. I went to a Semi truck / trailer repair shop and bought a 22mm X 1.5 "R" truck lug stud. Those are rated to take about 500 foot pounds of torque, repeatedly. You'll blow blood vessels before you strip that out. I welded a 19mm nut to the top of the lug stud. I break the flywheel / rotors loose with a metric four way car lug wrench. Some use rattle guns. I like to be able to feel whats going on there with that machinery.
The wrench you can buy from your local Chinese tool distributor for about 8 bucks. Heat and bend to fit.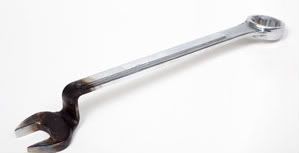 Either 32mm or 1 1/4 will work.

Here's an image of a M22 X 1.5R Wheel Stud. The "1.5" is the thread pitch, not the length. The "R" signifies right thread. Lug studs can be left or right thread. You say yer a scrapper....snatch a 19mm lug nut and weld it to the top of the stud and you have a wheel puller that ain't stripping out. $3.29 last time I looked....
---
******
"many a trip continues long after movement in time and space have ceased"- Steinbeck, [I]"Travels with Charlie"
[/I]
[IMG]http://i718.photobucket.com/albums/ww187/vatrader01/KLR%20mechanical/04e28c5e.jpg[/IMG]

[FONT="Century Gothic"][I]Sometimes your only available transportation is a leap of faith[/I] [/FONT]
---
Last edited by vatrader; 02-05-2011 at

10:05 PM

.
sounds good bud, thanks for the tricks!