1st Gear
Join Date: May 2008
Location: Reno area
Posts: 21
OverDrive
Join Date: Jan 2011
Location: NW MO
Posts: 5,365
Interesting article, Teacherman. I had no idea a KTM990 weighed only 60 pounds more than a KLR. I've only seen one up-close and it seemed so much larger.

I'm in the class of KLR riders that would never even notice an improvement from the stock suspension, but still a good read......




1st Gear
Join Date: Aug 2014
Location: Reno, NV
Posts: 51
Attempt #3
---
with robnreno along for the ride we made the jumbo grade run. I with a new tire the shinko 705 and rob with the shinko 244. We had a good run, rubber down for the full ride. Made it through the steep creek crossing that has been my nemesis for this ride with no problem. I was running on a schedule so was unable to hang out and around in the hills. But we will be back again soon.
Thanks for the ride rob and glad you had your coin brother #170

Tim
The brotherhood of KLR riders #70
---
2014.5 in White, Soloboxes, 22cent, 16t, extra turn signal lighting,crash bars.
---
Last edited by Tsropes; 04-27-2015 at

11:00 PM

.
Neutral
Join Date: Aug 2015
Posts: 1
Truckee, CA-experienced senior rider looking for riding buddies. Lots and lots of fire roads etc here, would be runner and safer with company
Phone/text 916-612-5009
1st Gear
Join Date: Aug 2014
Location: Northern Nevada, USA
Posts: 22
Thank you Tim for the great ride, so want to go back and enjoy Virginia City a little more.
The Coin means a lot to me and I believe you still owe me a drink. It goes were ever I go , Thank you. I understand we may be riding at night now that your new gig has you staying up late and I'm game for that . A whole new adventure. Take care my friend!
Neutral
Join Date: Jan 2014
Posts: 9
Agreed on the D606 comment - amazing off road, but less than enjoyable on pavement. I got 4,000 miles out of the front, and the 1,200 miles or so on pavement miles killed them so quickly. They cupped up fast and the vibrations had to have contributed to the death of my front fork seals (the originals lasted about 4,000 miles of dirt-bike behaviour, and the second set (non-OEM) lasted about the same distance, mostly gravel and single track fyi). the flip side was their off-road work - not once was I unable to climb or turn in mud, sand, or dirt. To cut the rear loose took a determined stab on the throttle and a weight shift over the front end. They are also flat resistant (in my experience) and mounting requires some attention to technique! (recommended tool: Baja no-pinch)
2nd Gear
Join Date: Aug 2016
Location: Reno, NV
Posts: 118
Hey guys
---
Just saw this thread and that some of you are in the Reno area. Joined this forum several weeks ago. I have a 2005 KLR 650 which I'm setting up for some road trips. Any technical upgrade ideas would be great. Just did the Doohicky and panniers.

Thank you,
John
4th Gear
Join Date: Aug 2010
Location: Kelowna, B.C.
Posts: 2,455
Interesting thread, a couple comments;
- training and experience make a huge difference; keep practicing!
- while you can't make a KLR into a KTM500EXC, they can be made FAR better offroad. I have two Gen1's that have been extensively modified (within reason) to be better offroad; full Cogent suspension and about 50 other mods.... about 375 lbs wet w. 6 galls of fuel.
- I see that article periodically and while it's interesting, they didn't do very well on the suspension upgrade....if you are going to even TRY to compare a KLR to a $20,000 KTM, you should at least upgrade the front suspension with more than a cheapy set of progressive springs.
- D606's aren't the best on the pavement; particularly the front....it is loud and suffers from a weird wear pattern. OTOH, I use my KLR's mostly offroad and I like decent offroad tires (plus I seldom get stuck on the pavement! ;-) ) My current "go to" setup is a D606 rear and a Pirelli MT21 front. The MT21 offers similar offroad grip but is quieter, wears better and lasts longer.
- John, If you are interested in offroad mods, let me know and I may be able to share some thoughts.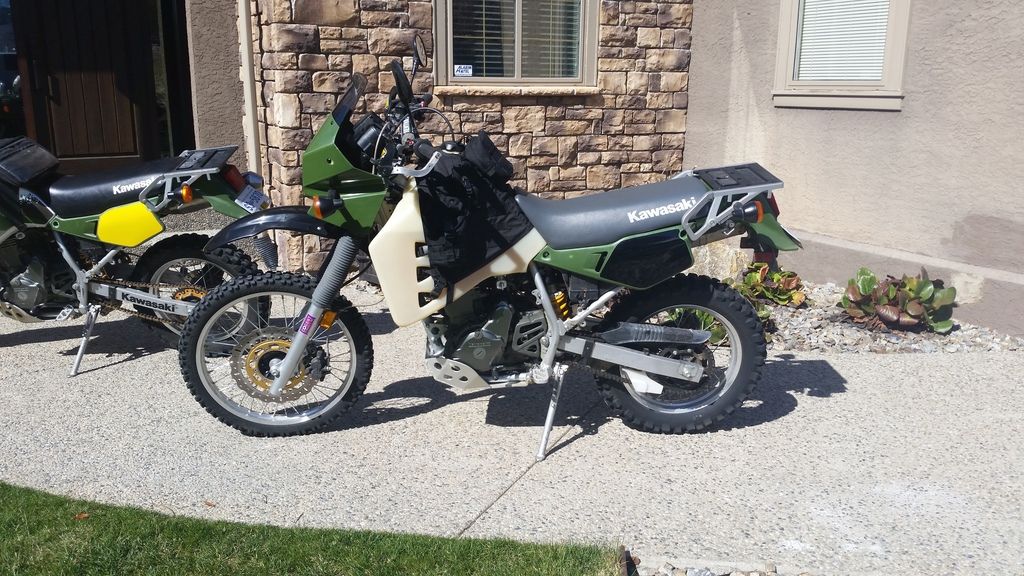 Dave
2nd Gear
Join Date: Aug 2016
Location: Reno, NV
Posts: 118
Thank you for the offer Sir. I'm about a 95% on-road rider. I just put on some new Heidenhau K60 Scouts as the knobbies I had on it were not good for wet roads. Most of my future riding will be on-road as well at this point in my life.
2nd Gear
Join Date: Aug 2016
Location: Reno, NV
Posts: 118
I do like your oversized front disc however.