Backround:
In May, June and July of 1964, I and my army outfit, the 596 Signal Company, participated in Operation Desert Strike in the Arizona desert east of Parker, north of Bouse and south of the Bill Williams River. The operation involved over 100k troops scattered over parts of California, Arizona and Nevada. They were testing desert and tactical nuclear warefare techniques.
Recently I decided that I would like to find the spot where my radio rig was set up for those 3 months.
I thought my KLR would be ideal for this hunt. I wanted to do it in the spring or late fall when the temperatures would be tolerable. I made my desire known on the forums and got 2 responces to my invitation.
The meat:
I loaded the bike in the truck & drove down to Mesa where I spent the night with my aunt. Left there on Sat morning at 0700. Picked up NeoConMan at his desert compound west of Phoenix. He had caught a cold & thought he may not be up to the ride but did it anyway. He followed me on his '07. Another 100 miles on I-10 and SR 72 got us to Bouse where we found X6_Hustler waiting outside the Ocotillo bar & resort at 1030. I got my room & we went to a café for a good breakfast on Neo.
We were in the dirt by noon & made a fairly quick trip to the Midway area about 12 miles in where we stopped to look around. Lots of familiar stuff here for me but I did not see anything that looked like "the spot". There were a bunch of pickups parked there with some trailers & nobody around. Must be out with quads but we never heard nor saw any of them the whole afternoon. Big area.
We took a few pictures then clum a hill & took some more.
At Midway
From the hill looking SW where we wuz
From the hill looking NW Toward Swansea.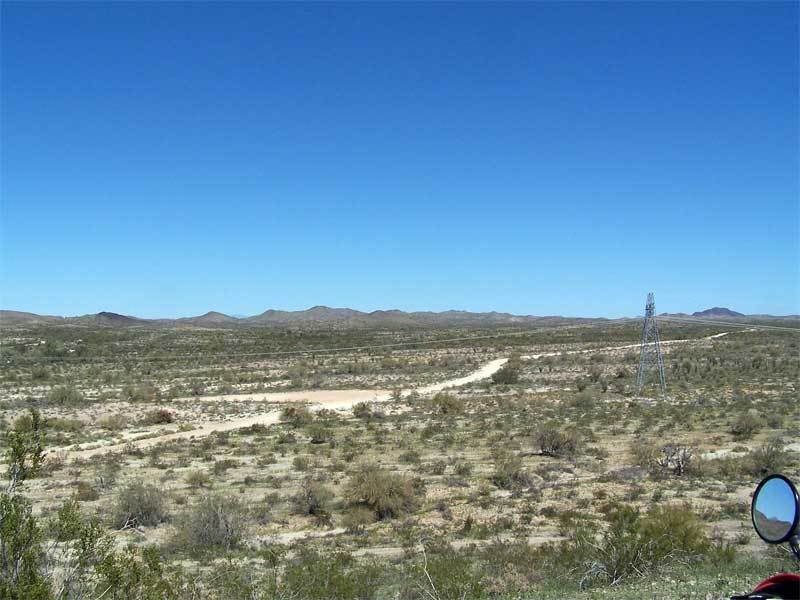 Then we decide to take the Powerline Road eastbound first to see what it looked like.
We rode about 10 miles til we came to a gate & decide to turn around. This did not look like what we were looking for as from here we could see a long way down the valley. So, back to Midway.
Now we decided to check out the ghost town of Swansea. This was a copper mining town that operated from around 1905 til the late 30s. In 64 my friend & I found newspapers from the early 30s stuffed in the rafters of one of the barracks huts.
We started out on the Swansea Road which is more primitive than what we had been on. Along the way we rode the desert paralell to the road for a mile or so but this is not adviseable in this area as there are numerous mines that you could disapear into.
Hustler on his knees worshiping a cactus.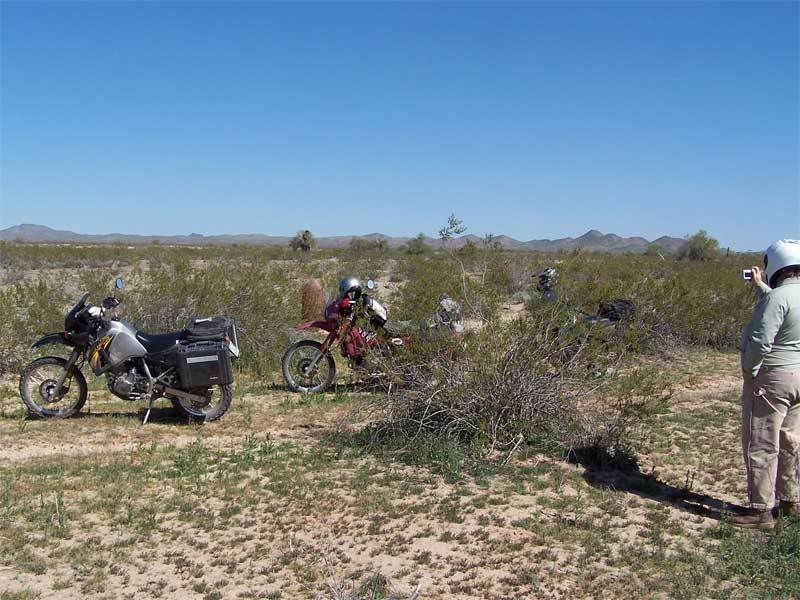 In about 12 miles we arrived at Swansea & hung out there exploring for an hour or so.
Someone had been working on preserving things here. A new roof is going on the barraks to preserve the adobe brick that the buildings are made of.
The desert rats in front of Swansea barracks.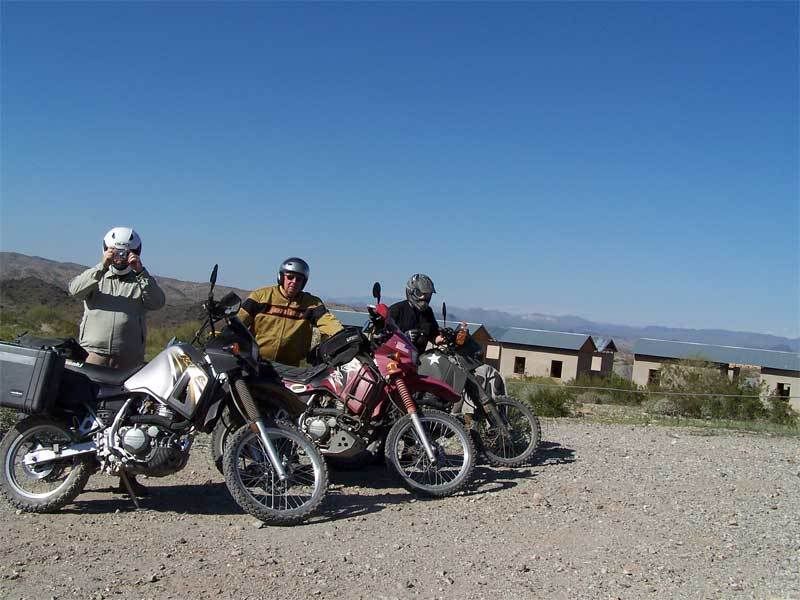 The bikes from one of the rooms.
X6_Hustler.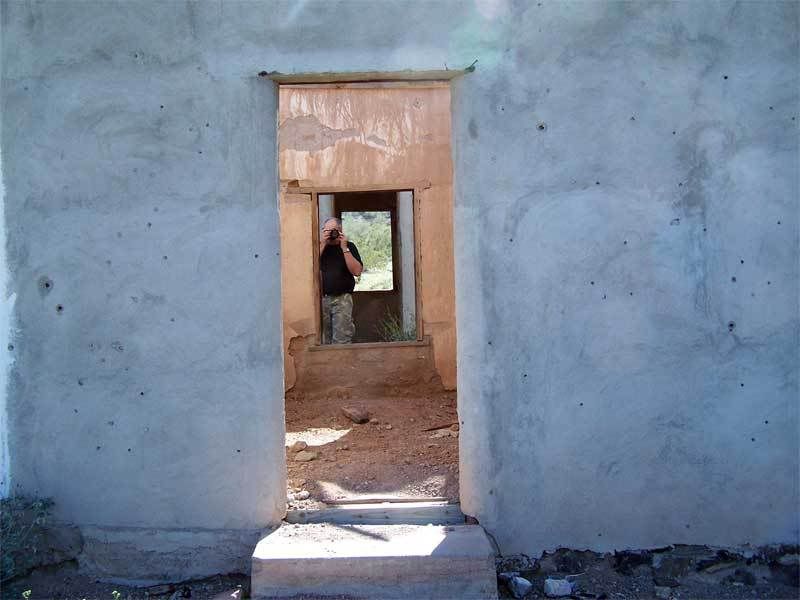 We continued on heading for the Bill Williams River. Along in here I was going up a hill & after a right hand curve I lost my line & wound up crashing hard into the embankment on the right side. No real damage to me or the bike.
See the rock?
For all you little guys: There is an advantage to riding with some big, fat ugly guys. They make picking up the pig a lot easier. A little further on I hit a rock real hard with my left footpeg & it felt funny afterwards so I stopped to check it out. One of the footpeg mounting bolts had sheared off!! Whupped out my tools & loosened the other one, realigned the plate & teightened it up again. Now I can use the peg but no more standing & keep the pressure light.
We intended to pick up the Johnson Ranch Road but made a right (wrong) turn at the 6 mile mark. After a quarter mile we found another road that cut across to the road we wanted but missed the river.
We rode that for a few miles & made a right on what we thought was the Lincoln Ranch Road. It took us into a very sandy wash for a mile & a half. Unfortunately we missed the turn where the road came out of the wash so we were stuck in there for another 3 miles!! That was some hard riding. In addition to the soft sand there were rocks everywhere and steep, sharp rocky sides. You do not want to fall down in here. Excellent chance of hitting something hard. It took us all the way back to the Swansea road.
One of the easier sections.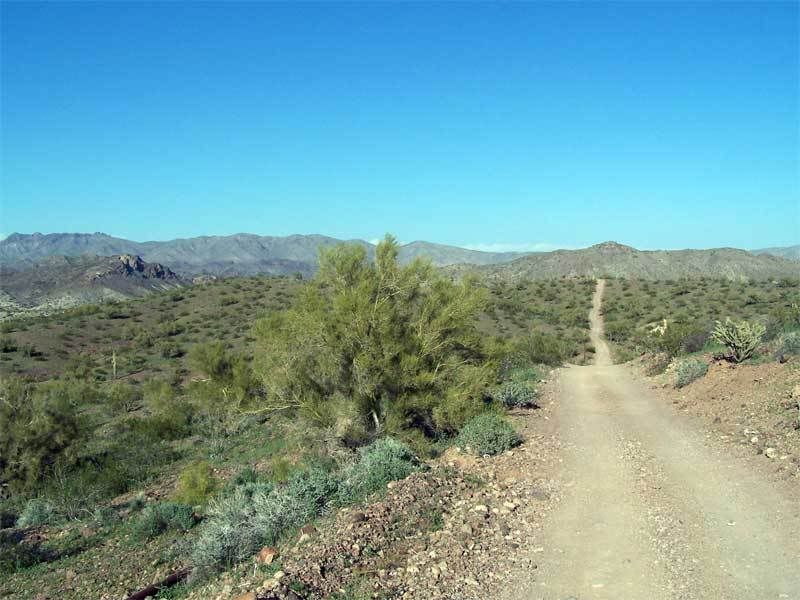 Well, by now it was late & the sun was low & we were tired & we had to head southwest directly into a setting sun over rolling hills. The worst part was climbing up a hill. For most of it you could not see a thing due to looking directly into the sun so had to guess the line & hope the turn at the top was not too sharp. There were a lot of these hills. I crashed one more time along here. Not as bad as the first time but I was happy I had the soft bags as my foot got caught under one of them.
We arrived back at Swansea & with the better road we could pick up the speed. Back at Midway & the road got much better & we hit 50 a few times. It was full dark by the time we arrived back in Bouse around 6:45. They helped me load the bike & I told them that dinner was on me but they said they had to head home. We wound up shooting the bull for an hour so we could have eaten anyhow. They each had a 100+ mile ride home and I did not envy them that. I drove over the the resteraunt & found it closed. I asked the guy with the mop where I can get me a bite. He said possibly at the Ocotillo bar so back I went. I asked the bartender if he had any food & he said the grill closed 5 minutes ago.
I must have looked pretty pathetic cuz he said "well I may be able to throw a burger on for you". I could have kissed him. I had the burger & fries & 2 silver bullits for $11! He earned the $5 tip I left. I was feeling good! I had a great ride with a couple of great guys in perfect weather. I did not find what I wanted but had a good time not finding it. I have to spend a little more time out there next time.
That bar is where we went when we had a little time away from the site. I remember it as having the coldest beer in the world. Still does. Good place & the room only cost me $32.
Attached below is the GPS track in .GPX format. Well, it says it is an invalid file. Too bad.