Discussion Starter
•
#1
•
Who: Anyone wanting to experience some of the best DS riding in the WORLD!
What: Dualsporting the San Juans!
Where : Silverton Lakes Campground, CO
Silverton, CO RV Park, Resort & Tent Camp : Silverton Lakes
When: First week of August
2017
(~July30-August 5ish)
Why: Hard to explain......you just gotta see this place to believe it!
My favorite place in all the west are the San Juan Mountains of Colorado!! The old towns of Telluride, Ouray, and Lake City are such a cool sight, but Silverton has to be my favorite! I have Jeeped 26,000 miles on 4 different trips throughout the West. Each time I went, I travelled through this area. I even spent my honeymoon in nearby Pagosa Springs, so I could take my wife through these amazing mountains!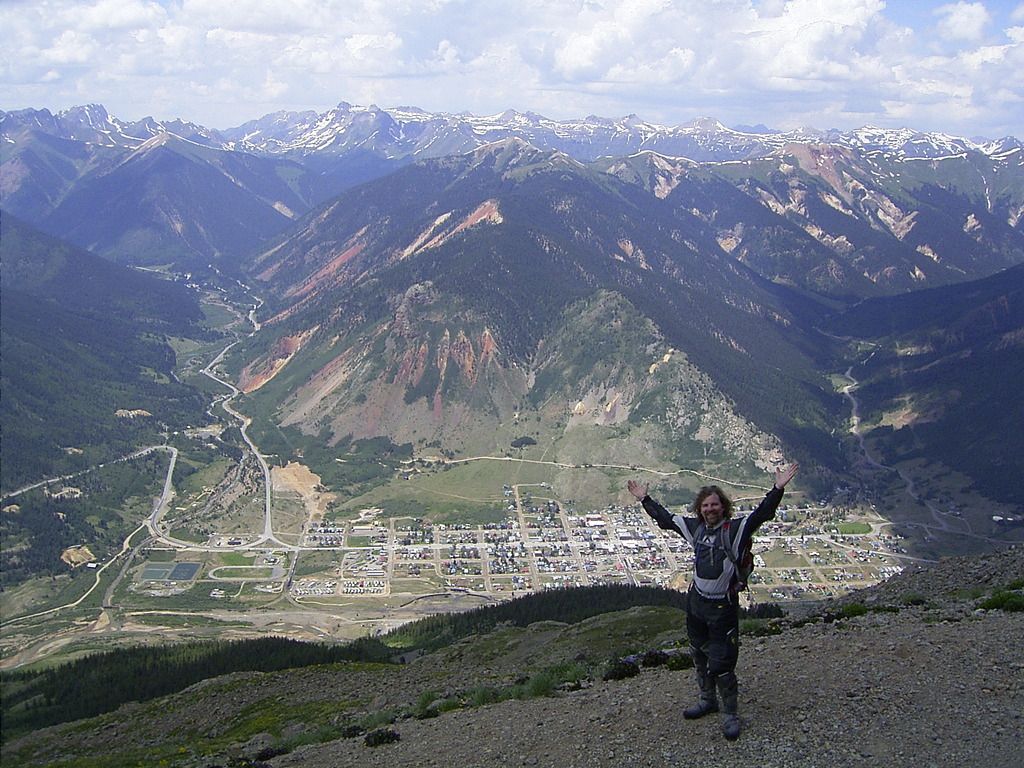 Johnboync......Silverton in the background!
It started in 1995 when my uncle and I drove out west for my first time. We went through these mountains of Southwestern Colorado in April. We stayed in Silverton for a couple of days and I got to see some beautiful scenery. At that time of year, all the off-road passes were snowed in, but the dozer had cleared up to the old mining town of Animas Forks. Well, after that little excursion, I was hooked! The Alpine Loop and surrounding roads became the ultimate off-road lure!
In 2011, I got to finally do my dream ride.........Dualsport the San Juans! We stayed about a week in Silverton, Colorado......camping, riding, and just taking in the experience! Well........ after 5 years, I have gotten the itch, again! After gathering your interest with a bunch of you recently, I have decided to offer up a rally! It's time to ride the San Juans!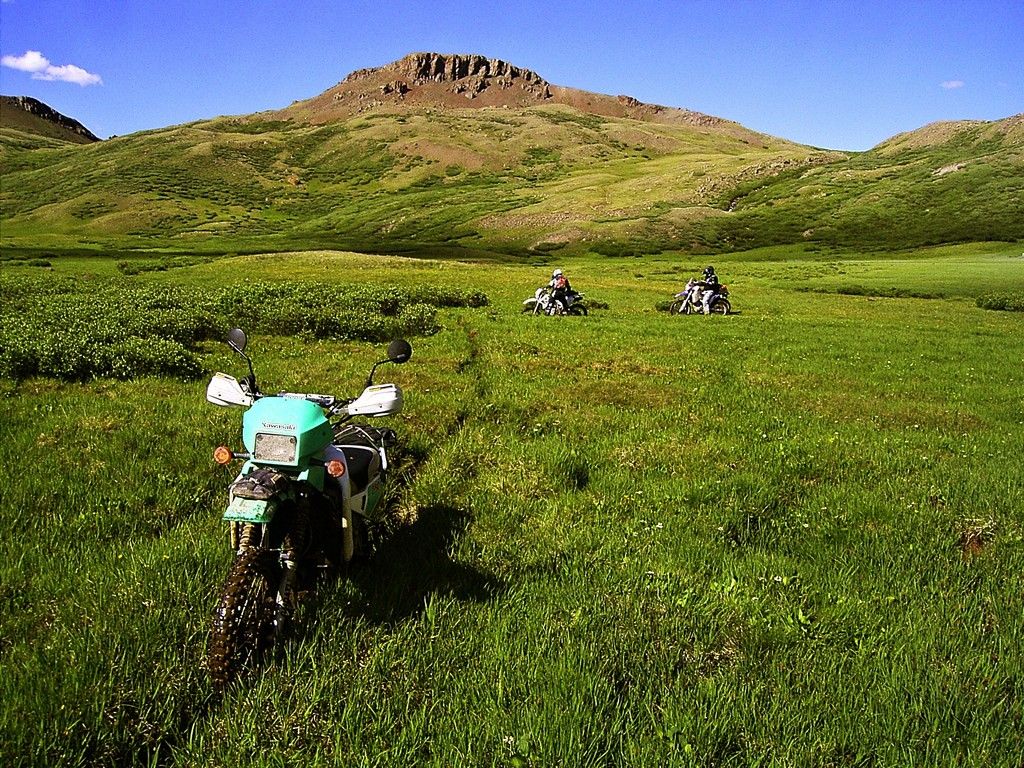 Excellent single track near Stony Pass!
OK.......what's the best way for this to work? In 2011, we chose to use my suburban to pull 7 bikes, gear, and 5 souls to Silverton, CO. The other 2 bikes were for pals who were flying out. Being a 5.3L with 4 speed auto tranny, the burb did ok. Could have used more ponies and torque, but we got there. Averaged about 9 mpg. Comfort, on the other hand, was very good.
For those of you interesting in going, I think getting in groups of around 3-5 with riders/friends that are geographically close to you, is the best bet. Some riders may be along the way, so picking them up would work, too. The reason we go so late in the season is because the passes need time for the snow to melt and to be dozed.
If you drive through without stopping for the night, you supposedly could get there from, let's say, Chattanooga Tn, in about 25 hours. Now of course that doesn't include stops, traffic, etc......so just plan on several hours more. Some will choose to stay overnight along the way. It's more restful, of course, but some choose to switch off drivers and go straight through!
Our group had decided early on that we would cook most of our food while camping, but still on occasion try some local cuisine! It kept the cost down, for sure. While the suburban gang purchased our rations in Durango (south of Silverton about an hour), I picked up the other 2 guys at the nearby airport......before making our way up to Silverton at 9,318 ft. above sea level! Camping at Silverton Lakes was a fine choice! We were close enough to town to be there in a couple of minutes.....yet far enough out that it not be busy with people. Our buddies that flew in, stayed in Blair Street Hostel, which is one of the places I am listing below as other places to stay in Silverton.
The gang taking it in!
The riding was superb and the scenery was second to none! Several of us were on KLRs, while the remainders were on XR650L, WR250, and DRZ400. The KLR is a fine weapon of choice! The riding that we did, though, was probably 95% or more off-road. So.....if you happen to have a cheater bike, there is no shame in bringing it. The KLX650R is going to be my weapon this time! Also, the tires that seem to do the best were those that were similar to trials tires. The Shinko 244 did so well on Caleb's bike.....it was the reason I purchased them as my next set! His riding abilities helped him out as well......HA!
So.....why start this thread so early......well, at the moment there are none of the cabins rented out for the week we will be there! They have several available at fine prices. The RV sites and tent sites are pretty much ready for us to grab, as well! After talking to the owner, Ron, he has an amount of $12.50 per night, for each person wanting to tent. Their website has $5 for each person after the original 2 people, but he explained that price was for kids, etc. I believe if you are very serious about going and you can get a few of your friends to go too, you should reserve a place over this next month.
You can cancel, if you need to, up to 1 month before your arrival date and not have to pay for the time you had reserved.
If you cannot find anyone to transport out west with, give a shout on this thread.......we can hopefully help you find a group to go with.
If you have a good feeling you can go on this trip, let's hear you!
Rider..........................Steed............Time of Stay................Digs........Transport Group
cherokee_chuck..........KLX650R......Sun30(pm)-Sun6(am) .......cabin-SL.......A (Cleveland, TN)
Yotaman423...............DRZ400.......Sun30(pm)-Sun6(am)........cabin-SL.......A (Cleveland, TN)
tube8520...................KLX300........Sun30(pm)-Sun6(am).....cabin/tent-SL....B (Dalton, GA)
dualindalton...............DRZ400........Sun30(pm)-Sun6(am).....cabin/tent-SL....B (Dalton, GA)
JohnRandall...............KLR650.........Sun30(pm)-Sun6(am).....cabin/tent-SL....B (Dalton, GA)
Shakeyjake18............KLR650.........Sun30(pm)-Sun6(am).....cabin/tent-SL....B (Dalton, GA)
Marbleminer..............DRZ400.........Sun30(pm)-Sun6(am).....cabin/tent-SL....B (Dalton, GA)
Ridir Frith..................DR650......2 weeks around these dates....cabin -RM......C (Hendersonville, NC)
BamaDirtPilot.............KLR650.....2 weeks around these dates......cabin..........D (Birmingham, AL)
SL - denotes Silverton Lakes Campground
Other places to stay:
bsh2
Changing ownership in October.
Home
Silverton, Colorado RV Park & Jeep Rentals ~ Silver Summit RV Park