Discussion Starter
•
#1
•
Well we had an awesome day! The morning wasn't as cool as expected and the chance of rain diminished to fog along the coast ridge. More on that later.
We had a total of 16 riders on 6 KLR's, 4 DR650's, 4 BMW's and a Ural w/sidecar show up for the days fun.
A few of the bikes gathered at McD's.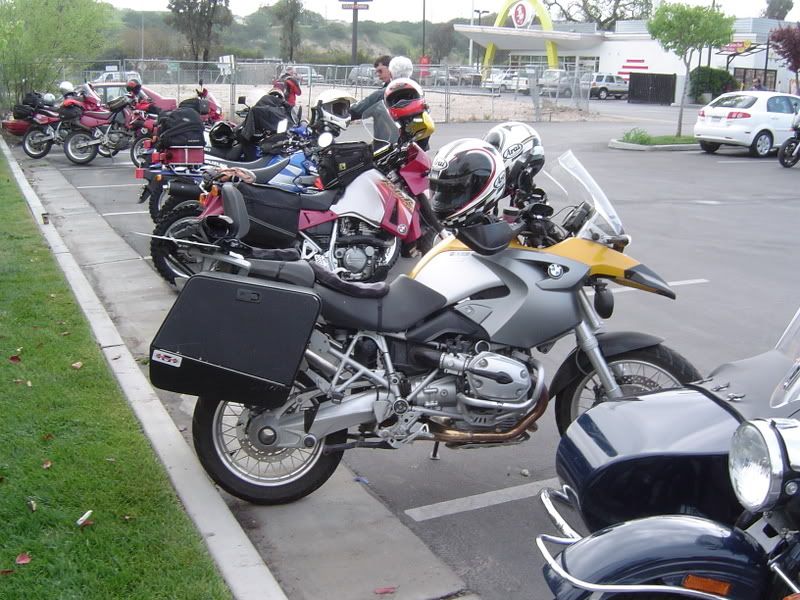 The most interesting bike of the group, ACERPH's Ural. He can boogy this thing down a dirt road.
Getting ready to go through the security gate at Fort Hunter Liggett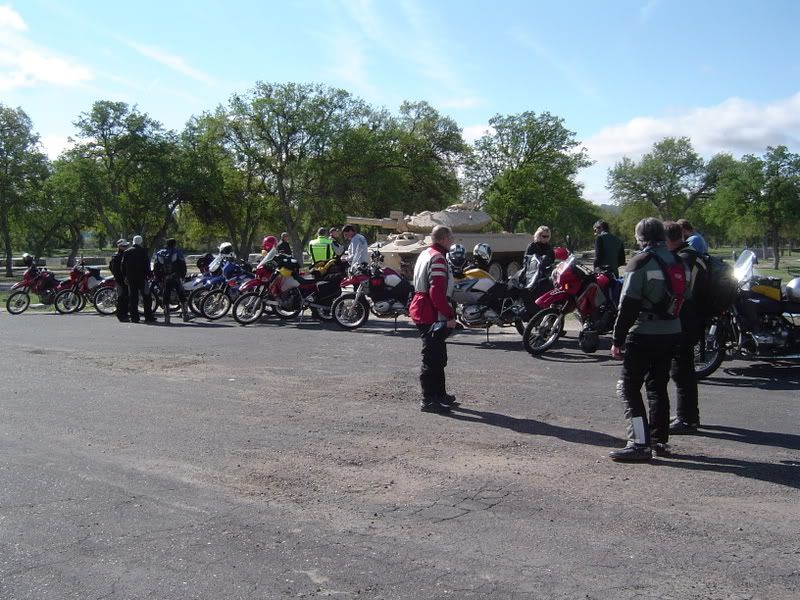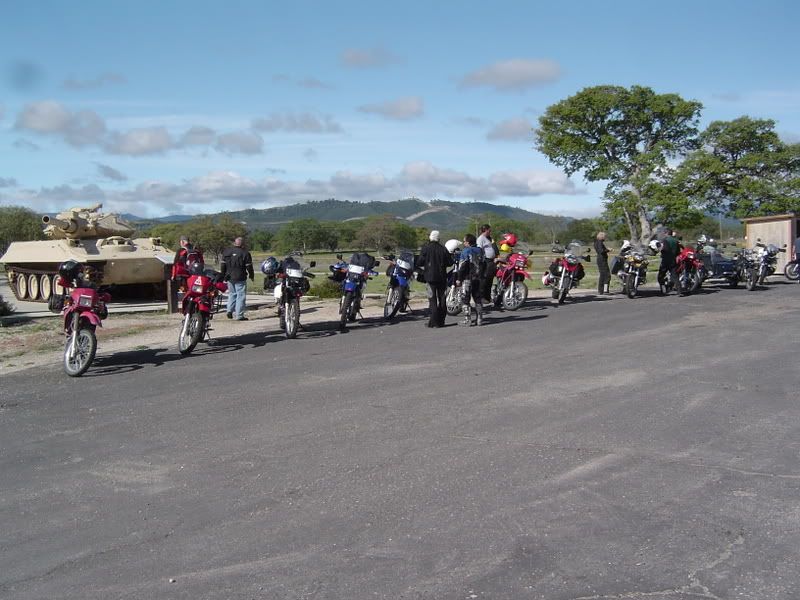 The group photo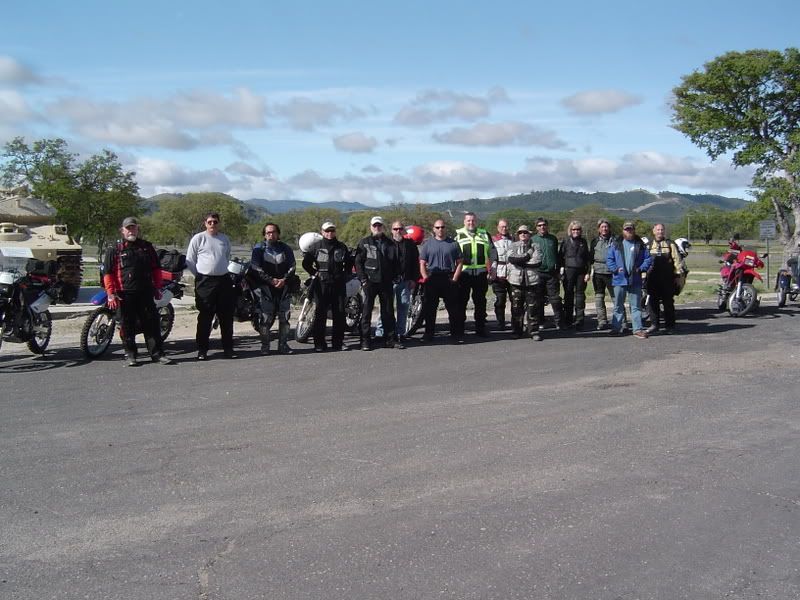 Okay where was I before I got lost in cyberspace? Oh ya now I remember; the Fort Hunter Liggett gate.
We all got our paperwork out for inspection by the guards at the gate but when they saw the size of the group they just checked our driver's licenses and sent us through.
We had a leisurely cruise across the base and when we stopped to air down tires we realized we had one snafu that I'm very sorry for. Ideaman had pulled over to adjust his helmet and waved us on. Well I assumed (you know what they say about assuming) he knew where to go and when we arrived Ideaman was missing. We waited for a little bit but when he didn't show up Acerph went back to find him while dyvking stayed and waited for them. Ace found him coming up the road after his detour then caught back up to the rest of us while dyvking and Ideaman took a different route to HWY 1. Again I'm sorry, I should have waited and brought up the rear.
I think I mentioned something earlier about fog. Well the coast ridge was socked in with fog which is not unusual but it quickly made seeing through glasses,goggles or faceshields difficult. The strange part to this is the road was still dusty so the bikes are kicking up dust which mixed with the moisture from the fog creating a nice glaze of mud on us.
Tazman showing his skills
gragg2001
h2opumper just a split second before he grabbed a handful of front brake and dropped his big beemer right in front of us. Thankfully no apperent damage to him and only two busted lights for the beemer. Dude that bike is heavy!
TurbocityTom and the DR650 crew.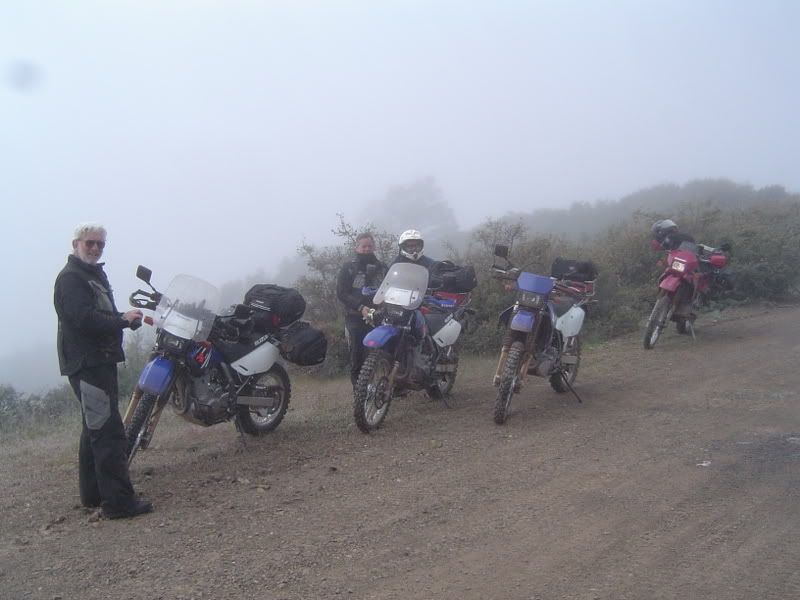 The fog finally yielded to reveal this view inland.
Decending on Los Burros road to Hwy 1.
some video coming down to the coast.
http://www.youtube.com/v/tcVp5dsMots
Mad man Acerph on the Ural. This guy can boogie on three wheels!
A view of the coast after the fog cleared some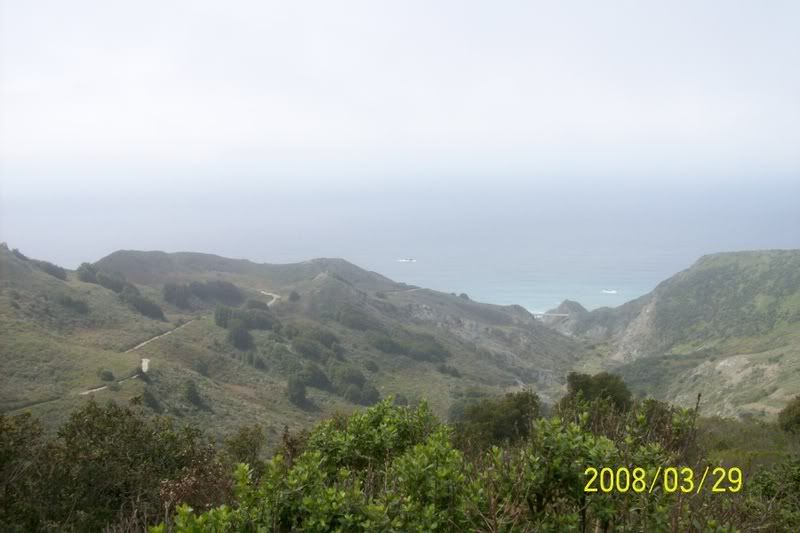 Airing back up for the ride down Hwy 1