Discussion Starter
•
#1
•
First time riding in Death Valley (DV). DV exceeded all expectations, a true training ground...You want rocks of all sizes, dirt, mud, snow, ice, sand, deep sand, deeper sand, silt, bedrock, pavement, goat trails, desolation, isolation, adventure.....I got all this my FIRST DAY IN DV. I'm a poor photographer...but here you go anyway (cut and pasted from the main forum I frequent).
3 Full days in Death Valley (DV). Always wanted to ride DV, finally got the chance last weekend. Pictures don't do DV justice, and I'm a poor photographer. Also, hard to get off and take pictures when your having that much fun. With that said, I tried to get some good ones.
We left Thursday night from Sacramento after work. 3 people, 2 bikes, 1 questionable trailer. On the road at 7pm, long story short: We rolled into a small desert campsite 15 miles west of Eureka Dunes, DV around 3am Friday morning. Made a fire, drank a beer, went to bed. Slept 4 hours, woke up to nothing but an isolated rugged valley that stretched as far as the eye could see. Quick breakfast, on the bikes by 9am.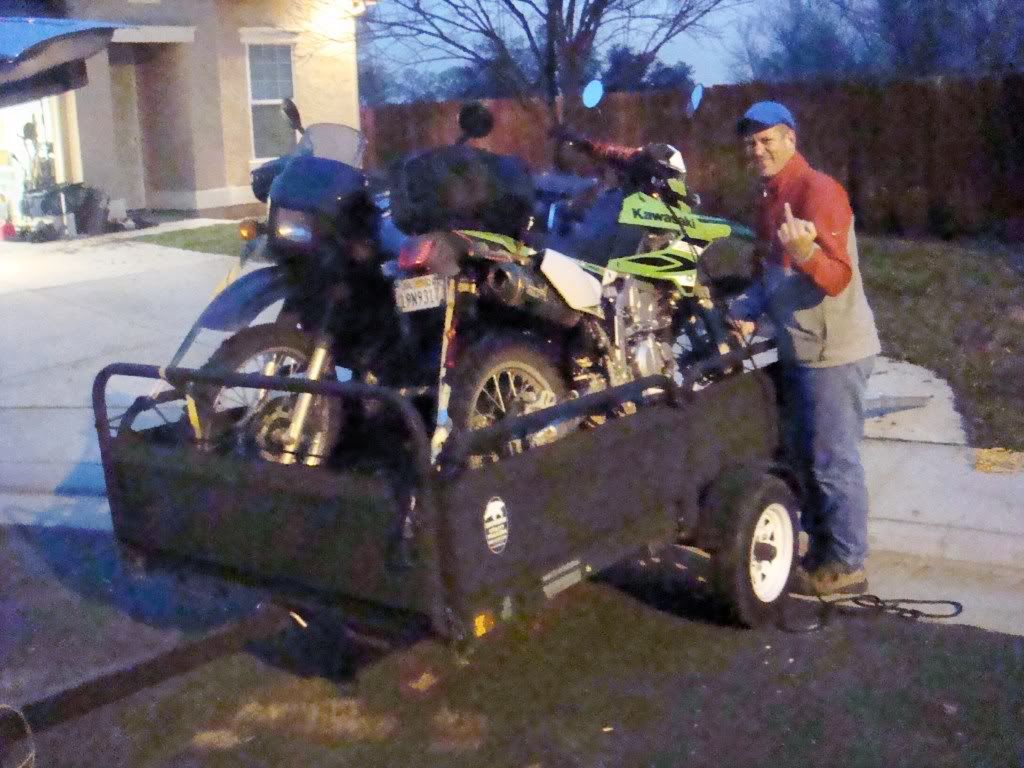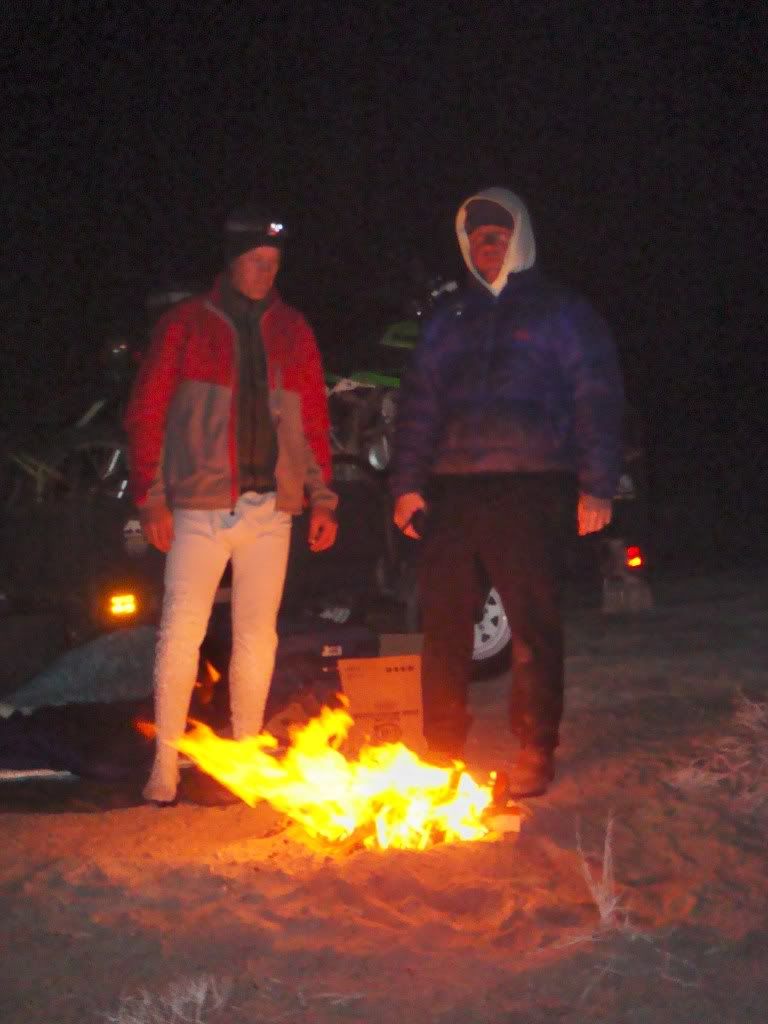 View from the campsite: Eureka Dunes way off in the distance (about 20 miles):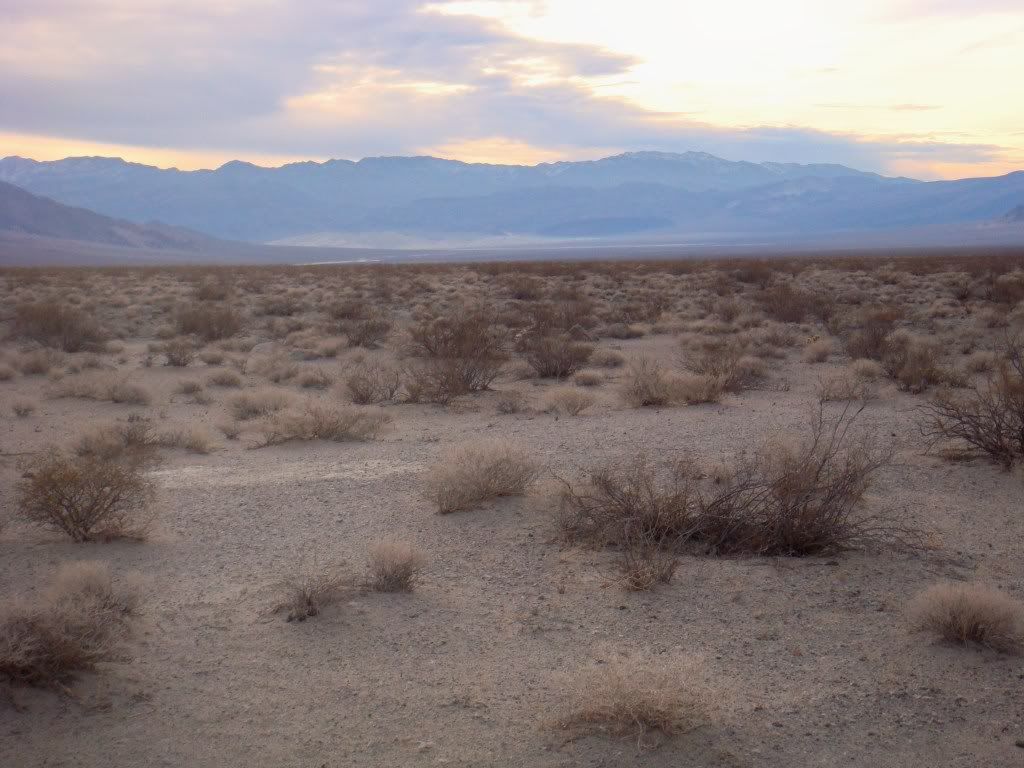 The plan was to do easy dirt roads to worthy sightseeing locations. I wanted to go up through Hanging Canyon to Crankshaft Crossing. From there, if time permitted we could go see Ubehebe Crater. That seemed doable even for 2-up. I had been told to stay off the mountain passes 2up unless my "girlfriend is badass and you are Dakar material," since I'm not Dakar material, we wanted something mellow....ease us into DV. Started off with a basic dirt road heading east towards the dunes. It took a couple minutes to get used to the front tire floating around, but after the initial adjustment, it felt good. We immediately missed the first left hand turn. I was a little surprised, there were a ton of roads going everywhere (but not on my map), but no signs. I guessed, we took a road that was routed towards the dunes, i kept waiting for an obvious left hand turn towards Hanging Canyon, while riding towards the dunes. Some pictures of the dunes.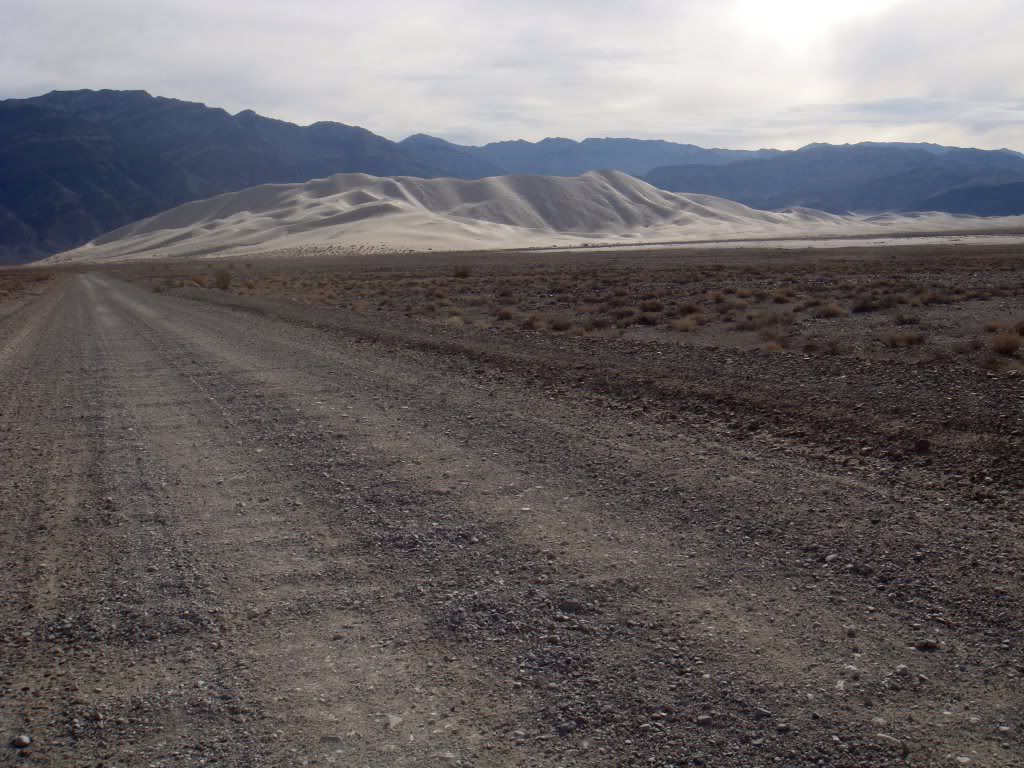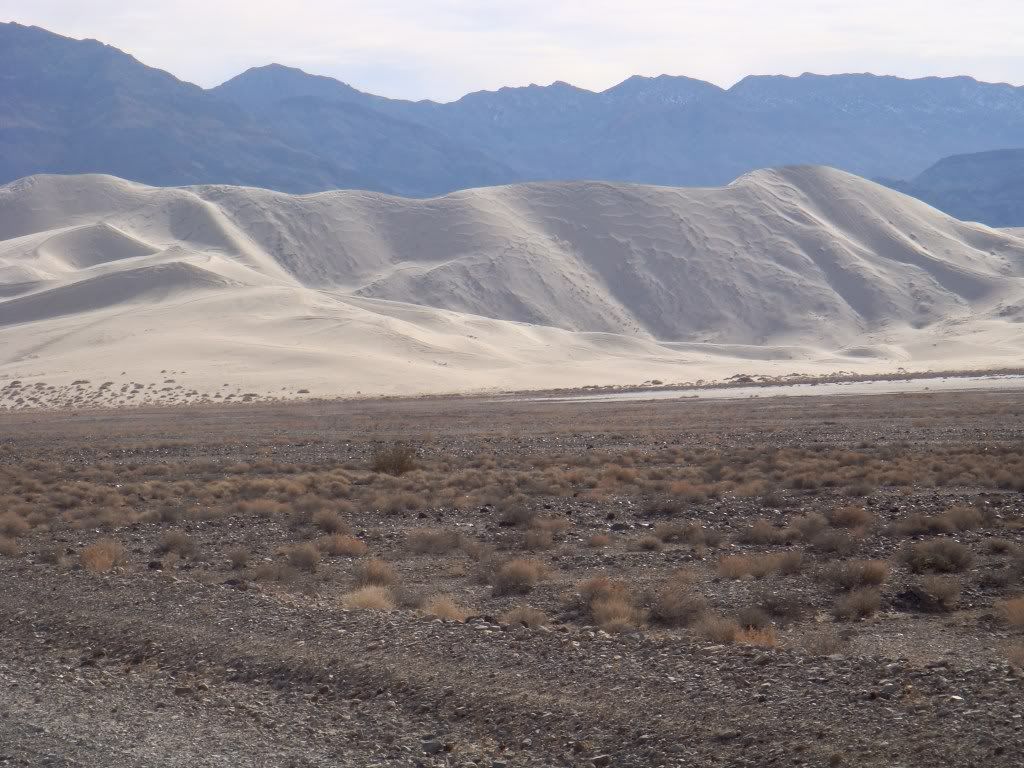 We took a short break at the dunes...quite spectacular. We continued, our trail was routed clockwise around the dunes, we immmediately hit deep sand like I had never seen or ridden in. Wrenching it out in 2nd gear, fish tailing all over, gf in shock but having fun.....this is what we came for. Once, the bike sunk to the swingarm....we endured and ended up at the head of what appeared to be a steep box canyon. Bad picture, but this is the entrance to the canyon.
Coming around the corner, I knew we had screwed up bad....this was Steele Canyon/Pass. Steele is one of the trickier ones I was warned about. Erin and I discussed it, we woud continue, just see a little bit of the canyon until she didn't feel comfortable anymore, then we would turn around. Technical doubletrack and a couple sections of steep rock steps later we had gotten through what looked like the worst of it. Erin ended up getting off once in this tricky section (one of the rock steps). This is looking back after emerging from the tricky part. At this point, it's hard to describe how immense and isolated this mountain pass became. Once again, pictures don't do it justice....here they are anyway.
Emerging from the tricky part, looking back on the exit to the box canyon.
Interesting roadside geology in Steele Canyon.
Note the road in the left hand portion of photo, at this point you are starting to emerge into an open plateau...spectacular.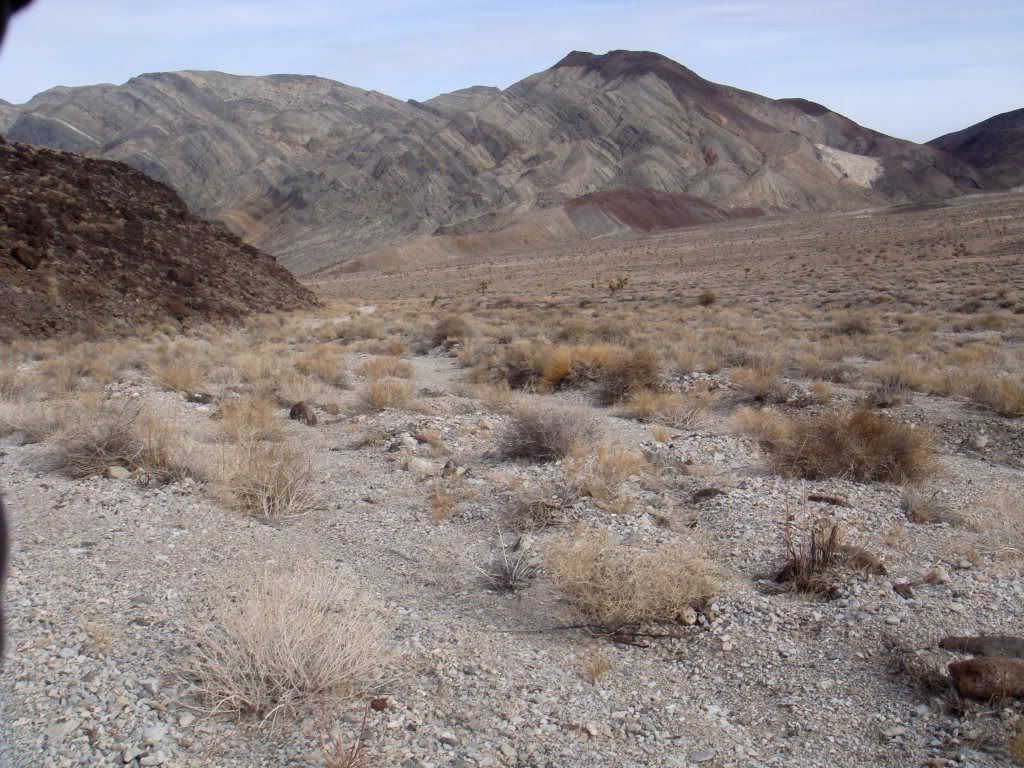 Same perspective but highter up in the canyon...looking down canyon you can see where the last picture was taken....this pic taken almost 5 miles up canyon.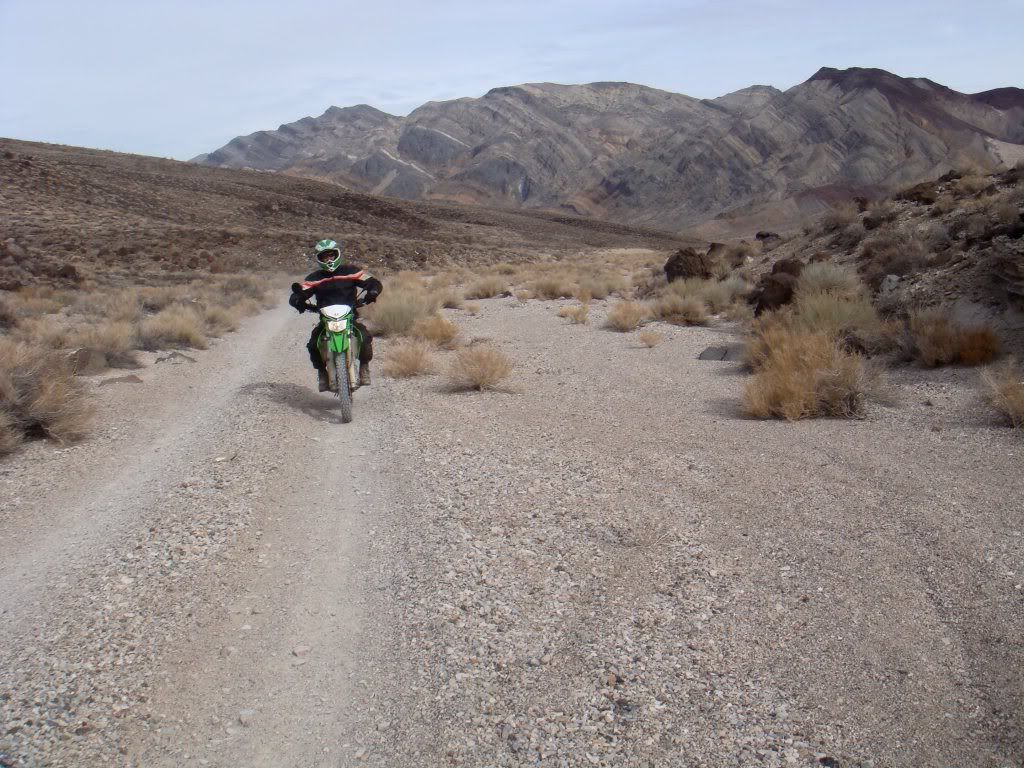 She's a real trooper...here we are enjoy the ride and DV.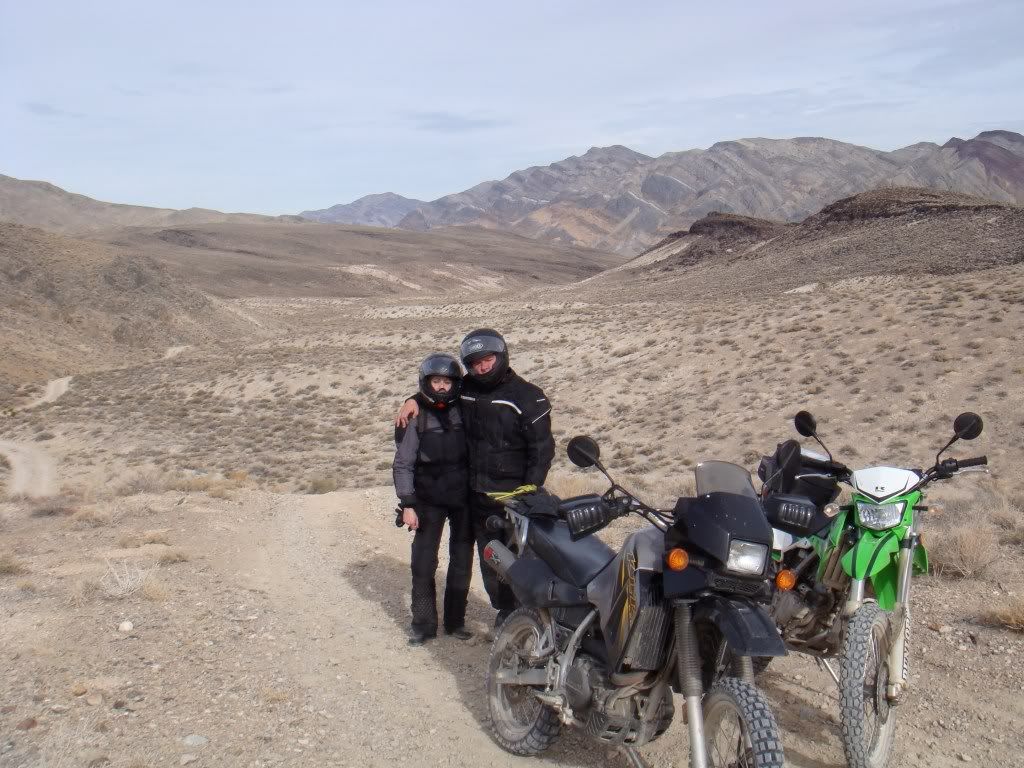 This picture shows almost the entire canyon above the boxed out section. Note the road winding up the left hand portion of the photo. Looking far down canyon you can see where the last two pictures were taken, and where the canyon opens up...almost 10 miles down canyon...what a trail. Where Erin is walking is the second place she had to get off...rocky, steep, loose...but short hill put us at the saddle....we could not locate a marker or summit register....nor the marble bath that I so badly wanted to find. The tricky section (you can't see it, Erin is at the top) looking down canyon...we had come a long way at this point.